Lizzo Just Recreated Rose's Nude Portraits From 'Titanic'
"Paint me like ya French bitch."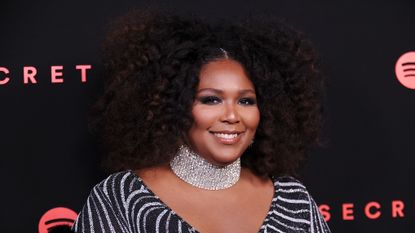 (Image credit: Jason LaVeris)
Lizzo recreated Rose Dawson's naked portraits from Titanic.
It's iconic. The end.
Remember in Titanic when Jack Dawson shouted for joy at the bow of the ship? Well, that will be your exact reaction when you see how Lizzo recreated Rose Dawson's nude portraits from the movie.
On Sunday, Lizzo schooled everyone in what lounging on the couch looks like when you're *that bitch*. It's iconic and I'd 10/10 like this Instagram post again and again, TBH. Apropos of nothing (other than her being the baddest), the "Truth Hurts" singer dropped a carousel of nude pics captioned with "paint me like ya French bitch 🎨."
In the pictures, you can see Lizzo posed similar to how Rose did in the movie when she asked Jack to sketch her with that giant blue diamond necklace that she later tossed in the ocean (totally ignoring the fact that she could've just pawned it if she didn't want it anymore! Sorry, still not over that).
Back to Lizzo. So, yeah, she did that, threw in some other poses, and used her cascading hair to cover up her boobs, possibly trying to avoid Instagram's policy of removing posts that show women's breasts. She wasn't wearing a giant necklace in the pics, but honestly, who cares?
Around the same time, Lizzo followed up those pics with a video of her crawling across the couch and toward the camera and wrote, "Omw.... 😏."
Obviously she looks great, and her impromptu photoshoot even inspired her fans to recreate the famous movie scene themselves. If you check out Lizzo's Instagram Stories, you can see a couple of the side-by-side pictures that she reposted. Also, if that (plus all her talent) wasn't enough to convince you that she's a star, people are fully making Etch A Sketches of the pose!
Case closed.
For more stories like this, including celebrity news, beauty and fashion advice, savvy political commentary, and fascinating features, sign up for the Marie Claire newsletter.
RELATED STORIES
Shannon is a news writer at Cosmopolitan.com, and when she's not obsessing about Cardi B, she's thinking about Justin Bieber and still trying to memorize Beyoncé's Beychella choreography.