Prince William Was Upset That Prince Harry Refused to Reveal Archie's Godparents
A new book is spilling all the royal deets.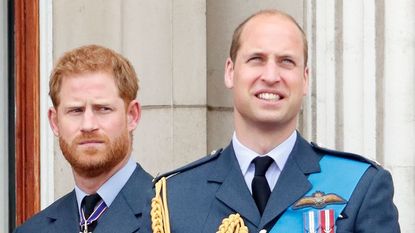 (Image credit: Getty Images)
And the brotherly rivalry continues. According to the new book, Battle of Brothers, Prince William and Prince Harry's rift is a lot more complicated is a lot more complicated than any of us realized. One point of contention is that Prince William was upset that Harry and Meghan Markle didn't reveal the identities of Archie's godparents. Author Robert Lacey writes, in an excerpt published by The Daily Mail, that they had many disagreements:
"There was the deception over the announcement of Archie's birth, which unlike every other royal birth of modern times took place in total secrecy: Buckingham Palace announced at 2pm on May 6, 2019, that Meghan had gone into labour that morning — when in fact, she had safely given birth to baby Archie eight hours earlier, at 5.26am. That was followed by a refusal to make public the names of the godparents. It is still expected by monarch, palace and just about anyone with a stake in the game that the world should be told who the new royal baby's 'sponsors' are. How can you judge the suitability of a sponsor who remains unknown? Yet the names of Archie's godparents are still a secret today."
A report from the Sunday Times, alleged that the Sussexes named Prince Harry's childhood nanny Tiggy Pettifer (formerly Legge-Bourke) as Archie's godmother, along with Harry's close friend and mentor, Mark Dyer as godfather. But, that hasn't been confirmed by Harry and Meghan. Considering that they've been living a more private life since stepping back as senior royals, it's doubtful that they'll reveal the identities of little Archie's godparents, much to the royal family's dismay.
amazon.com
Harper 'Battle of Brothers: William and Harry – The Inside Story of a Family in Tumult'
Battle of Brothers will be released on Oct. 20.
RELATED STORIES
Paulina is the Weekend Editor at Cosmopolitan.com. When she isn't covering celeb and pop culture news, she can be found listening to Taylor Swift, watching a teen drama (One Tree Hill is her favorite), or perfecting her skincare routine.