'Frozen' Wins Big By Redefining What It Means to Be a Princess
Further proof that strong female leads rule.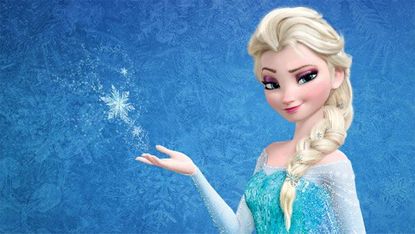 (Image credit: Courtesy of Disney)
Photo credit: Disney
What's not suprising to us is two fiercely independent, smart women taking lead in the sixth highest grossing movie of all time. What is surprising is that it's an animated movie.
Disney's Frozen has become the sixth highest grossing movie in box office history. It sits right next to Iron Man 3 also from Disney, which currently resides in fifth place on the all-time chart. While it is commonplace for male-lead, action-packed movies to be big box office hits, like Disney/Marvel Studios' Avengers, which occupies the third slot, strong female heroines seem to be popping up everywhere in cartoon format. These new "princesses" (opens in new tab) are leaning in to rewrite what we used to think of fairytale endings. And we couldn't be happier. (We just hope they're getting equal pay (opens in new tab).)
While we still love our Cinderellas and Snow Whites, creating characters that show young girls they can stand on their own and conquer the world brings forth ambitious, passionate, and independent women. Need more inspiration? Here are other animated films that have aided in the redefinition of what it means to be a "princess":
Photo Credit: ©Walt Disney/courtesy Everett Collection
Tangled: In this new version of the Repunzle classic, a brazen, frying-pan weilding gal stops at nothing to achieve her dream...with a little romance along the way.
Photo Credit: ©Walt Disney/courtesy Everett Collection
Brave: Not only written and directed by Pixar's first female director, Brenda Chapman, the female lead, Merida, bucks matrimonial tradition and suggests that everyone should be allowed to get married in their own time to whomever they choose. Heck yeah.
Frozen is still showing huge success in some international markets, so we could see it climb even higher on the list.