Angelina Jolie's Red Carpet Retrospective
Angie might be known best for her sultry pout, but she's got a very stylish side you won't want to miss seeing.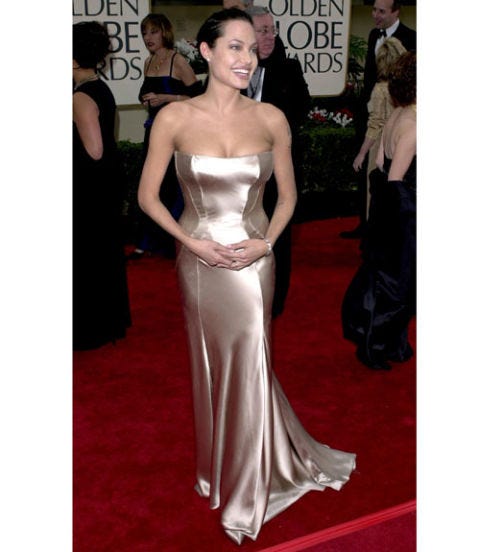 Credit: Getty Images/Staff
January 2001
Angelina slicked her hair back and wore a platinum satin Versace gown to the 58th Annual Golden Globe Awards. Although her body looks great, we're not really feeling the dark, goth makeup — we prefer a smoky-eyed or au natural Angie.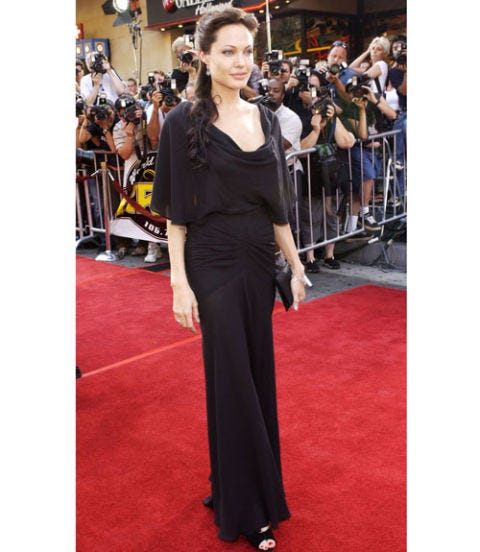 July 2003
After two years of Tomb Raider fame, the sequel, Lara Croft Tomb Raider: The Cradle of Life propelled Angelina to superstardom among video game buffs and movie-lovers alike. She looked stunning at the film's world premiere in a black cowl-neck gown.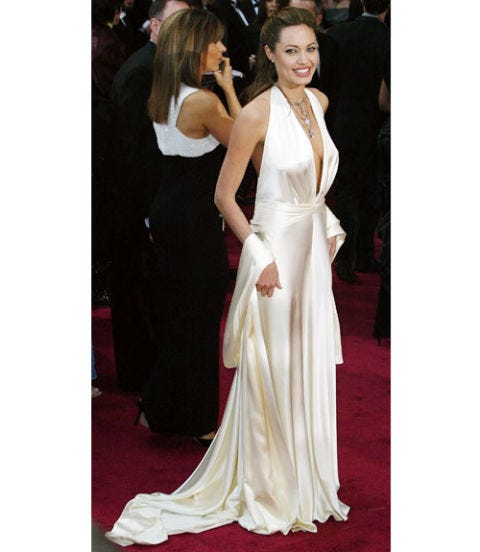 February 2004
Girls all over (including us!) flocked to seamstresses to replicate the white satin Marc Bouwer gown Angie wore to the 76th Annual Academy Awards. The flowing train, knotted waist, and plunging neckline say classic beauty over and over again.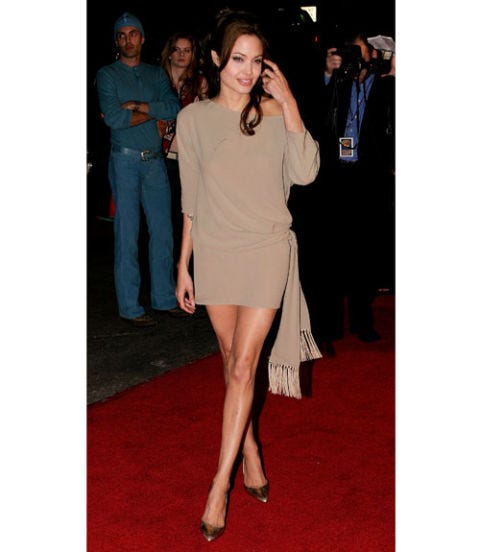 Credit: Giulio Marchocchi
March 2004
We love us a little leg! Angelina appears almost fawn-like in this nude mini, gold pointy-toe pumps and mile-long gams at the world premiere of Taking Lives.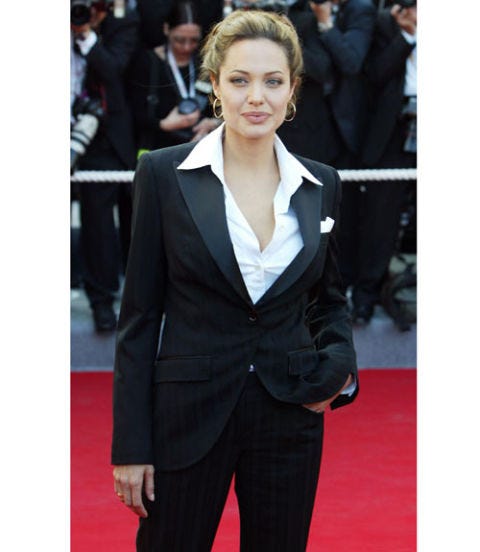 May 2004
Menswear Alert! No one can pull off basic black-and-white like Angelina, and you'd be hard-pressed to find a woman who looks as sexy as she does in a classic suit. She wore this one well to the 57th Cannes International Film Festival Premiere of Shrek 2 and there was nothing boyish about it.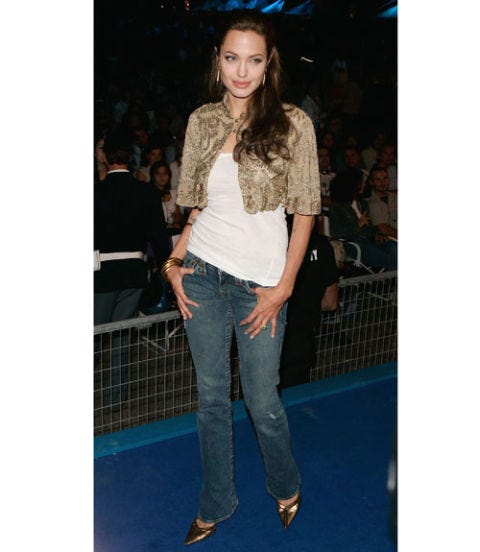 Credit: Pascal Le Segretain
September 2004
Angie took it easy at the 61st Venice Film Festival world premiere of Shark Tale. She wore washed-out bootleg denim with a white tank, and spiced up the outfit with a gold embellished bolero and matching gilded pointy-toe pumps.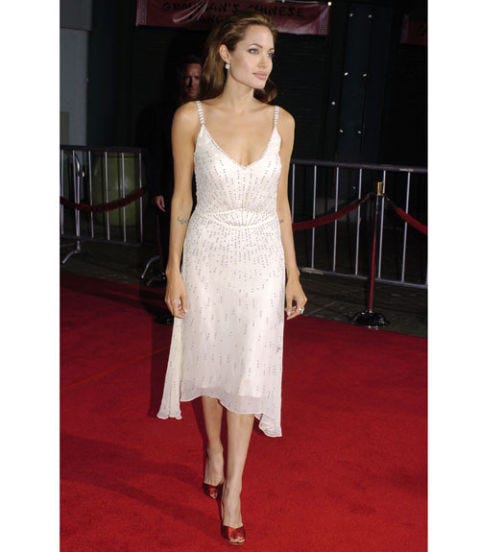 September 2004
This white dress Angie wore to the Los Angeles premiere of Sky Captain and the World of Tomorrow is simple, but not spectacular. What draws our eyes to Angelina in this picture are her bright red shoes! It's a rare occasion when Angie wears color and the pop of red brings an element of surprise to her outfit that makes it work.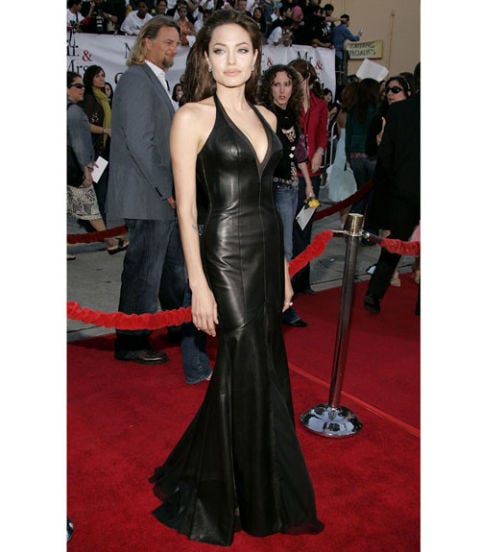 June 2005
Talk about a vixen! Angelina was full-on vamp in a leather halter gown at the 20th Century Fox premiere of Mr. & Mrs. Smith. The smoky eyes, big hair and bare shoulders add to her allure, and we can bet Brad wasn't the only guy who couldn't take his eyes off her that day.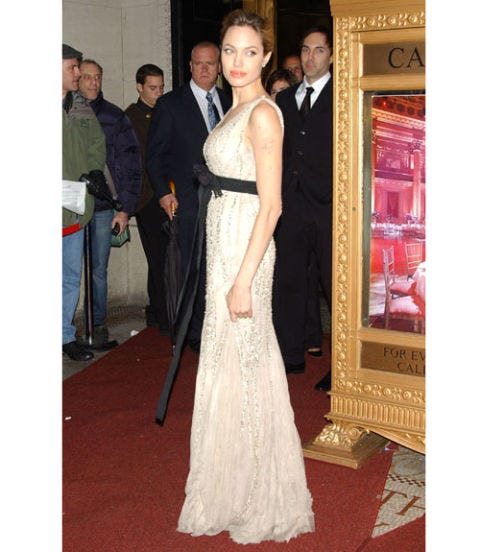 October 2005
Besides her acting, Angelina might just be known best for her humanitarian ways. Three of her six children are adopted and she's spent much of the past ten years visiting refugee camps around the world. The devoted mother attended the 1st Benefit Worldwide Gala for Worldwide Orphans wearing a sleeveless, but modest cream lace gown.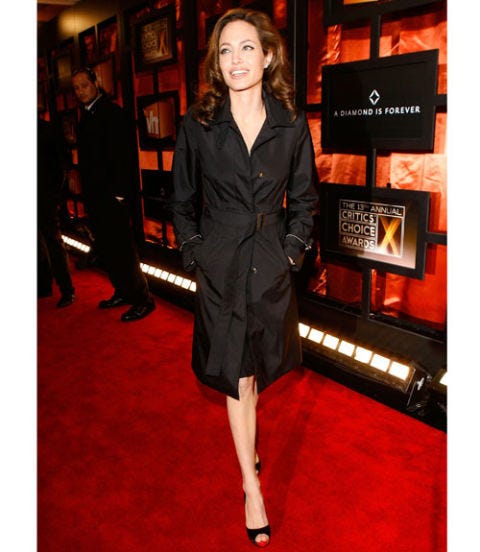 July 2008
Loving the sophisticated black trench Angie wore to the 13th Annual Critics' Choice Awards! She channeled a modern day Jackie O., diamond earrings, soft curls, and all.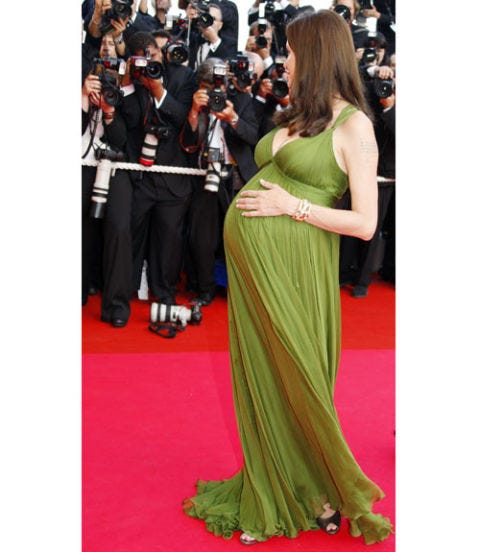 May 2008
Four months after she was spotted at the SAG Awards with a possible baby bump, Angelina flaunted her (very big!) baby belly in a gorgeous green Max Azria Atelier gown at the 61st Cannes Annual Film Festival screening of Kung Fu Panda.
August 2009
Angelina was half biker girl, half siren at the Weinstein Co. screening of Inglorious Basterds. Though the film starred her hubby Brad, Angie ruled the red carpet in a black leather strapless midi dress by Michael Kors.
July 2010
Angie wore a seductive black, sequined Emporio Armani mini dress to the Los Angeles premiere of Salt at the Grauman's Chinese Theatre. Not only does she look phenomenal, her ear-to-ear grin also radiates how happy she is.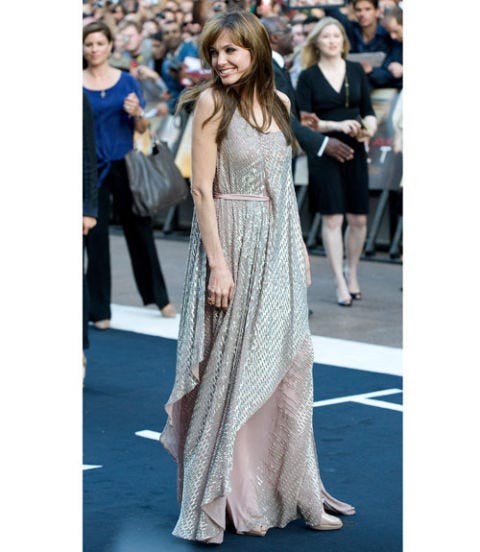 August 2010
Angelina, you gorgeous woman, you. As far as we're concerned, she could wear a bed sheet and still look fabulous! The Amanda Wakeley loose-fitting tank gown Angie wore to the UK Film Premiere of Salt, which might not work on someone else, was perfect on her.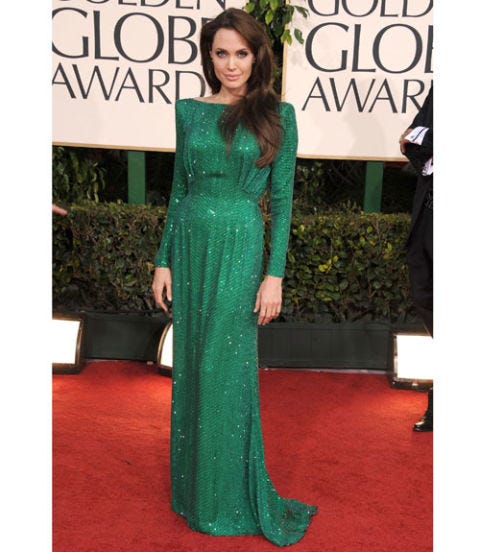 January 2011
Amazing! Amazing! Amazing! Angie really wears her dresses well. And although she usually sticks to neutrals, we're so glad she donned this emerald green Atelier Versace gown to the 68th Annual Golden Globes — she's a real gem!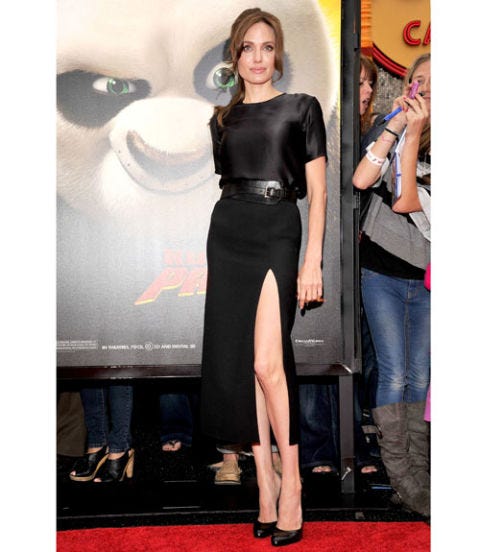 May 2011
Somehow, the more dark the clothing and accessories, the better — if you're Angelina Jolie, that is! Angie wore all black: patent pumps and belt, and a calf-length dress (with a sexy thigh-high slit!) to the Los Angeles premiere of Kung Fu Panda.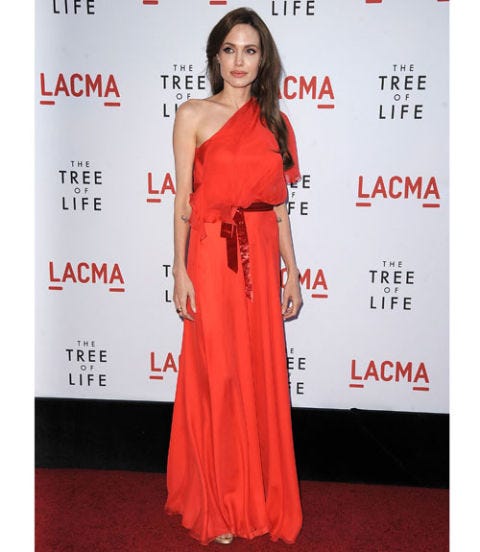 May 2011
Hollywood's highest-paid actress dazzled in this bright Grecian one-shoulder Jenny Packham gown at the Los Angeles premiere of The Tree of Life. Can it really get any better than this? We think she'll be able to manage it somehow, and we can't wait to see what she'll wear next!
This content is created and maintained by a third party, and imported onto this page to help users provide their email addresses. You may be able to find more information about this and similar content at piano.io