20 Pictures of Queen Elizabeth, Kate Middleton & Meghan Markle's Cutest Friendship Moments
Forget royal weddings, we're all about royal friendships now.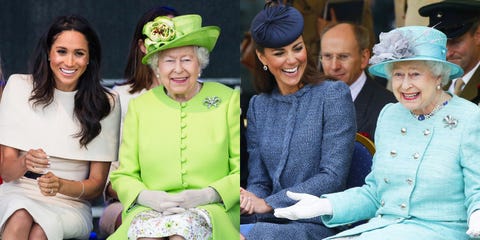 We're obsessed with royal weddings of all shapes and sizes–but there's so much more to the royals than that! Prince Harry and Meghan Markle's early appearances as newlyweds, anything involving the children of Prince William and Kate Middleton, the Queen's fluorescent lewks, all of those things have us celebrating everything royal. But those aren't the only relationships developing in Buckingham Palace. Here are 20 photos showing our new favorite friendships in the royal household: Kate Middelton, Meghan Markle, and Queen Elizabeth herself.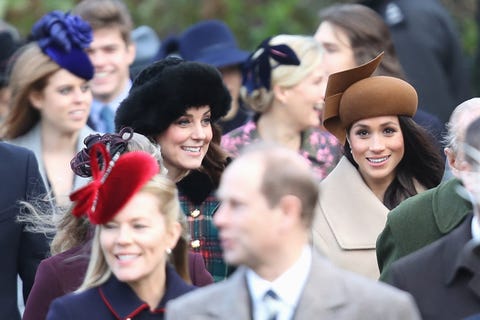 Chris Jackson
Getty Images
St. Mary Magdalene Church In Sandringham, December 2017
This was Kate and Meghan's first appearance after Meghan got engaged to Harry, and they look like they're having the most marvelous time. I'm almost too jealous. Kate looks so Christmasy in her plaid.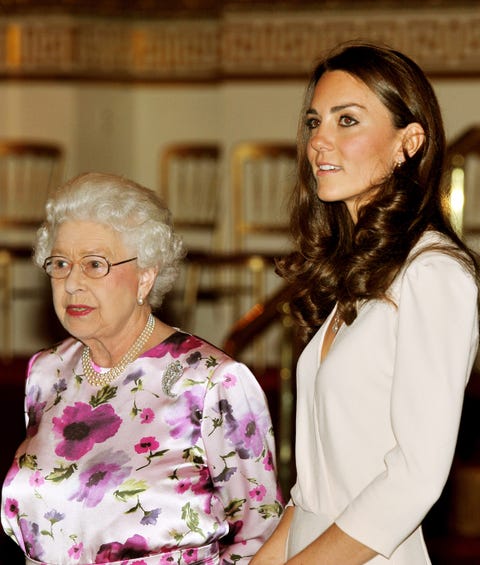 Buckingham Palace State Rooms Summer Opening, July 2011
In an appearance just two months after the royal wedding (that would be the Duke and Duchess of Cambridge's this time), Kate and Her Majesty take a tour of Buckingham Palace before its summer opening, and my god, if there's anyone who I'd want to take me around Buckingham Palace on a private tour, I'd want it to be the Queen. Kate is so lucky.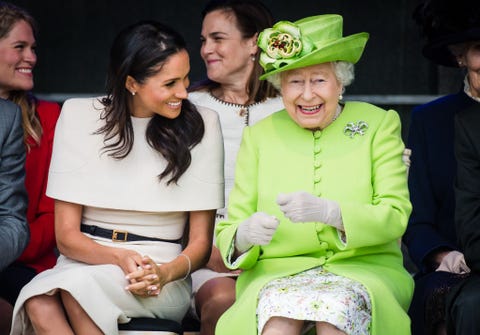 The Duchess Of Sussex's First Engagement With Queen Elizabeth , June 2018
Her majesty is known for cracking jokes and having a lively sense of humor—what in the world could those two be talking about here? Next question: How many compliments did Meghan give Queen Elizabeth on that electric green suit?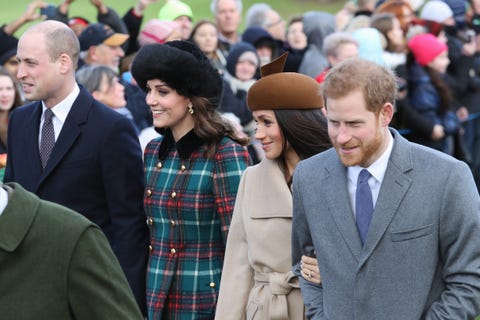 Chris Jackson
Getty Images
St. Mary Magdalene Church In Sandringham, December 2017
With Princes William and Harry by their side, the new friends look like they're ready for the royal double date of the century. We can only imagine how great the royal gossip is.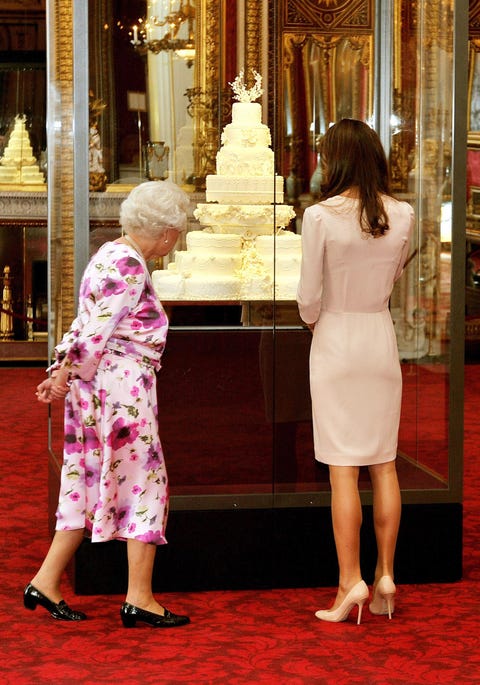 Buckingham Palace State Rooms Summer Opening, July 2011
"She's been very generous and not sort of being forceful at all in any of her views. I feel she's been sort of a gentle guidance, really, for me," Middleton shared with E! News about her close relationship with Her Majesty.
Also, mmm cake... a truly wonderful thing to bond over.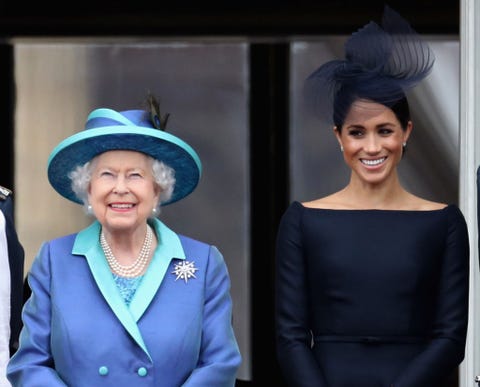 Centenary of The RAF, July 2018
We know Markle loves her navys and her khakis, and the Queen is never one to shy away from a bright color moment. I can only hope that the Queen decided on wearing aqua and cerulean, and Markle wanted to match in her own way, giving us this gorgeous "shades of blue" color story. Best friends, always thinking alike!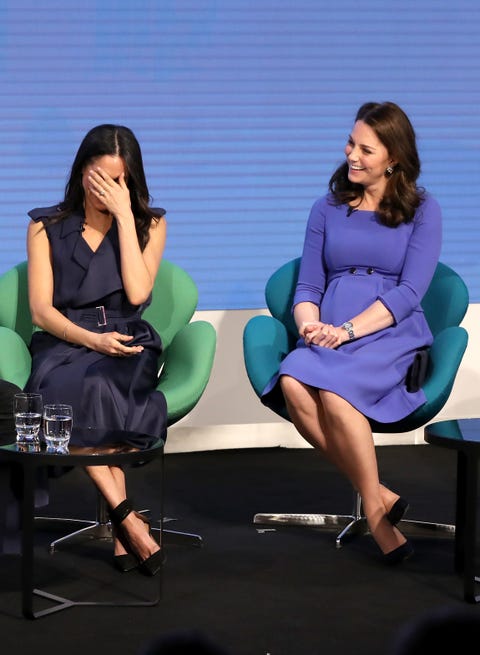 Chris Jackson
Getty Images
First Annual Royal Foundation Forum, February 2018
This appearance was first joint royal engagement for Markle, Middleton, and Princes Harry and William, where they spoke about the causes that mean the most to them, like conservation, mental health, and homelessness prevention. But also, they definitely had more fun at this panel than you did this weekend.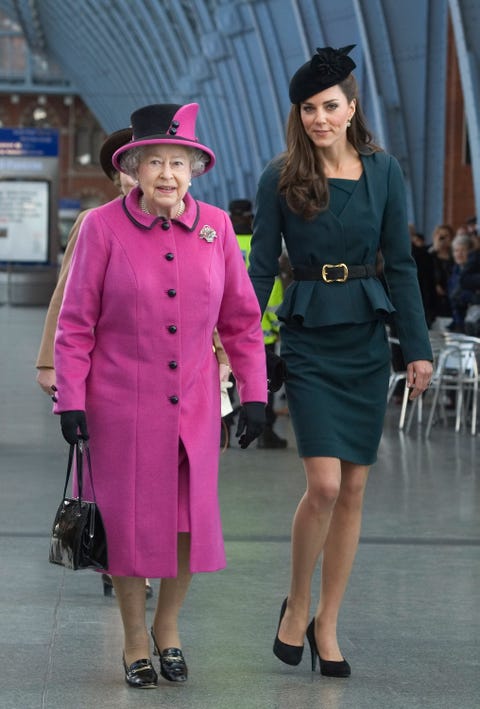 Leicester Visit, March 2012
Best guess: Kate's saying, "Act casual, I want a candid shot for Instagram."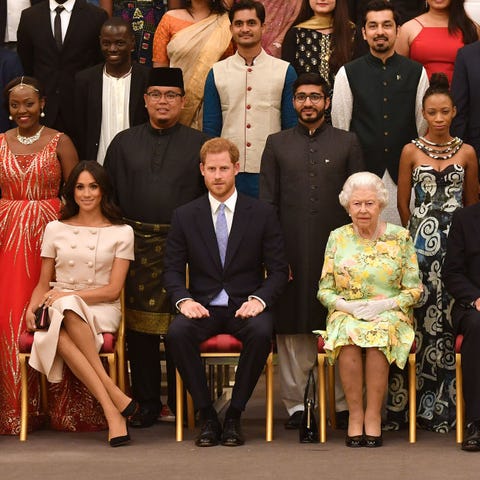 The Queen's Young Leaders Awards Ceremony, June 2018
I can only imagine what it was like for Harry, sitting between his grandmother and his wife–constantly dodging the whispers between the two of them, not getting his feelings hurt by the gentle ribbing he'll get. His being in the middle of them doesn't mean he'll get in the way of their forever friendship!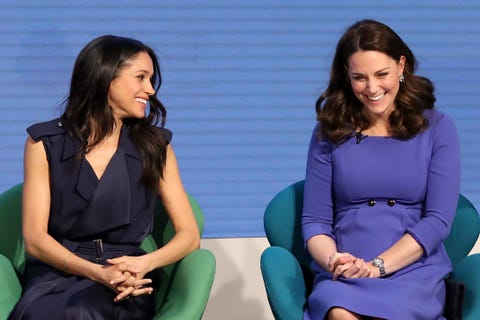 Chris Jackson
Getty Images
First Annual Royal Foundation Forum, February 2018
Look at the way Meghan looks at Kate. That's the look best friends give each other when they think they're brilliant, perfect, and hilarious. The sentiment is universal, ladies.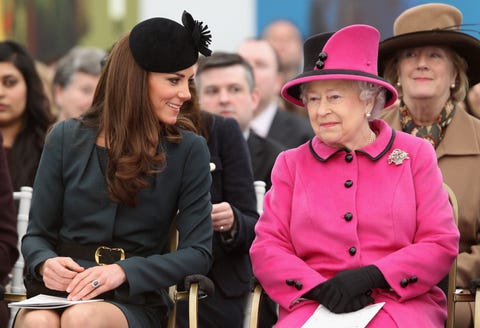 Leicester Visit, March 2012
Kate looks at Queen Elizabeth like she knows everything and is going to change the world. She's not wrong–I mean, it's The Queen. But still, I hope Kate is not only gaining knowledge, but also a ton of fashion pointer. Look at the fuchsia!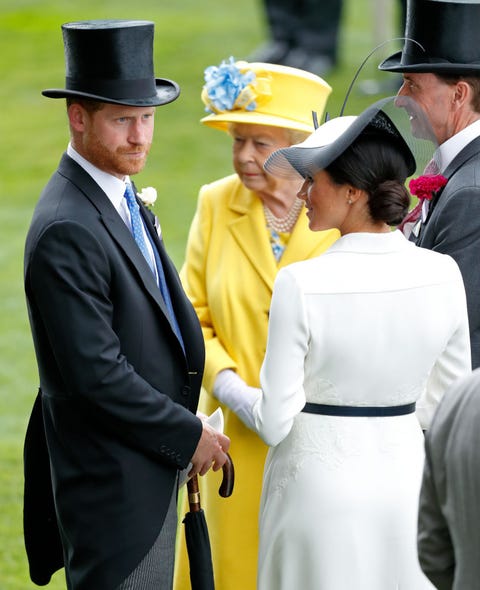 Royal Ascot 2018, June 2018
Just a casual conversation between husband, wife, and his wife's best friend. And I guess his grandmother or whatever, but with the Queen looking as fabulous as she is, and Meghan stepping into her royal duties, we're always thrilled to see them interacting.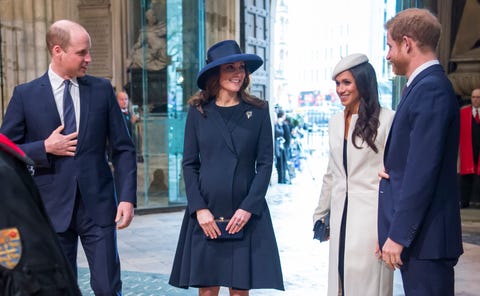 Commonwealth Day Service, March 2018
Yet again with William and Harry, but Kate and Meghan are the pair we care about the most here. They're so casual, pretending like they're not literal royalty. I hope the conversation they're having is about their matching ensembles, and Kate saying, "We planned it this way!" I can only hope.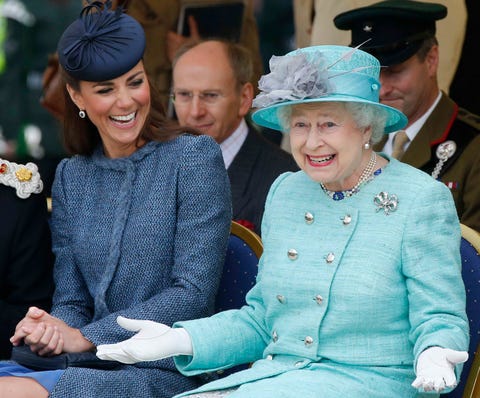 Queen Elizabeth II and The Duke And Duchess Of Cambridge Visit The East Midlands, June 2012
Honestly, I pray that the Queen is saying "Hey guys, get it?" After telling a joke that was yes, absolutely hilarious, and everyone gets it. Kate's in awe of the hilarious comedic timing of Her Majesty.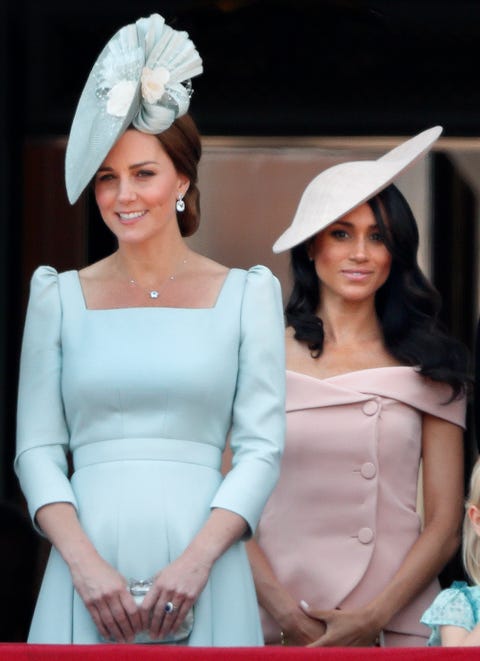 Max Mumby/Indigo
Getty Images
Trooping The Colour, July 2018
The blue! The pink! The coordination! We know they didn't do this on purpose, but wouldn't it be fun to imagine Kate and Meghan debating outfit choices and colors? I can just picture the two of them texting fascinator photos back and forth.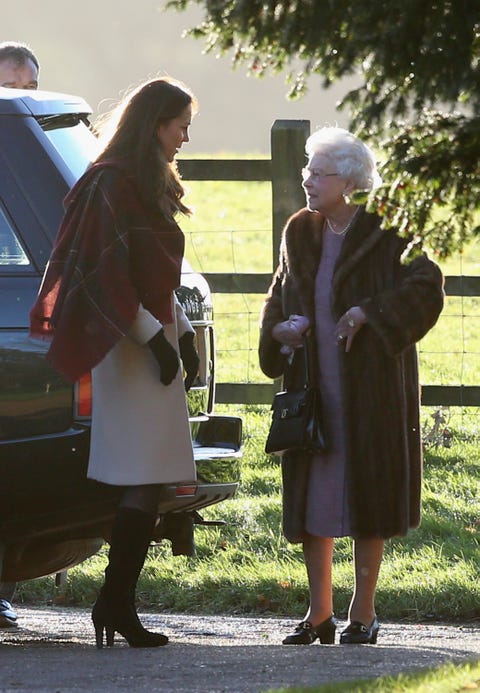 Chris Jackson
Getty Images
Christmas Day Service at Sandringham, December 2013
In another Royal Christmas Moment, we see Kate and Her Majesty sharing a private chat, probably discussing where they hid Prince George's Christmas gifts and whether or not they should hide them from Harry as well. (They should.)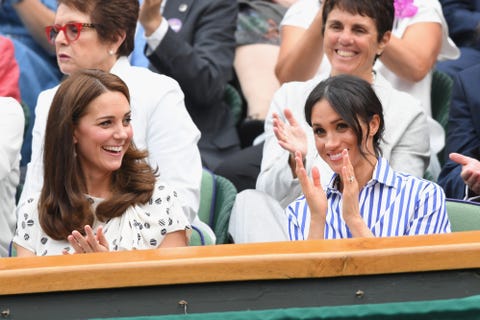 Wimbledon, July 2018
If there's one thing these two have in common, it's that they don't fear a bright color or a print. As you can see, we get a little bit of both here, and at a tennis game of all places! So many smiles! So much good hair game!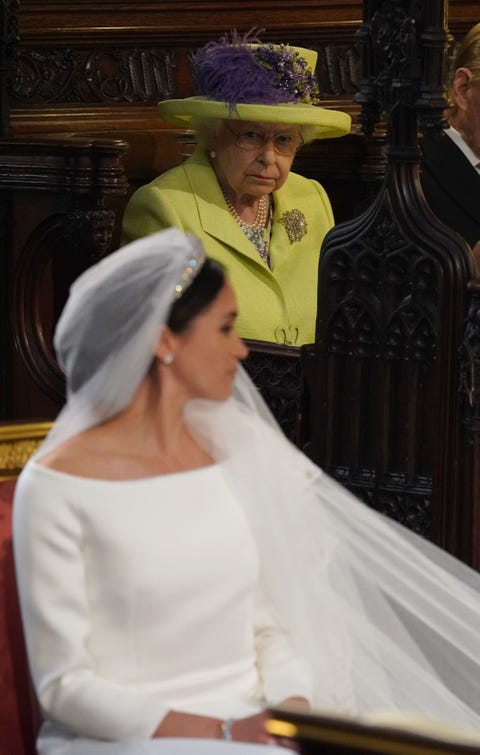 JONATHAN BRADY
Getty Images
The Royal Wedding, May 2018
Stern look? Most definitely, but I see that was a stern look of affection, like, "I love you, don't get into trouble." The Queen is looking at her other BFF Meghan Markle like she knows she's got a bright future ahead of her. The Queen would know.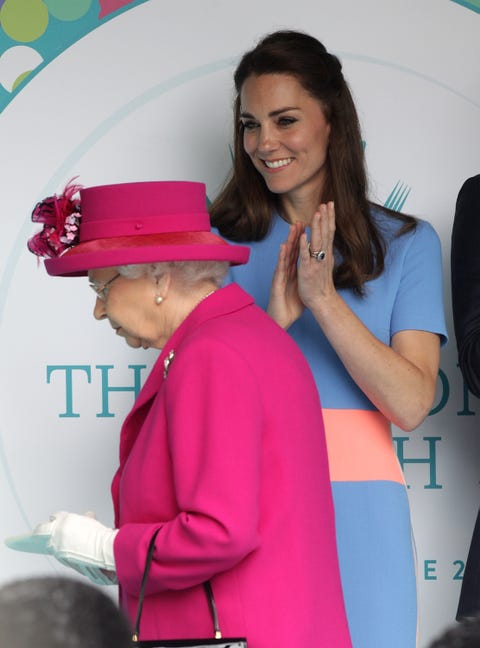 Danny Martindale
Getty Images
The Patron's Lunch to Celebrate The Queen's 90th Birthday, June 2012
You see that look of adoration? That look of respect? That's the look of "my best friend is turning 90, and I'm gonna eat so much cake!" I would be thrilled too, if my best friend celebrated 90 years on earth.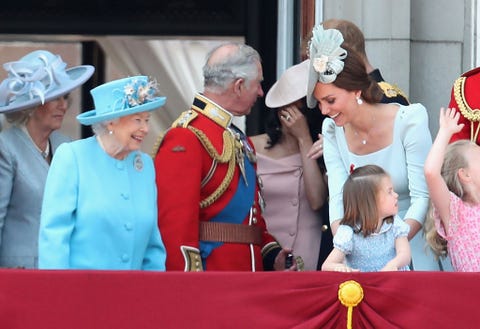 Trooping The Colour 2018
In a rare spotting: all three of our favorite best friends sharing a laugh together. What a glorious, fabulous moment I would love to be a part of. I wonder what the joke is, and if I would understand it... probably not, it's probably part of some great British humo(u)r I'll never understand.
This content is created and maintained by a third party, and imported onto this page to help users provide their email addresses. You may be able to find more information about this and similar content at piano.io