Celebs That You Forgot Were on MTV Shows
You aren't being Punk'd—these stars really did get their start on MTV.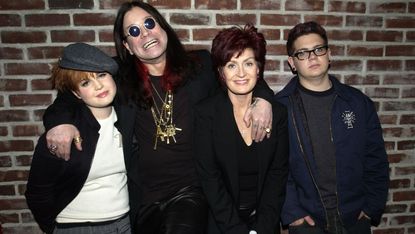 (Image credit: KMazur)
These days, reality shows are often launch pads for successful careers—just look at what reality TV did for the Kardashians and Cardi B—but while every network has a reality series these days, MTV has been kick-starting careers for decades. When the music television network launched in 1981 it only aired music videos (yes, that was a thing—if you don't believe us, ask your parents, they'll tell you). But in the '90s and early aughts, the network evolved and became an experimental place for off-the-wall sketch comedy, crazy pranks, and even some game shows. The network gave budding comedians and young actors a new place to break into the industry, and for these famous faces, it was the beginning of a magical career.
1/12
Dax Shepard
Before starring on the series Parenthood and marrying Kristen Bell, Dax Shepard specialized in helping make celebrities like Justin Timberlake cry on television. In 2003, he was on the debut season of the Ashton Kutcher-created show Punk'd, where they set up elaborate pranks.
2/12
B.J. Novak
Once celebrities started getting wise to the Punk'd phenomenon and wouldn't trust Dax Shepard with their car keys, it was time to swap in a new unknown actor as a field agent. In season 2, B.J. Novak stepped in for a while, before he headed off to write and star on The Office as Ryan Howard.
3/12
Whitney Cummings
Last Punk'd alum, promise! Comedian Whitney Cummings was one of Ashton Kutcher's field agents in 2004, before she left to roast people and create the TV series' Whitney and Two Broke Girls.
4/12
Jon Stewart
In a time before The Daily Show, Stewart had another daily talk show on MTV. The Jon Stewart Show aired from 1993-1995 with Stewart at the helm interviewing everyone from Howard Stern to David Letterman to Courteney Cox. Given that it was on a network still known as music television, the show was a huge platform for musical guests like The Notorious B.I.G, Warren Zevon and Sinéad O'Connor. An incident with Marilyn Manson's frontman setting fire to a Bible seemed to put the nail in the coffin for this late-night talk show.
5/12
Ben Stiller
Stiller wasn't quite unknown when he got his MTV gig—he did come from comedy royalty, being the son of comedians Jerry Stiller and Anne Meara. He'd also been a featured performer on Saturday Night Live, which is what earned him The Ben Stiller Show. The short-lived series (only 13 episodes) blended sketches with music videos and even earned an Emmy Award for "Outstanding Writing in a Variety or Music Program." While axed after only one season, Stiller quickly went on to direct and co-star in Reality Bites, and then movies like Meet the Parents, Zoolander, and Dodgeball.
6/12
Adam Sandler
Before he got his big break on Saturday Night Live, Sandler was a scene-stealing player on MTV's goofy game show, Remote Control. The show aired in the late '80s (yes, the dark ages) and was a wild combo of Double Dare meets Jeopardy, with trivia and people getting flipped out of their recliners when they got eliminated. Sandler would walk on playing "Stud Boy" or "Trivia Delinquent" to keep things entertaining.
7/12
Carson Daly
Currently, Daly can be seen early in the AM as one of the hosts on The Today Show, and he also hosted a late night show called Last Call with Carson Daly. But before all that, Daly helped brighten up the afternoons as the host of MTV's Total Request Live (a.k.a. TRL), playing new videos and interviewing musical talent in front of a live audience and the big fishbowl windows in Times Square that attracted screaming fans in droves.
8/12
Chris Hardwick
Nowadays, Hardwick is known for hosting the game show The Wall, as well as Talking Dead (the Walking Dead aftershow) and creating the Nerdist empire. But back in 1995 he was the co-host of the dating show Singled Out. Sort of like the speed-dating version of The Bachelor, one contestant (sometimes a celebrity, like Boy Meets World's Will Friedle seen here), would be seated in a chair, and have 50 potential dates behind a wall. Through a series of questions, they would eliminate contestants until a winner was found. Hardwick also hosted the short-lived series Shipmates in 2001, which featured blind dates on a boat.
9/12
Jenny McCarthy
Then known best for her modeling work in Playboy and as Playmate of the Year, McCarthy made the transition to hostess as the fun and sexy counterpart to Hardwick on Singled Out. She left the dating show after two seasons for her own sitcom (Jenny), before starring in movies like Scream 3 and co-hosting The View and judging The Masked Singer.
10/12
Sharon Osbourne
While Sharon Osbourne was known for decades to metal heads as Ozzy's wife and badass manager, she was mostly behind the scenes—until the reality TV show The Osbournes hit the airwaves in 2002. Then she became the foulmouthed-but-loving personality we all know now. She has since gone on to co-host The Talk and judge The X-Factor and America's Got Talent.
11/12
Kelly Osbourne
Being a teenager is challenging enough, and being the offspring of rock icon Ozzy Osbourne has a whole host of other challenges. Combine that with going through those awkward teen years on camera, and you've got the reason that so many people came to love Kelly Osbourne. On The Osbournes, she was a relatable, funny and outspoken teen, which led to her career on the Fashion Police, as well as turns on Dancing With the Stars and The Masked Singer.
12/12
Aziz Ansari
Aziz Ansari, along with comedians Paul Scheer and Rob Heubel took their improv comedy troupe Shutterbugs and turned it into the MTV series Human Giant in 2007. While the sketch comedy show was a hit, Ansari ran into a conflict; he'd landed his now-famous role of Tom Haverford on Parks and Recreation, so the MTV show ended after two seasons.
Celebrity news, beauty, fashion advice, and fascinating features, delivered straight to your inbox!
Adam is a writer based out of New York City who loves video games, horror movies, and cats (the musical and the animal.)