5 Hottest Girl-on-Girl Kisses
From Sandra to Miley to Britney, look back at real-life same-sex celebrity smooches.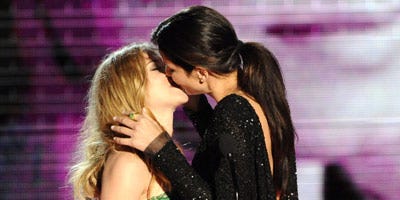 From Sandra to Miley to Britney, look back at these real-life same-sex celebrity smooches.
Sandra Bullock and Scarlett Johansson
Take that, Jesse James! In her first public appearance since news broke that her tattooed, motorcycle-loving hubby cheated, the Oscar winner proved she has better taste by getting up on international sex symbol Scar-Jo at the MTV Video Music Awards. "Now that we have done that, can we please go back to normal because therapy is really expensive," Bullock said after accepting the Generation Award. (And, for the record, this isn't Sandy's first girl-kissing rodeo. She swapped spit with Meryl Streep at the Critics Choice Awards in March.)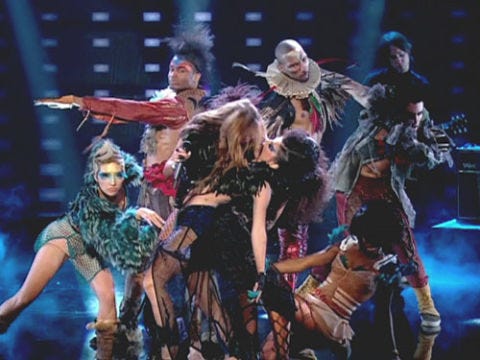 Miley Cyrus and Her Backup Dancer
The 17-year-old singer caused a stir for what she insists wasn't actually a kiss at all. During a live performance of her new song, "Can't Be Tamed," on Britain's Got Talent this past weekend, she pretended to make out with a female backup dancer. While the public went absolutely nuts, she insisted it was all a big misunderstanding and took to her website to set the record, er, straight. "I promise you I did not kiss her, and it is ridiculous that two entertainers can't even rock out with each other without the media making it some type of story," she wrote.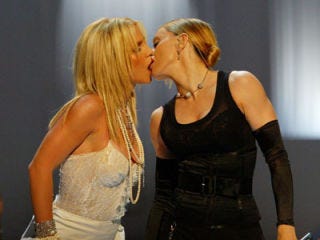 Britney Spears and Madonna
In what was not at all "Like a Virgin," the opening number at the 2003 MTV VMAs was the raunchiest performance basic cable television had seen up until then. In it, Madonna, Britney Spears, and a forever-left-out Christina Aguilera danced around on stage...and did some other things. But perhaps Xtina shouldn't feel so bad for being omitted from the girl-on-girl-kiss history books. Because it was very soon after that kiss that Spears's life took a downward-spiraling turn, the stunt has been dubbed the "kiss of death."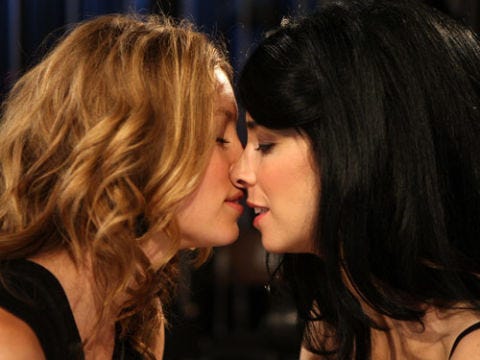 Frank Micelotta/Getty Images
Jessica Biel and Sarah Silverman
MTV awards ceremonies certainly have a way of making women make out. At the 2007 VMAs, Justin Timberlake's girlfriend and the foulmouthed comedienne almost locked lips backstage. The tease was a play on the "gimmicky" Britney-Madonna moment. "I'm not going to do some stupid publicity stunt so they can make advertising dollars off of their exploitations" Silverman says, before launching in for a near lip-lock. Unlike Brit, this one left everyone wanting more.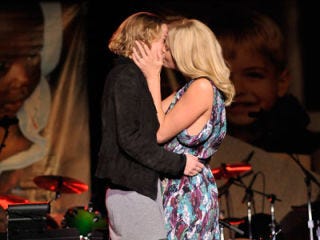 Charley Gallay/Getty Images
Charlize Theron and a Lucky Lady
The actress is one smart businesswoman. Instead of just locking lips with any ol' lady, Theron drives a hard bargain. During a 2009 charity event, she was having trouble auctioning off a trip to South Africa for anything more than $30,000. So, she upped the ante and added a makeout session to the prize ("I've got t**s, for God's sake," she told the crowd). After one man bid $135,000, a woman rose to the occasion — with $140,000 — and took the stage for a 20-second smooch.
This content is created and maintained by a third party, and imported onto this page to help users provide their email addresses. You may be able to find more information about this and similar content at piano.io