Reese Witherspoon Combats Sexism on the Red Carpet with #AskHerMore
"We love the dresses...but we're more than just our dresses."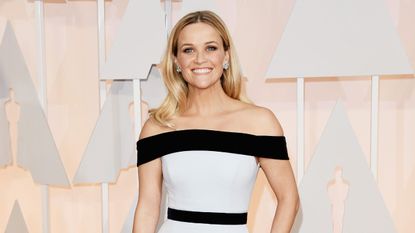 (Image credit: JASON MERRITT / GETTY IMAGES)
Reese Witherspoon has been a major champion for women's rights in Hollywood as of late, and the Oscars is obviously the perfect opportunity to take things up a notch. In her campaign to end sexism on the red carpet, Reese took to Instagram (opens in new tab) and Facebook (opens in new tab) on Sunday to inspire the media to ask women about their projects, rather than focusing solely on their fashion and beauty habits.
The great thing about the campaign, which has already taken social media by storm, is that it isn't saying fashion that isn't important (come on, we all love dress porn (opens in new tab)), only that there's a lot more to the women here today than what they're wearing and how they stay in shape.
"This is the movement to say we're more than just our dresses," the Best Actress nominee said on the red carpet. "We love the dresses...but we're more than just our dresses."
You should also check out:
The Conversation Around Better Roles for Women in Hollywood Is Heating Up (opens in new tab)
Reese Witherspoon on the Badass Reason She Started Her Own Company (opens in new tab)
My writing has regularly appeared in The New York Times, The Paris Review, Salon, VICE, Guernica, The New York Observer, BuzzFeed, Cosmopolitan, Seventeen, Esquire, Elle, Harper's Bazaar, and many more publications.

I was previously the Senior News Editor at Best Life Online and the Viral Content Editor in the Newsroom of Hearst Digital Media. My portfolio consists of a vast and diverse body of work that includes personal essays, lifestyle articles, breaking news posts, and viral content. My areas of expertise, however, are Russia, sex and relationships, and mental wellness.