Fox News Host Who Fat-Shamed Kelly Clarkson Apologizes
"It was a really stupid thing for me to do."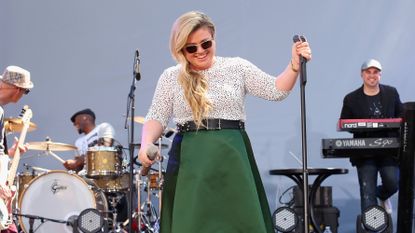 (Image credit: Getty Images)
Marie Claire newsletter
Celebrity news, beauty, fashion advice, and fascinating features, delivered straight to your inbox!
Thank you for signing up to . You will receive a verification email shortly.
There was a problem. Please refresh the page and try again.
Update, 4/6: Chris Wallace, remorseful fat-shamer and Fox News Sunday host, has apologized to Kelly Clarkson amidst public backlash and, duh, after her epic comeback (see below).
"I sincerely apologize to Kelly Clarkson for my offensive comment," Wallace said in a statement to E! News on Sunday. "I admire her remarkable talent and that should have been the focus of any discussion about her."
Fellow weight policeman Mike Gallagher, who hosted Wallace on his radio show, also said he is sorry.
"Tubby Mike is the last person in the world who should bring up anyone's weight," Gallagher said in a statement posted on his website (opens in new tab). "I couldn't possibly feel any worse than I do for making an observation that led to the conclusion that I 'fat-shamed' this talented and classy entertainer. It was a really stupid thing for me to do."
Clarkson hasn't responded—and she doesn't have to, given that she's clearly busy living life with the approval of the only people who matter to her.
Original post, 4/3: Ever since Kelly Clarkson entered the spotlight, she's been under constant criticism (opens in new tab) for being "too fat." Most recently, the 32-year-old singer and mother was hit with a cruel tweet from a woman, who joked that the star had eaten "all of her backup singers." Clarkson responded by saying that now that she has her family's approval, she doesn't need anyone else's.
Appearing on Ellen recently, Kelly gushed over her 9-month-old baby, River, before opening up about how she feels about all the fat-shaming she's had to deal with of late.
"First of all, I like how people think that's new," she laughed. "Like, welcome to the past 13 years."
She then revealed that what rattles her the most isn't when people criticize her, but when she goes to a meet-and-greet and a woman who is bigger than her will say, "Oh God, if they think you're big I must be so fat to them."
"It's like you are who you are," she said, to wild applause. "And it doesn't mean that you're going to be that forever. Sometimes I'm more fit and I get into kick-boxing hardcore. And sometimes I don't and I'd rather have a glass of wine."
Yes, yes, and more yes. Looks like this lady's got her priorities just right.
You should also check out:
Join Our Strong Sexy You Challenge (opens in new tab)
Pregnant News Anchor Shuts Down Fat-Shaming In Awesome Way (opens in new tab)
7 Awesomely Devastating Celebrity Comebacks That Will Give You Life (opens in new tab)
My writing has regularly appeared in The New York Times, The Paris Review, Salon, VICE, Guernica, The New York Observer, BuzzFeed, Cosmopolitan, Seventeen, Esquire, Elle, Harper's Bazaar, and many more publications.

I was previously the Senior News Editor at Best Life Online and the Viral Content Editor in the Newsroom of Hearst Digital Media. My portfolio consists of a vast and diverse body of work that includes personal essays, lifestyle articles, breaking news posts, and viral content. My areas of expertise, however, are Russia, sex and relationships, and mental wellness.