'Undateable' Fans: Marie Claire Is Doing a Very Special Social Takeover for Tonight's Holiday Episode
In case you've ever wondered what Bianca Kajlich and Bridgit Mendler are *really* thinking during the show.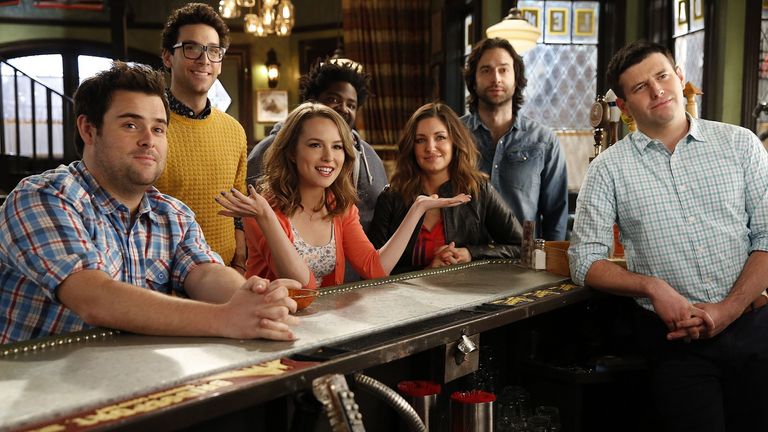 (Image credit: NBC)
Why is this night different from all other nights? Yes, it's Hannukah, but that's not what we mean (chag sameach to you and yours all the same). No, tonight is the night to curl up on your couch, glass bottle of wine in hand, and follow along with Bridgit Mendler and Bianca Kajlich as they give Marie Claire readers exclusive behind-the-scenes commentary on Undateable's live holiday episode.
If you aren't an Undateable superfan (first of all, bye), you'll still want to tune in for this one. Kajlich will be live-tweeting from @marieclaire *in between* takes (the whole show is filmed live, NBD) and Mendler will be taking over Marie Claire's Snapchat, @marieclairemag. Most of the show takes place at a neighborhood bar, so you'll fit right in.
For those of you on the East Coast, peep @MarieClaire on Twitter starting at 7:30pm and follow @marieclairemag on Snapchat at the same time. Don't worry, West Coast, Mendler and Kajlich will keep the lols coming when the Undateable team films the episode for your time zone, too. (If you want to follow along for the entire takeover, it's all happening from 7:30pm to 11:30pm EST / 4:30pm to 8:30pm PST.)
See you tonight!
Follow Marie Claire on Instagram for the latest celeb news, pretty pics, funny stuff, and an insider POV.
As Cosmopolitan's deputy editor, Rosa Heyman oversees a team of whip-smart editors and hilarious writers who bring you some of the best investigations on the internet, from dissecting the latest Kardashian drama to uncovering the link between white supremacy and misogyny. She currently manages the news and social teams and develops the strategy for how the brand best distributes content. You can usually find Rosa glued to her phone workshopping a cheeky caption for Cosmo's Instagram account.