Emma Stone's Best Sketches from Last Night's Episode of SNL
The actress hosts the show for the third time.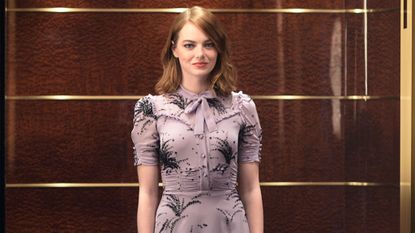 (Image credit: Getty Images)
Last night, Saturday Night Live returned from its Thanksgiving hiatus—and while Donald Trump was busy hate-tweeting about Alec Baldwin's (brilliant, as always) impersonation of him, the rest of us were enjoying watching Emma Stone slay her third appearance as host of the show. Here is a rundown of the best of Stone's sketches from last night's episode:
"The Christmas Candle"
We can all relate to the panic that ensues as the holidays near and you still haven't found a present for that one person you don't know well enough to actually shop for. Enter: the Christmas candle. Often smelling of a fake, sickly-sweet scent; often on sale/re-gifted/found in the back of a cabinet; always a pretty bad gift idea. SNL takes this scenario and makes it even funnier with fake snow, '90s hair, and upper-middle-class housewives in fur coats passing around a dusty peach-scented candle. Enjoy.
"High School Theatre Show"
What do you get when you take a group of high school students who fancy themselves ~artistes~, add all black outfits and edgy haircuts, and throw in a healthy dose of causes to fuel their poorly informed, poorly staged social commentary? You get this show—cheekily titled, "Now More Than Ever, We Artists Cannot and Will Not Be Silenced."
"Film Screening"
Kate McKinnon proves to be the real gem of this sketch, reprising her character Debette Goldry at a women in film panel with Leslie Jones, Emma Stone and Jennifer Aniston. Her stories, like being forced to take arsenic to make her skin glow, and dated views on the wage gap between men and women ("Of course we're getting paid less than men—they're men, they're doing all the work!") are outrageous enough to cause even McKinnon to nearly break character—and everyone else's reactions are just as hilarious.
"Wells for Boys"
Emma Stone is the hilarious concerned mother of a sensitive young boy in this clever sketch that plays on the idea of gender-specific children's toys. While some kids Christmas lists feature Fisher Price kitchen sets or rough-and-tumble tricycles, others "just long to be understood." For these quiet, introspective boys, there's the Fisher Price Well—"for sensitive boys to wish upon, confide in, reflect by." There are also balconies "for when they're ready to announce something," or a shattered mirror "to examine the complex contradictions of their being." The parody ad perfectly pokes fun at the cultural attitude towards gender norms—plus Stone totally nails her overprotective mom rant.
"The Nativity"
In the final segment of the episode, Emma Stone and Kyle Mooney take on the role of Mary and Joseph in a Christmas-themed sketch. Have you ever wondered what it must've been like for Mary? Seriously, this girl had it rough. First, she got pregnant without ever having sex. Then, she had to give birth in a barn because the local innkeeper was probably a jerk. (You'd think giving birth to the son of God would come with a few perks, like maybe a bed… or a doctor…) And then, to top it all off, right after she pushes new life into the world in the middle of a pile of hay, a bunch of strange men show up and want to see her new baby. Like, can she have moment?? You'll never look at a nativity scene the same way ever again.
Follow Marie Claire on Facebook for the latest celeb news, beauty tips, fascinating reads, livestream video, and more.
Marie Claire email subscribers get intel on fashion and beauty trends, hot-off-the-press celebrity news, and more. Sign up here.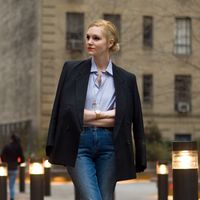 I am an experienced editor, writer, and creative strategist, specializing in fashion, beauty, and lifestyle content for digital media outlets, as well as video and social platforms. While I currently operate as a freelance contributor/consultant, with such clients as The Zoe Report, my 10+-year background in the industry was cultivated at the dot-coms of elite publications, including Harper's BAZAAR, ELLE, and Marie Claire.