The Best Looks from the Last-Ever 'Mad Men' Press Tour
The one silver lining to end of an era).
Mad Men has officially come to an end and there's but one silver lining: the slew of premieres at which we caught the cast IRL, dressed to the nines for one last time. From a bearded Jon Hamm in a Don Draper-esque suit to January Jones with a new pink 'do donning a designer frock, each look was equal parts unexpected and timeless.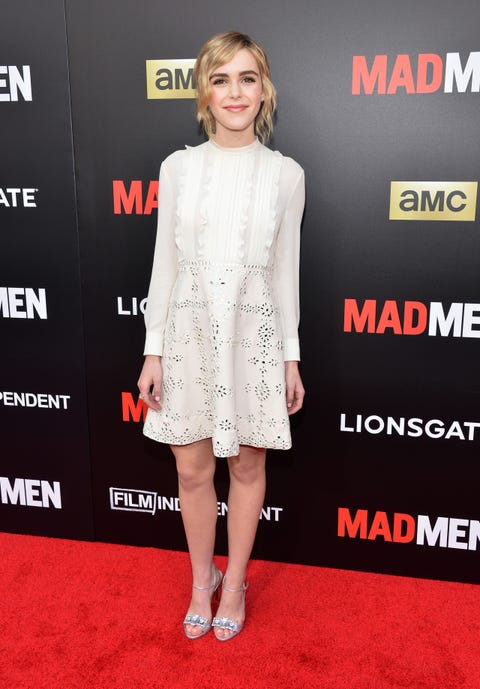 Kiernan Shipka
The 15-year-old is the picture of age-appropriate sophisticated in this white ruffled frock.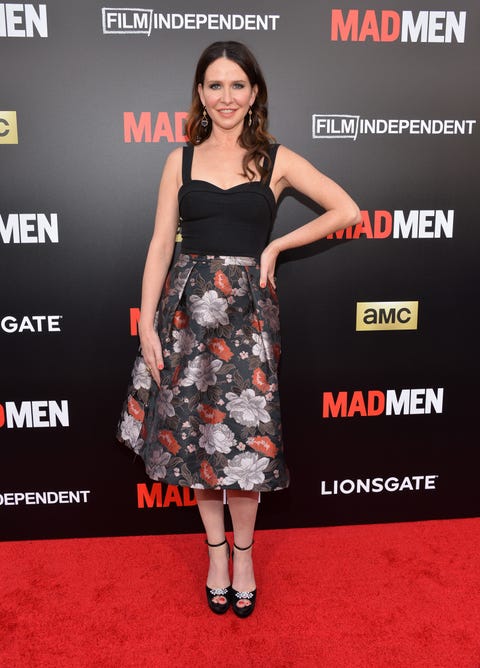 Janie Bryant
Bryant is both on-trend and retro in a black bustier top and high-waisted floral skirt.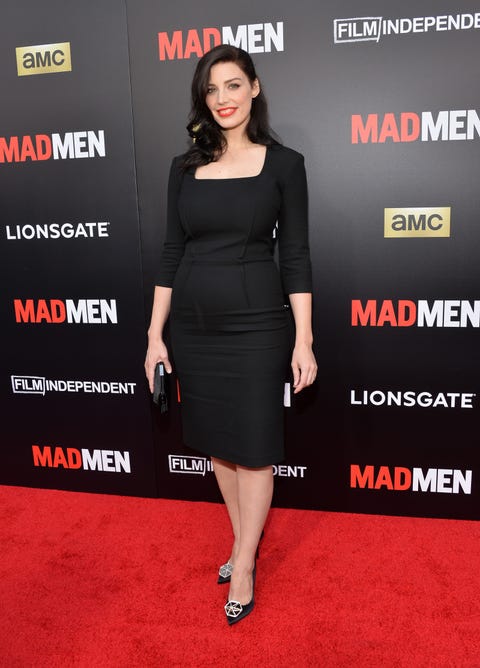 Jessica Paré
Unlike Megan Draper, Paré likes to go the understated route as displayed with this classic, midi-length LBD.
Elizabeth Moss
Moss is totally un-Peggy in this ultra-modern, navy and baby blue color-blocked number.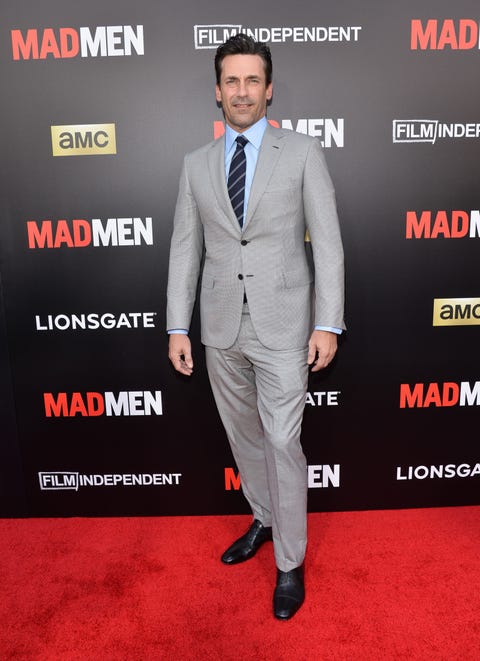 Jon Hamm
As handsome as ever, Hamm says goodbye to Don Draper in proper fashion: a made-to-fit gray suit.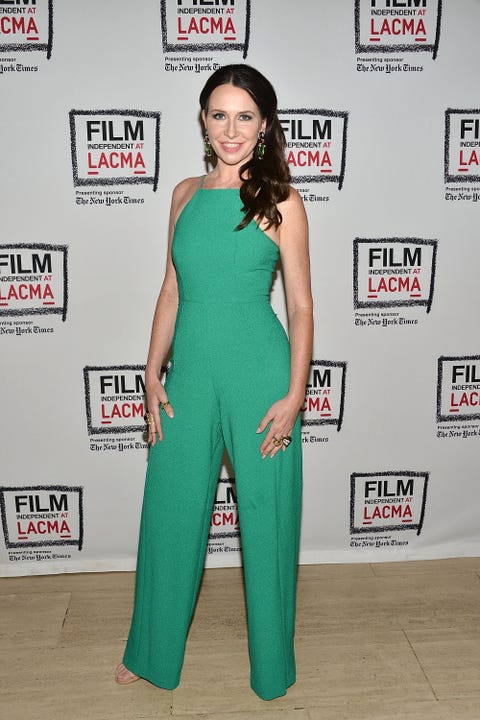 Janie Bryant
Naturally, the genius behind Mad Men's retro costumes has some fashion chops of her own. This green halter jumpsuit is perfection.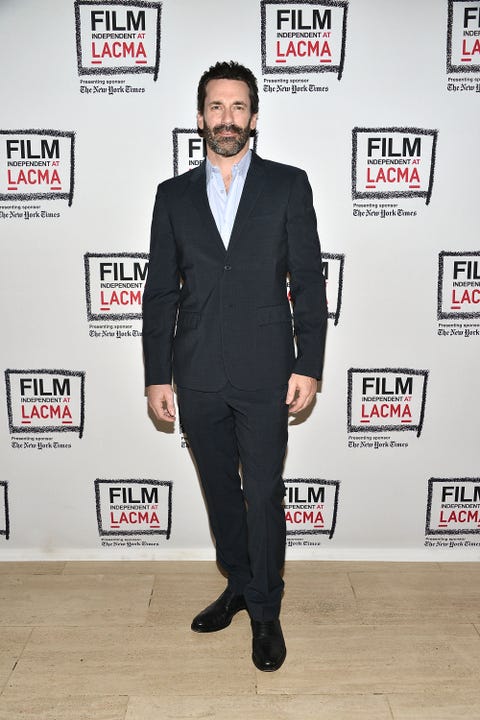 Jon Hamm
Hamm keeps it simple, yet totally polished in a black suit with a blue button-down dress shirt.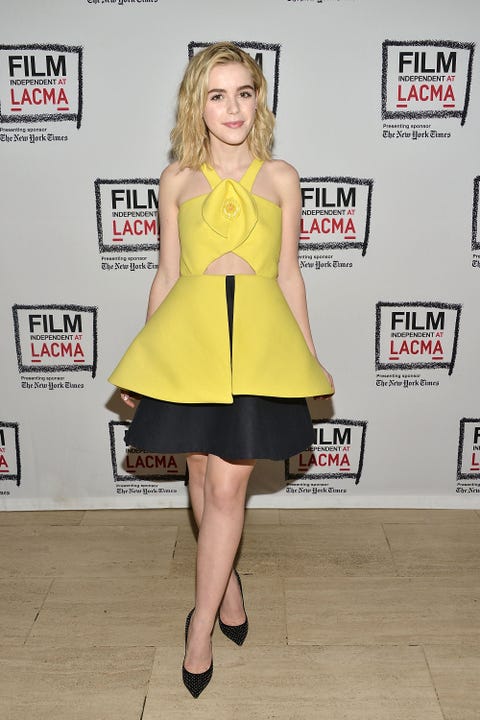 Kiernan Shipka
Shipka nails this conceptual, black and yellow Delpozo Spring 2015 look with ease.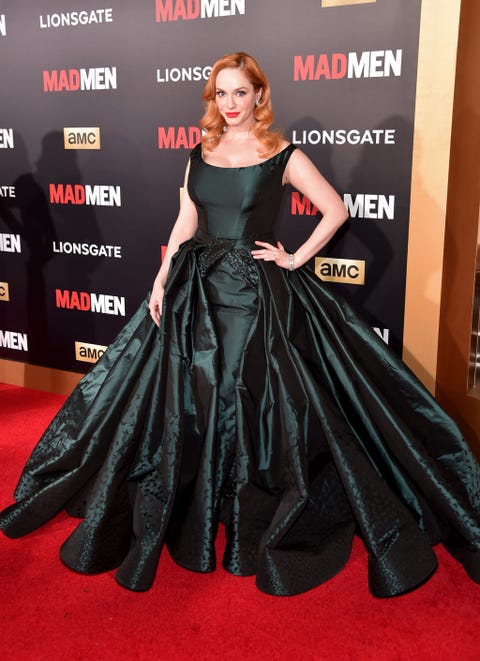 Christina Hendricks
Hendricks is quite literally the belle of Mad Men's Black & Red Ball in this dark green Zac Posen masterpiece with a removable ball skirt for versatility.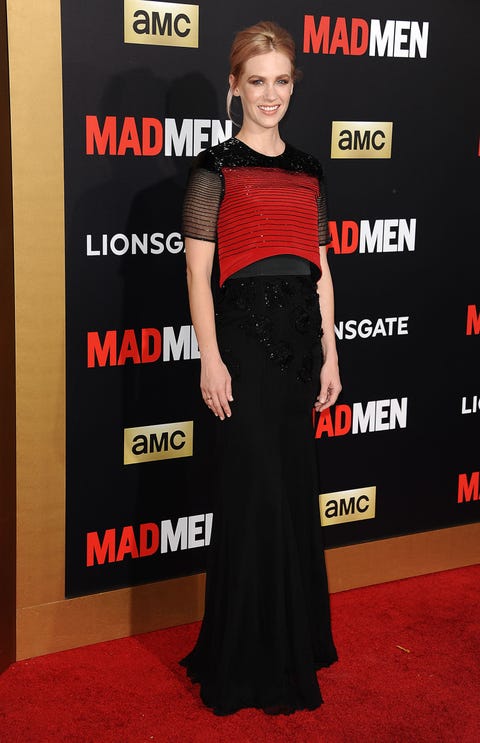 January Jones
Fitting for the Black & Red Ball, Jones donned the colors of the evening in this Prabal Gurung Pre-Fall 2014 gown with a beaded crop top.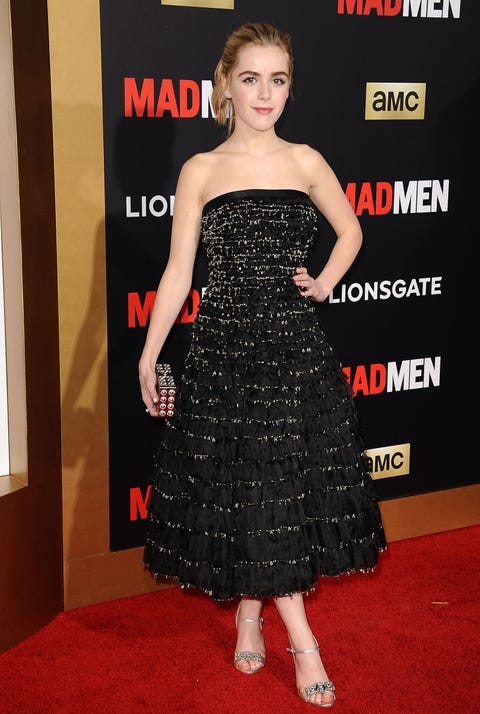 Kiernan Shipka
Just as adult as Sally Draper herself, Shipka looks elegant, yet age-appropriate in this strapless, ruffled LBD.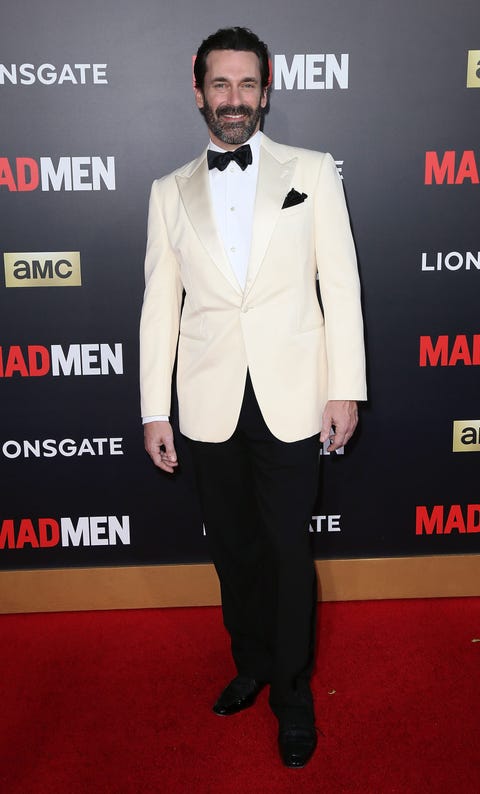 Don Draper
Hamm switches things up in a sharp, ivory tuxedo jacket and bow tie—and we like it.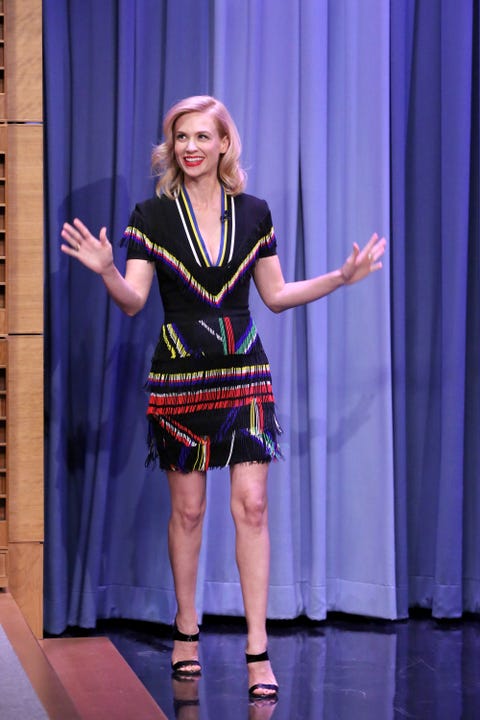 January Jones
She makes a vibrant statement in this rainbow-fringed LBD from Preen by Thorton Bregazzi's Spring 2015 collection.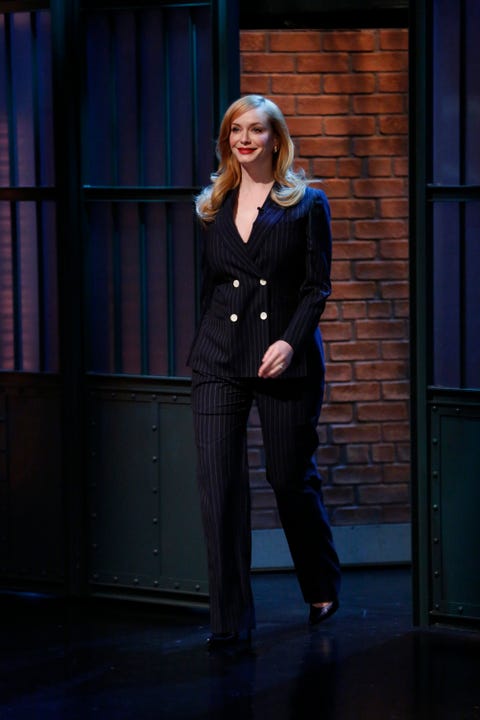 Christina Hendricks
Just as sexy walking an androgynous line, Hendricks wears a double-breasted pinstripe Max Mara suit.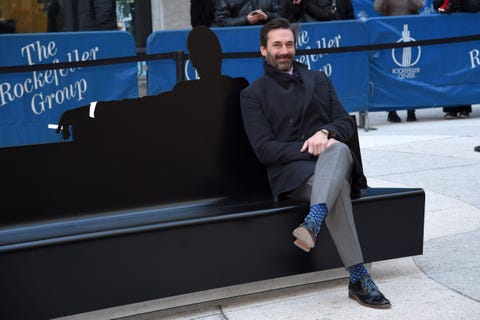 Jon Hamm
Mr. Don Draper himself poses with a new statue of his silhouette in Midtown Manhattan.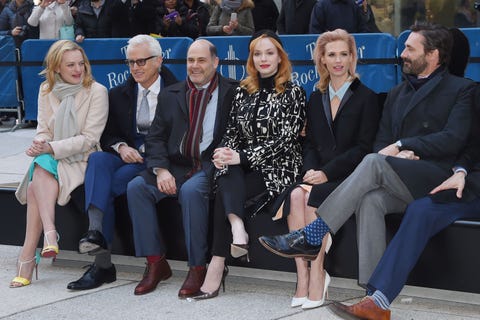 The Cast
An Elisabeth Moss, John Slattery, Matthew Weiner, Christina Hendricks, January Jones, and Jon Hamm group shot is totally neovintage.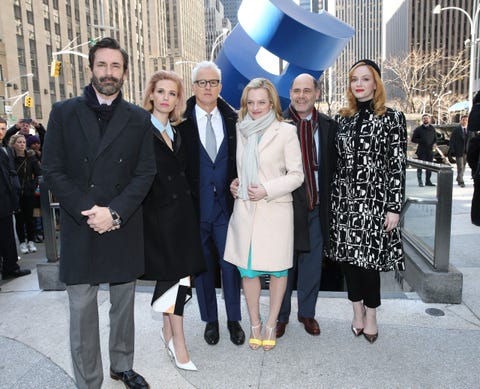 The Cast
They strike a pose in front of the Time & Life building in Midtown Manhattan.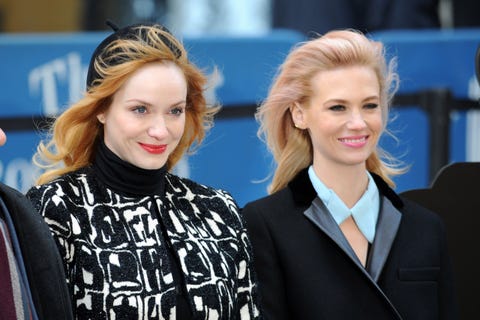 Christina Hendricks and January Jones
Yes, Joan Harris and Betty Draper are just as perfect IRL, with the former in a print sweater and beret, and the latter in a collared top and shawl coat.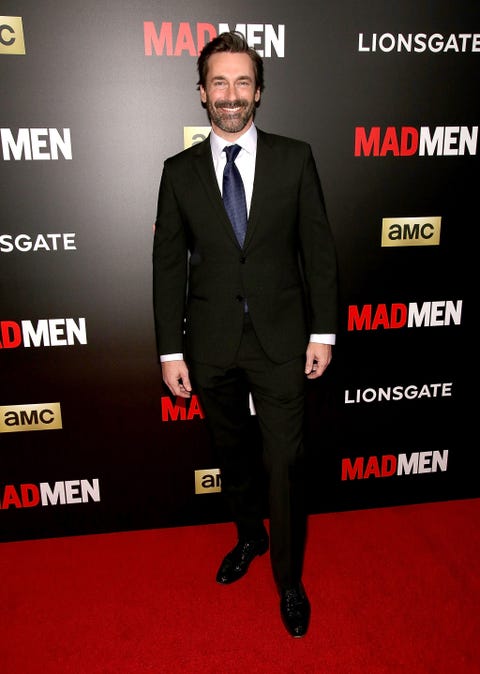 Jon Hamm
A far cry from the Don Draper we know and love, Hamm is all smiles and looking handsome as ever in a classic black suit and navy tie.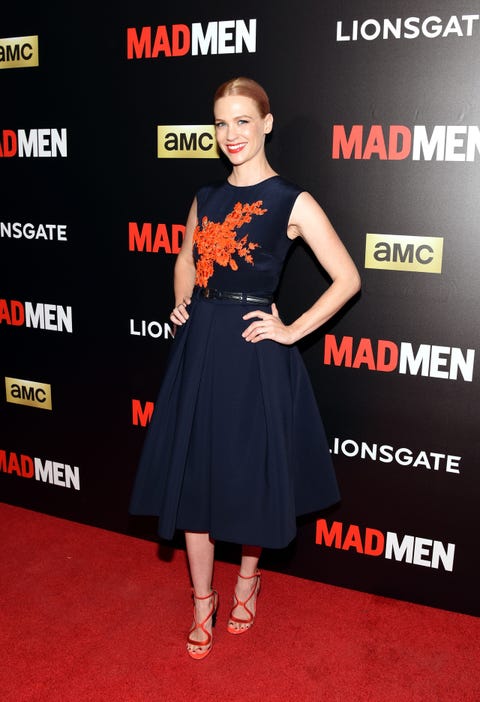 January Jones
With her pink hair smoothed back, Jones wears a voluminous, navy cocktail dress with a floral graphic.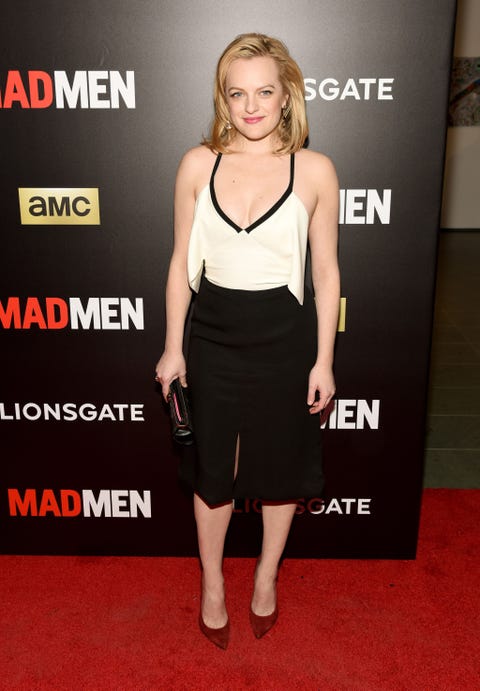 Elisabeth Moss
Moss took this hot-off-the-runway J. Mendel Fall 2015 look and made it all her own in a breezy, yet sultry fashion.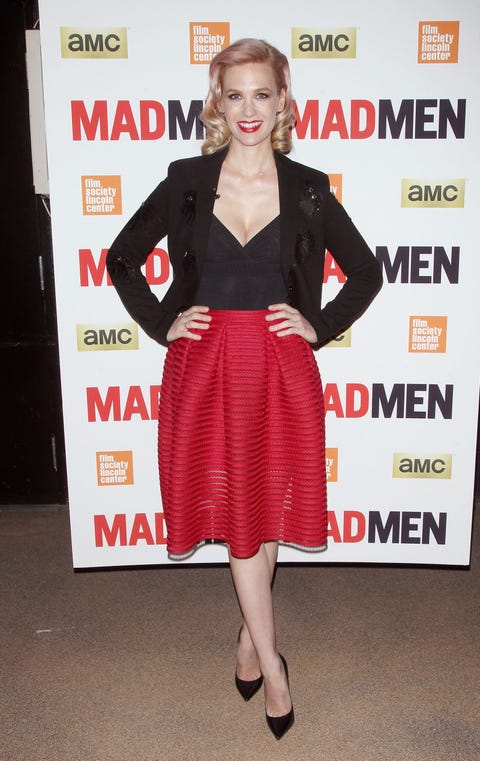 January Jones
She goes for a modern take on the poodle skirt with red Maje number, bustier, and blazer jacket. The super-chic retro victory roll 'do is the best finishing touch.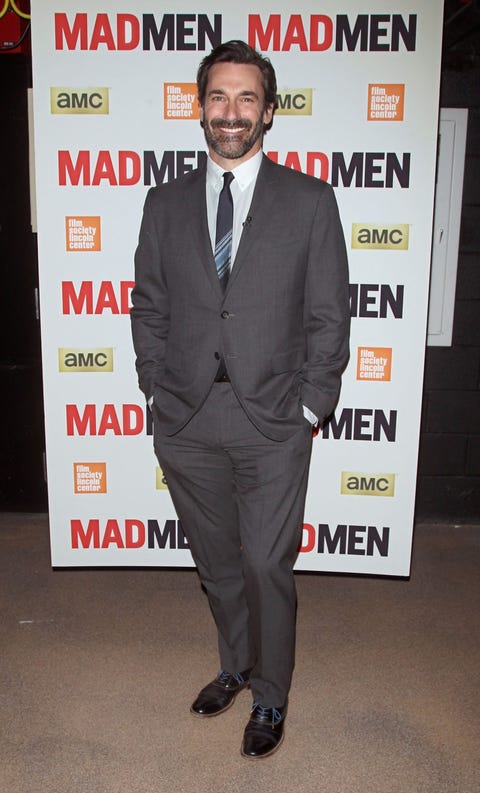 Jon Hamm
The actor is relaxed—yet still refined—in a roomy grey suit and blue stripe tie.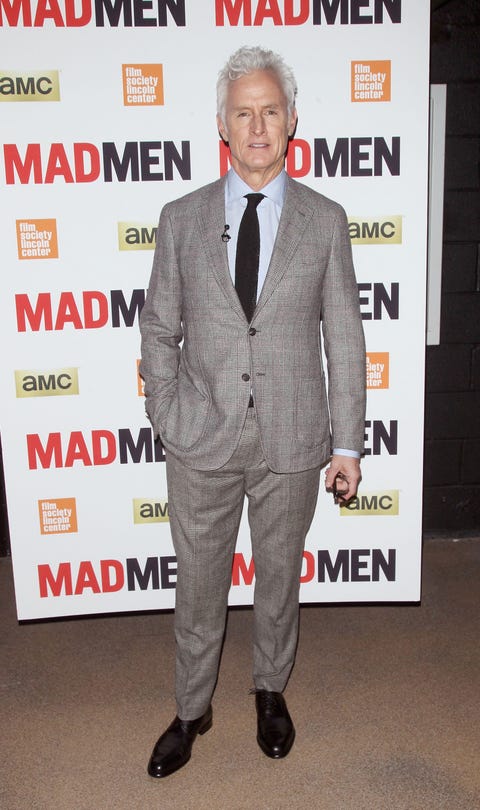 John Slattery
Proving to be just as slick as Roger Sterling himself, he opts for a tailored grey suit, blue dress shirt, and black tie.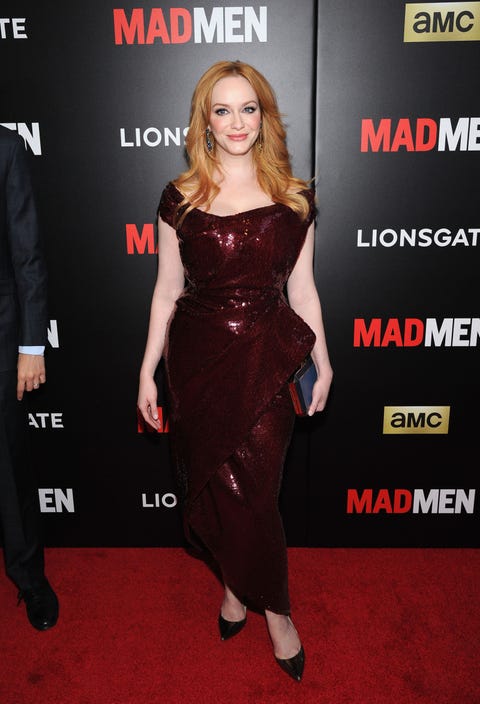 Christina Hendricks
Vivienne Westwood knows her way around a woman's body and this crimson sequin number looks amazing on Hendricks (especially against her ginger hair).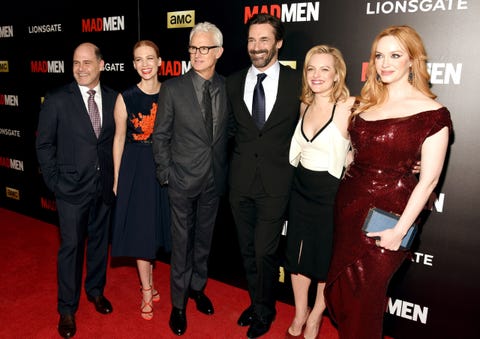 The Cast
Matthew Weiner, January Jones, John Slattery, Jon Hamm, Elisabeth Moss, and Christina Hendricks all look amazing, don't they?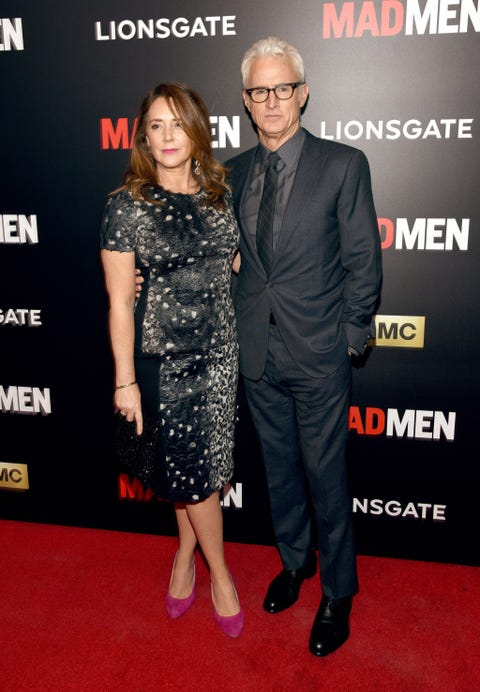 John Slattery and Talia Balsam
The real life couple aims to please with style as much as they do on-screen in her grey printed sheath dress and his sharply-tailored charcoal suit.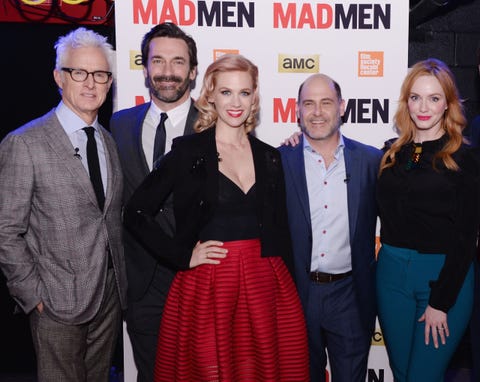 The Cast
John Slattery, Jon Hamm, January Jones, Matthew Weiner, and Christina Hendricks effortlessly blend '50s-inspired design with 2015-ready looks.
This content is created and maintained by a third party, and imported onto this page to help users provide their email addresses. You may be able to find more information about this and similar content at piano.io