31 Celebs Show Off Some Mad Food Skills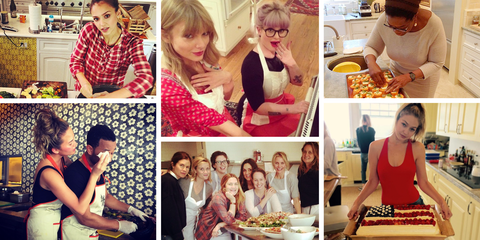 Yes, celebrities can dine out at five-star eateries three meals a day or hire a private chef for their own convenience, but thanks to Instagram, we're realizing just how much these stars like to cook. In fact, some even serve up Michelin-worthy creations without batting an eye. In celebration of their adventures in culinary fare, here are some of our favorite snaps.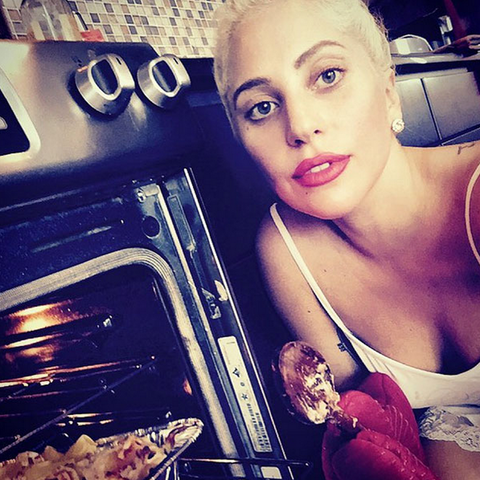 Lady Gaga
Because she's just the best, proud Italian Lady Gaga cooked up her famous ziti for the Chicago Fire Department. She wants full bellies, boys!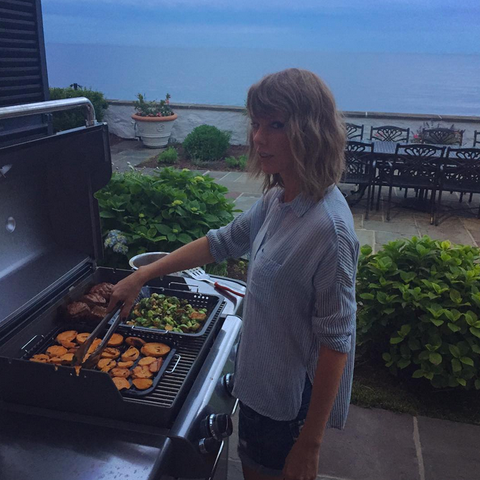 Taylor Swift
On top of being a word class singer/songwriter/performer, Taylor Swift can make a mean meal. (And Calvin Harris knows he's a lucky man.)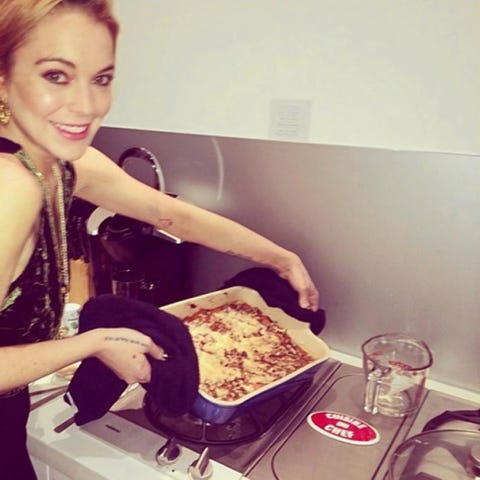 Lindsay Lohan
While appearing on The Chew, Lohan prepared Thanksgiving dishes including this authentic lasagna dish.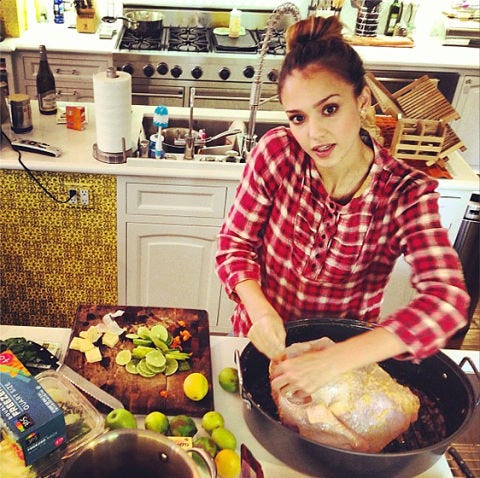 Jessica Alba
When it comes to Turkey Day, Jessica Alba is all business.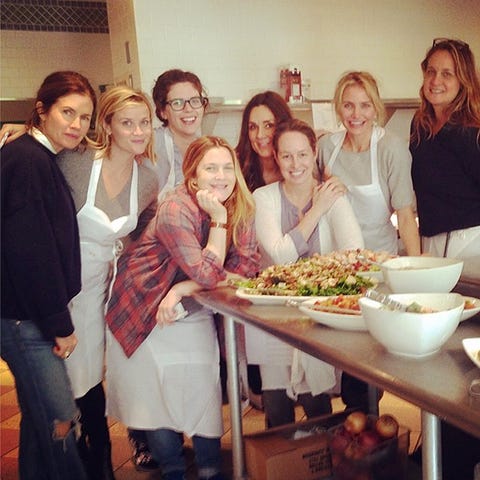 Cameron Diaz, Reese Witherspoon, and Drew Barrymore
Cooking classes are fun for all types of friends—even super-duper famous ones.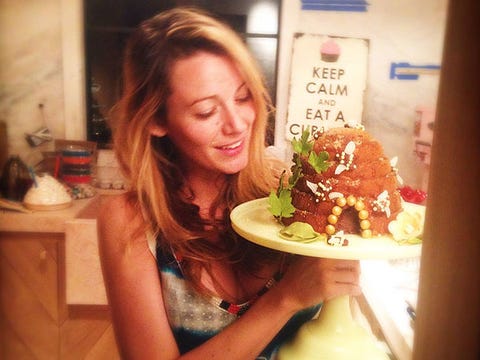 Blake Lively
For Beyoncé's 33rd birthday, Lively baked her a bee-themed, lemon honey birthday cake. Casual.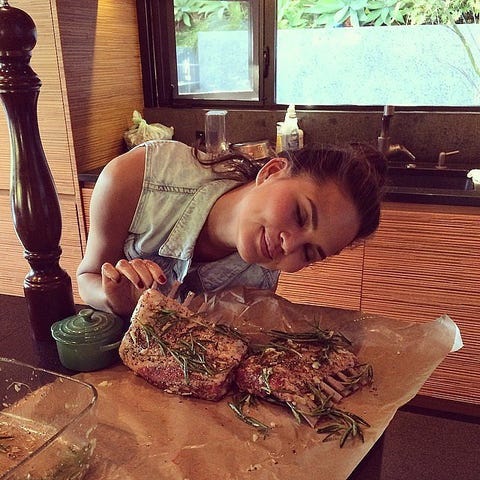 Chrissy Teigen
Teigen's Instagram feed is practically a masterclass in cooking and here she's tempting us with some expertly-seasoned ribs. (She's even coming out with her own cookbook. No one who follows her is surprised.)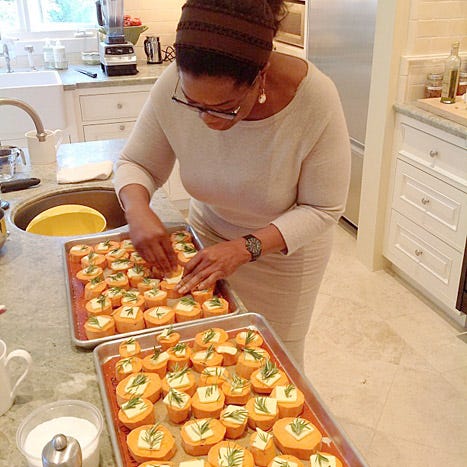 Oprah
*Of course* this is what Thanksgiving looks like at Oprah's abode. Sweet potatoes with freshly picked rosemary, anyone?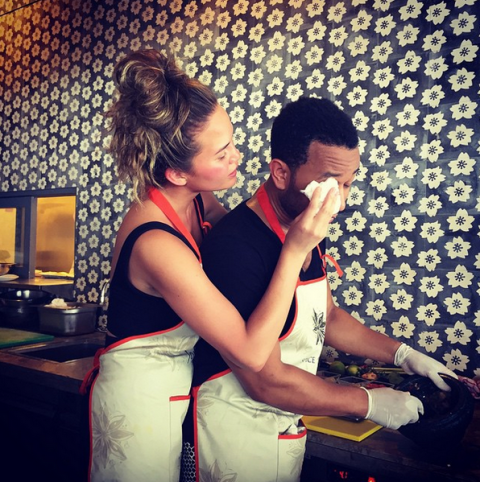 John Legend and Chrissy Teigen
A perfectly captioned Instagram courtesy of Chrissy Teigen: "Cooking class with el sensitivo."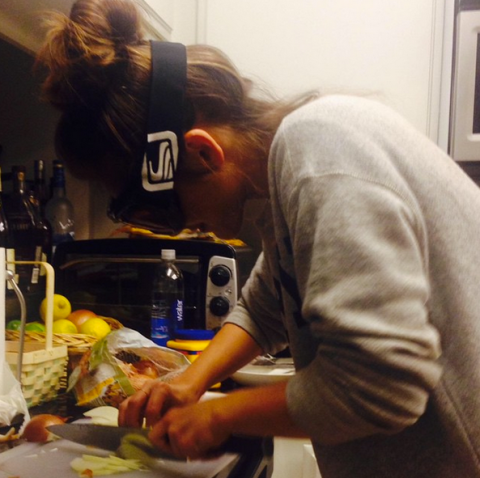 Minka Kelly
Big girls don't cry when chopping onions, and that's why Kelly has the perfect solution: skiing goggles.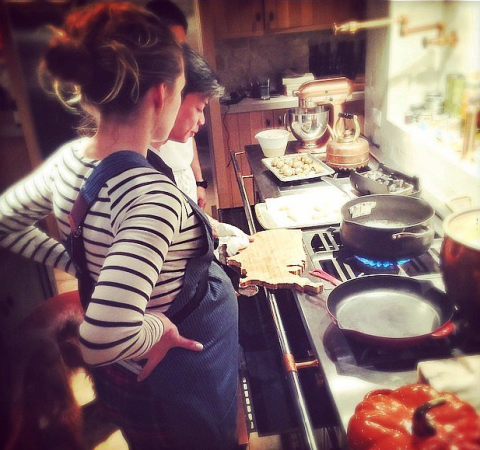 Blake Lively
While pregnant, Lively got cooking lessons from Chef Hung Huynh.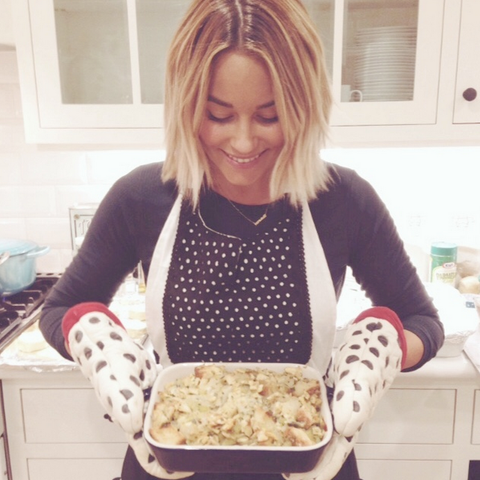 Lauren Conrad
On Thanksgiving, Conrad can't help but admire her work. (We're eager test-tasters, Lauren...)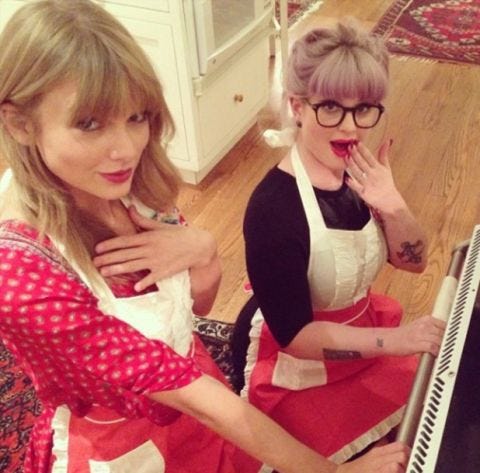 Kelly Osbourne and Taylor Swift
The two stars had a girl's night baking and decided to look the part, aprons et al.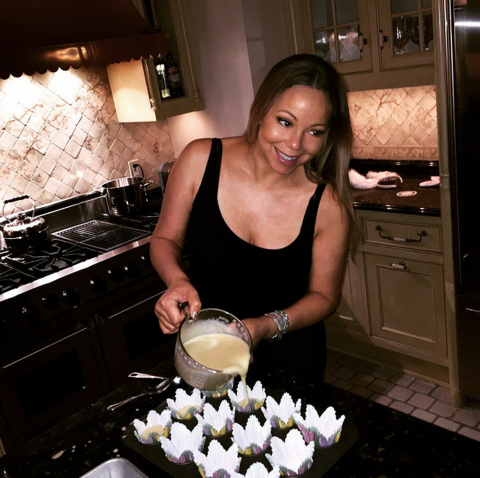 Mariah Carey
On Easter, Carey took a D.I.Y. approach to making festive cupcakes.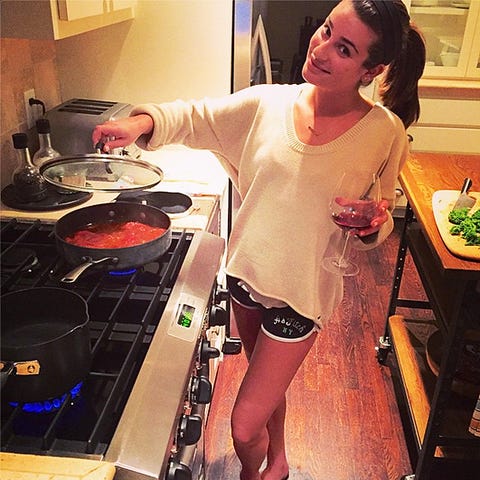 Lea Michelle
Michelle knows full well that the best way to prepare an Italian meal is with a glass of red wine in hand.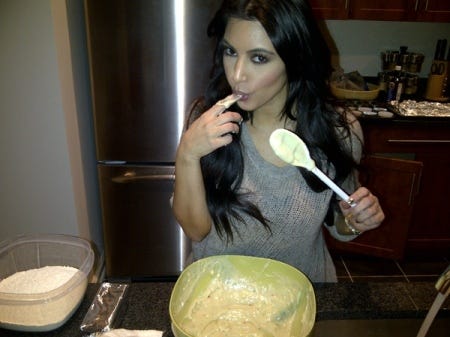 Kim Kardashian
Kardashian is always one for a sultry selfie, even while she's baking.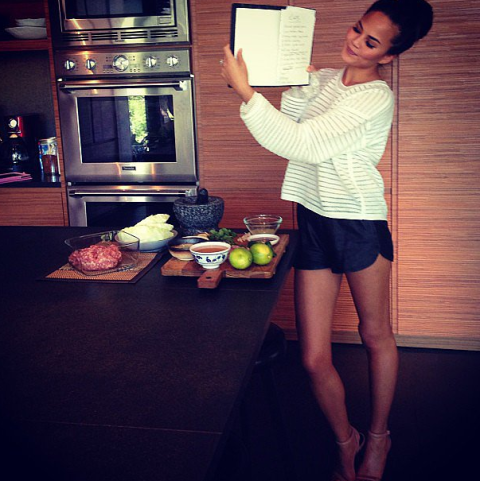 Chrissy Teigen
Teigen is only by the book when it comes to cooking up one of her signature delicacies.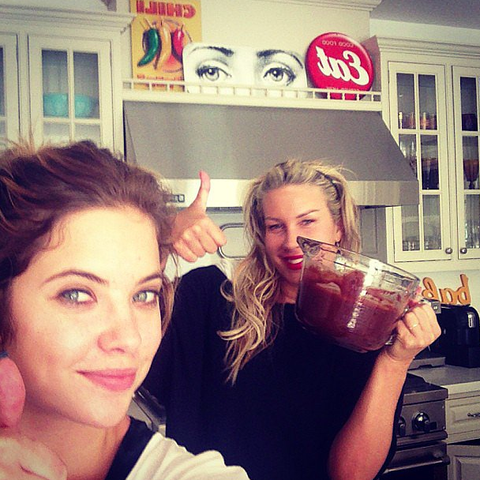 Ashley Benson
Benson can't help but snap a selfie while baking up brownies with a friend.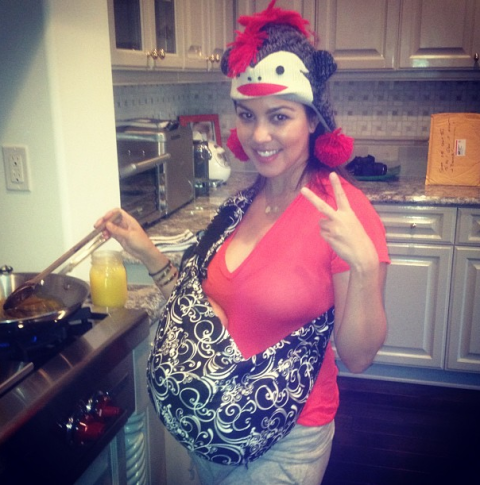 Kourtney Kardashian
The mother of three doesn't mind a little tongue-in-cheek attire while making breakfast for the fam.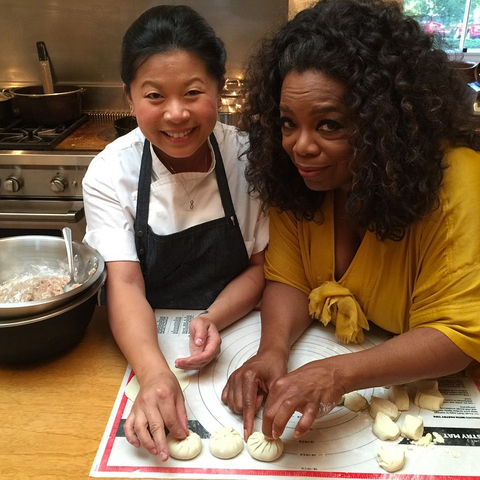 Oprah
For a friend's birthday, Oprah learned how to make authentic Tibetan dumplings.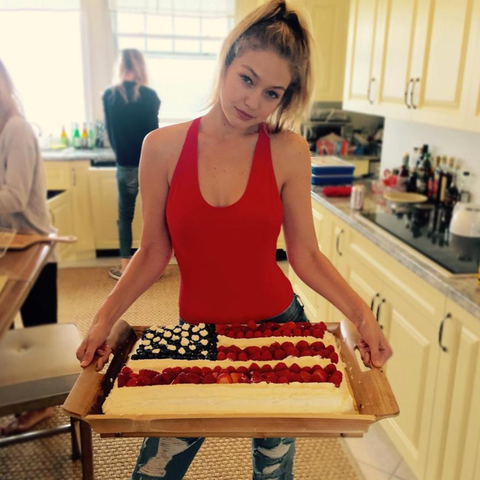 Gigi Hadid
Joe Jonas had to get a snap of his girlfriend Gigi, who totally matched the 4th of July cake she helped prepare.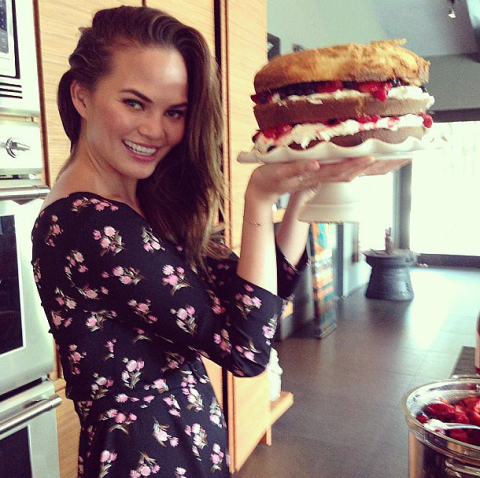 Chrissy Teigen
Teigen likes to bake cakes with lots o' layers and berries.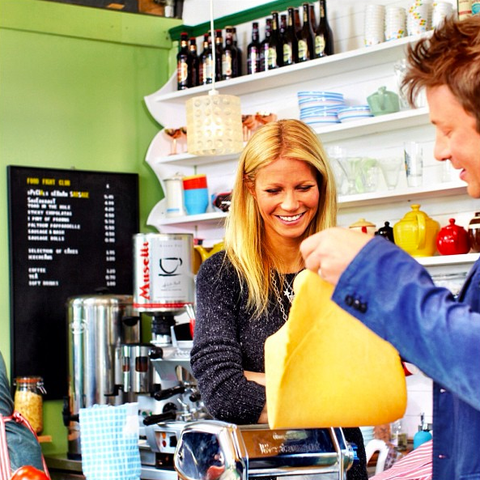 Gwyneth Paltrow
The GOOP founder is no stranger to the kitchen and loves herself some homemade pasta.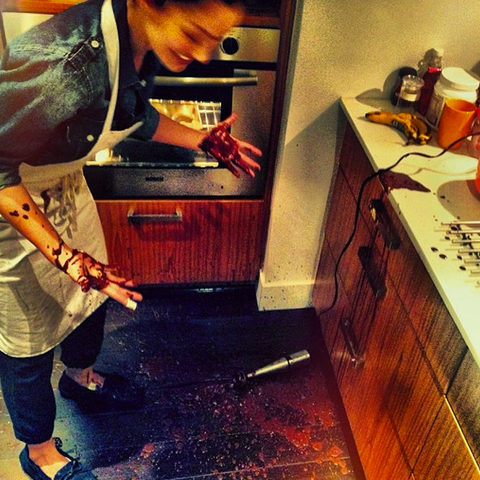 Minka Kelly
Even seasoned celeb cooks have their mixing bowl mishaps.
Lorde and Taylor Swift
The two pop stars had a culinary field day at Ella's Fine Food and Drink.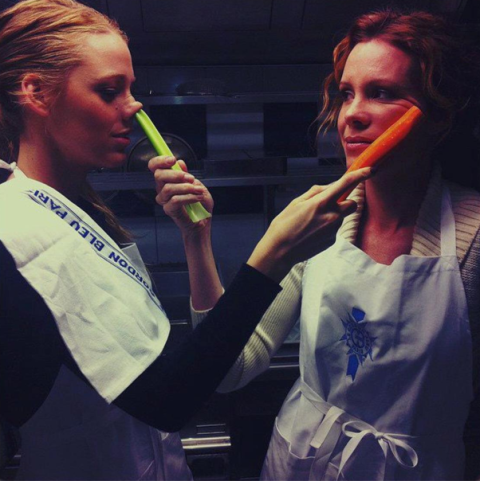 Blake Lively
Lively proves there's plenty of time for fun and games in the kitchen.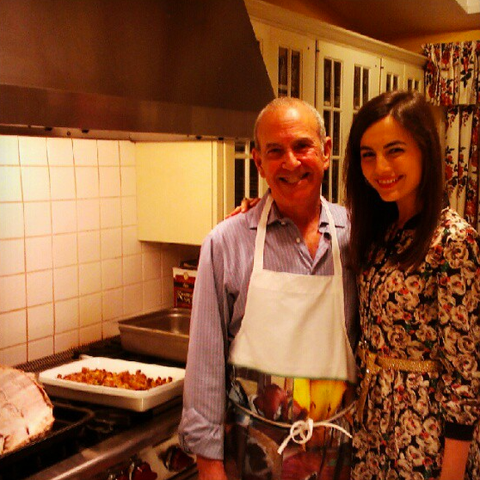 Camilla Belle
Belle knows that Thanksgiving dishes are best created as a family effort.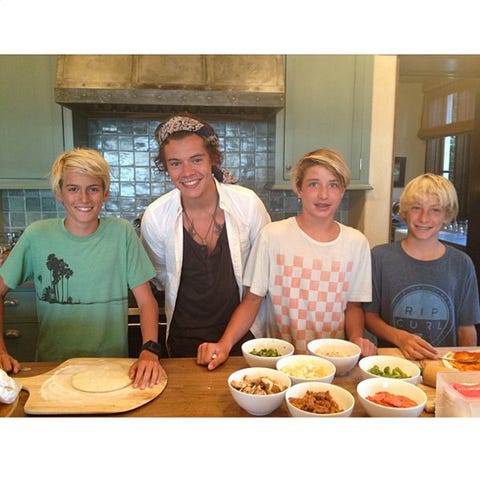 Harry Styles
Styles love him some pizza, especially when it's homemade with all the fixings.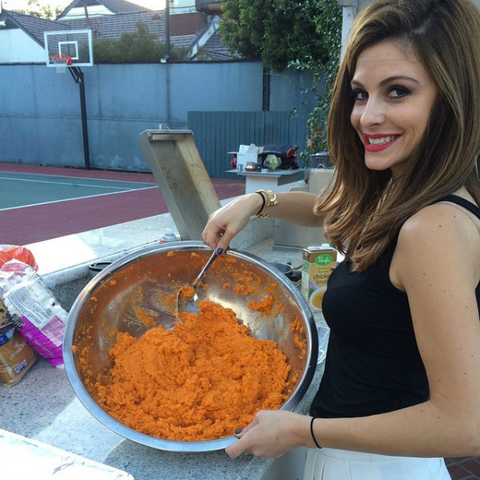 Maria Menounos
There are many things to envy about Menounos—including her outdoor kitchen.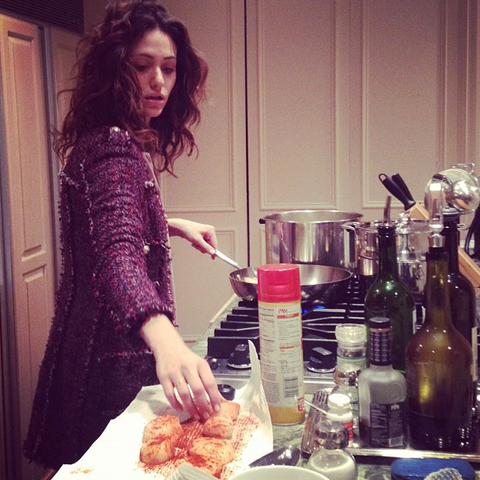 Emmy Rossum
Making dinner for her mom, Rossum is a master with the scallops.
This content is created and maintained by a third party, and imported onto this page to help users provide their email addresses. You may be able to find more information about this and similar content at piano.io