Because Why Not: All of Prince William and Prince Harry's Cutest School Moments
Even the royals take lots of back-to-school snaps.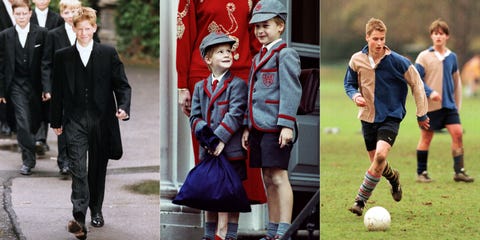 Even the royals take lots of back-to-school snaps.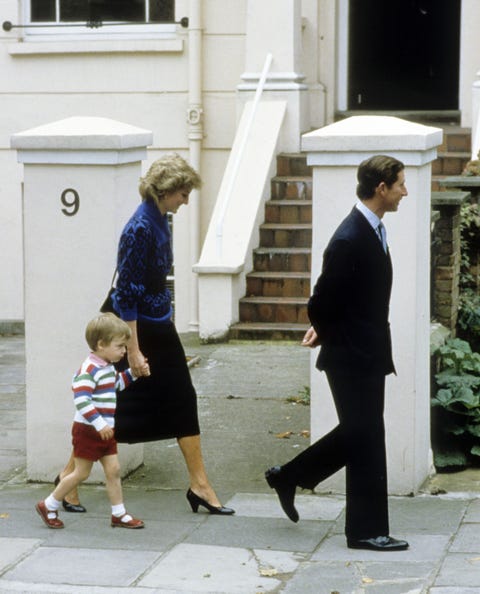 1985: First Day of Kindergarten
Nothing beats getting an escort from mum and dad on your first day of school. And Prince William was no exception: Here, his parents walk the 3-year-old to Mrs. Mynors' Nursery School on September 24. The school, in London's Notting Hill, was only a five minute walk from their home at Kensington Palace. And tuition was about $850 a year.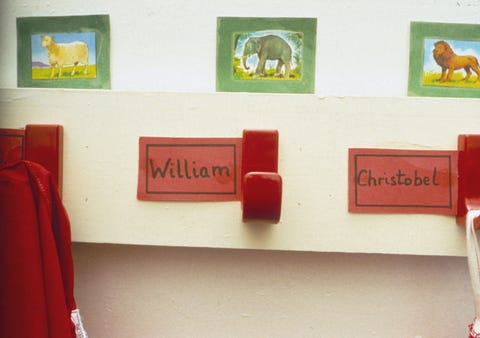 1985: Kindergarten Cubby
The little prince even had a hook with his name on it for his sweater and backpack. Aww.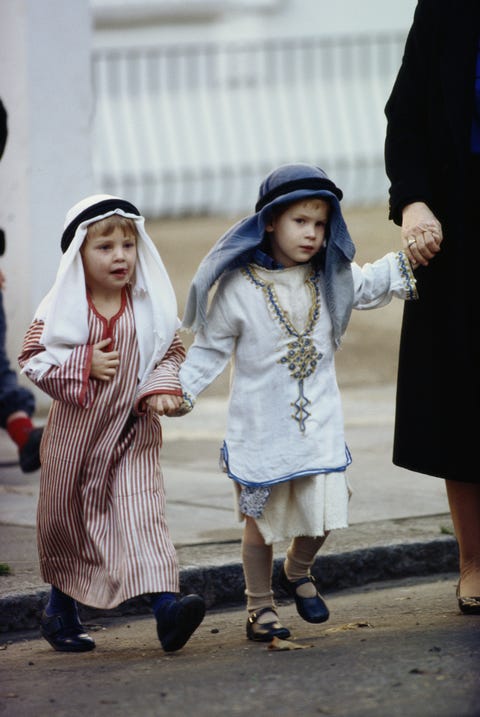 1988: School Christmas Play
Prince Harry played a shepherd in his school nativity play on December 6. So sweet!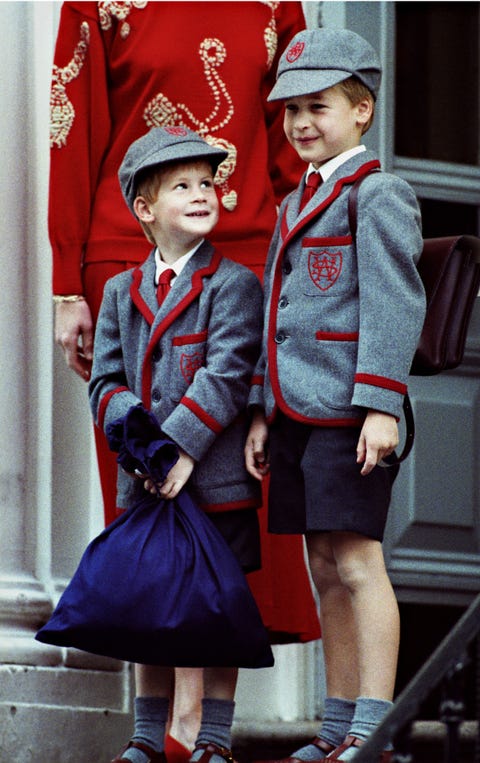 1989: Together for the First Time
Brotherly love. Finally, both boys were together at the Wetherby School, where they started on September 11.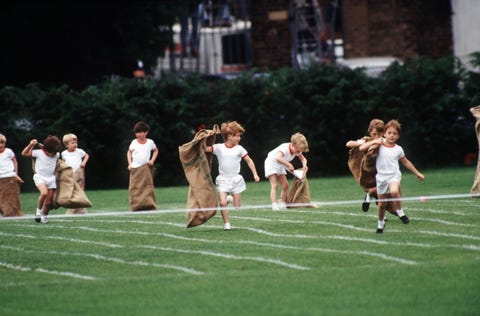 1991: Racing Through Childhood
On June 11, Prince Harry ditched the sack from his school's "sports day" (a.k.a. field day) for the sack race.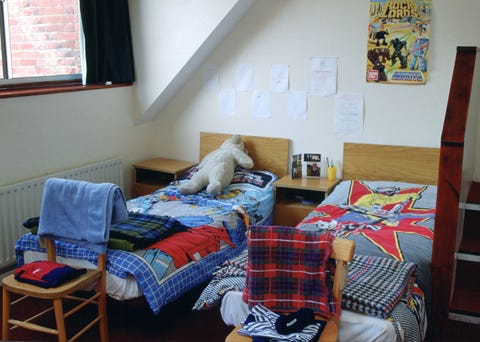 1992: Harry Comes to Ludgrove
Roommates! Prince Harry followed his brother to Ludgrove, where both boys shared dormitory rooms like these — with four other boys — for each of their five years at the boarding school.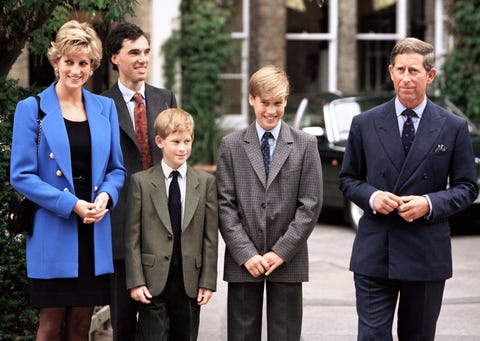 1995: An Eton Man
After studying for the entrance exam, Prince William was accepted to Eton, the prestigious boys' boarding school located in Eton, Berkshire. His parents, who were separated, both came to get him settled at the Manor House September 5. Two days later, he started class at Eton, where his mother's father and brother also attended.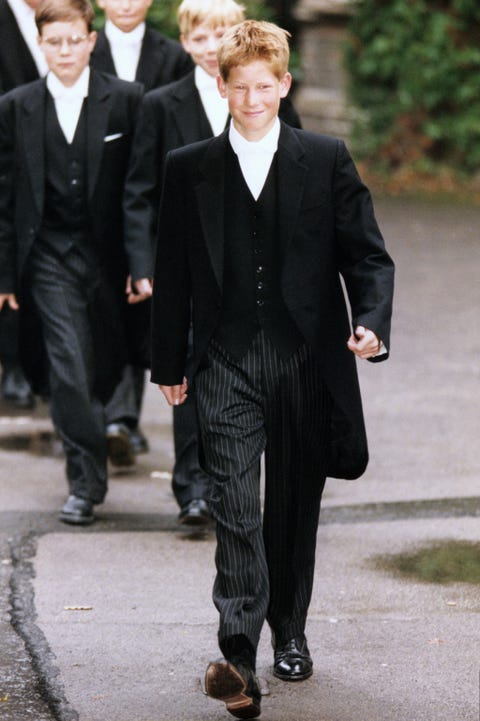 1998: Harry's First Day at Eton
After their mother's 1997 death, Harry struggled academically at Ludgrove, so he spent an extra year there before applying to Eton. The additional prep paid off. Accompanied by his father Prince Charles, he began his first day of school at Eton College on September 3.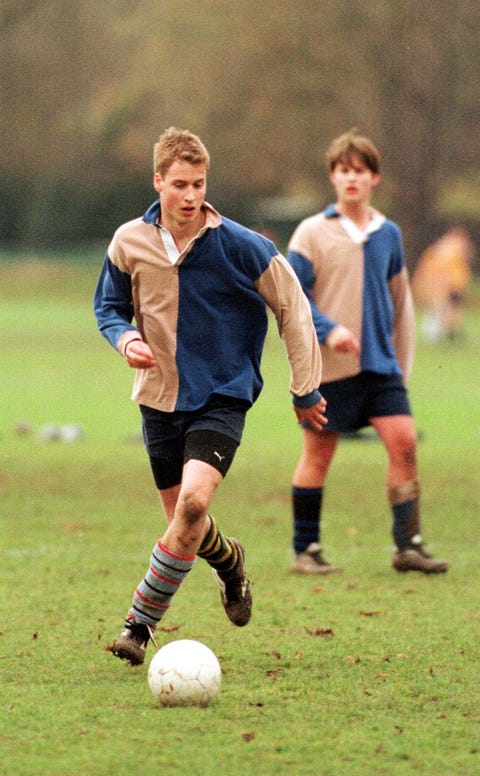 Ken Goff/The LIFE Images Collection/Getty Images
2000: Sports Enthusiast
At Eton, the athletic William captained his house team (Gailey's) in the semi-final of an inter-house tournament that June. He was also on the same rugby team as actor Eddie Redmayne, who said, "I always felt slightly sorry for Will because everyone wanted to tackle the future King of England. He took all the hits."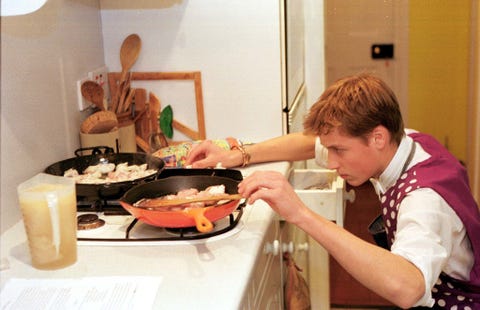 Ken Goff/The LIFE Images Collection/Getty Images
2000: Practical Skills
He even cooks! The prince tackled chicken paella for cooking class at Eton. In interviews, he has credited the school for treating him like an ordinary student.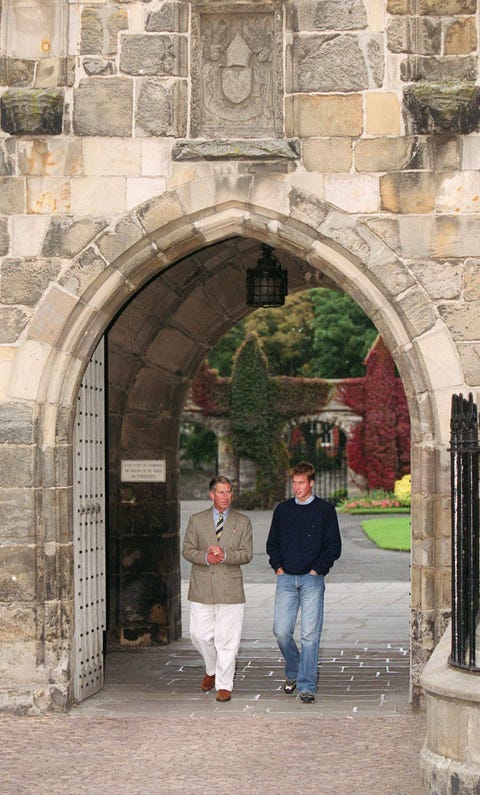 2001: Starting St. Andrews
On September 23, Prince William and Prince Charles roamed the campus for William's first day of school at St. Andrews University in Scotland. He enrolled under the name William Wales. News of this caused a temporary increase in the number of applications to St Andrews, mostly from young women who wanted an opportunity to meet him.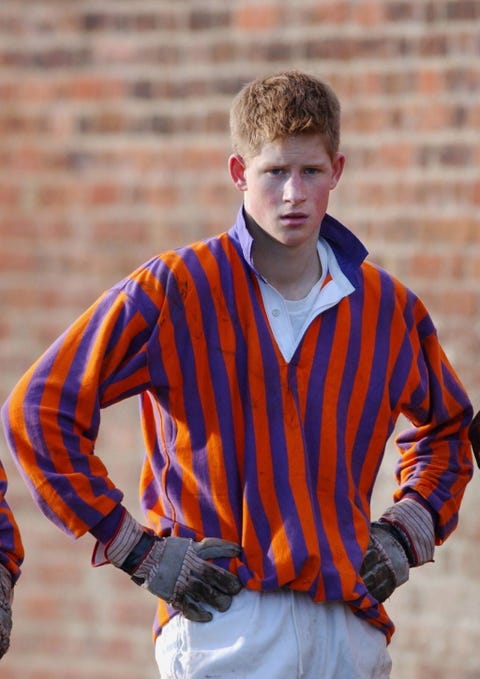 Tim Graham Picture Library
2001: Harry Excels at Eton
Meanwhile, Harry continued to do well at Eton. He led his team, The Oppidans, in the traditional "wall game" on November 24.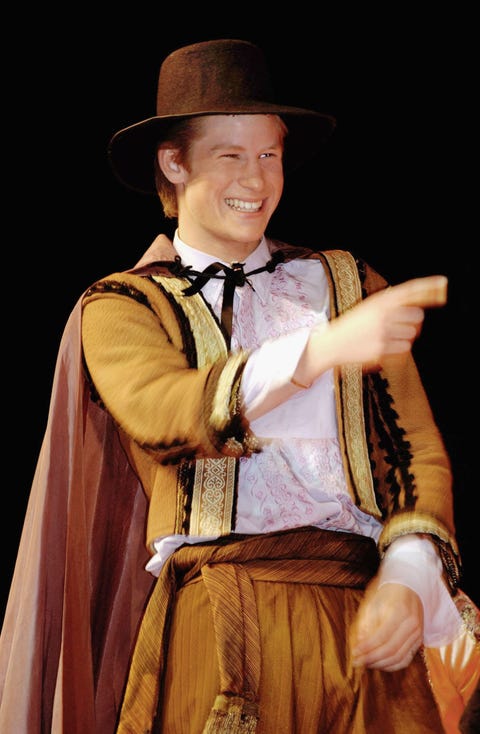 2003: More School Plays!
As a senior, he even played Conrade (in this masked ball scene) in a school production of Shakespeare's Much Ado about Nothing in March.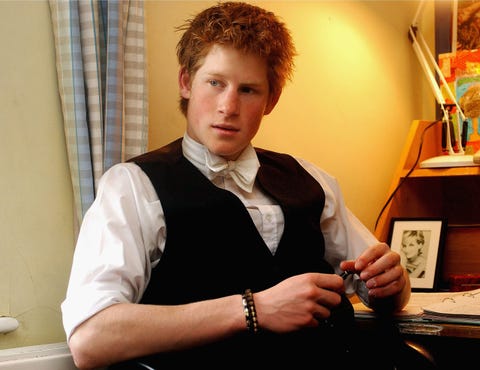 2003: Dorm Life
Prince Harry also enjoyed spending down time in his dorm room at Eton. His desk featured a framed portrait of his mother.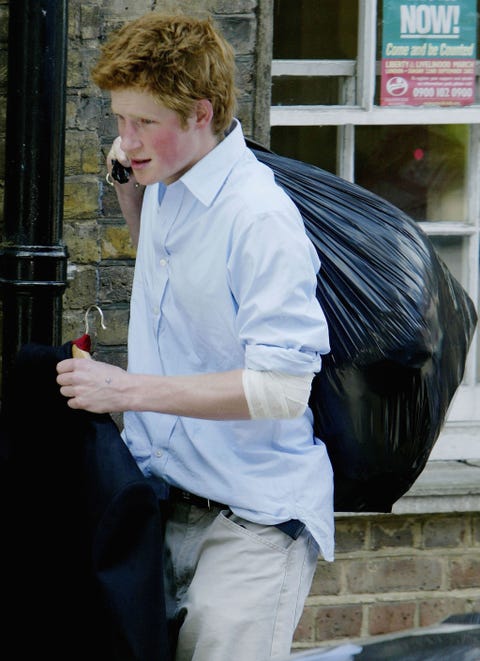 2003: Moving On
Like any 18-year-old boy, Harry carried out his belongings in a trash bag when he moved out on June 12. (At least he carried the suit on a hanger!) Before enrolling at Sandhurst Military Academy, he took a gap year, too.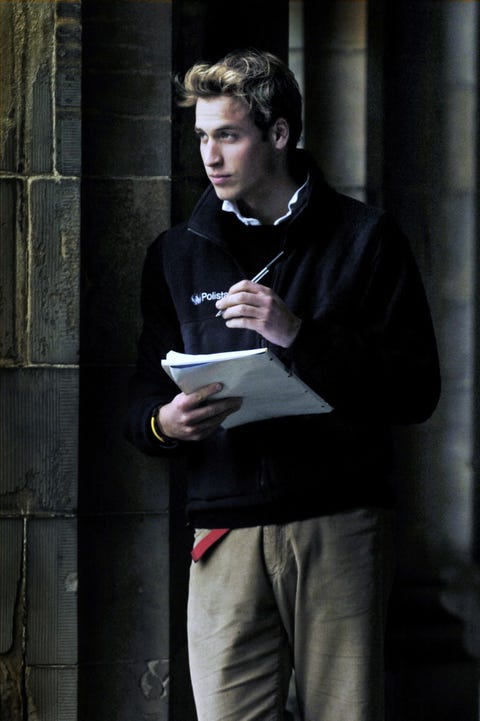 Tim Graham Picture Library
2004: Scottish Brooding
Here, the pensive prince lingers in St. Salvators Quad at St. Andrews on November 15. Or, he could have been posing for a Ralph Lauren ad. Either way, you're welcome.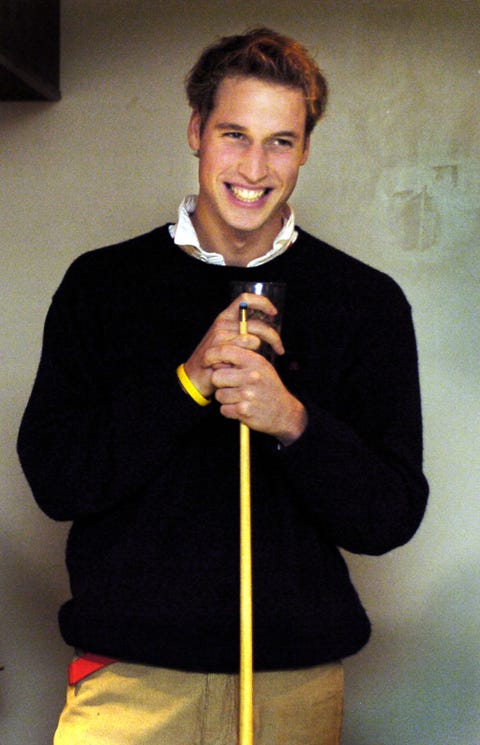 POOL - Mark Cuthbert/UK Press
2004: Social Life
Prince William, who lived with then-girlfriend Kate Middleton and two roommates in a flat, liked to play pool at a bar with friends.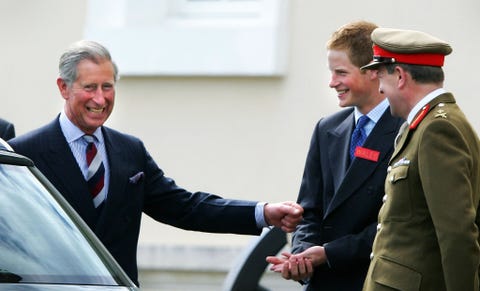 Adrian Dennis/AFP/Getty Images
2005: Sandhurst Military Academy
Prince Charles gave his younger son a friendly punch goodbye on his first day at Sandhurst Military Academy May 8. At the elite school, the 20-year-old royal was treated like any other recruit and called Mr. Wales or Officer Cadet Wales.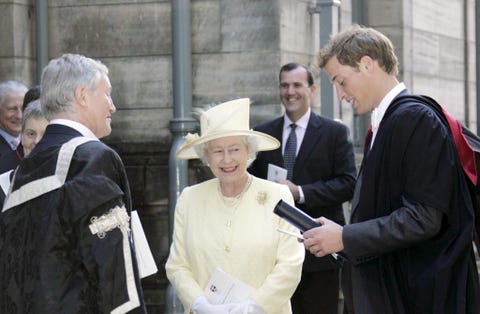 MICHAEL DUNLEA/AFP/Getty Images
2005: St. Andrews Graduation
For Will's big day June 23 (two days after his birthday!), the 23-year-old's grandmother Queen Elizabeth II came to celebrate.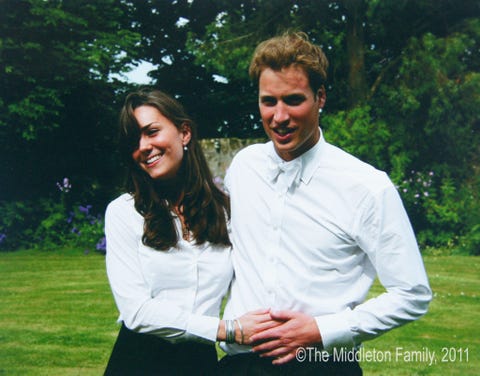 The Middleton Family/Clarence House
2005: College Sweethearts
This content is created and maintained by a third party, and imported onto this page to help users provide their email addresses. You may be able to find more information about this and similar content at piano.io