Gunn Laws: How to Wear Twinsets
Tim Gunn explains how to update this classic look.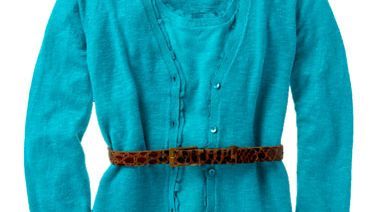 (Image credit: Ben Goldstein/Studio D)
"Every year, I get at least one matching cami-cardigan set for Christmas. How can I wear it without looking totally matchy-matchy and lame?"
Twinsets, as I call them (am I showing my age?), are classic staples of fashion. They can fall in and out of mainstream popularity according to the taste of the times, but rest assured that there is always a place for them. However, as always, silhouette, proportion, and fit are key: This look should be sleek and form-fitting, not oversize and baggy. Furthermore, it is my opinion that color is critical. Avoid pastels because they lead directly to dowdiness. Instead, look for heavily saturated jewel-tone colors. They not only have an inherent sophistication, but they also look great on most skin tones. Match it up!
Got a question for Tim Gunn? E-mail him here!
PLUS: Get weekly fashion tips by following us on Twitter!