Live Blog: Project Runway, Episode 13
Get up-to-the-minute recaps of what's happening on the second episode of Season 8!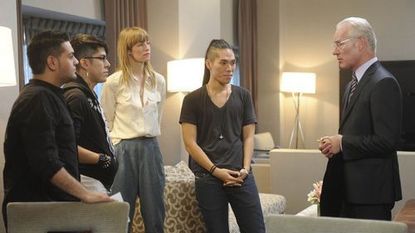 (Image credit: Barbara Nitke/Lifetime Television)
Marie Claire Newsletter
Celebrity news, beauty, fashion advice, and fascinating features, delivered straight to your inbox!
Thank you for signing up to Marie Claire. You will receive a verification email shortly.
There was a problem. Please refresh the page and try again.
Welcome to the home stretch, Project Runway fans! The final four — the young Andy, the underdog Michael, the quirky Mondo, and the love-to-hate Gretchen — have been chosen, so now it's up to them to impress the judges with their collections to see who makes it to the Fashion Week finale! Who do you think will buckle under the pressure, and who will make it to the real-life runway? Find out right here as we live blog it all!
PLUS: Follow us on Twitter at @marieclaire as we live-tweet each episode!
(Tune in to Project Runway on Lifetime at 9 p.m. EST every Thursday.)
9:03 p.m. The challenge is on: Six weeks and $9,000 to create a 10-piece collection to be featured at Lincoln Center during New York Fashion Week. The remaining contestants are heading home to put this all together.
9:07 p.m. Tim is visiting all the contestants at their homes. He DOES NOT look at home in Hawaii with Andy. Tim is squeamish around fish!
9:09 p.m. "Design diarrhea" — another fabulously coined term by Tim as he describes Michael C.'s designs for fashion week.
9:19 p.m. Oooooooo ... "Day of the Dead" as inspiration for your collection Mondo? Not sure that's going to work for fashion week! Don't you want to go for something more upbeat?
9:25 p.m. Gretchen has to worry about moving while putting her collection together. How's she going to do a good job on the fashion week line if she's packing?
9:28 p.m. Michael C. says Andy looks like "Pocahontas meets Naomi Campbell" with his long sleek locks.
9:31 p.m. Just three spaces are up for grabs at New York Fashion Week. What's the catch? The designers have to present before the judges two pieces from their collection and a third that they'll complete in 48 hours.
9:40 p.m. There's no guest judge this time around. The gold gown Michael C. has designed looks like the dress of Roman goddess. It's more of a Halloween costume than fashion week material.
9:42 p.m. Amazing pleating on one of Andy's pieces! His hard work is certainly paying off.
9:44 p.m. Everyone is tearing up! It's down to the wire. All their emotions are pouring out.
9:53 p.m. The headdresses on Andy's models are alien-like. They are distracting and detracting from his work. Accessories should accentuate, not drag down an ensemble.
9:55 p.m. The stage is looking quite empty with just four designers left.
10:03 p.m. While Mondo's pieces look really bold, Nina is worried that he might not be taken seriously at fashion week with a collection that could be seen as clownish.
10:04 p.m. By showing the judges a bikini piece, Andy is selling himself short. This is the moment to sell yourself, says Michael Kors.
10:08 p.m. Nina is not feeling Gretchen's "crunchy granola" line. Lincoln Center is the place to show off dramatic designs, she says."Where are the Birkenstocks?"
10:24 p.m. Mondo, Gretchen, and Andy are going to New York Fashion Week! Michael C. is going home. It's going to be quite a show on the runway at Lincoln Center.
10:24 p.m. It was a brutal defeat for Michael C. — He's doubled over in tears. However, you can always count on Tim to sweep in and comfort a designer in distress. It's all over tonight, but check in next week to see what happens next!
Tell Marie Claire: What do you think of the ep so far? Share your thoughts in the Comments section below!
Previous Recaps:
For More:
Celebrity news, beauty, fashion advice, and fascinating features, delivered straight to your inbox!