What to Read this Month...
Put on your blinders at Borders and head right to these gems.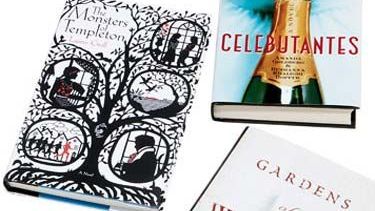 (Image credit: J. Muckle)
The Monsters of Templeton

by Lauren Groff (Voice) First your mom says you were conceived during an orgy. Then, when you're 28 and getting over a very bad affair with a much older, married professor, your mother—who has since found God — says she lied. Your father lives in town, but she won't say who he is. You could kill her. Or you could do as star archeology student Willie Upton does: dig through the town's murky past until you find him. Monsters will give you paper cuts from turning pages.
Celebutantes

by Amanda Goldberg and Ruthanna Khalighi Hopper (St. Martin's Press) A starlet dyes her dog to match her gown; a cracked-out rock star spreads her legs and shaves for her guests. Exaggeration? Maybe not. This Page Six-y tale of a Hollywood-bred 20-something comes courtesy of the daughters of two real-life Hollywood big shots (one of them the fabled loon Dennis Hopper). Clearly, someone was taking notes growing up.
Gardens of Water

by Alan Drew (Random House) When 15-year-old Irem gets her first period, her Muslim mother warns: "You must stay away from the boys now."It feels like a prison sentence for the pretty girl, who desires the iPod-sporting son of her American neighbors. But this is more than a modern Romeo and Juliet. Set in the aftermath of Turkey's 1999 earthquake, which temporarily unites the two families, the novel becomes a meditation on identity: Who are you when suddenly you've got nothing?