Prince George Has Taken Up One of His Parents' Favorite Hobbies
The four-year-old is already developing a passion for sport.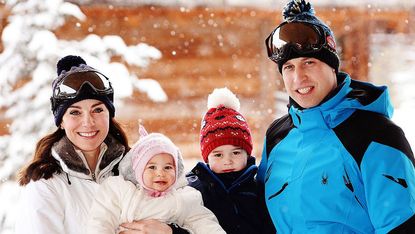 (Image credit: Getty Images)
The Duke and Duchess of Cambridge (opens in new tab) are renowned for their love of sport, so it comes as no surprise to learn that their eldest child, Prince George (opens in new tab), has already taken up skiing lessons.
On the last day of the recent Scandinavian royal tour (opens in new tab), the couple visited the Holmenkollen ski jump to join a group of nursery children in activities on the slopes. The Duchess of Cambridge revealed to the group that George started ski lessons at the tender age of two during a private holiday in the French Alps.
But it's hardly surprising, as Kate Middleton also recently revealed that the four-year-old is learning to play tennis in the private court on the family's Norfolk estate.
To mark the Duchess of Cambridge's first royal engagement since announcing her third pregnancy, she visited the National Tennis Centre last November. Middleton took the opportunity to seek advice from tennis coach Sam Richardson on how to teach her son the sport.
He revealed (opens in new tab): "She says with George just being four he wants to whack a ball, so she was asking what sort of stuff she should be doing. They will struggle at that age to hit a ball. She said he's interested in it, but more in whacking the ball."
And with the recent revelation that Princess Charlotte has already picked up two languages (opens in new tab), there's no telling how talented their third child will be.