Could This Actually Be the End of the Tampon Tax?
Five women just filed a lawsuit in New York claiming the tax on menstrual products is illegal.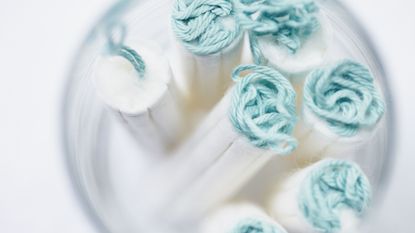 (Image credit: Getty Images)
Marie Claire newsletter
Celebrity news, beauty, fashion advice, and fascinating features, delivered straight to your inbox!
Thank you for signing up to . You will receive a verification email shortly.
There was a problem. Please refresh the page and try again.
During a live interview (opens in new tab) with YouTube star Ingrid Nilsen back in January, President Barack Obama weighed in on the "tampon tax"—shorthand for sales tax charged on tampons, pads, and menstrual products—and encouraged activists who live in the 40 states (opens in new tab) that impose the tax to fight it. When asked why the tax exists (opens in new tab), he added, "I suspect it's because men were making the laws." Shortly after, The Daily Show's Jessica Williams made a bold (opens in new tab)declaration denouncing the tax. ("Yeah, I said it!" she exclaimed in a segment on feminism and presidential politics, concluding with a fist-raised call for "No Tax on Tampons.") Even The New York Times issued a hard-hitting editorial last month urging states to stop taxing these products and make them affordable for all.
Next to weigh in will be the New York Supreme Court. Earlier today, five women filed a class action lawsuit, Seibert v. New York State Department of Taxation and Finance (opens in new tab). Currently New York exempts "medical necessities" from sales tax. Among the items included in this category: Viagra, Rogaine, Chapstick, and dandruff shampoo. But not tampons and pads—an exclusion that the plaintiffs and their lawyers at the well-known civil rights firm Emery Celli Brinckerhoff & Abady argue is in violation of New York State Tax Law, the U.S. Constitution's 14th Amendment, and the New York Constitution's Equal Protection clause. As the complaint puts it: "The tampon tax is irrational. It is discrimination. It is wrong."
Legislation to eliminate the tax (opens in new tab) was introduced last year by Democratic New York State Assembly Member Linda Rosenthal; Republican State Senator Sue Serino recently introduced a companion Senate bill. A successful lawsuit will insulate the issue from potential political fallout and ensure the tax is eliminated once and for all in New York. Margo Seibert, the lead plaintiff (and a Broadway actor who co-founded RACKET (opens in new tab), an organization that facilitates tampon/sanitary pad donation drives for New York City homeless shelters), hopes that court action will also help further advance the national debate. "Menstruation products are essential and it is time to acknowledge that access shouldn't depend on who can afford them," she said. "We hope this case will encourage other states to tackle the issue. It's time to talk periods."
By my calculations, each year, women across the country pay upwards of $70 to $100 to purchase tampons and pads—all told, more than $3,000 over our lifetimes. The sales tax adds another several hundred dollars to the grand total. And as anyone who menstruates knows, we buy these items because they are both a medical and hygienic necessity. Without them, we'd be prone to infection (opens in new tab), not to mention humiliation. There's really no analogous product for men. And why even try to make the analogy? It's enough that women require them. Our health and needs matter. Period.
President Obama confessed that prior to Nielsen's question he was unaware of the fact that most states don't exempt tampons and pads from sales tax. Not so for the rest of us. Last October, Cosmopolitan and I spearheaded a national petition, Stop Taxing Our Periods! Period. (opens in new tab), calling out the states that tax menstrual products. It now has more than 55,000 signatures and has ignited debate and spurred legislators to act. Since the start of the 2016 state legislative sessions, bills to exempt tampons and pads from sales tax have been introduced or resurrected in California (opens in new tab), Connecticut (opens in new tab), Michigan (opens in new tab), New York (opens in new tab), Utah (opens in new tab), Virginia (opens in new tab) and Wisconsin (opens in new tab), as well as in the City of Chicago (opens in new tab), many with the support of Republicans and Democrats alike.
But the political process can be illogical and often infuriating. Already in Utah (opens in new tab), for example, an all-male committee convened last month and swiftly voted to reject the proposed legislation. The reasons were weak—fears of a too-subjective tax code (this from a state that exempts (opens in new tab) vending machine snacks and arcade game tokens) and concern about recouping the $1 million in lost revenue. Tellingly, the committee didn't consider making up the difference by taxing alternative items consumed equally by both men and women to make up the difference—like, for example, that candy bar in the game room.
And earlier this week, the Los Angeles Times (opens in new tab) issued a terribly shortsighted editorial countering the proposed bill in California. Rather than acknowledge the sheer necessity of managing menstruation, it delegates tampons to the category of things that are nice to have, but not required, such as deodorant—while meekly defending the tax-exempt status of Viagra as a reasonable way to "improve quality of life." Even more confounding, a state senator in Indiana actually argued (opens in new tab) that since eliminating the "tampon tax" would only alleviate a tax burden for women, it is therefore a sexist proposal.
If the plaintiffs in New York succeed, the state will not only be required to eliminate the tax but will also have to issue a remedy to all New Yorkers who menstruate. The most likely outcome would be a sales tax refund—in the form of a tax rebate, a check or a coupon—that can be applied toward future tampon and pad purchases. "The state has been profiting illegally off of women's health for decades," said Ilann M. Maazel (opens in new tab), lead counsel in the case. "They need to stop taxing women for being women."
This litigation is an innovative and meaningful approach. A victory could pave the way for permanent relief—not just in New York, but also in the other 39 states that tax our periods. Similar lawsuits potentially can be filed with New York serving as a model.
Certainly, the burst of momentum in the state legislatures this year—and the cadre of (overwhelmingly) women leaders who have led the charge—is bold, inspiring and exciting. But the politics of periods aren't easy. And we can't afford to see a repeat of the Utah debacle. New Yorkers are smart to use every lever the political system has to offer—organizing, activism, advocacy, and litigation. Here's to the next chapter—and to having our day in court. Says Maazel, "We hope this will be the beginning of the end of the tampon tax in the whole country."
Follow Marie Claire on Instagram (opens in new tab) for the latest celeb news, pretty pics, funny stuff, and an insider POV.