See Meghan Markle and Prince Harry Heading Home After Their Royal Wedding
The two were photographed driving back to London after the weekend in Windsor.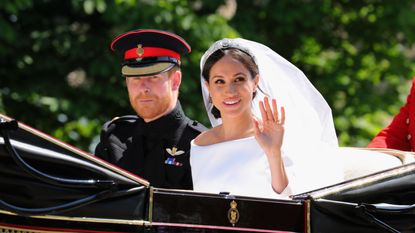 (Image credit: Getty Images)
This morning, Meghan Markle (opens in new tab) and Prince Harry (opens in new tab) were photographed leaving Windsor Castle (where they spent their first night as a married couple (opens in new tab)) to head home to Kensington Palace in London, which means the Royal Wedding weekend (opens in new tab) is officially over. (Sad!) Meghan appeared to be wearing a white blouse with a blazer over it, while Harry wore a button-down and a suit jacket:
Newlyweds Prince Harry and Meghan leave Windsor: https://t.co/6JmRx91IB9 pic.twitter.com/mbTlcKgzvhMay 20, 2018
See more
The newlyweds left this morning after the Queen (opens in new tab) returned from church service, Hello reports (opens in new tab), which makes them basically like every other couple who politely waits for their grandmother to return from whatever early morning activity she's doing to thank her for hosting them for the weekend before leaving—except in this case it was for hosting a humongous royal wedding (opens in new tab) at her house, but you know.
The couple weren't the only royals spotted making their way back to London today: Prince William (opens in new tab) and Kate Middleton (opens in new tab) were photographed driving home from Windsor Castle this morning as well. Both Will and Kate wore sunglasses and looked to be in good spirits after the weekend's events, which included Harry and Meghan's private wedding reception (opens in new tab) last night where William reportedly gave a "naughty" toast (opens in new tab) to his brother in front of the 200 guests in attendance.
No word on whether Prince George (opens in new tab) and Princess Charlotte (opens in new tab) were in the car with their mom and dad or if they left Windsor Saturday afternoon and skipped out on the evening festivities.
The royal fun isn't completely over, however—unlike Will and Kate who left for their honeymoon directly after their wedding in 2011, Meghan and Harry are delaying their post-wedding travels so they can be in town with his family this week. The two will attend a garden party (opens in new tab) this Tuesday, May 22 for the Prince of Wales' 70th Birthday Patronage Celebration. The Queen is throwing the shindig for her son and to honor the many charities he's worked closely with throughout the years.
So! This is all good news for those of us already suffering from Royal Wedding withdrawal. And now we have two whole days to wonder: WHAT HAT WILL THE DUCHESS OF SUSSEX (opens in new tab) WEAR TO HER FIRST GARDEN PARTY?!
RELATED STORIES