Who Is Tyler Cameron, Vying for Hannah Brown's Heart on The Bachelorette?
We know that Hannah Brown's season of The Bachelorette is going to be a whirlwind. One frontrunner could be Tyler Cameron, a.k.a. Tyler C., who's rumored to have made it to the final four and hometown dates.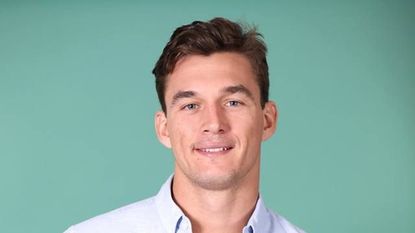 (Image credit: The Bachelorette)
Spoilers for The Bachelorette ahead. Current Bachelorette Hannah Brown/Hannah Beast, whom I love, is almost done with her season. Shooting started in March, and the show finale airs in late July, so things are about to wrap up. But we already know that Hannah's season is going to be a whirlwind, and we also know a little about her contestants. One of her frontrunners might be Tyler Cameron, a.k.a. Tyler C., who's rumored by Bachelorverse expert Reality Steve to have made it to the final four and hometown dates.
There's even some photo evidence of this, and it looks like Tyler and Hannah have a great, uh, physical connection. But: Will they make it through to the end of the show? Let's explore what we know so far!
He and Gigi might make their red carpet debut soon.
Update, 8/23/19: Oh MAN. So, Us Weekly managed to get ahold of the seating charts for the VMAs on Monday. And wouldn't you know it: Gigi, in the third row with sister Bella, has an empty seat next to her. Speculation immediately hit the Internet: Is she bringing her (reported) new boyfriend Tyler?? Gigi would sometimes be spotted with ex Zayn Malik at public events, so it wouldn't be unheard of for her to bring a date. But wow, this would feel quick for the pair. Obviously, the spot could be reserved for Bella's on-and-off SO, The Weeknd, or a sibling or friend, but this feels...significant in a kind of crazy way.
I do, however, think Tyler would look amazing in a tux. Sorry not sorry. Kind of like this, minus the red:
Meanwhile, Gigi and Tyler were spotting driving around New York (Gigi in sunglasses for the evening, which feels...confusing) just yesterday:
Sooo things are going great in the relationship, still.
He's probably out as Bachelor?
Update, 8/16/19: Tyler's been hosting group runs, one of which just so happened to include Andi Dorfman (it sounds like it's just a friendly thing, before we start freaking tf out about another girl). During one of these runs, he apparently told the mostly female crowd that he's planning to do two marathons: Chicago, in October, and New York, in November. Here's the thing, though: The Bachelor starts shooting in early September and continues for the next few months.
So, is Tyler out of the running for real? Unless this is a huge fakeout (and he takes his charitable work seriously, so I can't imagine him doing that), he's telling everyone he's going to be busy. There were rumors that Tyler was a "distant third" in the running for the key role anyways, compared to Peter Weber and Mike Johnson, so it sounds like it makes sense for everyone.
Is he dating someone else, too?
This is interesting (read: depressing). According to influencer Violet Benson who runs the popular account "Daddy Issues," she went on a date with Tyler the exact same day as he spent the night at Hannah's. For reference, this is Violet:
And they apparently went out to lunch, according to her. "I did ask him about Hannah and he kind of said 'she had her chance' but he was open to being friends and take it slow."Apparently she then called the fling off when she saw the pictures of him leaving Hannah's apartment, but then realized she had "overreacted" when she saw pictures of him and Gigi.
Guys, this complexity is hurting my head. So now that's...three girls? In a couple weeks? I gotta say, I feel depressed by this development. And yes—I know he's single, and he's allowed to do what he wants. But in a sad, depressing way, I'm starting to be glad Hannah didn't pick him.
In other news, Tyler is hunting for a new apartment in New York, so he's definitely interested in the area for the long haul—potentially because of a certain top model he's dating? Unclear. But they did just take a trip to upstate NY, so things may be getting serious.
He's definitely dating Gigi.
Update, 8/14/19: Welp. Prepare yourselves, Hannah and Tyler fans, because this image isn't pretty. Photos were snapped of Tyler and Gigi going out on yet another date on Monday night, with Gigi's best friend Cully Smoller and another friend. E! got more details of their interactions Monday—apparently they also left her apartment earlier and separately, so they've just been hanging out on the reg. "Clad in casual shorts, a t-shirt and sneakers, Tyler, 26, headed out at around 6 p.m. and met up with his pal Matt James, an eyewitness shares. About 45 minutes later, the 24-year-old, wearing an all-black outfit, left the building and went to see friends in the Soho neighborhood." So it looks like this date happened later:
According to a source, "He really likes Gigi, but it's just a fling for now...They are both gorgeous and single and they've had fun spending time together. He's living in the moment and not thinking too much past that." But TBH, the more time they spend together, the more it looks like Hannah-Tyler aren't really going to happen. Grumble.
He's dating Gigi Hadid (and maybe Hannah, too?).
Update, 8/6/19: Everything seemed like it was going so smoothly at the end of The Bachelorette. Hannah broke off her engagement to Jed Wyatt, asked Tyler out for drinks, and he said yes. Then, they actually did go out, and (squeal) he stayed the night. There are pictures to prove it! Things felt like they were finally looking up for my favorite two Bachelorette contestants.
And then. News broke of Tyler going out on a verified date with Gigi Hadid, whom he had followed a few weeks previously, and they just went on their second date. Hannah had a very smart, fairly zen response to this. "I have feelings, but I'm also single and he's single and I wanna keep my options open and he can keep his options open," she told ET.
"We are trying to figure out how we feel," she added. "I don't know where he's at with wanting to be the Bachelor. I think he has his options open as well, and if the Bachelor is one of those options, then I guess I'll support him if that's what he wants to do."

And, in fairness to Tyler, Hannah did break up with him. So, there you have it: Hannah and Tyler might be a thing, but it's not exclusive and he's keeping his options open as of now. (Sigh.)
Original post, 7/29/19:
He's from Jupiter, Florida.
We know this from his original bio page on Facebook (we also know that he's 26 years old, so a little older than Hannah). Another reason we know this is because Hannah and Tyler were seen on a hometown date in his hometown, and Tyler was shirtless. The pics are pretty great; you can see them via Reality Steve here. There was a jump-hug (here), and then they went snorkeling (here). It looks like an incredible time, but TBD on how the meet-the-parents situation went.

From his Bachelorette bio, we also know how he likes to spend his free time: "When he's not working, he's spending time with his family, scuba diving and hanging out with his rescue dog, Harley." Do we know how Hannah feels about dogs? Because they seem important to winning Tyler's heart.
Also, this! "Tyler LOVES to dance. He says his friends get embarrassed by how intense he gets on the dance floor, but he doesn't care." Is there some dorky dancing ahead for the couple? (I mean, you know Hannah is a dorky dancer, too. It's basically guaranteed.)
Also of note, his Facebook page currently has a Biblical quote: "Through Love, Serve One Another - Galatians 5:13." We know Hannah is religious as well, so that could be another connection between the two.
Hannah's parents loved him.
In the first part of the two-part finale, Tyler had the chance to sell himself to Hannah's family. Needless to say, they. Were. IMPRESSED. (Good call, guys.) Tyler even got the chance to address the consent situation—more on that below—and he proved yet again how much he respects Hannah and how much their bond is sweet and simple. Tyler spoke openly and in depth about marriage, kids, and moving forward full steam ahead with their relationship beyond the show. Jed didn't thrill Hannah's parents quite so much, so of the final two, Tyler has the family stamp of approval in a big way.
In their last date, Hannah and Tyler went horseback riding, and had a chance to bond one final time before her big decision. She said she was really happy with him and that he's a guy who will make sure she's taken care of. "We can get through anything," he told her. "We can be kickass in our marriage." The night ended with them canoodling, so clearly their physical relationship is, you know, just fine too.
The second part of the finale (and Hannah's big decision) is still yet to come, but regardless, Tyler proved himself to be a complete class act in many, many ways.
Fans dig him, big time.
Post-show, Tyler's been hosting group runs that have turned out to be very popular:
LOOK at all those people (mostly girls) around him and Nick Viall. I love this—clearly, Tyler's popularly is not limited to just social media, although he's also really popular there too. He's been spending a good amount of time with Nick Viall, including this very interesting exchange with none other than the Bachelorette herself:
Here's more detail on this fan favorite.
He has his MBA.
We know that Tyler went to Wake Forest for undergrad and Florida Atlantic University for his MBA. Reality Steve says he was the backup quarterback on the Wake Forest football team for two years, then he transferred to Florida Atlantic where he played wide receiver. Since we now have his Bachelorette bio, we also got confirmation of this: "This stud has his MBA from Florida Atlantic University and kills it as a general contractor in his hometown of Jupiter, Florida." I mean, we also know that he's really confident, if he wrote that bio himself.
His Facebook cover photo is him playing football:
According to his bio, "Tyler was drafted by the Baltimore Ravens but had to leave football because of a bad shoulder injury." It looks as though the football thing was a real trajectory for a while.
He's also a model, repped by three agencies. Here's his headshot (very nice) and his Instagram has tons of shots like these:
So maybe just go check out his account, is all I'm saying.
He's super-funny.
Tyler's shown a self-awareness about his own performance on the show:
And he's been engaging with Bachelor Nation, retweeting memes, videos, and other jokes from this (crazy-dramatic) season:
Which I absolutely love. Cute and a sense of humor? Phew. (In case it wasn't clear, I absolutely think he's really, really good-looking.)
He had a musical one-on-one date with Hannah.
Early pre-show photos leaked from their one-on-one date, which partly consisted of watching musician Jake Owen. It was a public event, so people snapped photos of the couple that showed them making out—a lot of those pictures got taken down, though. They have phenomenal chemistry, clearly.
And now we have footage (weirdly, without Tyler and Hannah dancing on stage, which was including in the episode):
He got plenty of screen time throughout the show.
In his intro video, we got a firsthand of that dorky dancing that Tyler teased in his bio. It was just as derpy as expected, FYI, and I appreciated it. It would be very easy for Tyler to fall back on his chiseled good looks, but the fact that he doesn't take himself too seriously makes me smile.
In episode 2, he also snuck up behind Cam, who was busily talking to the camera after just crashing a group date like it was no big thing, and calmly and somewhat passively calling him out on it. He was the first of a few guys to trickle out and calmly bash Cam to his face, and it was highly entertaining. Tyler and his cardigan were the best of all of them, though.

Sadly, Tyler was not a part of the Speedo group date—patience, everyone, the shirtlessness is coming—but he did join the other bachelors in "skating" (read: falling everywhere) at the derby. His team lost, and he proclaimed himself a sore loser. Dude, everyone lost, like one person stayed upright the entire time.
Other than that, it's been a relatively quiet run for Tyler thus far, but I think he's hanging back and letting some of the crazies do their thing. In one preview, Hannah admired his butt—SAME, Hannah:
And Tyler is showing up in footage throughout the season, which bodes well for his rose-related future, I think.
He opened up to Hannah about his family.
In his one-on-one in episode 4, Hannah admitted she initially pegged him as a "little player," which, ouch, Hannah! I mean, I get it, but still. Tyler totally rolled with it. He admitted that this past year has been really tough on him, as his dad got really sick and he helped take care of him until he recovered—and he almost didn't come on the show because of it. He was really clear that he's in a point where he's accepting of himself and ready to commit to something serious; Also, his dad is a huge Hannah fan, which I love.
Also worth noting: Tyler reacted in the absolute perfect way on Hannah's date, after she admitted she was in a really bad place. He supported her, didn't set any expectations, was really sweet and gentle, and then proceeded to give the most swoonworthy speech that was so romantic a Bachelorette fan turned it into a song:
Yea. That happened.
He made it to the final four.
According to Reality Steve, he's made it through several rounds of elimination and joins Luke, Jed, and Peter for the final stages of the show.
In terms of spoilers, we know that Hannah went to Greece to film overnights and it is suspected that she has chosen her man, although obviously Hannah herself is keeping mum about the whole situation beyond admitting she's "happy." Reality Steve originally predicted Tyler wasn't the frontrunner and Luke was—but it's still anyone's game until that final rose.
He was a huge fan-favorite.
Fans absolutely loved him on the show.
It's still not totally clear how his and Hannah's story will end—if they don't end up together, he would be the easiest and probably most intuitive pick to be The Bachelor.
He continued to support Hannah after the show.
Tyler's been in Hannah's corner the entire time, including after she got backlash for not sending Luke Parker home/dating multiple guys:
Dating multiple guys is the premise of the show, but whatever—Tyler's response is adorable. Interestingly, Hannah liked that tweet. I'm sure she appreciated the support; Not all bachelors have been as vocally supportive of her.
Hannah also liked this tweeted reply:
Again, this could mean absolutely nothing, buuuut I love that she's agreeing that Tyler is wonderful. Same, girlfriend.
Tyler liked a Twitter user who encouraged him to go get his "girl" Hannah in late June (before crazy news broke about some of the other bachelors):
And Tyler also liked a pro-Hannah tweet from Entertainment Tonight Bachelorverse expert Lauren Zima just last week:
So, I think we can infer from that at the very least that Tyler's aware of what's going on in the show and outside the show. No matter what craziness has been going on around Hannah, and regardless of the show's outcome, Tyler is Team Hannah. I really, really love that.
He's supportive of other important causes.
Tyler's also attracted attention recently for being in support of non-Bachelorette-related social issues:
And most recently tweeted his support of the U.S. women's soccer team:
Which, again, is just icing on the cake. And, not to mention, Reality Steve hasn't spotted any negative rumors about his pre-show, or post-show, life. Considering that two prominent bachelors this season have gotten into hot water in this exact area (go here and here to read the spoilers) this is great news for Tyler, and us.
He was the epitome of respect during overnights.
Hannah admitted during her date with Tyler that she wanted to focus on their emotional connection, rather than the physical aspects (I am so impressed, because I dunno if I'd have the restraint), and Tyler responded in probably the most perfect way imaginable: "You have to really love and respect an honor each other's boundaries. I would never press you or pressure you at all. I want you to be 100 percent comfortable and confident in whatever we do together," he said, although reading the full speech at that link is really worth it. Hannah said he was the most respectful guy she'd ever dated. So, you know, that's another thing we can love about him.
Go here to read every spoilery thing we know about this season.
For more stories like this, including celebrity news, beauty and fashion advice, savvy political commentary, and fascinating features, sign up for the Marie Claire newsletter.
Celebrity news, beauty, fashion advice, and fascinating features, delivered straight to your inbox!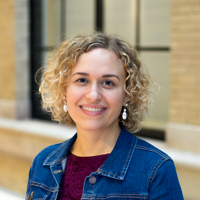 Katherine's a Boston-based contributor at Marie Claire who covers fashion, culture, and lifestyle—from "Clueless" to Everlane to news about Lizzo. She's been a freelancer for 11 years and has had roles with Cosmopolitan and Bustle, with bylines in Parents, Seventeen, and elsewhere. It's "I go to dinner," not "Her huge ego," but she responds to both.