Forget Chocolates, This 'Friends' Advent Calendar Is Filled With Over 40 Iconic Keepsakes From the Show
A special Holiday Armadillo surprise comes included.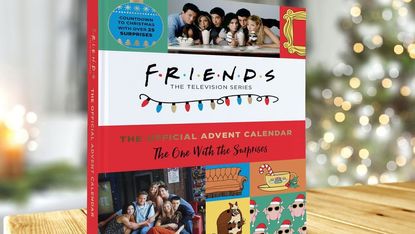 (Image credit: Insight Editions)
If all you wanted for Christmas was the Friends reunion special, I feel your pain (and so does Jennifer Aniston). Now that's it's been delayed indefinitely, chances are pretty slim that it will drop before Christmas. However, that doesn't mean you can't celebrate the holidays with your favorite TV coffee-loving friend group. Introducing Friends: The Official Advent Calendar!
Created by Insights Edition Friends: The Official Advent Calendar is a must-have for all lovers of the beloved '90s sitcom. Just like any other advent calendar, there are 25 pockets for fans to open as they countdown to Christmas. The calendar is packed with over 40 keepsakes and trinkets, such as themed ornaments and Friends-inspired recipe cards. There's also a special Holiday Armadillo surprise.
The calendar is set to drop on October 27 and will cost $29.99. However, it's already been made available on Amazon for pre-order so you can secure your copy ahead of time. Not to mention, it's 40 percent off. For $18 and a few cents, you can reserve your copy today. Not too shabby if you ask us!
You can pre-order your copy here! You can also check out the Friends: The Official Cookbook also from Insight Editions.
Kelly is the News Writer at House Beautiful where she covers a little bit of everything ranging from decorating trends and must-have products, to anything that includes doughnuts or glitter.