Dream On: Super Luxe Gift Ideas
These high-end, sky-is-the-limit items are most definitely on everyone's wish list. Just be ready to empty your wallet.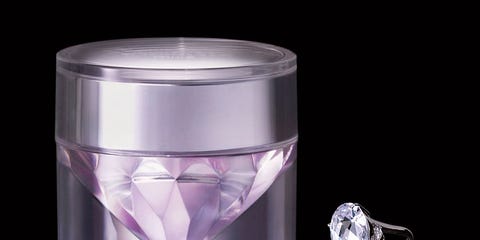 These high-end, sky-is-the-limit items are most definitely on everyone's wish list. Just be ready to empty your wallet.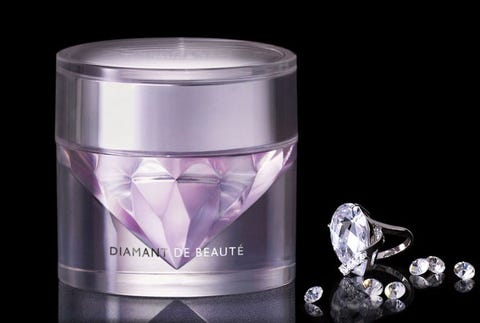 Carita Diamant de Beaute Cream
Diamonds are a girl's best friend, but said girl likely hasn't ever enjoyed them in this form yet. Carita's 1.7-ounce antiaging cream is infused with diamond powder, and the energy of the precious gems helps brighten complexion and prevent future sagging and collagen loss. $600 at
Carita
.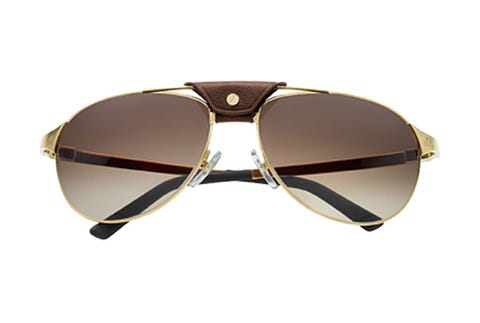 Cartier Rimmed Sunglasses
Sleek and sophisticated, this pair of Cartier sunnies can add that final touch to anyone's look (that is, as long as you don't call them "sunnies"). Get these for the man on your list, and when he finds out that the simple design was originally created for pioneer aviator Alberto Santos-Dumont, he'll be telling all his friends how cool they are. $850 at
Cartier
.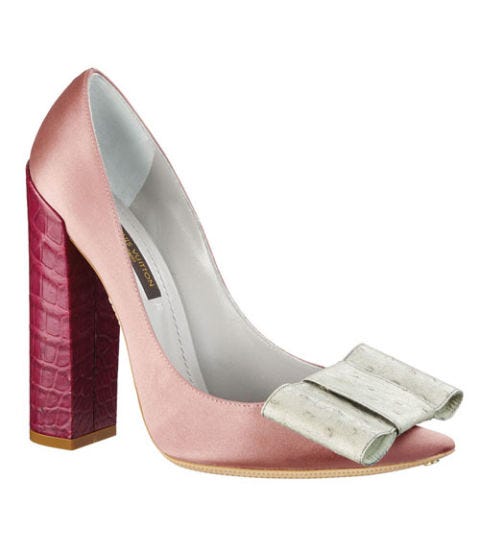 Louis Vuitton Pink Shoes
You won't even need to wrap these festive, multitextured pumps designed by LV front man Marc Jacobs. With its flattened avant-garde bow, this pair of heels is perfect for a holiday party — or any other night out for that matter. $1005 at
Louis Vuitton stores
.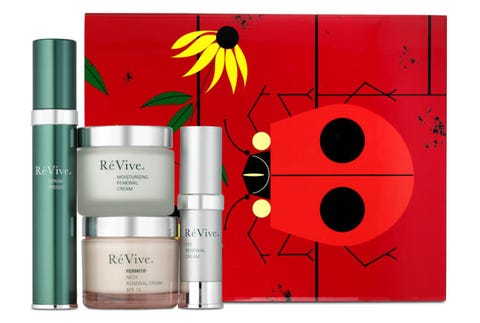 RéVive Limited Edition Artbox
Beauty may be in the eye of the beholder, but it's hard to beat a gift that offers both beautiful skin and beautiful art in one pretty package. Along with four of the brand's best-selling products, this eighth annual keepsake collection incorporates the work of renowned wildlife artist Charley Harper, called The Bug that Bugs No One. $575 at
RéVive
.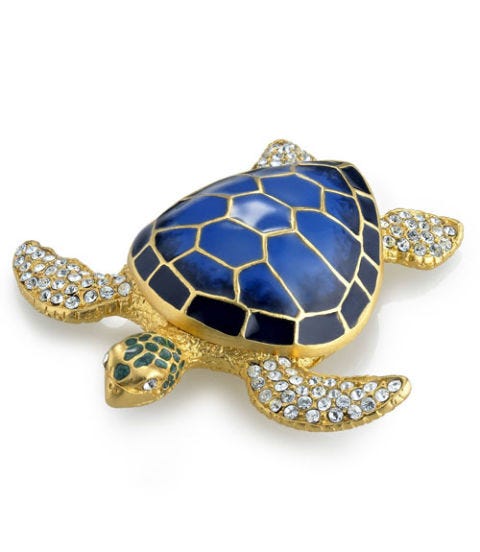 Estée Lauder Jeweled Sea Turtle Perfume Compact
This ornate trinket is more than just bejeweled eye candy. Fashion definitely meets function when you open the crystal-studded tortoise's shell to reveal long-lasting solid perfume in the crisp, classic scent, White Linen. $275 at
Neiman Marcus
.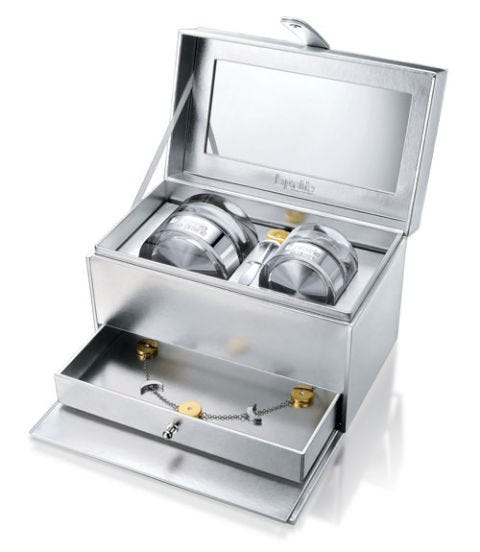 Precious Platinum Rare Collection
Help someone make a serious investment in skincare with this collection, lauded for its namesake ingredient, colloidal platinum. Housed in an elegant silver jewelry box, each product promises to maintain skin's electrical balance while keeping pollutants out and moisture in. And you can take that to the bank. $950 at
La Prairie
.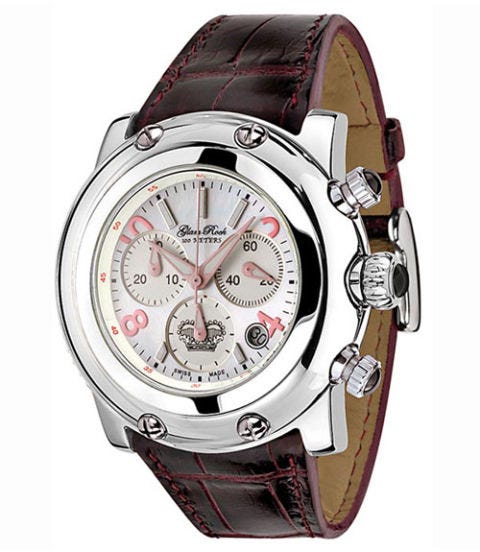 Glam Rock Miami Diamond Chronograph Watch
Nowadays, when asked for the time, most people simply pull out their cell phones. Why not go old school and look to your wrist — and to this diamond pavé wristwatch — for the answer? With its handwoven leather strap and precision Swiss quartz movement, it may not be able to place a call, but the reception will never fail you. $2095 at
Saks Fifth Avenue
.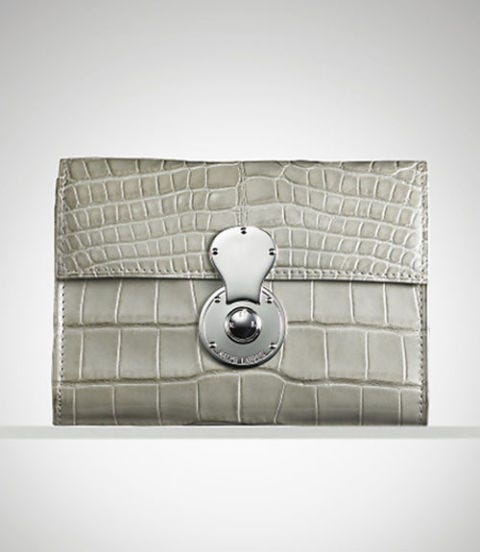 Alligator Cooper Medium Wallet
Who cares what's in your wallet when it looks like this! This small taupe clutch, by all-American designer Ralph Lauren, is meticulously crafted from nothing but the finest hand-selected American alligator. $3195 at
Ralph Lauren
.
Crème de la Mer
The cult-favorite cream has kept most of Hollywood ageless and has been credited with preventing wrinkles and removing stretch marks. Developed in the '70s by a NASA scientist, the steep price tag for a 16-ounce jar comes from its prized ingredient: bio-fermented sea kelp. $1390 at
Crème de la Mer
.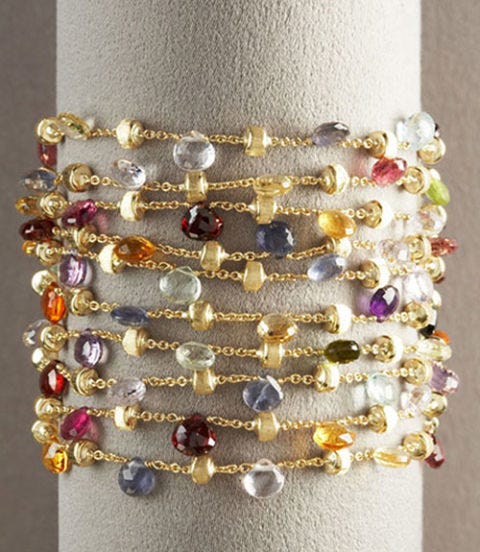 Marco Bicego Paradise Bracelet
Can't decide on one gemstone to gift this season? Then, why not give them all with this 18-karat yellow gold bracelet that mixes tourmalines, quartz, peridot, garnet, iolite, tanzanite, aquamarine, and topaz stones. And although this may be only one bracelet, it gives the layered look of 10. $5520 at
Neiman Marcus
.
This content is created and maintained by a third party, and imported onto this page to help users provide their email addresses. You may be able to find more information about this and similar content at piano.io