She's All That
Artist, DJ, rock star, actress, or all of the above: Meet the next wave of tastemakers bound for fashion stardom.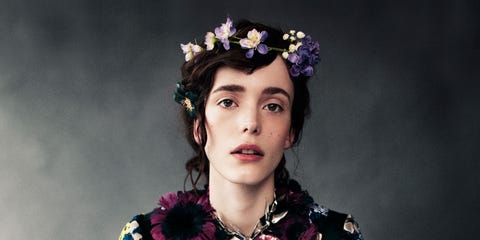 Artist, DJ, rock star, actress, or all of the above: Meet the next wave of tastemakers bound for fashion stardom.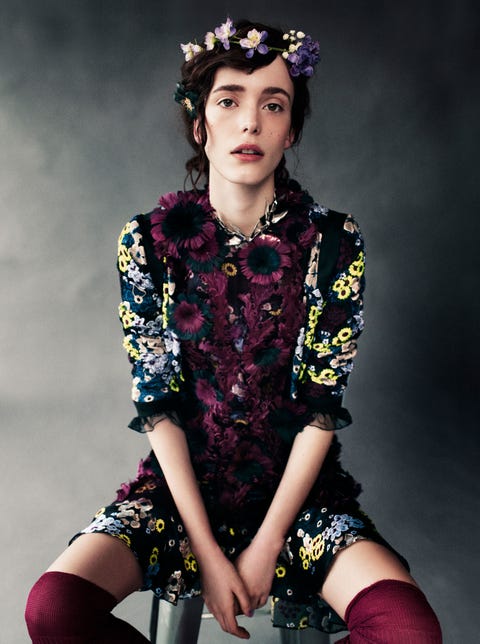 Stacy Martin, 23: Actress
HOMETOWN: Paris
STAR SIGN: Pisces
LOOK FOR HER AS: Joe, the younger version of Charlotte Gainsbourg's titular character in Lars von Trier's Nymphomaniac, out later this year.
ON MEETING HER PORN BODY DOUBLE: "It was the most surreal situation. How do you start a conversation with your porn double?"
BECOMING JANE: "People have always told me I look like Jane Birkin. There are far worse people to be compared to! Playing [Charlotte Gainsbourg, Birkin's daughter] feels like it's meant to be."

Maroon top, price upon request, Christopher Kane; floral jacket, $4,500, floral dress, $1,800, Erdem; necklace, price upon request, Jordan Askill; socks, $78, Maria La Rosa; headpiece, editor's own.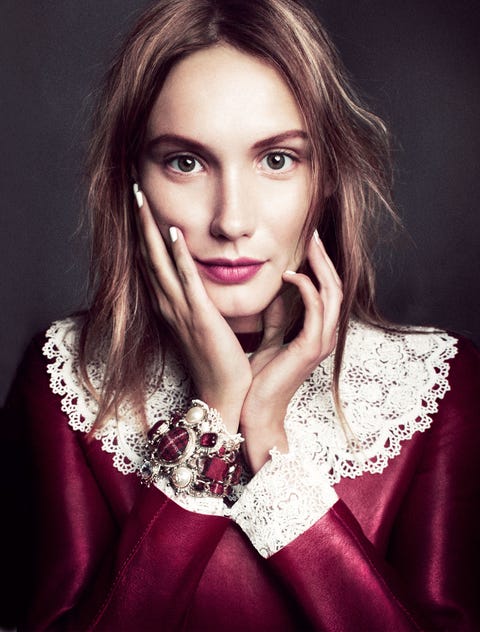 Ana Girardot, 24: Actress
HOMETOWN: Paris
STAR SIGN: Leo
SIGNATURE LOOK: "Navy striped mariner shirts. I have maybe 15 of them. It's ridiculous."
ON BEING PHOTOGRAPHED BY THE KAISER: "When you're in front of Karl [Lagerfeld], you feel like no one has ever taken a picture of you. You want him to be happy about the pictures, so it's stressful."
LOOK FOR HER IN: Next year's Paradise Lost starring Benicio Del Toro and Brady Corbet. ("I play a French girl who lives in this hippie community in Colombia when Pablo Escobar is gaining power. Brady plays my husband.")
FOLLOW: @girardotana (Instagram)
Dress, price upon request, Valentino; bracelet, $1,990, Chanel.
On hair: Garnier Fructis Style Volumizing Hi-Rise Lift Root Booster.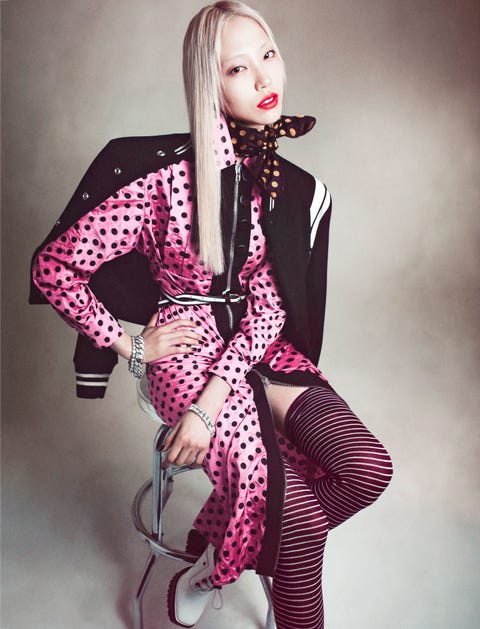 Soo Joo Park, 27: Model
HOMETOWN: Anaheim, California, by way of Seoul, South Korea
STAR SIGN: Aries
DISCOVERED: "While I was shopping in a vintage store in San Francisco."
PERSONAL STYLE: "Laid-back with a little kick."
MOST EMBARRRASSING RUNWAY MOMENT: "My first New York season, right before I closed a show, a makeup artist matted me down with heavy powder. When I saw the close-up photo, it looked like I had just rubbed a bag of white powder on my face—not chic."
LATEST SPLURGE: "A crinkled satin bra top from Miu Miu."
CURRENTLY LISTENING TO: "Cyril Hahn remixes and Arthur Russell."
SIDE PROJECT: "I learned how to sing and play the piano as a child, and it's been useful in composing music for my band, Ore. We're still honing our sound but going in the direction of something dark but melodious."
FOLLOW: @soojoo
Jacket, $2,190, Saint Laurent by Hedi Slimane; dress, $3,195, scarf, $230, socks, $185, Miu Miu; bracelets, prices upon request, Jacob & Co.; shoes, $1,470, Carven; belt, editor's own.
On lips: L'Oréal Paris Infallible Le Rouge Lipcolour in Coral Seduction.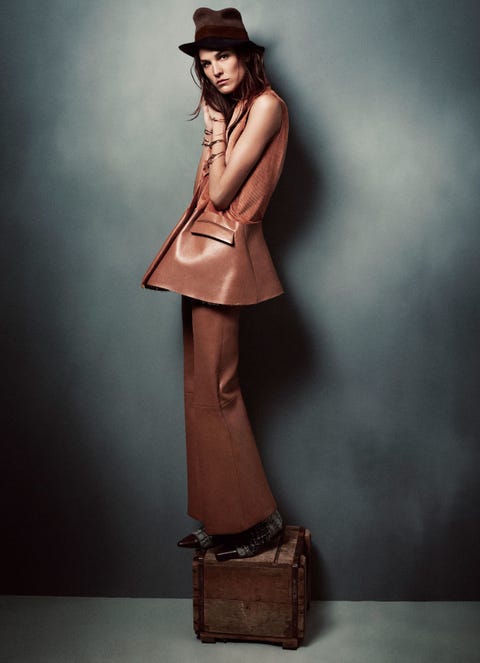 Charlotte Kidd, 28: Photographer/Artist
HOMETOWN: New York City
STAR SIGN: Taurus
ON HER WORK: "It sounds cheesy, but I want to find something beautiful in things that you'd normally forget or just miss. I used to drive around New York a lot, and I would photograph truckers naked in their sleeping berths. They were posed sort of like Grecian paintings, so it was taking this naked fat man and making him beautiful."
PERSONAL STYLE: "For work, I have to be casual because I'm going to get dirty. If I had a different life, I'd like to wear Valentino."
LATEST SPLURGE: "A Céline Trio bag in black. Snap it apart and it works as a clutch."
CURRENTLY WORKING ON: "I'm really into shooting film right now. I'm doing a fashion video for Mark Cross soon. I love their bags; they're so ladylike."
FOLLOW: @drinkerkidd (Instagram)
Vest, $1,800, pants, $1,800, Acne Studios; hat, $337.50, Lola Hats; boots, $1,250, Chanel. On Kidd's right arm, from wrist to elbow: Gold cuff, $74, Bing Bang Jewelry; gold cuffs, $190 each, Jennifer Fisher; flower cuff, $405, Aurélie Bidermann. On Kidd's left arm: Peak cuffs, $150 each, flat ID bracelets, $175 each, Jennifer Fisher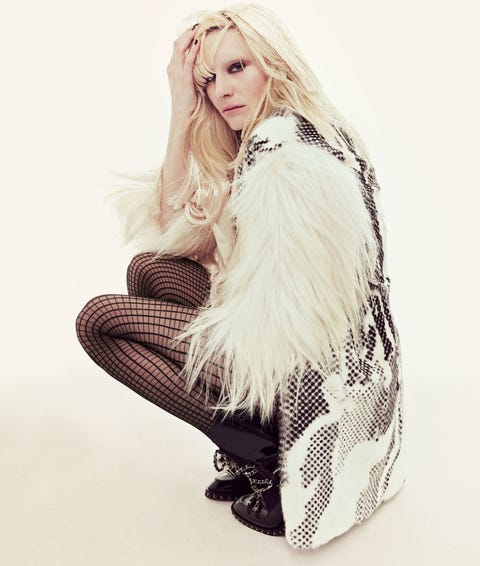 Liza Thorn, 27: Actress/Musician
HOMETOWN: San Francisco
STAR SIGN: Sagittarius
DOWNLOAD NOW: "Call From Paris" by Thorn's band, Starred.
ON BEING BUDS WITH HEDI SLIMANE: "I consider him one of my music friends. He's not like a fashion person. The Saint Laurent thing is just his job. He sent me an invite to
the show in Paris, and it was like any one of my friends who's in a band: You go to the show, you hang out."
STYLE ICONS: "I like little men who make something of themselves completely out of their own imaginations, like Napoleon, L. Ron Hubbard, Charles Manson, and Ariel Pink."
FOLLOW: @lizathorn ("It's private just because there are certain conversations I'd rather not have with my mom.")
Coat, price upon request, Vionnet; cream scarf, $715, Dries Van Noten; tights, $25, American Apparel; boots, $2,250, Chanel.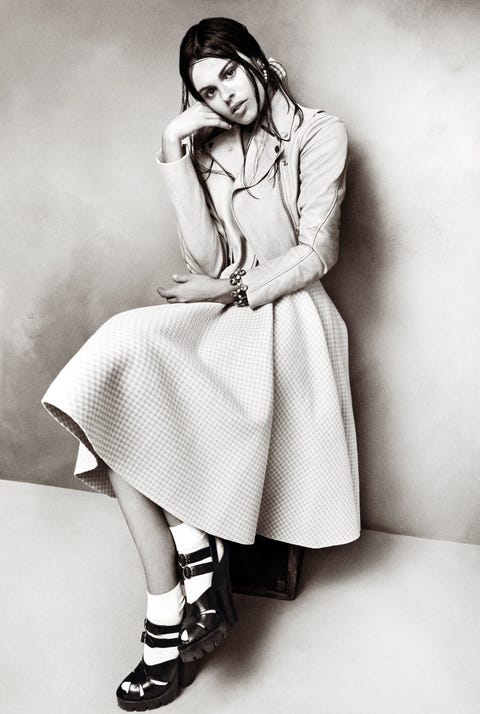 Atlanta De Cadenet Taylor, 21: Actress/Model/DJ
HOMETOWN: Los Angeles
STAR SIGN: Aries
ON HER MOM, THE CONVERSATION HOSTS AMANDA DE CADENET: "When I was younger, she would come to my school wearing a short jean skirt, knee-high boots, and a ripped-up shirt where you could see her bra. At that age it was embarrassing, but now I'm just like, 'Yep, my mom's a badass.'"
ON MUSIC TIPS FROM HER DAD, DURAN DURAN BASSIST JOHN TAYLOR: "When I first told him that I wanted to DJ, he was beyond excited. He sent me these amazing playlists of his discoveries from listening to pretty much every single record in the world."
ON THE ORIGINS OF HER NAME: "Every time I've asked my parents, they've given me a different answer. I don't think they even know. I wasn't conceived in Atlanta or born there. I've never been. But my middle name is Noo, which was their pet name for each other."
MODEL ICON: "Lara Stone. I have boobs and a butt, and I remember the first time I saw her in a magazine, I was like, 'Wow.' It was so refreshing to see a woman with a body."
FOLLOW: @atlantabean

Jacket, $1,450, Acne Studios; halter top, $915, skirt, $2,435, shoes, price upon request, Prada; earrings & bracelet, prices upon request, de Grisogono; socks, $21, Fogal of Switzerland.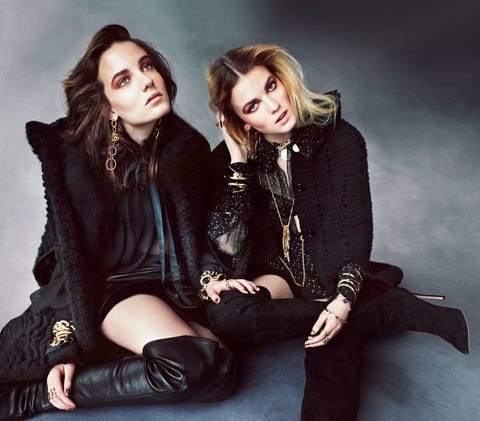 Miranda (left) & Elektra Kilbey, 21: Musicians in the duo Say Lou Lou
HOMETOWN: Sydney and Stockholm. ("Our parents broke up when we were babies, so we were kind of shuffled in between.")
STAR SIGN: Gemini
DOWNLOAD NOW: "Julian"
THE BAND'S NAMESAKE: "Lou Lou was our great-aunt and a family legend. She was really mean and horrible.
We thought it was a funny juxtaposition since Lou Lou is such a cute name and she wasn't cute."
ON HAVING TWIN POWERS: "We can read each other's minds. Whether it's psychic or whether it's because we've spent 21 out of 21 years together, we don't know."
STYLE ICONS: "Lauren Hutton, Marianne Faithfull, Charlotte Rampling—people who have found a good balance between being comfortable and being stylish."
FOLLOW: @sayloulou

On Miranda: Cape,
$2,490, top, $2,250, Saint Laurent by Hedi
Slimane; shorts, $1,670, Emilio Pucci; boots, $1,700, Gianvito Rossi.

On Elektra: Cape, price upon request, Emilio Pucci; polka-dot dress, price upon request, skirt, $1,790, Saint Laurent by Hedi Slimane; bra,
$115, Yasmine Eslami; boots, $2,025, Giuseppe Zanotti Design.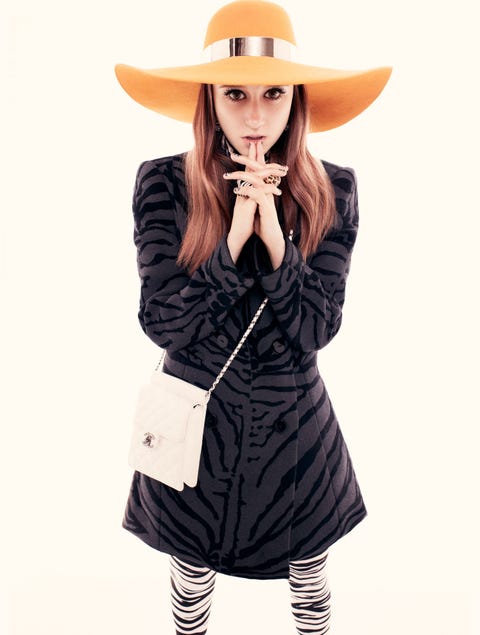 Taissa Farmiga, 18: Actress
HOMETOWN: Whitehouse Station, New Jersey
STAR SIGN: Leo
CATCH HER IN: Sofia Coppola's The Bling Ring, out now, and FX's American Horror Story.
HOW HER SISTER, VERA FARMIGA, GET HER HOOKED ON ACTING: "I was a sophomore when I did Vera's film [Higher Ground]. When she asked me to be in it, I was like, 'What?' Acting wasn't something that I'd thought about."
AMERICAN HORROR BEDTIME STORY: "Back in season one, I filmed a scene with that demon baby called the Infantata. It came to me in my dreams—I didn't like sleeping alone."
REBEL, REBEL: "I have a rebellious teenage thing. If my mom says I can't do it, I'm gonna do it. But I'm pretty good. That's why it was fun to play Sam in The Bling Ring. I got to be someone crazy and wild to the extreme, then go home and relax and get rid of the burden."
FOLLOW: @t_farmiga
Coat, $2,350, ascot (with dress, not shown), $1,150, Carven; hat, $616, Maison Michel; earrings & black-and-white ring, prices upon request, de Grisogono; black- and-yellow ring, price upon request, Jacob & Co.; tights, $15, Emilio Cavallini; bag, $2,400, Chanel.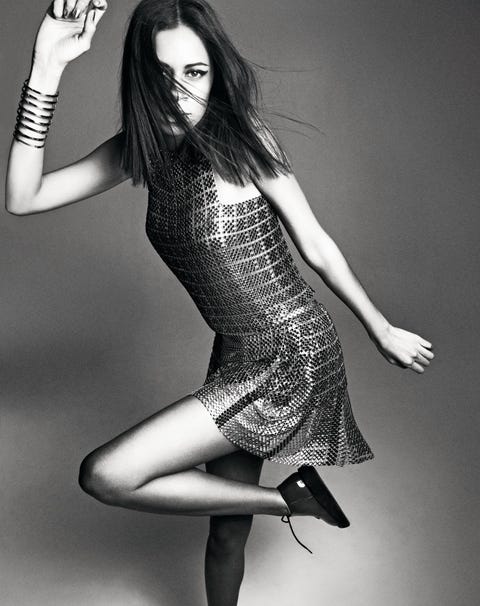 Aluna Francis, 25: Musician, One half of electronic/R&B duo Aluna George (along with George Reid)
HOMETOWN: London
STAR SIGN: Cancer
DOWNLOAD NOW: "Attracting Flies" from Aluna George's debut album, Body Music.
IDOLS: "Female artists like Lykke Li, Santigold, and Robyn have really stood out to me as acts to follow."
ON HER STAGE STYLE: "I love how the designer Ashish plays with girliness and masculinity. His clothes are perfect for live shows when you want that playful, impactful balance of being strong and cute at the same time."
PRIZED POSSESSION: "My gold Robert Clergerie brogues."
IN HER DOWNTIME: "I find new ways of filling my belly. I love healthy food, but it has to taste amazing, which takes a lot of research."
FOLLOW: @alunageorge
Top & skirt, prices upon request, Paco Rabanne; cuff, $1,400, Campbell; shoes, $300, Avril Gau.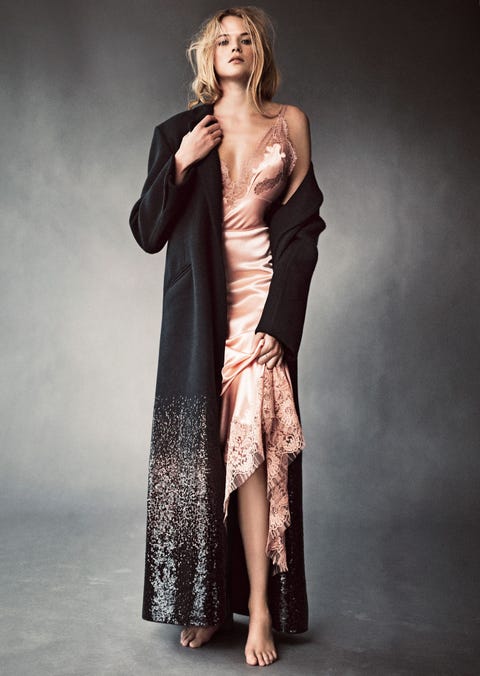 Gabriella Wilde, 24: Actress
HOMETOWN: London
STAR SIGN: Aries
FULL NAME: Gabriella Zanna Vanessa Anstruther-Gough-Calthorpe
CATCH HER AS: Frenemy Sue Snell opposite Chloë Grace Moretz in Carrie, in theaters this October.
ON HER CHARACTER: "Sue is a young naive girl with a good heart. She goes on a huge journey in the film and is forced to learn about life quite quickly. I related to her in many ways."
FAMILY MATTERS: "My sister Olivia [Llewellyn] is an actress, and she inspires me every day. She is so talented and has been a huge part of every job I've done."
STYLE ICONS: "Tilda Swinton is always herself—elegant and original. And River Phoenix because he looked so cool."
GUILTY PLEASURES: "Pretzel M&M's and Friends—I watch it on repeat."
NEXT UP: Endless Love with Alex Pettyfer.
Coat & dress, prices upon request, Louis Vuitton.
This content is created and maintained by a third party, and imported onto this page to help users provide their email addresses. You may be able to find more information about this and similar content at piano.io