Editors handpick every product that we feature. We may earn commission from the links on this page.
12 Gifts for the 'Outlander' Fan in Your Life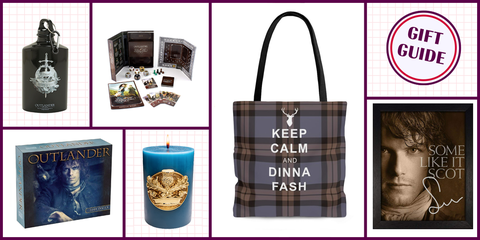 Outlander fans are a very specific and peculiar breed. They're always saying little Scottish phrases and referencing magical romances. They're...quirky. But, luckily, their intense fandom means there are some amazing and unique gifts out there, just waiting to bring a Jamie-worthy smile to their faces.
Here are 12 magical gift ideas for the Outlander fan in your life.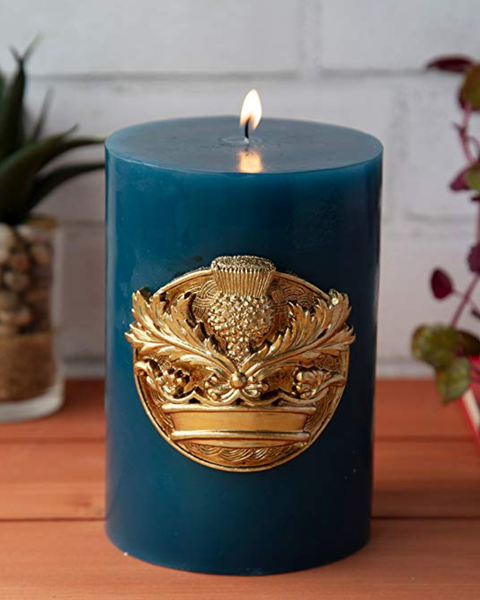 Sculpted Insignia Candle
Amazon, $30
This gorgeous candle, featuring a sculpted gold insignia of the Outlander crest is a classy, subtle way to let your Outlander fan flag fly year round.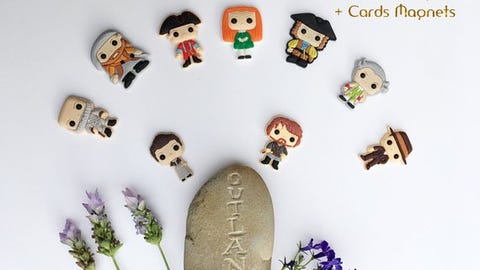 Adorable 'Outlander' Refrigerator Magnets
Etsy, $13
These adorable charms-turned-magnets will transform your fridge into the Scottish Highlands. Plus, because Etsy is the best, the set of nine character magnets also comes with a BONUS Outlander-inspired card with quote.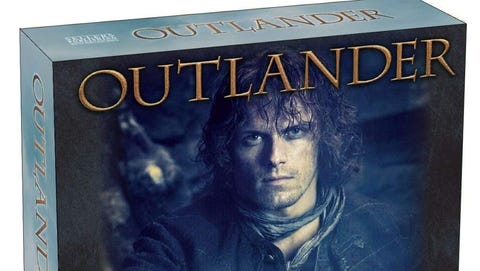 2019 Daily Desk Boxed Calendar
Amazon, $17
You have to keep track of how many days until the end of the Droughtlander somehow, right? What better way than with a calendar that features a different Outlander picture or quote every. Single. Day?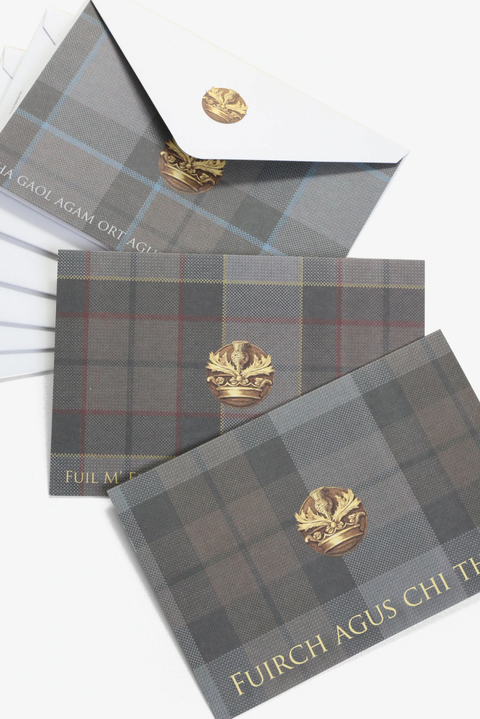 Mackenzie Tartan Plaid Notecards
Hot Topic, $19
Sometimes, the best gift is one that lets your Outlander fan share their Outlander love with others. These notecards do exactly that.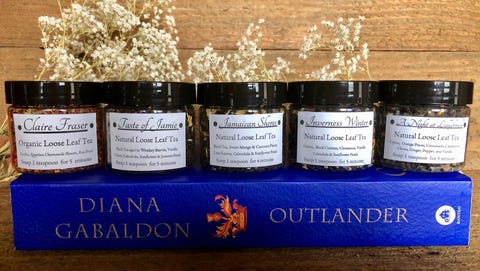 'Outlander'-Inspired Teas
Etsy, $20
Does your Outlander fan need a beverage to sip during their umpteenth marathon-style rewatch? These teas are perfect. You have the Claire Fraser, an organic herbal blend of rooibos, Egyptian camomile, and rose petals, the Taste of Jamie, a black loose leaf with a mix of premium ceylon tea that has been aged in whiskey barrels, and sweet vanilla cream tea, the Jamaican Shores, a tropical blend was inspired by the third novel, with a mix of coconut and sweet mango black tea, the Inverness Winter, with a blend of black currant ceylon, cinnamon, vanilla, calendula and sunflower petals., the Night at Lallybroch, a spicy blend of spiced orange black tea, cinnamon, cardamom, cloves, ginger, pepper, and vanilla. YUM.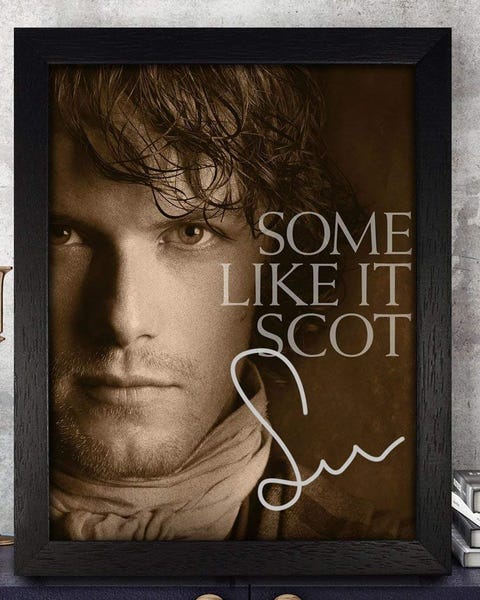 Some Like It Scot Poster
Amazon, $12
Serious question though: Who doesn't like it Scot?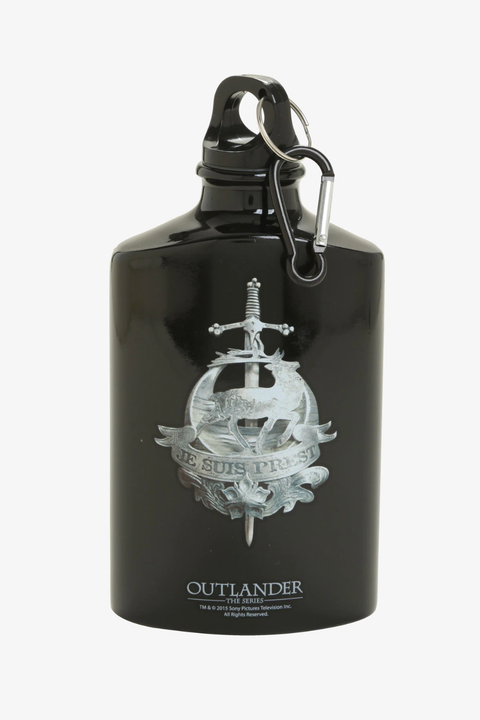 Je Suis Prest Metal Flask
Hot Topic, $16
Can be used for water or...not water. This flash features the Fraser clan crest and words "Je Suis Prest."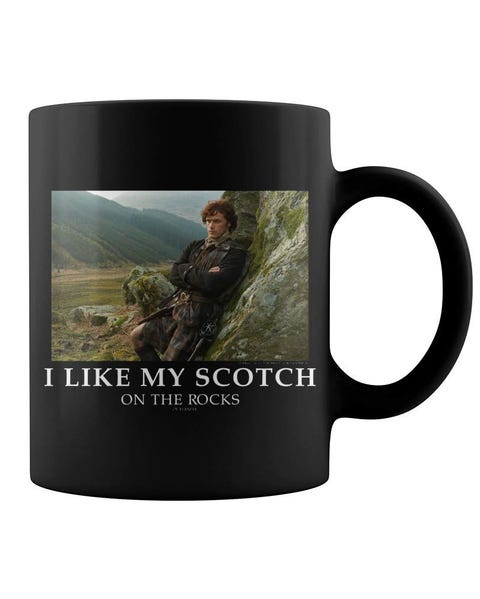 "I Like My Scotch on the Rocks" Coffee Mug
Amazon, $13
Yes. Same. This mug expresses the deepest love of an Outlander fan's soul.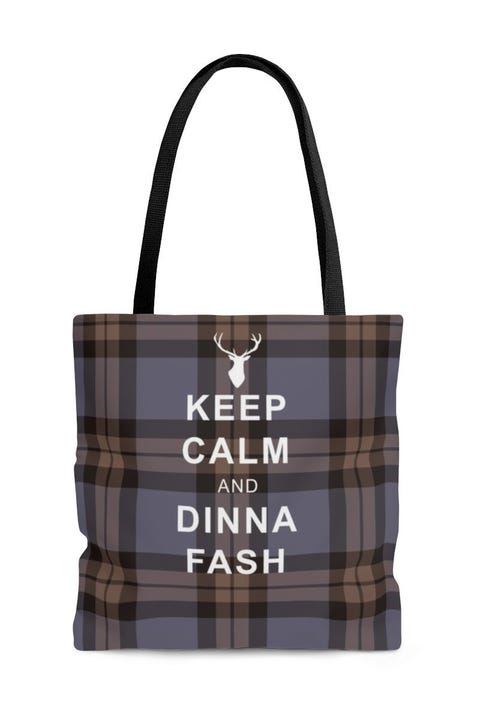 Calm and Dinna Fash Tote Bag
Etsy, $25
It's functional and comforting. Dinna Fash, Sassenach.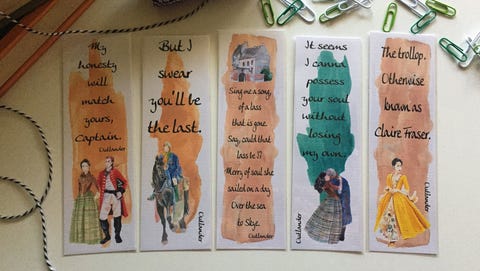 Watercolor 'Outlander' Bookmarks
Etsy, $2.50
Is your Outlander television series fan also an Outlander book series fan? These bookmarks are perfect—and they're literal works of art, too.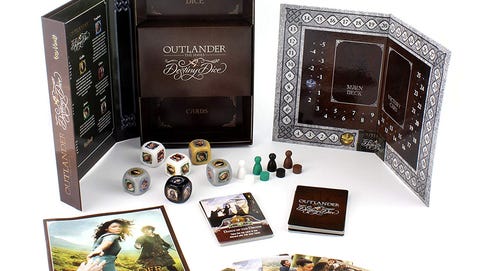 Outlander: Destiny Dice Game
Amazon, $20
Spend the Droughtlander taking Jamie and Claire's destiny into your own hands—over and over and over.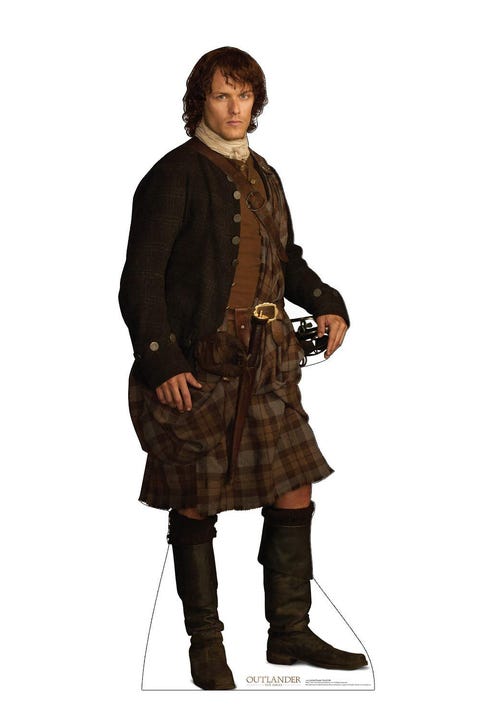 Jamie Fraser Life Size Cardboard Cutout
Amazon, $45
Because no real-life S.O. can compete and we all know it.
This content is created and maintained by a third party, and imported onto this page to help users provide their email addresses. You may be able to find more information about this and similar content at piano.io