The 26 Best Erotic Novels You'll Obsess Over
There's so much more than just '50 Shades.'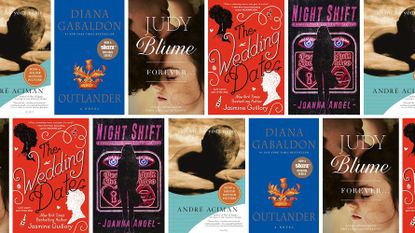 (Image credit: Courtesy)
If Fifty Shades of Grey proved anything, it's that flipping through several hundred pages of NSFW prose is fun and nothing to be embarrassed about. So, please come (no pun intended) with us into a whole new world of books with stunning sex. Erotica often gets labeled a "guilty pleasure," and while, I mean, yes—there are many campy books to read, some of which are on this list—there are plenty of erotic novels that overlaps with genre and literary fiction. Some of these books have inspired Golden Globe-nominated shows, after all (hi, Outlander (opens in new tab)!).
In other words, erotic novels are fun, they're sexy, and they can be prestigious. I mean, where else could you find hot billionaires, rugged war heroes, professors that don't mind giving you a "D" (jokes!), or actors who are just as hot on the screen as they are off? Nowhere but NSFW stories! If you're a newbie, welcome to one of the hottest genres on the planet, and if you're a returning reader: welcome back, we missed you! Here are some of the best erotic novels that will leave you seriously blushing and maybe, just maybe, needing a cold shower afterward.
1/26
'A Kingdom of Dreams' by Judith McNaught
The year is 1497, and Scottish Jennifer Merrick finds herself agreeing to marry a much older man to please her father. But that never happens, because Jennifer and her step-sister Brenna are taken by Englishman Lord Royce Westmoreland (known as the Black Wolf) as a hostage. They should be enemies, but something keeps drawing them closer.
2/26
'The Kiss Quotient' by Helen Hoang
Stella Lane, who's on the autism spectrum, wants to get better at all things physical so she can find the husband her parents expect her to have. Since it's the 21st century, she hires escort Michael Phan, a Vietnamese and Swedish sex god of sorts who agrees to help Stella out. We're not one for spoilers, but the steaminess of this book will definitely fog up some windows.
3/26
'Follow Me Darkly' by Helen Hardt
This new series from Helen Hardt is like if Fifty Shades of Grey got a much-needed face-lift. Assistant to a social media influencer, Skye Manning, meets a billionaire, Braden Black, and sparks fly! Both become enamored with each other as they experience something they've never felt before, but not all good things last forever.
4/26
'And Playing the Role of Herself' by K.E. Lane
Actress Caidence Harris has just landed a role in a new police drama and to say she's thrilled is an understatement, especially when she gets to work with mega A-lister Robyn Ward. Caidence wants to be more than just friends with her co-star, but Robyn doesn't seem to want the same...or Caidence thought.
5/26
'Set' by Alexandria House
Into "against all the odds" romance? Grab Set immediately. This hot novella tells the story of old classmates who meet again years later at their high school reunion. Both are not looking for anything serious. They agree on an arrangement of sorts (you know where this is going) that will leave you blushing page after page.
6/26
'Rush (Breathless)' by Maya Banks
We're talking three wealthy brothers (Gabe, Jace, and Ash) who can get anything and anyone with the snap of their fingers—except Mia Crestwell, their best friend's little sister. But, when they run into Crestwell and discover she's not the girl they used to know, all bets are off and it's game on.
7/26
'Backstage Pass: Sinners on Tour' by Olivia Cunning
Get this: a psychologist goes on tour with one of the hottest bands in the world and has to keep it professional. As they travel across the country, she starts to fall for the lead singer, and one thing leads to another. Get ready to blush, like, a lot.
8/26
'Romancing the Duke: Castles Ever After' by Tessa Dare
Where would this list be without a historical romance book? Isolde Ophelia Goodnight (yes, that's her name) is a 26-year-old woman who has never been kissed. Deciding that there is no such thing as fairy tales, she decides to give up love, but life has a couple of surprises for her. Let's just say, it all starts with a Duke and an empty castle.
9/26
'Forever' By Judy Blume
This classic love story from Judy Blume (yes, Are You There God? It's Me, Margaret and Superfudge Judy Blume) is a raw coming of age story about first love, complete with all of the awkward and beautiful sexual moments that come with it.
10/26
'Night Shift: A Choose-Your-Own Erotic Fantasy' by Joanna Angel
Sexual fantasies are unique and individual and this is a book that understands that. Per Night Shift's Amazon description: "Your mission: In a sketchy and sexy world filled with tissues, gallons of lube, sex toys, tiger print, and swinger parties, help Taryn choose her way as she learns what happens in this small, unexpectedly kinky town. From butt plugs to cross-dressing truckers to being held-up at gunpoint over dildos, experience this fun and sexy journey along with Taryn, as she goes from shy and sweet to skilled and empowered—but how she gets there is up to you!" So. In.
11/26
'Dark Lover' by J.R. Ward
If you like your erotic fantasy with an extra dose of fantasy, the vampire-heavy Black Dagger Brotherhood series is can't-miss. The series is regularly name-dropped in lists of books with the hottest sex scenes and this New York Times best-selling series has 19 entries and counting to keep your blood flowing primarily below the waist.
12/26
'The Claiming of Sleeping Beauty' by Anne Rice
Anne Rice, woman who gifted us Interview with the Vampire, also wrote The Claiming of Sleeping Beauty, a three-book series that's pretty much the same as the beloved fairy tale only with tons of sex. Read with a 2020 lens, some of the themes are a bit problematic—but in the words (opens in new tab) of Rice, "The books aren't about literal cruelty; they're about surrender, the fun of imagining you have no choice but to enjoy sex. Beauty's slavery is delicious, sensuous, abandoned, and ultimately liberating."
13/26
'Bared to You' by Sylvia Day
Best-selling author Sylvia Day's series takes you through a complicated web of 20-something Eva Tramell and billionaire Gideon Cross' love lives. Their relationship begins as an "office" romance—they work in the same building—and develops into an emotional roller coaster as both characters deal with past sexual abuse and secrets they've buried.
14/26
'Wetlands' by Charlotte Roche
As you can tell from the quotes on the cover, this book is, um...a lot. Wetlands is about a young woman's stay in a hospital where she's being treated for an anal fissure, and its depiction of the human body, cleanliness, and sex, is something else completely.
15/26
'Gabriel's Inferno' by Sylvain Reynard
A hot professor by the name of Gabriel Emerson falls in love with his graduate student Julia Mitchell, even though it's forbidden. (Does this troupe ever get old? The answer is no.) Hardcore fans deem it as the professor and student version of Fifty Shades of Grey, so you know we had to spread the word.
16/26
'Surrender' by Melody Anne
Another four-part series, Melody Anne's story pits two opposite personalities against each other. Raffaello Palazzo is looking for a no-strings-attached sex buddy after his wife leaves him without explanation; in comes Arianna Lynn Harlow to melt his icy heart. Classic tale of good girl meets bad-boy-turned-decent-guy.
17/26
'The Wedding Date' by Jasmine Guillory
To quote Roxane Gay's blurb, this book truly is as charming as it is sexy. And not just because of the scorching bedroom scenes, but because of the nuance with which the love story—between a black woman and white man who meet in an elevator—is told.
18/26
'One Night: Promised' by Jodi Ellen Malpas
This passion-filled book follows a man simply known as "M," who leaves a note—saying he wants one night of emotionless sex—on a napkin for a barista named Lily. Everything in Lily should be screaming, Throw out the napkin! but, spoiler alert: She doesn't.
19/26
'Call Me By Your Name' by André Aciman
Call Me by Your Name is so much more than an "erotic novel" (though there's plenty of eroticism). It's a coming of age story filled with beautiful prose and, more than that, it's a reflection on the all-consuming power of love and attraction. The movie is great, but the book is a masterpiece.
20/26
'Fixed On You' by Laurelin Paige
Alayna Withers is recovering from a "love disorder" that involves stalking charges (so many questions). She's finally getting her life together when she meets her new boss—a dashing man who could cause Alayna to revert to her old habits. Next book club read?
21/26
'Outlander' by Diana Gabaldon
If you thought the show was sexy, you have no idea what's coming. The Outlander novels are about a time-traveling nurse who finds herself in 18th-century Scotland, where she falls for a Highlander. The catch? She's definitely married and her husband is living in the future.
22/26
'Blindfolded Innocence' by Alessandra Torre
Brad De Luca (what a name) is a privileged lawyer who's used to getting his way. Julia Campbell's engagement just ended, and she's loving her independent life...until she meets—dun, dun, dun—Brad. It's a well-strung tale of knowing what you want and following your heart. Cheesy, yes, but very gripping.
23/26
This story, published in 1967, is still just as sexy and gorgeous today as it was then. It follows a young Yale dropout on a trip around Europe in a beat-up car as he meets, sleeps with, and falls a little in love with a beautiful Frenchwoman in a quiet town. Almost as much a travel novel as an erotic one, this book will satisfy both your wanderlust and your, uh, regular lust.
24/26
Arguably the best thing about the Netflix series Bridgerton was how it started out like a lush, innocent romp through estates and high society and marriageable men and women and then, out of now, BAM! Some of the steamiest sex scenes we've ever seen on TV. So why not read the series of novels that inspired those scenes, and start here: The Duke and I is about naive young woman who gets married off to a tempestuous Duke who loves her and, in return, teaches her the ways of love.
25/26
Another first of a series, The Court of Thorns and Roses follows a woman who slays a wolf and, as revenge, is kidnapped by a horrible fairy who takes her to his realm as a captive. But when she finds out that sometimes he's actually a hot guy, she starts to have some complicated feelings. Feelings that she cannot help...explore. You get it. File this one under fantasy erotica and get ready to be transported.
26/26
What is it about stories that revolve around sex and Paris? Two great tastes that go great together. Here, a moody Russian artist in 1920s Paris is in pursuit of inspiration and finds it in a gorgeous young American visiting the city. The two women have a hot and heavy romance, and the resulting art from her new muse pushes the artist to creative heights. But a looming world war and a stock market crash threaten to cut the party short.