The Best New Romance Novels of 2021 (So Far)
More fictional characters to swoon over? Yes, please!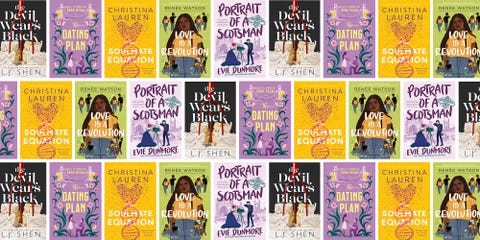 Design by Morgan McMullen
New year, new you! New year, new books! New year, new fictional characters to fall in love with for no other reason than the fact that no one can stop you! What a wonderful time to be alive, am I right? Romance books have long been the escapism every reader craves, and after the horror story that was last year, I'll gladly take any book with a happy ending as a way to cope. Sure, you got your NSFW reads that you may or may not save for the wee hours of the night, but sometimes you need a book with a cover that doesn't boast the sight of a six-pack every now and then.
Thankfully, the wonderful year (at least so far) that is 2021 is serving up a whole bunch of new stories we can't wait for the world to get their hands on. From mysterious Scottish hunks, Regency-era drama, and couples that swear they're only "fake dating," you can expect a whole bunch of drama (and sexy scenes) from this collection of new romance reads set to see the shelves of your favorite bookstore very soon. And if you can't wait? Check out our list of favorite fiction reads that came out last year, sure to keep you page-turning all day long.
'Love Is a Revolution' by Renée Watson
It's love at first sight for Nala Robertson when she spots Tye Brown MC-ing at her friend Imani's birthday. But they're total opposites: He's an extrovert, known for the activist events he puts on in the community, while Nala likes to chill on the sidelines. Yet, she wants to get to know him more and decides to tell a couple of lies about herself to Tye to grab his attention. As their connections get deeper, the real Nala seems farther and farther away, as she finds herself risking who she really is all for love.
Available February 02, 2021
'The Devil Wears Black' by L.J. Shen
Maddie Goldbloom has a chic life in New York City but faces destruction when her arrogant ex-boyfriend Chase Black rolls into town with an outlandish request to play his fiancée for an upcoming event. She's about to turn him down until he tells her he's just trying to fulfill his dad's dying wish. Fake fiancé troupes for the win, okay?!
Available March 09, 2021
'Act Your Age, Eve Brown' by Talia Hibbert
The Brown Sisters series's final book serves up the same wit and swoon-worthy romance Hibbert is known for. This time around, it's about Eve Brown, who can't seem to escape her string of bad luck. After a strongly worded chat with her parents, she's set on nailing a job to prove how grown she is. So, when an open position for a chef at a B&B is up for grabs, she interviews. Owner Jacob Wayne is quick to shoot her down, but when an unexpected event happens that leaves him hiring Eve, she soon not only evades his kitchen but his heart.
Available March 9, 2021
'The Dating Plan' by Sara Desai
Daisy Patel is in a loving and committed relationship with her job as a software engineer, leaving her little to no time for dating. She's cool with this, but her family isn't. To get them off her backs for a while, she asks her childhood crush, Liam Murphy, to be her decoy fiancé. Of course, after a string of perfect dates, they start to realize that maybe their fake fling could turn into something real.
Available March 16, 2021
'To Love and to Loathe' by Martha Waters
Widowed Diana, Lady Templeton, and Jeremy, Marquess of Willingham loathe each other, to put it simply. So it's no surprise that the pair declare a wager during a heated argument that Jeremy either marry within the year or Diana has to pay up one hundred pounds. Things take a turn up when Jeremy shows up at Diana's home, asking to embark on a brief affair together for "research." He'll learn how to be better in the bedroom from her, and he'll let suitors know she's keen on taking a lover. It's strictly business...for now.
Available April 06, 2021
'Dial A for Aunties' by Jesse Q. Sutanto
When wedding planner Meddelin Chan ends up accidentally killing her blind date, she calls her mother for guidance, who in turn calls her four meddling aunties for help. Rookies in disposing of a dead body, her aunties accidentally ship her date to her an extravagant wedding the whole family is working that weekend. It couldn't get any worse, right? Wrong—for Meddelin's ex shows up out of the blue looking real, real good.
Available April 27, 2021
'People We Meet on Vacation' by Emily Henry
Every summer for ten years, best friends Poppy and Alex have taken a glorious week-long vacation together. Well, that was the case, until two years ago when their last trip ended badly. Desperate to make amends, Poppy gets Alex to agree to one last trip and hopes for the best. And by best, I mean not sharing with Alex that she may be in love with him.
Available May 11, 2021
'The Soulmate Equation' by Christina Lauren
A single mother and a hot scientist are brought together as a fake couple to bring up the stock price of GeneticAlly (think if 23andme was actually a DNA-based matchmaking company) after they're matched with a record-breaking 98 percent compatibility. Suddenly the oddity of dating apps seem normal?
Available May 18, 2021
'One Last Stop' by Casey McQuiston
Twenty-three-year-old August is a fresh face to the concrete jungle that is New York City, and like any New Yorker, she has a subway crush. It's just Jane, isn't your normal subway cutie commute sighting. She's literally displaced in time from the 70s. With August's help, the two will try to get Jane back where she belongs and might just fall in love in the process.
Available June 01, 2021
'Portrait of a Scotsman' by Evie Dunmore
The third book in Dunmore's A League of Extraordinary Women series turns the spotlight on banking heiress Hattie Greenfield. The London lady finds herself at the aisle across from the mysterious financier Lucian Blackstone who has a past kept well-hidden. That soon changes when a sudden event brings the couple to Scotland, and Hattie finds out the truth about her new husband.
Available September 07, 2021
This content is created and maintained by a third party, and imported onto this page to help users provide their email addresses. You may be able to find more information about this and similar content at piano.io