The 28 Most Underrated Films Ever
Don't overlook these hidden gems.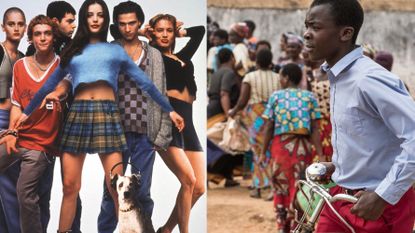 (Image credit: Shutterstock + Netflix)
Marie Claire Newsletter
Celebrity news, beauty, fashion advice, and fascinating features, delivered straight to your inbox!
Thank you for signing up to Marie Claire. You will receive a verification email shortly.
There was a problem. Please refresh the page and try again.
There are good movies. There are bad movies. Then there there are criminally underrated movies that never got the credit they deserve...until now. Each year, Hollywood is inundated with hundreds of films—so many, in fact, that we can miss the hidden gems that are overshadowed by blockbusters and films that are excruciatingly boring but will somehow still be nominated during award season (shade, but no shade).
But that ends today. Finally, we're giving the should-be sleeper hits the roses that they deserve while we still can, from kitschy rom-coms to inspirational true story films. Below, some of the most underrated but most deserving films of all time, according to "science" (my opinion).
The Assistant (2020)
Julia Garner gives a sublime performance in this slow-burn drama that feels so insidiously cruel, it also seeps into the horror genre. Garner plays Jane, an overworked assistant to a big-time film producer who uses his power and position to abuse women (the man is never seen nor named, but the comparisons to Harvey Weinstein are fairly overt). It's a movie that will stick with you long after the credits roll.
The Rules of Attraction (2002)
This 2002 movie, based on Bret Easton Ellis's classically 1980s novel of the same name is a dark satire of the college movie and follows an extremely pretentious group of college kids at a liberal arts school who fall in love, explain books to one another (often incorrectly), and have a lot of sex. The cast alone is a dream of an early 2000s who's who: Jessica Biel, James Van Der Beek, Ian Somerhalder, Kate Bosworth, Jay Baruchel, and Shannon Sossamon. Fun fact: James Van Der Beek's character is named Sean Bateman, the brother of Patrick Bateman—you know, the lead character of another, more recognizable Bret Easton Ellis book-to-movie called American Psycho.
The Village (2004)
Critics of M. Night Shyamalan movies like to say he fell off, quality-wise, after reaching incredible heights with The Sixth Sense and Signs. Those people are not giving enough credit to The Village, which follows an isolated religious community that feels very New World-y as they try to maintain an uneasy truce with the monsters that stalk their village. The twist is…well, very M. Night Shyamalan, but this movie holds up much better than people who poo-pooed it the first time around might remember.
Beyond the Lights (2014)
This moving love story about a singing ingenue on the edge of superstardom—and at the end of her rope—and the young cop who saves her did not get the attention it deserves. Think The Bodyguard but modern and dealing with mental health. Gugu Mbatha-Raw, Nate Parker, Minnie Driver, and Danny Glover are a powerful cast who bring home this story of star-crossed lovers and make it incredibly memorable.
Stardust (2007)
How this film didn't made it big, I will never understand. It has all the makings of an iconic, early-aughts fantasy flick, including a mysterious wall that separates the world from a magical land (which our protagonist, played by Charlie Cox, bravely crosses), murderous kings, an enchanting star that takes the form of a beautiful human (um, Claire Danes is the star), a trio of evil witches, wickedly and deliciously led by Michelle Pfeiffer, who are hell-bent on looking young forever (as all witches apparently are), and...Robert De Niro? Who also makes an appearance! Seriously, how have people not seen this?
Daredevil (2003)
Allow me to direct your attention to a grade-A superhero movie that somehow slides through the superhero movie cracks: Daredevil. The titular role of the blind-and-badass masked vigilante goes to Ben Affleck; meanwhile, Jennifer Garner plays Elektra (she gets her own spinoff movie in 2005). The two team up to save their city from their foe, Kingpin, and avenge the murder of Daredevil's father. If that description has not yet convinced you, just watch the very 2003 trailer.
Jennifer's Body (2009)
A little bit campy, a whole lot amazing: Jennifer's Body (starring Megan Fox and Amanda Seyfried) might have been a mainstream-movie watcher miss, but it earned cult status thanks to its whip-smart script and clever casting. In the dark comedy/horror, Jennifer (Fox), a popular high schooler, gets possessed by a demon and is out for the blood of boys.
Win a Date with Tad Hamilton! (2004)
It was a box office bomb, but I honestly can't understand why. It's a romcom recipe to a T, including but not limited to: Conventionally attractive, small town girl who is courted by conventionally attractive rich movie stare; cue girl's "geeky" best friend, who realizes he's in love with her. Is it stereotypical and shallow? Yes. Is it also entertaining and underrated? Also, yes.
Speak (2004)
Kristen Stewart gives an understated, emotional performance in Speak. Trigger warning, rape: In the film, adapted from Laurie Halse Anderson's 1999 novel, Stewart plays Melinda, a teenage girl ostracized from her peers after she was raped. She ultimately finds some comfort in creating art. The movie is poignant and deserves praise for its thoughtful treatment of the impact of sexual assault.
Locke (2014)
Listen, saying Tom Hardy is a great actor is the most unoriginal take ever. But this small movie (with a budget of $2 million and profit of $5 million) really showcases just how good he is. Unlike The Dark Knight Rises, you can actually hear what he's saying, and the premise is a really cool one: His character Ivan Locke spends pretty much the whole movie in the car, driving somewhere and looking extremely stressed. On the way, he has a number of conversations with his kids, wife, boss, subordinate, and the imaginary ghost of his father in the backseat. During this momentous car ride, his life basically falls apart: He gets separated, is fired, and gets some urgent news about the one-night stand he had seven months ago. Oh yeah, and Hardy's in a car, driving, acting against voices on a telephone/an empty car/himself, giving the performance of a lifetime. Oh yeah, and the film was shot in six days, with Hardy going through the entire film in a single take every time.

Empire Records (1995)
This movie opened to terrible reviews but has since become a cult classic, so if you haven't seen it, consider this your wake-up call. Centering around one epic day at a record store (#RexManningDay), each character brings something different to the table and storyline—including incredible catch phrases those who are cool still recite in everyday conversation. (At least, that's what I tell myself.) (My name isn't f*cking Warren.)
Sleeping With Other People (2015)
People who complain about a lack of great modern rom-coms simply missed this absolute gem from 2015. Starring Alison Brie and Jason Sudeikis as a pair of folks who had a one-night stand over a decade earlier and re-meet as they both try to come to terms with their issues around sex, it's a charming, sexy (obviously), riotously funny movie that is also swooningly romantic—as all great rom-coms should be.
Smokin' Aces (2006)
So part of the problem is that the trailer (above) really mis-marketed this film. It was billed as a "fun" violent comedy—like The Departed, for Vegas—but that's not really what it's about at all. There are parts of it that are funny, sure, but the plot is much, much darker than that. Underneath all the fast-paced action, it's a fascinating fictional look at the world of professional killers. The John Wick series arguably owes something to this film. Plus, it's absolutely packed with famous actors, and then some of them get unceremoniously killed two minutes in. It's also the first movie where I sat up and started taking Ryan Reynolds seriously as a dramatic leading man.
That Thing You Do (1996)
Written, directed, and starring Tom Hanks, this fantastic, fantastic, fantastic film (yes, I had to say it three times) follows a band as they are propelled to stardom in the '60s. Honestly, not really sure how this didn't gain any momentum until much after it debuted, considering all the amazing reviews (93 percent approval rating on Rotten Tomatoes) and the fact that the character Lenny was written and exists and has the funniest lines, ("Oh, I'm not here with these fellas. I've got a pig in competition over at the livestock pavilion, and I am going to win that blue ribbon!"), but whatever. Watch it. Buy it. Love it.

Better Off Dead… (1985)
Quotable lines abound ("I WANT MY TWO DOLLARS", "Gee, I'm real sorry your mom blew up, Ricky", etc.) in this dark comedy about a teen (John Cusack) who has everything going against him—parents who don't care, a girlfriend (ahem, ex) who dumps him, and a little brother who is way cooler than he is. Trigger warning, suicide: He plans to die by suicide, but he keeps getting distracted by a scary 30-year-old sounding paper boy and a skiing contest against the school bully.

Max (2002)
Another John Cusack film, this time with a weird and new (other adjectives welcome) take on Hitler and his relationship with a Munich art dealer. No, I'm for real. John Cusack plays Max Rothman, a Jewish art dealer, and Noah Taylor plays a young Adolf Hitler. Spielberg was in fact approached about the movie, but passed—saying that while the film was well written, he felt uncomfortable with potentially insulting the memory of Holocaust survivors. Watch and be the judge.

In a World (2013)
Written and starring Lake Bell, this true sleeper is one of those films you can watch over and over and never get sick of. The story stars Lake Bell as a vocal coach who competes against her own legendary voice actor father—as well as the current biggest voice actor in the game—to get a huge gig voicing the trailer for a big budget movie. Huge comedy hitters including Rob Corddry, Demetri Martin, Tig Notaro, Fred Melamed, Ken Marino, and Nick Offerman round out the cast, while a cameo by Eva Longoria is just the best. You'll adore it—we'd bet on it.
Sunshine (2007)
The sun is dying, and earth will too, as a result. After a team of astronauts are sent to revive the sun and fail, a new team is sent seven years later as humankind's last hope. As one YouTube commenter states, "a movie that is equal to Interstellar and Gravity and still few people have heard of it." This changes now.
Near Dark (1987)
A horror film centering on a farmer's son who ends up traveling with a group of vampires (heh) after a the woman he's trying to seduce turns him in, the film was directed and written by Kathryn Bigelow (yes, the first and only female director to win an Oscar), the film is an 80s thriller take on a modern-day Western.

Disobedience (2017)
Critically appreciated but barely breaking even on its budget, Disobedience tells the tale of a women returning to the orthodox Jewish community that no longer accepts her for her father's funeral. While she's there, she connects with the woman she had an illicit relationship with—and their passion rekindles immediately. Not only is this "forbidden romance with a twist" done absolutely perfectly, but it's always undercutting your expectations. The characters never, ever behave and react in the way that you expect—and honestly, that's part of the film's charm.
Big Fan (2009)
This moving and poignant film is one you have to see. Featuring Patton Oswalt as a superfan who gets brutally beaten when he approaches his favorite player to say hello (ugh, my heart), the story hinges on the idea of being so supportive of someone who did something so terrible to you. Emotional, heart-wrenching, and a sleeper—it's just hard to watch and even harder to look away.

Chef (2014)
If you haven't seen this film yet, I'm not really sure what you're waiting for. The story is about a chef who wants to cook, well, good food—and thus, opens a food truck. Everything about this flick is funny, heart-warming, and all things good. And the fact that it stars Bobby Cannavale, John Leguizamo, Scarlett Johansson, Sofia Vergara, Robert Downey Jr., Amy Sedaris—you get the gist—is just marinade on the carne asada. (That's a Chef joke.)
The Count of Monte Cristo (2002)
You may have read the revenge epic as a teenager in high school, but Alexandre Dumas didn't exactly do his main character much justice in the 1844 original novel—Edmond Dantes is fine as hell! Played by Jim Caviezel, innocent sailor Dantes becomes the center of a complex government conspiracy and finds himself imprisoned in the Château d'If. Years later, he re-emerges in upper-crust French society as the Count of Monte Cristo, a mysterious billionaire with a serious chip on his soldier. Guy Pearce, James Frain, and a baby-faced Henry Cavil also star in the adaptation.
A Vigilante (2019)
I would argue that Olivia Wilde is a criminally underrated actor anyways—all the buzz she's getting as a director for Booksmart is absolutely justified, IMO. And this is the latest example of just how great she can be. A young woman with abuse in her past spends her time beating the crap out of evil men. Think of it as a much darker version of Promising Young Woman. Wilde absolutely lays it all out there, playing tough, abused, miserable, triggered, and empowered, sometimes all in the same scene. It's totally riveting.
Just Wright (2010)
There's one thing you need to know about Queen Latifah: If she's going to be falling in love onscreen, she's probably going to be doing so with a very, very attractive man (see Last Holiday with LL Cool J or the Fox musical Star with Benjamin Bratt and Lance Gross). Just Wright is no exception. In the 2010 romantic comedy, our Queen plays a down-on-her-luck physical therapist who gets her big break when a famous NBA player (Common, looking like a snack) injures his PCL. The film is sweet and sexy all at once, and it will probably spark your interest in basketball. At the very least, it will make you reconsider your hard stance against dating athletes. Go team!
I Am Not an Easy Man (2018)
Ever thought about what the world would be like if the patriarchy wasn't a thing? Like, if women were the arbiters of power in society, and men were the ones facing discrimination and getting catcalled on their way to the train station? Well, if Netflix's I Am Not an Easy Man, that's exactly the case. A confirmed bachelor and sleazeball gets the shock of his life when he awakens from a head injury to find that he's suddenly being oppressed by the women in his life. In this new reality, misandry is actually a real thing, and I gotta say...it's pretty hilarious.
Mississippi Masala (1991)
Denzel has looked good pretty much forever, but he was arguably at his hottest in the underrated romantic drama Mississippi Masala. The low-key film explored the connection between an interracial couple in the deep south, from their steamy romantic getaways to the drama that unfolds when the news about their secret relationship becomes fodder for the local gossip mill. Released in 1991, Mississippi Masala was already lightyears ahead of the recent push for onscreen representation and diversity, starring a black man and a brown woman as leads with legitimate character development as well as their own fully developed storylines. Oh, and did I mention that Denzel looked really good in this movie? Because he totally did.
The Boy Who Harnessed the Wind (2019)
Based on the memoir of the same name, The Boy Who Harnessed the Wind is the true story of how a Malawian teenager named William Kamkwamba invented a wind-powered electric water pump to help his small village survive a severe drought. Starring Chiwetel Ejiofor (Doctor Strange, The Lion King) and Maxwell Simba in his debut role, this film is a definite tear-jerker that will inspire to get off your couch and go do something with the day.
Celebrity news, beauty, fashion advice, and fascinating features, delivered straight to your inbox!
Megan DiTrolio is the editor of features and special projects at Marie Claire, where she oversees all career coverage and writes and edits stories on women's issues, politics, cultural trends, and more. In addition to editing feature stories, she programs Marie Claire's annual Power Trip conference and Marie Claire's Getting Down To Business Instagram Live franchise.