'Fifty Shades of Grey' Is STILL Breaking Records
Apparently, no one can get enough of Mr. Grey.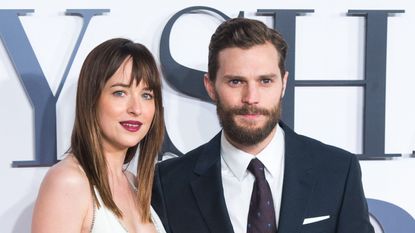 (Image credit: Getty Images)
Marie Claire newsletter
Celebrity news, beauty, fashion advice, and fascinating features, delivered straight to your inbox!
Thank you for signing up to . You will receive a verification email shortly.
There was a problem. Please refresh the page and try again.
We're all sitting in flustered anticipation for Fifty Shades Darker and another appearance of Jaimie Dornan in low-rise jeans. There's also the tantalizing possibility that our beloved Christian will go full frontal (opens in new tab) in the sequel. (Not that we're totally hoping and wishing for it or anything...) So what do you do now that you're just humming along, post-Fifty Shades and pre-sequel? Uh, well, how about re-watching the hell out of the first one? That's apparently what everyone else is doing.
Fifty Shades of Grey continues to rank No.1 on the home video charts for the second week in a row, taking the gold on both the Nielson Video Scan First Alert Chart and Blue-ray and DVD sales. So at this point a lot of people have seen *a lot* of Christian and Anastasia.
The BDSM-inspired film outsold Pitch Perfect in a landslide margin of 7 to 1 according to Variety (opens in new tab), bumping The Bellas to second place despite the sequel's $70.3 million box office performance in its first week.
Clearly people can't get enough of Christian Grey and, frankly, we don't blame 'em.
Simedar Jackson is an esthetician, content creator, and lover of sci-fi fiction living in Brooklyn, New York. She is passionate about creating space for Black and Brown people in the beauty and wellness industries by providing access to culturally nuanced education and services that meet their needs. You can find them doing their skincare routine, reminding friends to reapply SPF, and watching reruns of Love Island.