38 Fall Movies to Get You in the Spirit
Suddenly I need a beret?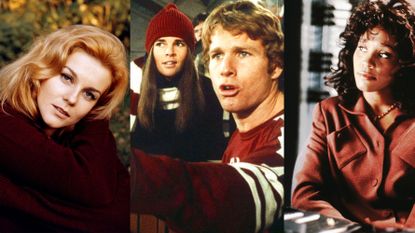 (Image credit: Shutterstock/Getty)
Marie Claire Newsletter
Celebrity news, beauty, fashion advice, and fascinating features, delivered straight to your inbox!
Thank you for signing up to Marie Claire. You will receive a verification email shortly.
There was a problem. Please refresh the page and try again.
Even though most of us have spent enough time on this good earth to know that fall happens every year without fail, it is still extremely exciting and invigorating to remember sweaters, a pumpkin cream cold brew from Starbucks, and the possibility of not sweating when you're taking out the trash. As soon as September hits (and Labor Day passes), we pack up our swimsuits, shorts, and beach towels in preparation for the coziest season of them all: fall. Home of the two best holidays on Earth, Halloween and Thanksgiving, the leaf-changing season signals more than just weather shifting in our favor on the horizon. It's when we go back to school, award season is closer, jeans are embraced fully, and the air is full and so crisp, you wish you could bottle it.
A season like this deserves films to mark the special three-month occasion, and thankfully Hollywood has delivered. From foxes out for revenge and serial killers who help solve mysteries to teen witches who have to save the world, there's a film for every fall-lover. Below, the best fall films to be enjoyed under a duvet/before gallivanting in some foliage.
'Practical Magic' (1998)
What it's about: Two witch sisters who couldn't be more different have one unlucky curse in common. Now it's up to them to break it, or they'll miss out on one of life's greatest treasures.

Why it's fall-y: A pro-witch movie is everything the season needs.
'Sweet Home Alabama' (2002)
What it's about: A hotshot New York fashion designer just got engaged, but before she can walk down the aisle she has to go back to her Southern hometown to get divorced from her childhood best friend.
Why it's fall-y: Leaves on leaves on leaves!
'A Beautiful Day In the Neighborhood' (2019)
What it's about: Tom Hanks stars in this film about the late, great Fred Rogers, also known as the host of Mister Rogers' Neighborhood and a staple of your childhood.
Why it's fall-y: Nobody has ever or will ever rock a rich red sweater like Fred Rogers.

'Waitress' (2007)
What it's about: A small-town diner waitress finds out she's knocked up, but she's not too thrilled about it. So the only logical thing to do in this situation seems to be...start an affair with your doctor.
Why it's fall-y: There is no limit to the number of times you'll be drooling over the pies in this film.
'Coraline' (2009)
What it's about: An 11-year-old girl finds a hidden door in her new house that leads her to the world of her dreams...but it's not what it seems.
Why it's fall-y: Secret doors leading to magical (possibly evil world), rats that dance, a talking black cat, and more bless us with their presence in this film.
'Planes, Trains & Automobiles' (1987)
What it's about: When a loving father can't get home for Thanksgiving via plane, he'll take on the next best offer: a road trip with a loudmouth shower curtain ring salesman.
Why it's fall-y: There's nothing like racing home in time for turkey, mashed potatoes, and stuffing.
'Remember the Titans' (2000)
What it's about: Denzel Washington plays a football coach set to bring a newly integrated high school football team to glory, but first they'll have to get to know each other. (Get ready for baby face Ryan Gosling.)
Why it's fall-y: The 'F' in 'Football' stands for fall, duh!
'Stuck In Love' (2012)
What it's about: Over the course of a year, a family of four, the Borgens, struggle with first love, break-ups, missed chances, and everything in between.
Why it's fall-y: Who wouldn't want to go to a Thanksgiving dinner with Nat Wolff, Logan Lerman, and Lily Collins?
'It's The Great Pumpkin, Charlie Brown' (1980)
What it's about: The animated classic follows Charlie Brown and his friends on Halloween night, searching for candy and a gigantic orange vegetable.
Why it's fall-y: It's practically a love letter to pumpkin patches.
'Sweet November' (2001)
What it's about: A recently dumped workaholic (Keanu Reeves) agrees to live with a mysterious woman (Charlize Theron) for a month on the promise she's going to change his life for the better. They both get more than they bargained for.
Why it's fall-y: The month they settle on? November.
'Knives Out' (2019)
What it's about: A famed (and seriously) wealthy mystery writer winds up dead under weird circumstances, and everyone is a suspect.
Why it's fall-y: Chris Evans in a cable knit sweater is unforgettable, but not as much as Daniel Craig's southern accent.
'Fantastic Mr. Fox' (2009)
What it's about: George Clooney voices a retired farm-raiding fox who decides to do one last mission on the three nastiest farmers' in town in this Wes Anderson film.
Why it's fall-y: The color orange is practically the main character in this claymation movie.
'Waiting to Exhale' (1995)
What it's about: Four best friends go through life-changing moments together, but always stay strong through the power of friendship.
Why it's fall-y: Leaves are changing. People are changing. (You see where we're going with this.)
'Harry Potter and the Sorcerer's Stone' (2001)
What it's about: A 11-year-old boy discovers he's a wizard and gets promptly set off to Hogwarts School for Witchcraft and Wizardry, where he realizes he's more important than he thought.
Why it's fall-y: Harry Potter is never not wearing plaid or a flannel in this movie.
'Mystic Pizza' (1988)
What it's about: Coming of age romance tale told among three best friends centered in a small seaside town in Connecticut. Oh, to be in love and young.
Why it's fall-y: The sweater game in this is top-tier.
'Addams Family Values' (1993)
What it's about: A family who really loves to wear black adds a new addition to their tight-knit family, but it might cost them more than they thought.
Why it's fall-y: Get ready for loads of Gothic architecture.
'The Silence of the Lambs' (1991)
What it's about: A young F.B.I. Cadet and famous cannibal killer play a game of twisted mind games with each other to capture another serial killer on the loose.
Why it's fall-y: Everyone in this movie is wearing long sleeves all the time, which makes you suddenly want to throw on a sweatshirt.
'Good Will Hunting' (1998)
What it's about: Matt Damon plays a super-smart janitor at M.I.T. His hidden talent gets discovered by a professor who encourages him to apply himself more. In order to be more than just a worker at the famous school, he gets sent to therapy to face the problem he can't solve: himself. *cue the tears.*
Why it's fall-y: It's set in Boston where fall seems to reign supreme.
'Twilight' (2008)
What it's about: New girl at a Washington high school casually falls in love with a 104-year-old vampire that is forever seventeen. A lot of people have a problem with this naturally.
Why it's fall-y: 1) The soundtrack screams "September, October, November" vibes, and 2) Robert Pattinson exiting a Volvo on a cloudy day wearing Wayfarer Ray-Bans.
'Twitches' (2005)
What it's about: Two twin sisters realize their other identical partner exists on their 21st birthday. While catching up, they find out both of them possess magical powers, so like very causal.
Why it's fall-y: Witches tasked with saving the world usually happens around Autumn, and this film is no different.
'Little Women' (2019)
What it's about: Four sisters, the March's, and the story of their adolescence life before and after the Civil War. It will, without a doubt, make you want to hug any nearby sibling by the end.
Why it's fall-y: Timothée Chalamet and his gorgeous hair in a period piece...need we say more?
'Autumn in New York' (2000)
What it's about: Richard Gere dates woman half his age and has commitment issues, but it's supposed to be romantic because Winona Ryder has a malignant tumor.
Why it's fall-y: Pretty self-explanatory.
'Carnal Knowledge' (1971)
What it's about: White men who have Sex Problems that are really Woman Problems.
Why it's fall-y: Jack Nicholson's duffle coat. Lotsa walking in leaves while wearing reindeer sweaters and scarves—in college.
'Dead Poets Society'(1989)
What it's about: It's hard to be cynical about this one because of Robin Williams and Walt Whitman and young Robert Sean Leonard, so we shall say it's about growing up and Neil's father being a complete asshole.
Why it's fall-y: It's set in a prep school where they have ties and secret organizations, so just guess what the only appropriate season for this would be.
'Election' (1999)
What it's about: People being scared of clever, driven girls, even when they're Reese Witherspoon. A tale as old as time.
Why it's fall-y: Those sweater vests, yo. Suburban school politics. Poster board and glitter glue. Stuffing the ballot box. ;)
'Love Story' (1970)
What it's about: College kids from different sides of the tracks fall in love, and it is weepy even though amour allegedly triumphs over class differences and disapproving parents. It doesn't matter, though, because...well, you'll see.
Why it's fall-y: Everything single last thing Ali McGraw wears. Now I want red tights and straight hair.
'Mona Lisa Smile' (2003)
What it's about: Julia Roberts bringing feminism to Wellesley in the 1950s, LOL.
Why it's fall-y: Wellesley in the '50s = great outerwear, plaid.
'Rushmore' (1998)
What it's about: Jason Schwartzman and Bill Murray like the same woman.
Why it's fall-y: Another one about school, but with berets and blazers and graveyards for Halloween, as done by Wes Anderson. So it's the school-iest, quirkiest of all.
'St. Elmo's Fire' (1985)
What it's about: Disillusioned youths.
Why it's fall-y: Demi Moore is everything. They just graduated from Georgetown.
'You've Got Mail' (1998)
What it's about: The story of Amazon, but with Tom Hanks and Meg Ryan. Also interesting from an anthropological standpoint if you can't remember how people dated before Tinder (AIM).
Why it's fall-y: Because it starts as basically a giant ad from the New York tourism board to show that, between Hot Garbage and Gray Slush Seasons, there are like two weeks when the city is at its prettiest, which is when all this takes place. There's even a quote about fall too.
'When Harry Met Sally' (1989)
What it's about: Pretty much the same thing as the one before but with Katz and Billy Crystal.
Why it's fall-y: They stand in the orange leaves in Central Park a lot.
'Matilda' (1996)
What it's about: A girl discovers she has magical powers to fight back against adults who use their authority to bully and belittle kids.
Why it's fall-y: Back-to-school vibes return with a stately school building and adorable preppy outfits on the kids.
'The Outside Story' (2020)
What it's about: A homebody, reeling from a recent break-up, gets locked out of his apartment and has to deal with The Outside to get back in. This film's mostly for people who shudder at the thought of meeting their neighbors.
Why it's fall-y: Once Bryan Tyree Henry's character gets locked outside, he roams around New York in the fall, surrounded by fallen leaves.
'If Beale Street Could Talk' (2018)
What it's about: Two childhood friends, Fonny and Tish, fall in love and are later torn apart by Fonny's wrongful imprisonment, right as Tish discovers she's pregnant.
Why it's fall-y: Though some scenes take place in fall, it's more of a vibe than actually seeing bare trees, thanks to the warm lighting and the gorgeous vintage outfits.
'Friday Night Lights' (2004)
What it's about: A Texas high school football team fights their way to the state championship, while dealing with the social phenomenon that is Texas high school football.
Why it's fall-y: See 'Remember the Titans.'
'The Craft' (1996)
What it's about: Four students use witchcraft to get revenge on those who wronged them.
Why it's fall-y: Prep school drama plus Halloween vibes.
'Garden State' (2004)
What it's about: An actor returns to his hometown after his mother's death and falls in love with a young Natalie Portman.
Why it's fall-y: Features a trampoline covered with fallen leaves.
'Silver Linings Playbook' (2012)
What it's about: Damaged humans Bradley Cooper and Jennifer Lawrence team up to win a dance competition and fall in love.
Why it's fall-y: A surprising amount of the story involves the fall NFL season.
Celebrity news, beauty, fashion advice, and fascinating features, delivered straight to your inbox!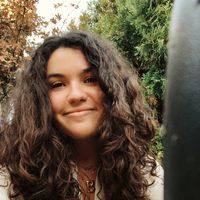 Bianca Rodriguez is the Fashion & Luxury Commerce Manager at Hearst Magazines, covering fashion, beauty, and more for Cosmopolitan, Elle, Esquire, Harper's BAZAAR, and Town & Country. She likes lounging about with a good book and thinks a closet without platform sneakers is a travesty.