Glam Runway-Inspired Wedding Looks
We've selected the gowns and beauty looks from the runway we'd kill to see come down the aisle.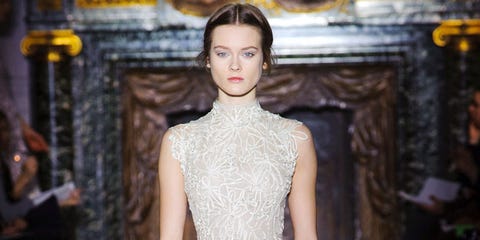 April marks the beginning of wedding season, and we at MC couldn't be more thrilled. There's nothing we love more than designer duds, a chic celebratory soiree, and, of course, that whole 'til-death-do-us-part situation. We've selected the gowns and beauty looks we'd kill to see come down the aisle.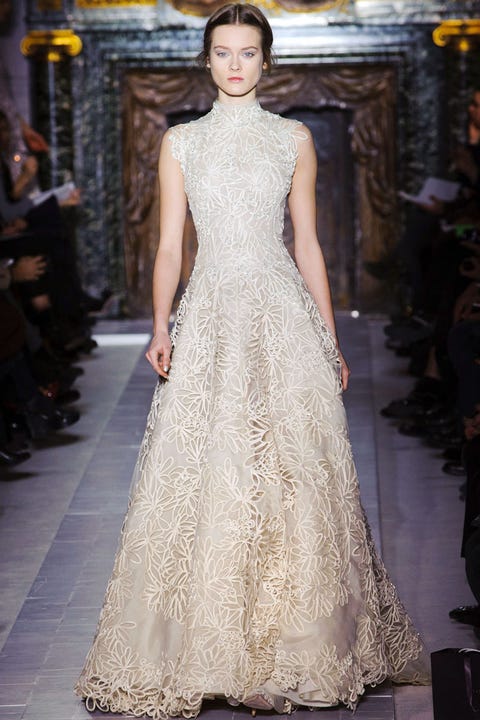 Valentino
This intricate Valentino gown is surprisingly versatile — most brides would find it difficult to turn down. The delicate overlay would befit a feminine bride with a classic ceremony, while the higher neck and off-white sheen could attract a less traditional, edgier woman. Bottom line: You can't go wrong.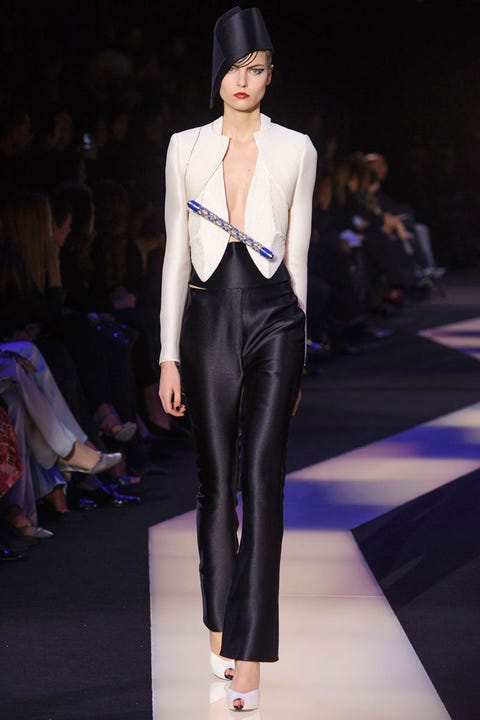 Armani Privé
There's nothing sexier, in our opinion, than some properly done menswear, so why not wear it for your own wedding? Armani Privé kicked it up a notch with these high-waisted pants and revealing blazer, excellent for a modern-meets-casual ceremony.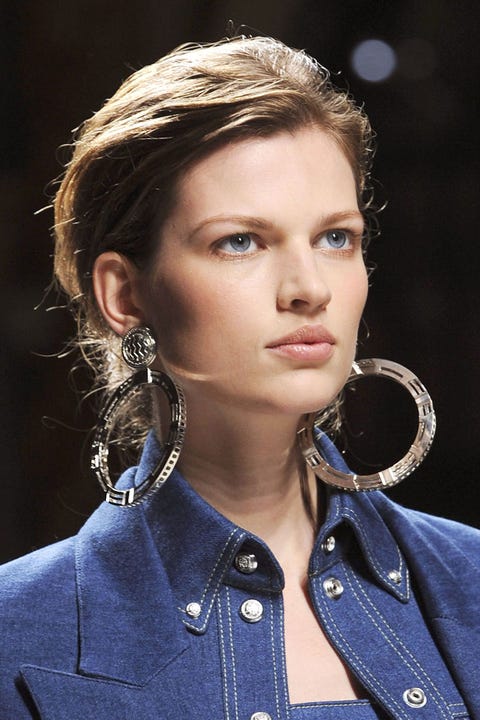 Balmain
Be still, our beating hearts. Balmain's inspiring beauty stole the show at Spring 2013 Fashion Week, as evidenced by this rosy look. We adore the simplistic matte makeup and messy chignon, a must-have for any traditional bride with a romantic ceremony.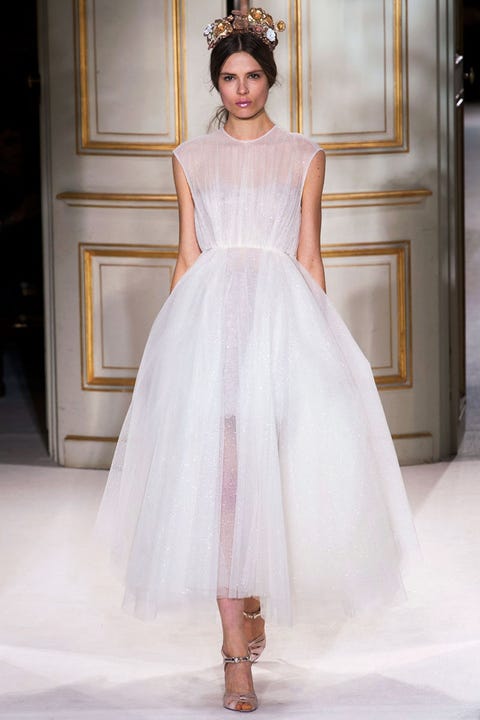 Giambattista Valli
There's nothing better than this sheer and glittery chiffon number for any bride seeking a whimsical and highly-chic wedding. Not to mention, those versatile blush heels totally hit the spot.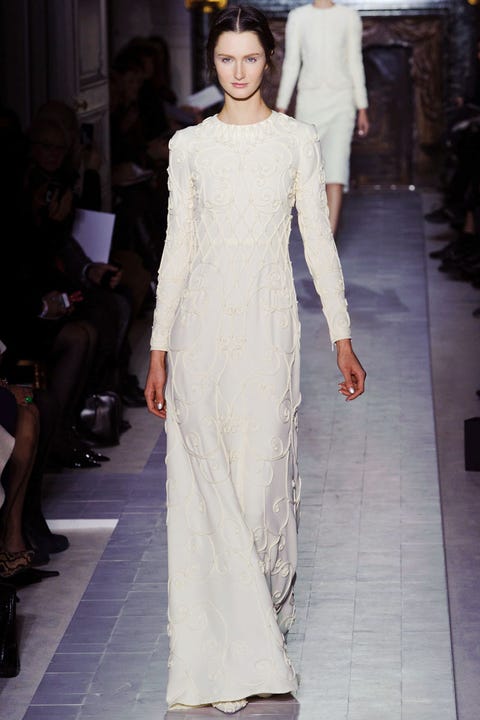 Valentino
This elegant gown would be perfect for a vintage-inspired wedding and dark-haired bride. The long sleeves give the ensemble an air of elegance more difficult to attain with sleeveless dresses.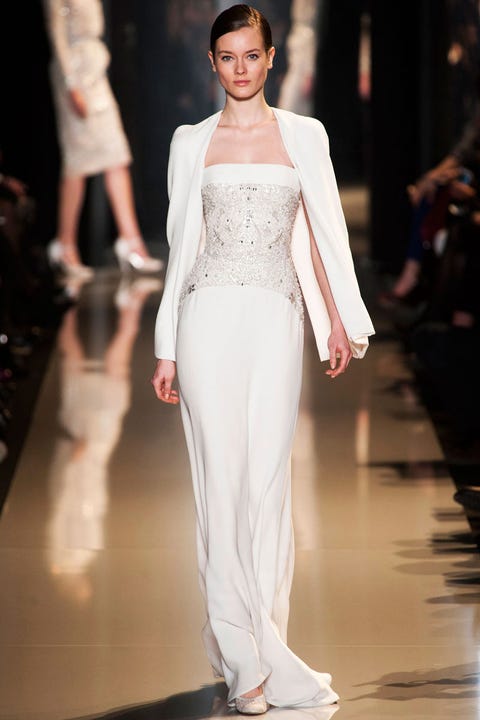 Elie Saab
You don't see a lot of dresses like this Elie Saab number. We're fans of the sequin bodice and light skirt, as well as the sweater (scarf?) worn over the model's shoulders. Outdoor weddings can get a bit chilly, so this idea is tops. We'd like to see this on a bride seeking an understated look at a trendy wedding.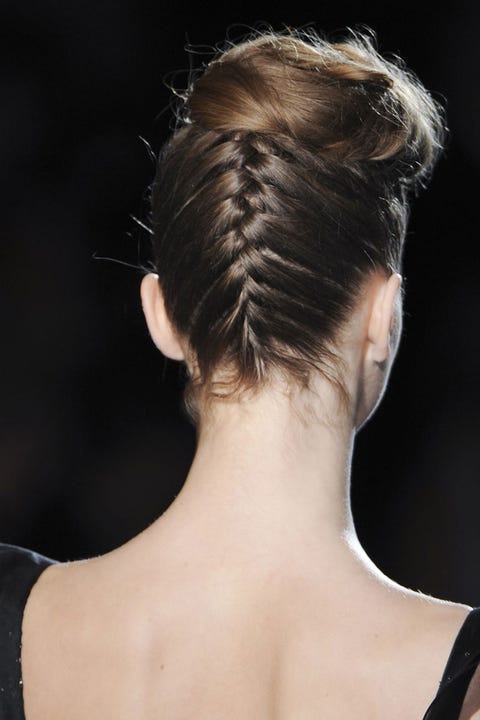 Badgley Mischka
There are hundreds of variations on the bridal up-do, and women everywhere are looking for new hair inspiration to keep their locks fresh on their big day. Enter Badgley Mischka, who introduced this french braid and produced beyond-stellar results. Almost any bride could incorporate this into their own up-do, as braids are as classic as they are on-trend.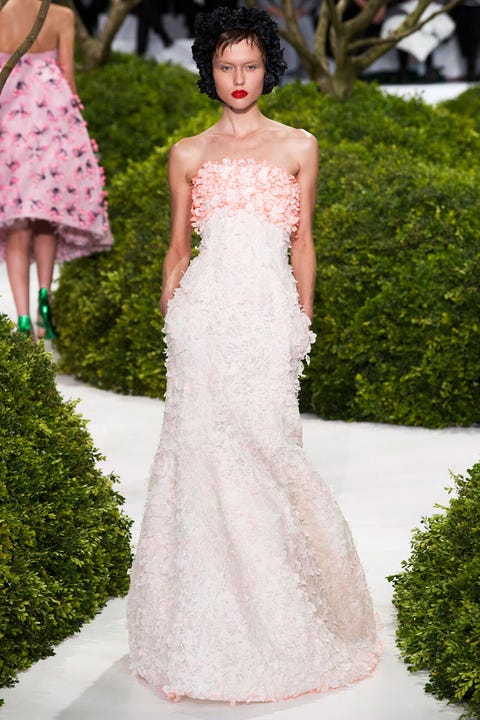 Christian Dior
Every ultra-feminine bride must have died and gone to heaven after seeing this dress. Christian Dior has perfected the balancing act of flirty-meets-sophisticated, and this gown is a testament to that. We see this dress killing it at a breezy, outdoor summer wedding. Pink peonies, anyone?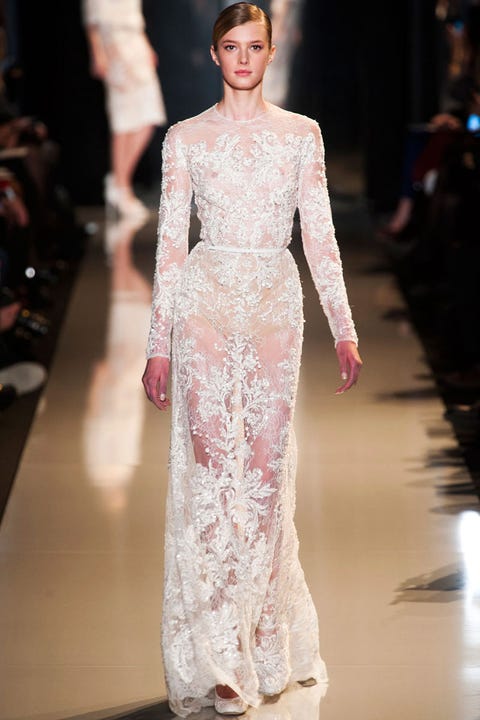 Elie Saab
The more daring bride could wear this wow-worthy gown without a slip, but it would be equally perfect (complete with a slip, of course) for a more traditional wedding.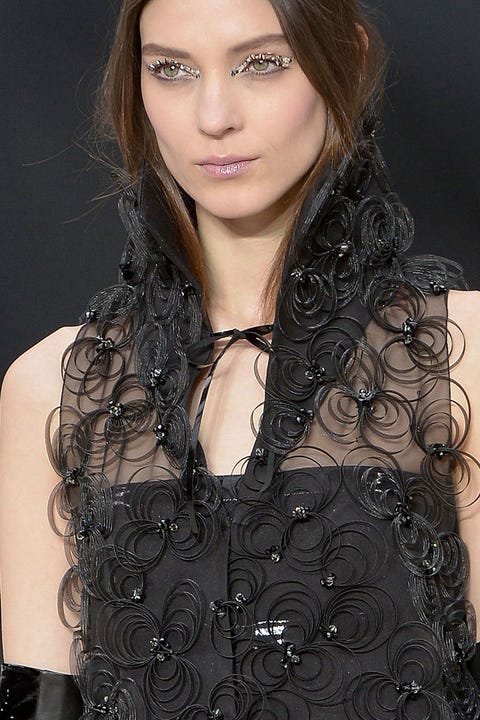 Chanel
Taken from Chanel's Fall 2013 show in Paris, these glittery lash additions are super-cool for that modern bride who isn't afraid of a little extra shimmer. Just one word of caution: Make sure to pair it with a simplistic gown.
This content is created and maintained by a third party, and imported onto this page to help users provide their email addresses. You may be able to find more information about this and similar content at piano.io