Best and Worst Fashion Trends of 2009
2009 staged the return of retro-feminine style with hint of boho chic. But with the good comes the bad. We've counted down the best and worst fashion of the year.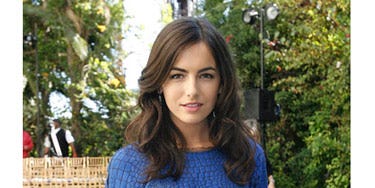 Donato Sardella/WireImage.com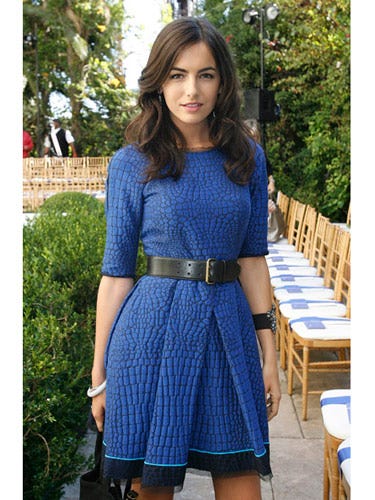 Donato Sardella/WireImage.com
Do: High-Waisted Dresses
2009 marked the return high-waisted, feminine dresses. Camilla Belle looks gorgeous in this chic, retro look.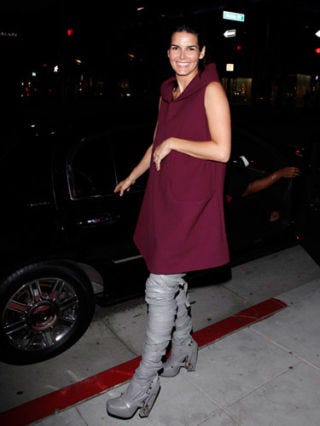 Jean Baptiste Lacroix/WireImage.com
Don't: Thigh High Boots
We are all for boots with eye-catching detail, but Angie Harmon's leather-strapped thigh-high boots look like a mummy costume. There's a reason Halloween only happens once a year.
Jeffrey Mayer/WireImage.com
Do: Little Braids
We've been envious of Jennifer Aniston's hair for decades and these little braids are no exception. They're a chic, laid-back style that will look good on everyone's head.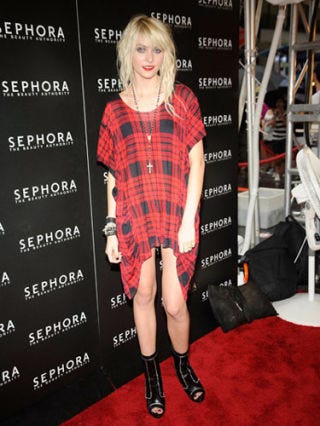 Gary Gershoff/WireImage.com
Don't: Plaid
Plaid has been the breakout pattern of 2009, but enough is enough. Taylor Momsen, give the Brawny man his shirt back and go put on a dress!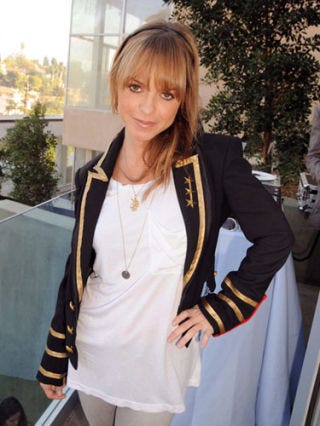 Do: Military Jacket
Add a little order to your closet with a military jacket like this one on Taryn Manning. Pair it with almost anything and watch as heads turn to salute your sexy style.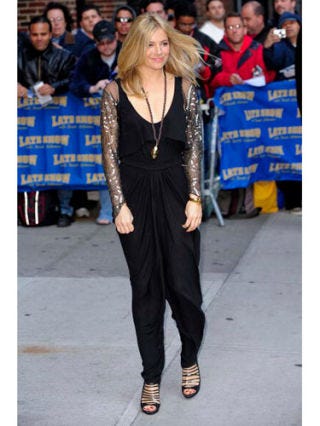 Don't: Harem Pants
Even the gorgeous Sienna Miller has a hard time pulling off harem pants!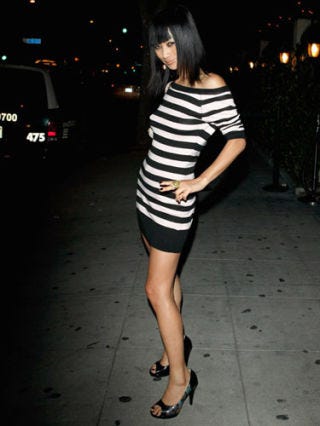 Jean Baptiste Lacroix/WireImage.com
Do: Sailor Stripes
Sailor stripes are fresh and sophisticated and can even make a fashion wildcard like Bai Ling look classic and sleek.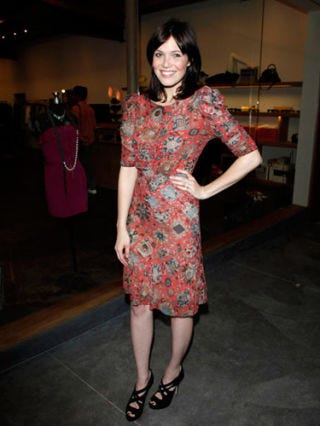 Jean Baptiste Lacroix/WireImage.com
Don't: Paisley
The usually chic Mandy Moore looks like she whipped up an outfit from a set of drapes, proving that there is a fine line between grandma-chic and just plain grandma when it comes to paisley.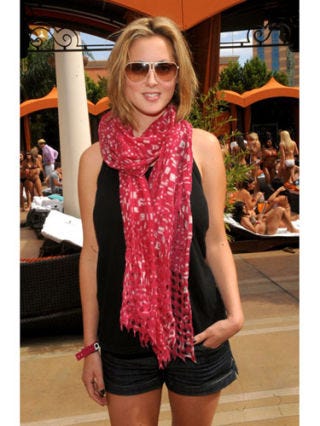 Jamie McCarthy/WireImage.com
Do: Big Scarves
Scarves are the ultimate multi-purpose accessory and we love this silky red one on Eva Amurri. Her look proves that scarves aren't just a winter necessity but a fun year-round fashion statement.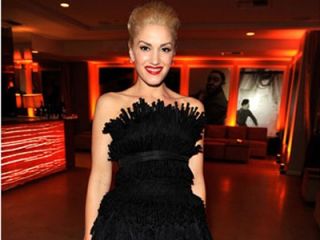 Kevin Mazur/WireImage.com
Don't: Fringe
Sometimes less is more, and when it comes to fringe, less is always more. Apparently Gwen Stefani didn't get that memo. Her Chanel dress, made entirely of fringe, is just overwhelming to look at.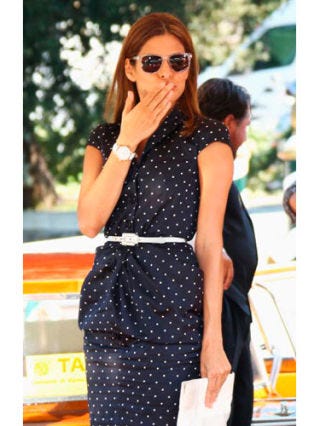 Vittorio Zunino Celotto/Getty Images
Do: Chunky/Retro Eyeglasses
Remember the glasses Audrey Hepburn wore in Breakfast at Tiffany's? Classic, sexy, iconic. We like Eva Mendez's decision to top off this adorable polka dot ensemble with retro sunglasses.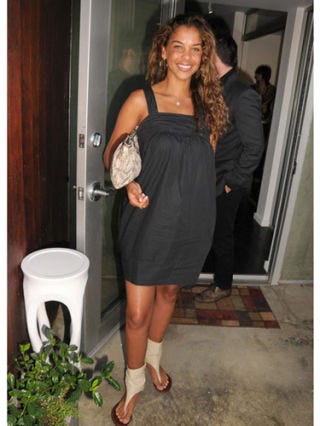 Don't: Egg-Shaped Dresses
A dress should accentuate your natural curves, not make you an extra-wide curve. This egg-shaped dress gives Louanna Rawls a Humpty-Dumpty figure, rather than enhancing her own hourglass shape.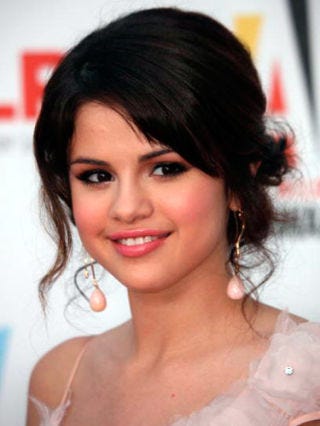 Frederick M Brown/Getty Images
Do: Soft Pink Makeup
Disney star Selena Gomez gets girly and looks pretty in petal pink. The subtlety of pink complements every skin tone.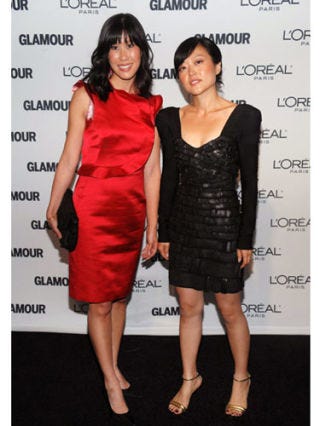 Dimitrios Kambouris/WireImage.com
Don't: Shoulder Pads
Euna Lee channels her inner linebacker into this little black dress achieving truly magnanimous shoulder proportions. We're sorry to tell you this, Euna, but the '80s are over.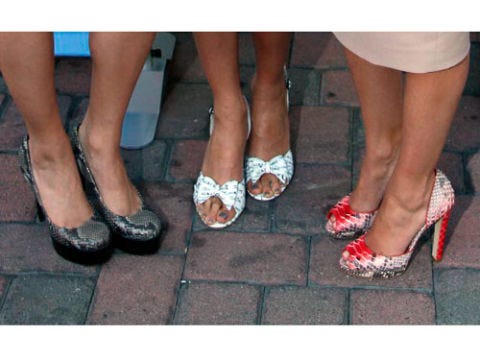 David Livingston/Getty Images
Do: High-Heeled Pumps
Round toes and higher heels make feet look dainty. Vanessa Hudgens, Susie Castillo, and Hayden Panettiere look unique and adorable in these colorful pumps.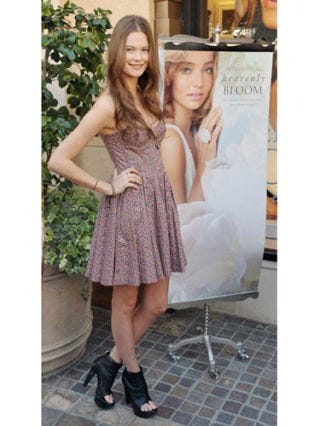 Dr Billy Ingram/WireImage.com
Don't: Open-Toe Booties
We have no problems with model Behati Prinsloo's outfit...from the ankles up. Not only do open-toe booties undermine the purpose of a boot, they just look silly.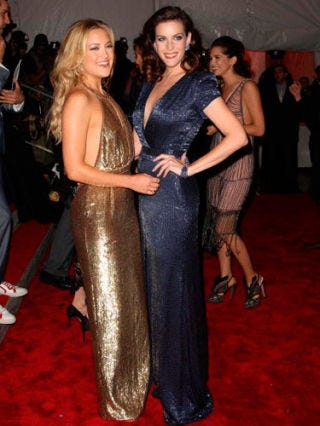 Stephen Lovekin/Getty Images
Do: Metallic Fabric
A little shimmer does a body good. Kate Hudson and Liv Tyler turn heads in their long, metallic gowns. Not ready for full-body metallic? Start with a shirt that peeks out just below your jacket.
Dimitrios Kambouris/WireImage.com
Don't: Neon (and Open-Toe Booties)
Proceed with caution when you're making a bold statement with neon, and keep the rest of your outfit toned down. Normally a fashion diva, Ashanti pairs this bright ensemble with open-toe boots, turning her fashion experiment into a red-carpet disaster.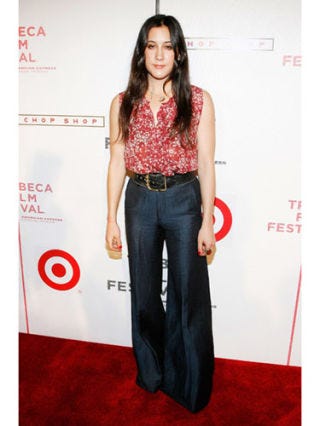 Do: Wide-Leg Jeans
Vanessa Carlton reminds us that a pair of wide-leg jeans can make a slenderizing fashion statement, especially when everyone seems to be squeezing a lot into skinny jeans.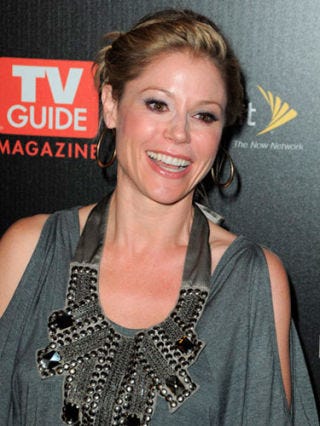 Jordan Strauss/WireImage.com
Don't: Bib Necklace
You would never wear a bib in public, so please don't wear a bejeweled bib on the red carpet like Julie Bowen.
This content is created and maintained by a third party, and imported onto this page to help users provide their email addresses. You may be able to find more information about this and similar content at piano.io