How to Dress Like a French It Girl
Translating that je ne sais quoi once and for all.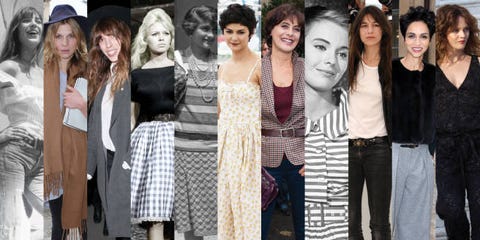 Translating that Je ne sais quoi once and for all. Via ELLE.com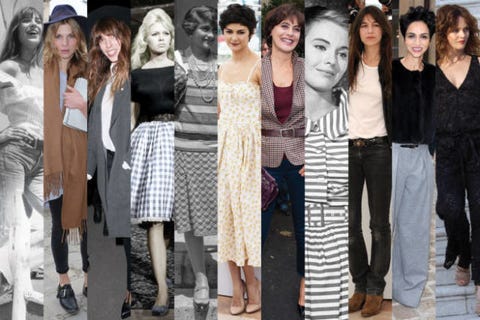 French Icons
Let's face it: When it comes to fashion, France has the pick of It Girls. With muses and icons like Jane Birkin, Brigitte Bardot, Inès de la Fressange, and Clémence Poésy, how can we not suffer from Francophilia? And more importantly, what is the secret to that bafflingly effortless, incredibly chic sense of style? We rounded up 11 of our favorite icons and broke down their go-to looks to translate that je ne sais quoi once and for all.
"Getty Images, Farfetch, Otte, Anthropologie, Barneys, Farfetch"
How To Dress Like a French It Girl - Page 8
Let's be serious: It all begins (and ends, really) with Coco Chanel. But while many remember the icon for her classic suits and penchant for tweed and pearls, they also forget that her taste was revolutionary for women in the 20th century. This getup highlights her sense of daring—mixed prints and textures? How modern! How chic! Just don't forget the pearls—and your Chanel bag.
Tory Burch A-line Skirt, out of stock; farfetch.com
Fine Collection Linen Crop Tee, $91; otteny.com
Anthropologie Rose-Capped Oxfords, $228; anthropologie.com
Lanvin Pearl Gloria Multistrand Necklace, $1,745; barneys.com
Chanel Vintage Quilted Cross Body Bag, $4,987.70; farfetch.com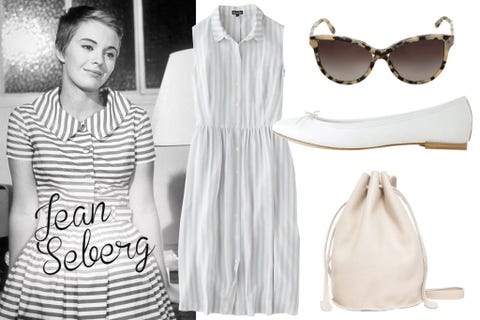 "Getty Images, Steven Alan, Luisaviaroma, Need Supply, La Garconne"
How To Dress Like a French It Girl - Page 4
If you haven't seen Breathless, add it to your Netflix queue immediately—you're in for a world of style inspiration. Seberg was technically American, but in the film (set in Paris), she's all about the French navy stripe—and with that enviable crop, she's positively gamine.
Steven Alan Eloise Dress, $385; stevenalan.com
Stella McCartney Cat-Eye Acetate Sunglasses, $240; luisaviaroma.com
Baggu Drawstring Purse, $140; needsupply.com
Repetto Cendrillon Ballerina Flat, $295; lagarconne.com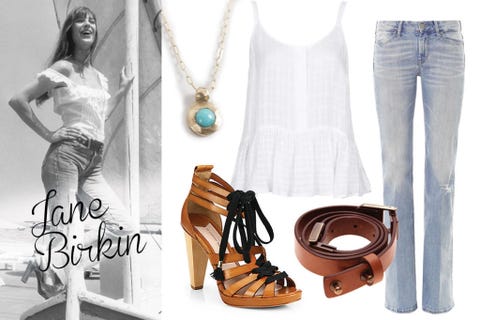 "Getty Images, Topshop, Matches, Saks, Farfetch, Catbird"
How To Dress Like a French It Girl - Page 5
Easy and breezy, Birkin just oozes that bohemian effortlessness of the '60s. (Though she is technically British, her French residence and style prowess has earned her an honorary slot on our list.) Faded and flared jeans are non-negotiable—as is a palpable joie de vivre.
Topshop Frill Hem Suntop, $52; us.topshop.com
MIH Cape Mid-Rise Skinny Flare Jeans, $285; matchesfashion.com
10 Crosby Derek Lam Jasmin Lace-Up Sandals, $325; saksfifthavenue.com
Plein Sud Slim Belt, $225; farfetch.com
Nancy Kraskin Tiny Turquoise Necklace, $276; catbirdnyc.com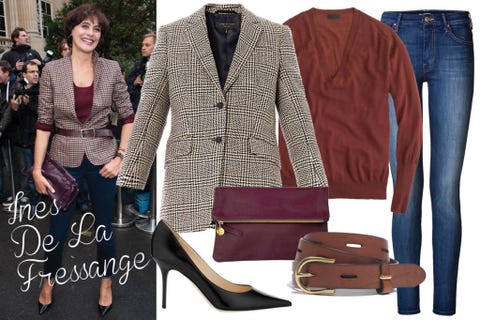 "Getty Images, Matches Fashion, Madewell, Stylebop, Jimmy Choo, Austique"
How To Dress Like a French It Girl - Page 6
There's a reason why Francophiles go gaga for de la Fressange: The Uniqlo designer and Chanel muse (and sometimes-model) has made that very French, classic-meets-quirky look her signature. To channel her style savvy, keep the elements (and palette) neutral and tailored, but throw on an unexpected belt, brightly hued scarf, or colorful bag before walking out the door.
J.Crew Collection Featherwear Cashmere Boyfriend V-Neck Sweater, $228; jcrew.com
Rag & Bone Charles Houndstooth Blazer, $398; matchesfashion.com
Madewell Backcountry Belt $39.50; madewell.com
Mother The Looker High Waist Jeans, $295; stylebop.com
Agnes Patent Pointy Toe Stiletto Pumps, $575; us.jimmychoo.com
Clare Vivier Foldover Clucth in Oxblood, $246.73; austique.com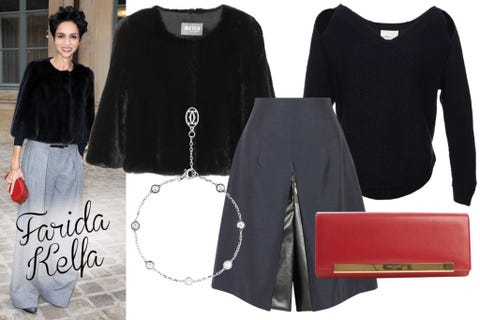 "Getty Images, Mytheresa, Scoop, Net-A-Porter, Shoecribe, Bluefly, Cartier"
How To Dress Like a French It Girl - Page 7
When you start out your career playing muse to Azzedine Alaïa, Thierry Mugler, and Jean Paul Gaultier, it's pretty safe to say you have some major street cred. The French-Algerian beauty tends to choose simple, very classic pieces—and when she puts it all together, she's the essence of chic.
Meteo by Yves Salomon Mink Jacket, $4,227; mytheresa.com
3.1 Phillip Lim Pullover V-Neck Sweater, $525; scoopnyc.com
Toga Pleated Wool and Mohair-Blend Culottes, $570; net-a-porter.com
Salvatore Ferragamo Closed Toe Pumps, $570; shoescribe.com
Saint Laurent Red Leather Foldover Clutch, $648; bluefly.com
Cartier Diamants Legers de Cartier Bracelet, $6,350; cartier.us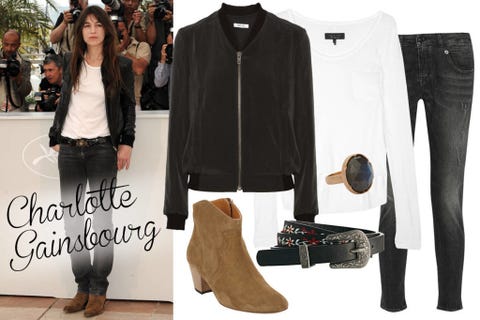 "Getty Images, Net-A-Porter, Rag & Bone, The Outnet, Barneys, ASOS"
How To Dress Like a French It Girl - Page 9
If you need proof that muse-dom is genetic, look no further than Jane Birkin and her children. Exhibit A: Charlotte Gainsbourg, the second daughter of the clan. But where her mother favors bohemian spirit, the singer and actress (and Balenciaga muse) is all about rock-and-roll. Here, she proves that faded black skinnies and a white tee might be simple, but are still stylish as hell—and no, you don't have to be French to pull that off.
Helmut Lang Washed-Satin Bomber Jacket, $345; net-a-porter.com
Rag & Bone Aberdeen Long Sleeve Tee, $150; rag-bone.com
R13 Boy Skinny Distressed Mid-Rise Jeans, $158; theoutnet.com
Isabel Marant Dicker Western Ankle Boot, $650; barneys.com
ASOS Skinny Embroidery Western Buckle Waist Belt, $15.05; us.asos.com
Irene Neuwirth Rose Cut Labradorite Ring, $3,560; barneys.com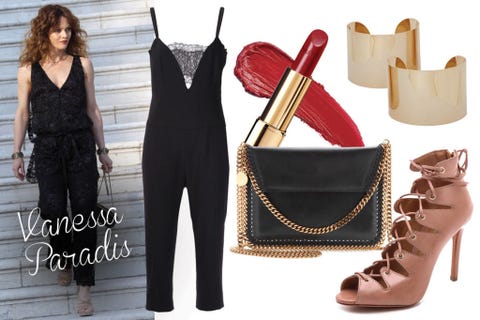 "Getty Images, Farfetch, Shopbop, Mytheresa, Barneys, Neiman Marcus"
How To Dress Like a French It Girl - Page 10
Johnny Depp's former flame has been turning heads all on her own for years with her vampy, slightly goth, very sexy fashion sense—there's a reason why she's a Chanel front-row favorite. Favor lace and lingerie-leaning details, add in a sexy heel, and make these three words your beauty mantra: dark red lipstick.
Thakoon Lace Bodice Jumpsuit, $1,150; farfetch.com
Schutz Slate Lace Up Booties, $220; shopbop.com
Stella McCartney Falabella Faux-Leather Clutch, $607; mytheresa.com
Maison Martin Margiela Arm Cuff, $1,095; barneys.com
Chanel Rouge Allure Luminous Intense Lip Color, $35; neimanmarcus.com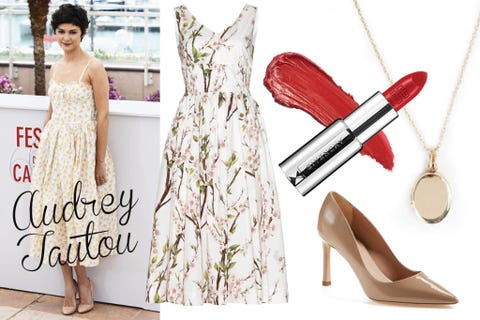 "Getty Images, Mytheresa, Nordstrom, Catbird, Sephora"
How To Dress Like a French It Girl - Page 11
Tautou's style is as sweet as her Amélie character, and this look at Cannes exudes it to a T. Step out in romantic florals and add some girly jewelry—and a swipe of red lipstick.
Dolce & Gabbana Floral Print Cotton Midi Dress, $2,195; mytheresa.com
Kurt Geiger London Catherine Pointy Toe Patent Leather Pump, $370; shop.nordstrom.com
Catbird Dollhouse Locket, $168; catbirdnyc.com
Givenchy Le Rouge Lipstick in Rose Dentelle, $36; sephora.com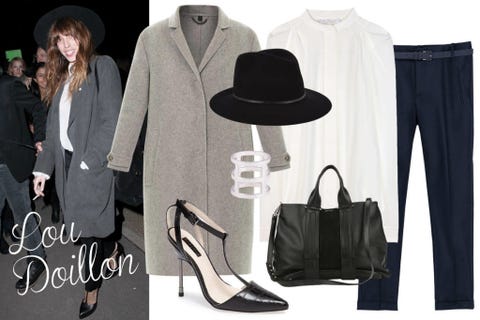 "Getty Images, Matches Fashion, Zara, Mytheresa, Urban Outfitters, Nordstrom, Barneys, Campbell"
How To Dress Like a French It Girl - Page 12
The youngest of the Birkin clan, the actress/model/songstress is basically the ultimate cool girl muse. Her preference for menswear-inspired silhouettes, bohemian-rock accessories, and that hair all but scream "effortless." Think Hedi Slimane's reimagining of Saint Laurent, add in a touch of free spirit and je ne sais quoi, and you're there.
Burberry Prorsum Double-Faced Cashmere Coat, $3,330; matchesfashion.com
Zara Two-Ply Trousers, $59.90; zara.com
Chloé Silk Shirt, $1,050; mytheresa.com
Pour La Victoire Bonne Tonne Duffel Bag, $379.99; urbanoutfitters.com
Topshop Ghost T-Strap Pump, $59.99; shop.nordstrom.com
Janessa Leone Vera Fedora, $215; barneys.com
Campbell Geometric Ring, $365; campbelljewelry.com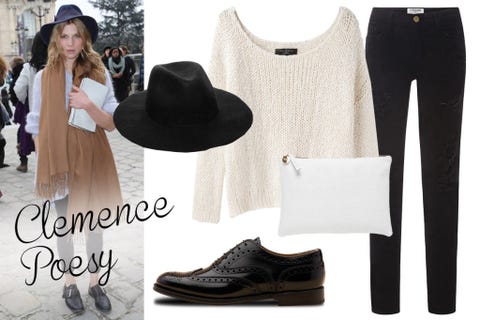 "Getty Images, La Garconne, Moda Operandi, Church\'s, Stylebop, ASOS, Revolve"
How To Dress Like a French It Girl - Page 13
The Harry Potter actress and Chloé model balances her ethereal beauty with a casual, comfortable sense of style. Choose menswear-inspired details, oversized sweaters, and throw in some chic accessories—like a wide-brimmed fedora or leather clutch—to finish off the easy look.
Rag & Bone Krista Pullover, $275; lagarconne.com
Frame Denim Le Color Ripped Skinny Jeans, $200; modaoperandi.com
Church's Burwood Leather Oxfords, $447.83; church-footwear.com
Faliero Sarti Silk Blend Scarf, $215; stylebop.com
ASOS Plain Felt Fedora Hat, $37.63; asos.com
Clare Vivier Flat Clutch, $165; revolveclothing.com
This content is created and maintained by a third party, and imported onto this page to help users provide their email addresses. You may be able to find more information about this and similar content at piano.io