Editors handpick every product that we feature. We may earn commission from the links on this page.
33 Sustainable Fashion Brands to Know and Shop
For your environmentally conscious soul.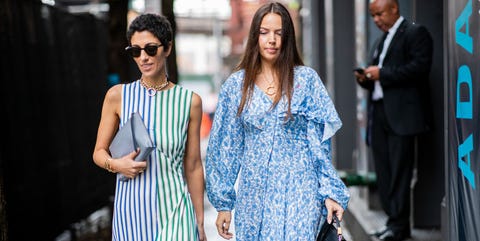 Christian Vierig
Getty Images
Sustainability has become a trending topic for fashion brands that want to appeal to environmentally-conscious millennial shoppers. According to Business of Fashion, 66 percent of millennials are willing to spend more on brands that are sustainable, and the demand from customers that brands be held accountable for waste and their carbon footprint is projected to skyrocket. As a fashion lover and someone who Googles things like, "Great Pacific garbage patch news" (here's where your trash ends up, btw), I'm breathing a small sigh of relief that people—and companies—are starting to care more.
Stella McCartney was a sustainability pioneer in the luxury sector (she launched her fur-free, leather-free business in 2001, despite many skeptics), and labels including Everlane and Reformation are leading the charge in creating eco-friendly, fashion-forward clothes, proving that you can look nice and be nice to the planet. But these brands are not alone in tackling the issue of sustainability in fashion. More and more companies are setting out to do the same, and we've rounded up 33 that we love to celebrate Earth Day. From footwear to handbag labels, these retailers are changing the planet...and the way you shop.
This content is created and maintained by a third party, and imported onto this page to help users provide their email addresses. You may be able to find more information about this and similar content at piano.io