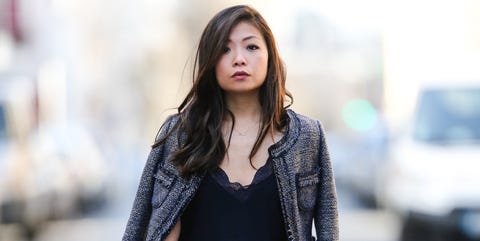 Before writing this post, I took a peek in my closet and counted all the camisoles I own. The outcome: three basic black spaghetti strap tanks, which isn't exactly exciting. In my defense, I had just cleaned out my closet and donated a bunch of clothes, including some old camis from college. Back then, the camisole was a staple—they folded neatly into my single dorm drawer and paired nicely with a cardigan for class. It seems over the years, however, I forgot about the camisole.
Thankfully, the cami, layered or worn alone, evolved with the times. Today's versions are made from luxe fabrics, including velvet, and silk, and feature interesting prints, like leopard and rose. They're still a basic, though the designs are anything but. Ahead, 10 different styles to remind myself (and maybe you) why the camisole is a classic you can't have too many of.
Cami NYC Floral Camisole
net-a-porter.com
$170.00
This lightweight silk-charmeuse fabric gives off luxurious vibes—that and the romantic rose print and wispy lace edging. Wear with a sequin black blazer and half tuck the cami into your jeans.
H&M Glittery Camisole Top
www2.hm.com
$24.99
For a glittery party-ready top you can also wear to work, scoop up this H&M camisole. It has just the right amount of sparkle to make it pop underneath a blazer without being distracting at meetings. The fitted top will tuck easily into your skirt or trousers.
Frame Cheetah Print Silk Camisole
nordstrom.com
$116.98
The leopard camisole: a classic piece you should keep in your closet, always. Trust. When you're feeling wild, break this piece out and style it with a leather skirt. To tone it down slightly, simply cover up with a wool cardigan.
Vince Satin Camisole
mytheresa.com
$139.00
If you're buying your first camisole ever, go with silky black. This piece is the building block of an outfit—you can do so much with it! Wear with navy slacks for the office or with a shimmery bodycon miniskirt for a night out. The sharp V neckline will draw attention to your collarbone, so accessorize with a delicate gold necklace.
Madewell Velvet Button-Down Cami
madewell.com
$19.99
Own too many silk-charmeuse tanks? Go for velvet, like this version from Madewell, which was inspired by underpinnings (see the narrow straps and covered buttons). The cami can be worn as is or over a tee since its fit is cropped and loose.
Saint Laurent Polka Dot Mesh Camisole
farfetch.com
$665.00
I'm not opposed to baring it all in this polka dot sheer camisole. (Anything for Saint Laurent.) Style this completely see-through top with a structured blazer and black jeans for a rather chic look with just a touch of naughtiness.
Vislivin Basic Solid Camisole
amazon.com
You have your fancy "going-out camis" and you have your basic layering ones. A variety of the latter are available on Amazon for cheap, like this pack of four. These soft, stretchy camisoles are perfect, whether you need an extra layer under a sweater or a cozy sleeping tank.
WAYF Posie Strappy Camisole
nordstrom.com
$32.98
This floral top features a plunging neckline with lace-up details for a sweet and sexy take on the camisole. It comes in five other colors, so theoretically you can wear one for each day of the week. That'll take out the stress out of deciding what to wear in the mornings.

Vince Camuto Multi-Sequin Mesh Cami
macys.com
$35.63
Did someone say party time? Because then I think it's time to break out this number. The multi-colored sequins will help you sparkle under the lights of the dance floor and perhaps even catch the attention of a secret admirer. Wear with your favorite black skirt and heels for your next GNO.
Topshop Cowl Neck Camisole
nordstrom.com
$11.99
The cowl neck gives this camisole something unique compared to a traditional v-neck. If you're not a fan of the bright color, the top also comes in basic black for your everyday needs. Whichever color you choose, wear with cropped jeans and leather ankle boots.