11 Times Kate Middleton and Meghan Markle Dressed Alike
They share a love for shoes Queen E reportedly hates.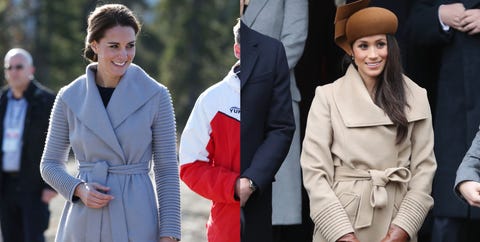 Ever since Meghan Markle became a Windsor, royal watchers have been speculating that her style would morph into Kate Middleton's. It has not...at least not completely. Meghan's set herself apart from the Duchess of Cambridge by embracing pantsuits, contemporary dresses, and the color black (royals typically don't wear this hue unless it's for mourning).
But just because the two ladies don't share the exact same taste in clothes, that doesn't mean their fashion choices haven't been rubbing off on each other. It'd be hard for it not to: the sisters-in-law currently live in close proximity to each other and Kate has shared a list of her favorite U.K. designers and fashion protocols with Meghan. (Case in point: Both duchesses have been spotted in the espadrille wedge—a shoe Queen Elizabeth reportedly detests.) There are situations where we wonder who stole whose look first. Ahead, 11 times the duchesses accidentally twinned.

For more celebrity news, beauty and fashion advice, savvy political commentary, and fascinating features, sign up for the Marie Claire newsletter (subscribe here).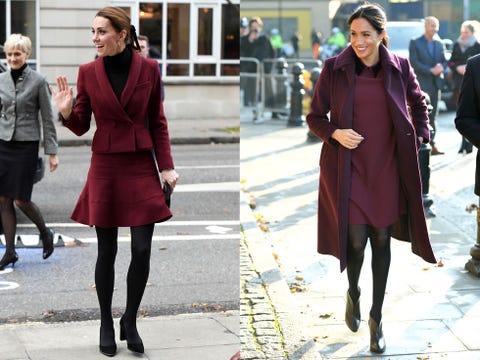 When They Both Went With in Burgundy
Last month, the duchesses attended separate events, miles away from each other, but still stepped out in similar burgundy ensembles. Meghan's dress and coat were from Club Monaco while Kate wore a Paule Ka skirt suit, which she's had since 2012. The two even chose black tights and black boots (a Givenchy bootie for Meghan) to complete their looks. Which outfit did you like better? Actually, don't answer that. They both looked great.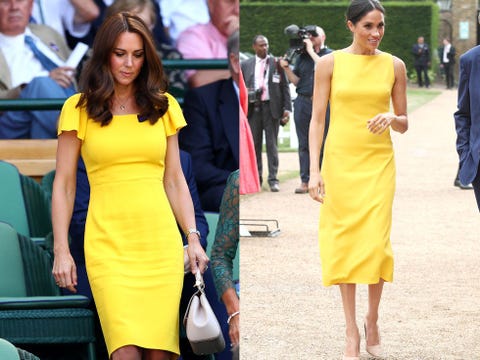 When They Shined in Yellow
Who looks better in yellow? We honestly don't know. The Duchess of Cambridge attended the Wimbledon games in 2018 while wearing this cap-sleeve shift dress by Dolce and Gabbana. A few weeks prior, Meghan wore a Brandon Maxwell yellow midi dress while attending a reception for the Commonwealth Secretariats Youth Leadership Workshop. Meghan went for the sleeveless style, of course, whereas Kate stuck to a more covered-up look.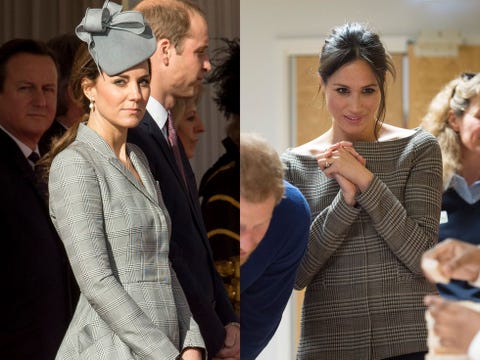 When They Both Wore Plaid
One print, two different ways to wear it. Meghan's known for her off-the-shoulder necklines, so it wasn't a surprise she chose this plaid jacket from Theory for a visit to Wales in 2018. Kate's way to rock this print was with a coat dress from none other than Alexander McQueen.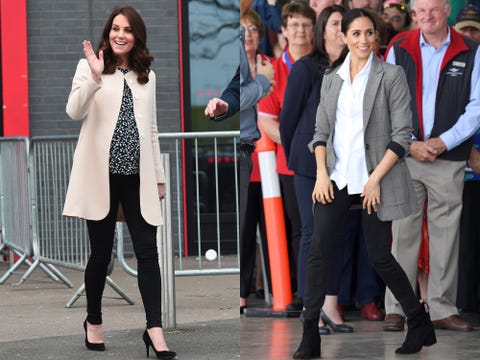 When They Went Casual in Black Jeans
One pair of jeans you'll find in both Meghan and Kate's closet is black skinnies. The Duchess of Cambridge prefers denim brands like Paige and Zara, while the Duchess of Sussex wears labels like Mother and Outland Denim. They're not the only royals to work these pedestrian bottoms into their posh closets, here's a list of other princesses and queens who have found their beloved jeans.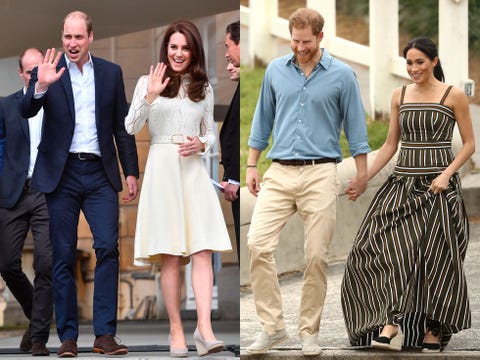 When They Traded in Pumps for Wedge Espadrilles
Don't look Queen Elizabeth! Both Meghan and Kate love their wedge espadrilles and have yet to get rid of them despite rumors that the Queen hates them. Kate has had her pair of Monsoon "Fleur" wedges since 2016. Meghan likes the ones by Castañer—the same brand Pippa Middleton loves. I can see why the ladies won't quit them: Wedges are 100 times more comfortable than pointy stilettos.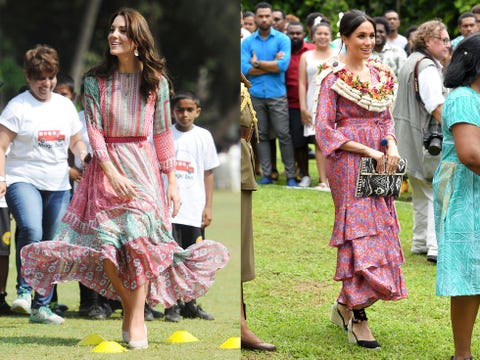 When They Wore Patterned Dresses Abroad
Both Duchesses have sported colorful, printed dresses (rather different from their day-to-day royal wardrobes) while visiting other countries. Kate wore this patterned Jenny Packham three-quarter sleeve dress during a visit to Mumbai, India, in 2016; Meghan wore a ruffled pom-pom creation by Figue for her recent visit to Fiji. They even both trekked across the grass in...you guessed it...wedges.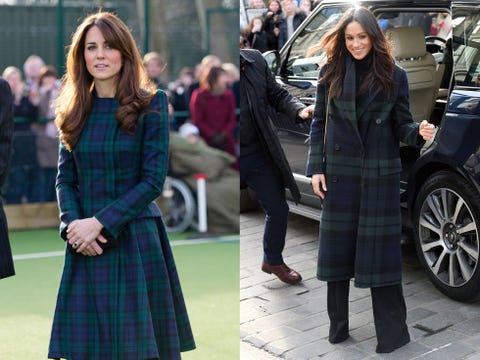 When They Stepped Out in Tartan
Kate wore a green tartan dress coat by Alexander McQueen in 2012. More recently, Meghan stepped out in an eerily similar printed green coat by Burberry while visiting Edinburgh Castle. If this isn't proof of tartan's longevity, I don't know what is. It's a classic print.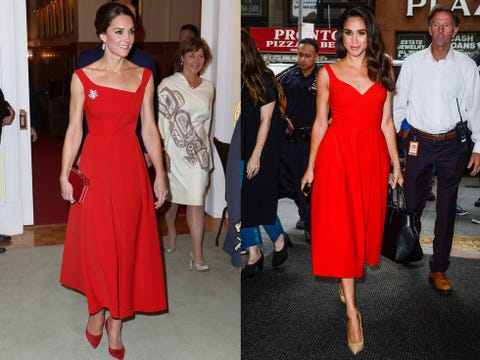 When They Both Slayed in Red Dresses
Before the world found out Meghan Markle and Prince Harry were dating, she was just another actress appearing on the Today Show. For her on-camera moment in 2016, she wore this Jill Stuart red midi dress. That same year, the Duchess of Cambridge debuted this number by Preen at a reception in Canada. While Kate's midi dress had an asymmetrical neckline, the lengths and cuts are verrry similar. And the choice, for both, speaks volumes about their confidence to wear such a bold color.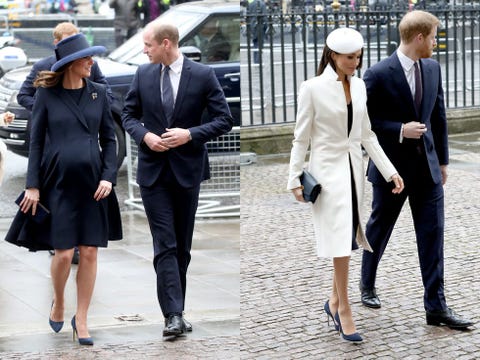 When They Both Picked Navy Pumps
For the 2018 Commonwealth Day service at Westminster Abbey, the duchesses wore different ensembles, but matched their shoes: navy pumps. Their footwear was from different designers. Meghan wore a pair by Manolo Blahnik, while Kate's shoes are by Rupert Sanderson. The two heels looked nearly identical though and this is likely a staple shoe in both their wardrobes.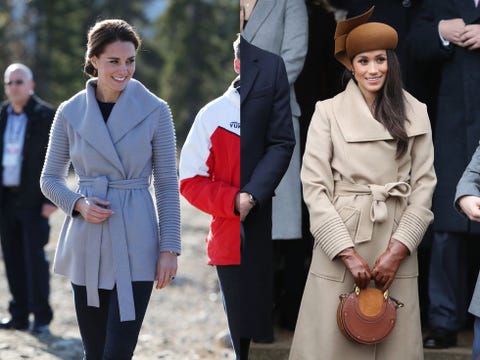 When They Both Chose Coats From Sentaler
Meghan and Kate are no strangers to Canadian brand Sentaler. The Duchess of Cambridge's stylist picked out this periwinkle wrap jacket while Kate was on a royal tour of Canada in 2016. A year later, when Meghan attended a Christmas Day church service with the royal family, she debuted a similar belted outerwear. Her beige coat is longer but features the same ribbed designs on the sleeves.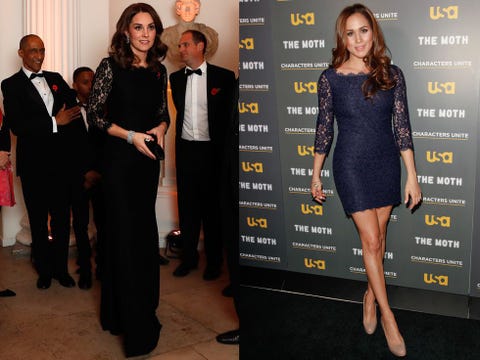 When They Wore DVF Lace Dresses
What you're seeing here is Diane von Furstenberg's lace dress in two different cuts. Kate chose the long black gown for a gala dinner in 2017 whereas Meghan donned a mini version in 2012 to walk the red carpet. This is proof that the ladies can wear the same brand, but still make it their own.
This content is created and maintained by a third party, and imported onto this page to help users provide their email addresses. You may be able to find more information about this and similar content at piano.io