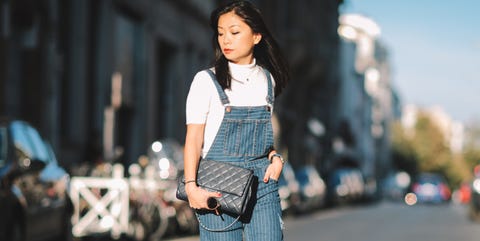 Edward Berthelot
Getty Images
Denim overalls are easy to wear, like jeans, but a little trickier to style. Pair 'em with the wrong shirt or shoes and you end up feeling like the 11-year-old version of yourself. But overalls are on-trend and if you want to wear your very first pair of (adult) overalls, don't let this small obstacle stand in your way.
I've put together six different overall outfits to show you how to actually wear the one-piece. The major takeaway? There is an art to layering when it comes to overalls, whether that's choosing between a plain tee or peasant blouse, a pair of sandals or a pair of heels. (I'm going with sandals for comfort obvs.)
Enough chit-chat, though, read on to see how to wear your denim overalls, from an original blue option to a wild animal printed one-piece. And for even more styling inspiration, be sure to bookmark our street style round ups.