The Best Sweaters on Amazon, According to Reviews
24 Best Sweaters on Amazon 2021 | Warm Sweaters for Women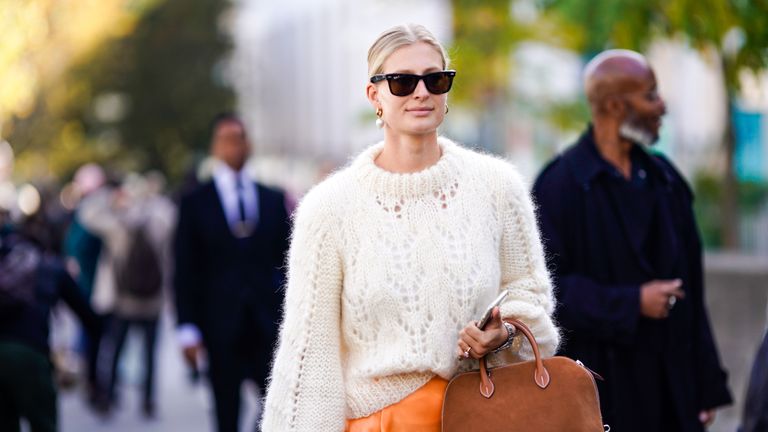 (Image credit: Edward Berthelot)
Sweaters are a fall/winter staple, so adding one (or two) new ones to your collection every season sounds good to me. (Then again, I shop and write about fashion for a living.) If you're searching for a sweater in a new color way or print, I have recommendations up my sleeves. But before we get to the selections, I know you're likely keeping track of your shopping budget for the year. So here's a little secret: You really can find affordable, and adorable, sweaters on Amazon. For less than $50, you can score a cozy knit to wear while you sip your coffee on the weekends or to layer with a turtleneck undershirt for your outdoor adventures. We did our best to find tops with an interesting design that still feel wearable—and if you want simplicity, we found some everyday basics to boot. The only thing better than scoring an affordable find is receiving said find in 48 hours via Prime.
1/24
Alinfu Casual Crewneck Knit Sweater
For Wearing With Leggings
The kind of sweater you'll reach for without even thinking about it. The silhouette runs long to hug your butt, but will definitely shrink if you wash it and put it in the dryer (naturally). To keep it in its oversize condition, you should let it air-dry. Wear with brown over-the-knee boots.
2/24
Futurino High Neck Turtleneck
A Minimalist Design
You're not a fan of splashy prints or designs, so a more subtle one like this grid print is right up your alley. Reviewers said the patterned sweater is "thicker and of higher quality than expected." The top seems to run a little small, so size up if you want a less snug fit.
3/24
LOLONG Casual Turtleneck Pullover Knit Sweater
Casual Turtleneck Pullover Knit Sweater
This sweater is your blank canvas. You can splash on brighter color with a handbag, neck scarf, or earrings then top it off with a cute, colorful trench.
4/24
Miessial Crew Neck Lantern Sleeve Sweater Pullover
The Pompom Sweater
White sweaters are a dime a dozen come winter. To make yours stand out, look for tops with special details, like this one with pompoms. The addition of spots give it a more three-dimensional look, especially if you plan to wear around the holidays. Wear over a slip dress with ankle boots.
5/24
Saodimallsu Leopard Crewneck Sweater
The Animal Print Sweater
Stay cozy and comfortable in this fuzzy leopard sweater. It'll make leaving your apartment feel more bearable when it's 10 degrees out. Style with a pair of moto leggings, a puffer coat, and combat boots.
6/24
Cable Stitch Sweater
The Two-Tone Sweater
It's easy to get into a rut of wearing only black and gray for winter, which doesn't really brighten up your mood. For a change of pace, and a spirit boost, slip into this strawberry-red two-toned sweater. Not quite ready yet for the punchy hue? There's also a beige and gray option, if you must.
7/24
Goodthreads Cotton Shaker Stitch Deep V-Neck Sweater
A Wear-With-Everything Sweater
This 100 percent cotton sweater comes in a tunic-length style, which is great for covering the bum if you wanted to. With 10 various designs to choose from, you'll have a hard time picking favorites.
8/24
Zaful Criss Cross Twisted Back Pullover Knitted Sweater
Who says sweaters can't be a little sexy? No matter which side this sweater faces, the plunging neckline will be apparent to all. Style with your favorite jewelry trends.
Who says sweaters can't be a little sexy? No matter which side this sweater faces, the plunging neckline will be apparent to all. Style with your favorite jewelry trends.
9/24
MaQiYa Cold Shoulder Oversized Sweaters
The Cutout Sweater
You run warm, so you like sweaters that give your skin a little more breathing space. The cutouts on the shoulders for this option should do the trick.
10/24
Ckikiou Sweaters Batwing Sleeve Casual Loose Cashmere Jumper
The Gray Sweater
The kind of sweater you can wear with jeans when you leave your house, but can easily swap in leggings once you're home and hanging out on the couch. This fuzzy piece is visibly textured and great for those who love neutrals.
11/24
Vansha Off Shoulder Sweater
The Halter Sweater
Spring and summer may be over, but you don't have to completely cover up. This sweater with a cutout across one shoulder is the perfect way to show some skin in the fall/winter while still staying warm.
12/24
MEROKEETY Long Sleeve Oversized Crew Neck Sweater
A Lightweight Sweater
🙆This sweater comes in eight different colors and you might find yourself wanting all of them. It has a round neck and comes in a lightweight knit material with a relaxed fit.
13/24
English Factory Dot Embroidered Sweater
A Polka Dot Sweater
You like your sweaters to have some personality and this one definitely does. Polka dots say, "I'm classic and reliable." Okay, I'm not sure about the last part, but they definitely say classic.
14/24
Chuanqi Open Back Pullover Sweater
The Open Back Sweater
For the sweater and jeans gal, amp up your everyday look with this cutout top that ties at the back. You can wear it with a lace bralette—or, if you're like me, and have a smaller chest, you can skip the bra altogether for no-fuss nipple covers. The top comes in 12 other colors, so take your pick.
15/24
Goodthreads Stitch Turtleneck Sweater
Goodthreads
Every closet needs that one basic sweater for fall/winter. This is it. The sweater is 100 percent cotton, and comes in 10 different colors; one reviewer said the top was "functional and easy to style" while another customer said the one caveat is sizing. The fit appears to vary from person to person, depending on your body type.
16/24
Sexyshine Casual Crisscross Sweater
The Unique Pick
Plush, cozy, and sexy—those are the three adjectives that reviewers use most to describe this crisscross sweater. You can purchase it in a solid color or buy one adorned with fake pearls, though the solids are easier to maintain. (Pearls will invariably fall off.) And every time you wiggle out of your winter coat, you'll know that the sweater's distinct back will be a crowd pleaser.
17/24
Exlura Off-the-Shoulder Batwing Sleeve Sweater
The Slouchy Option
This sweater is an Amazon best seller, with over 1,600 reviews; its fans rave about the warmth and the oversize fit. Personally, I think the baggy style (size down if you want it less loose) is perfectly optimized for all those upcoming holiday meals. Wear yours off the shoulder for a slightly sexier feel—but one that won't offend your grandmother at the dinner table.
18/24
Amazon Essentials Women's Lightweight Long-Sleeve Mockneck Sweater, Navy/White Placed Stripe, X-Large
For Layering
This sweater is on the thinner side, which makes it easily layer-able underneath your itchier wool tops and summertime spaghetti strap dresses.
19/24
LookbookStore Long Sleeves Snowflake Knit Sweater
The Holiday Pick
Order this sweater now and wear it all throughout winter and into the holidays. Wear while you're chilling out in front of a fireplace.
20/24
MILLCHIC Long Sleeve Crew Neck Colorblock Pullover Sweater
For Brightening Gray Days
A color-block sweater that comes in a ton of color variations, so you never run out of options. The overall consensus on this top from reviewers: It's cute and beautiful, and at a digestible price point. If you find your sweater running on the larger end and don't want to exchange it for another size, take one reviewer's suggestion and tuck it into mom jeans.
21/24
Ferbia Oversized Sexy Sweater
The Wrap Option
People who bought this top remarked on its softness, almost shockingly good quality (no itchy arms here), and the faux wrap sleeves. The sweater comes in six colors, so if you really love it, buy one more. We support you.
22/24
Chase Secret Casual Chunky Knit Pullover Sweater
The Chunky Knit
Your new favorite chunky sweater goes well with leggings or skinny jeans, according to those who already have it. That's cool, because we practically live in those two bottoms for the season. If you want to stand out, get the lilac color. If you want to blend in, opt for a gray.
23/24
Find. Printed Turtleneck Sweater
For the Holidays
Put a cup of hot cider in my hand and stick me in front of a fireplace. If you need a good holiday-esque top to snuggle up into while you're chilling with the family, this is our pick. Those who bought it said it's "soft" and "beautiful."
24/24
Chang Yun Off Shoulder Knitted Pullovers Sweater
The Printed Sweater
Tired of your usual selection of cheetah or zebra print sweaters? This playful heart print is the perfect one to add to your rotation.