Adidas Ultraboost Sneakers and More Are Up to 50 Percent Off
Snag these babies before they sell out!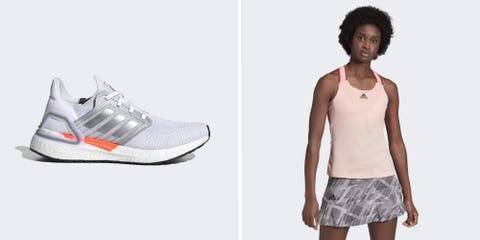 Just when you thought you had enough workout clothes in your closet, Adidas decides to host its Last Chance sale. For a limited time only, shoppers can save up to 50 percent off on everything from sports bras to leggings to Adidas' popular Ultraboost sneakers. Though the world is getting back to some semblance of normalcy (yay!), I have a feeling athleisure isn't going away anytime soon. So, now's a better time than any to refresh your wardrobe. The catch? Items are selling out fast and sizes are limited, so you better start filling your cart with the standout items from the sale, below.
$180 $126 (30% off)
There's a reason why Adidas' Ultraboost pair is one of the most popular sneakers around. Designed with a responsive Boost cushioning, these running shoes will level up your next workout.
$50 $25 (50% off)
Adidas' HEAT.RDY material found in this tee will keep you cool, dry, and feeling your best during your next virtual workout class.
$55 $28 (45% off)
Good news for anyone who owned Adidas' snap pants back in the aughts: You can revive the look with some slides and a cute high-neck tank top.
$120 $48 (60% off)
Your favorite jelly shoes from childhood just got an adult upgrade. Whether you opt for lime green or subtle purple, this pair will look great with a basic tee and jeans.
5
Paolina Russo Mini Skirt
$100 $40 (60% off)
Step away from the leggings: This mini skirt will become a wardrobe staple come summer.
$100 $50 (50% off)
Whether you're running errands or watching Hulu, you're bound to get a lot of mileage out of this hoodie.
$65 $33 (45% off)

This patterned sports bra will offer plenty of support for errands or workouts. Plus, that front zipper is everything!
$60 $54 (10% off)
A pair of crisp white sneakers is a must-have. I don't make the rules.
$70 $28 (60% off)
Want to score an amazing tan during your outdoor run? This moisture-wicking tank is designed to deliver.
10
Captain Tsubasa Hoodie
$80 $40 (50% off)
You don't have to be an aspiring soccer star to love this Captain Tsubasa hoodie. Between the cool graphics and bright pink accent, this layer will give your WFH uniform a sporty edge.
This content is created and maintained by a third party, and imported onto this page to help users provide their email addresses. You may be able to find more information about this and similar content at piano.io