The Best Watch for Your Zodiac Sign
Horoscope-informed splurging = better than the normal kind.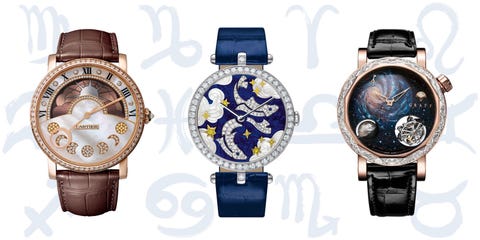 Your horoscope can predict more than just lucky-in-love days. It can also help guide you to the perfect investment piece. So whether you're a fiery Aries or a Taurus with your feet planted firmly on the ground, your zodiac sign will determine what *look* is meant for you. Click through to find astrology-approved timepieces that suit your sign.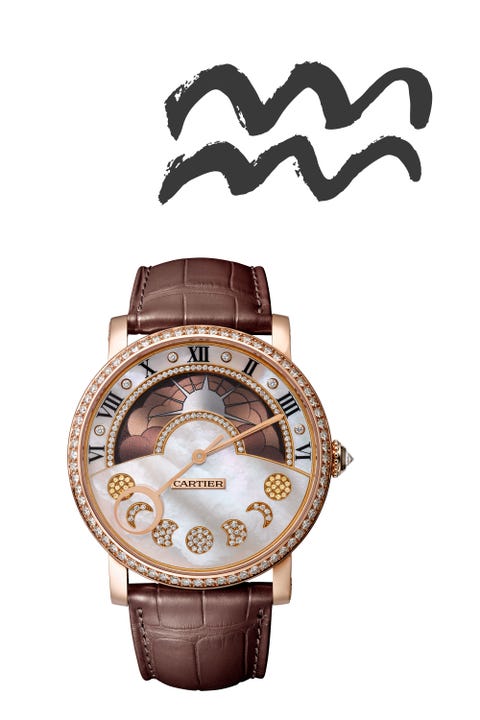 Aquarius
January 19 - February 18
Visionary air sign Aquarius craves a truly magical watch. Enter this delicate Cartier piece, featuring a retrograde moon phase (the hand resets after each journey around the moon) and a wearable, neutral palate.
Cartier Rotonde de Cartier Night and Day Moon Phase, $68,500

BUY IT: cartier.com.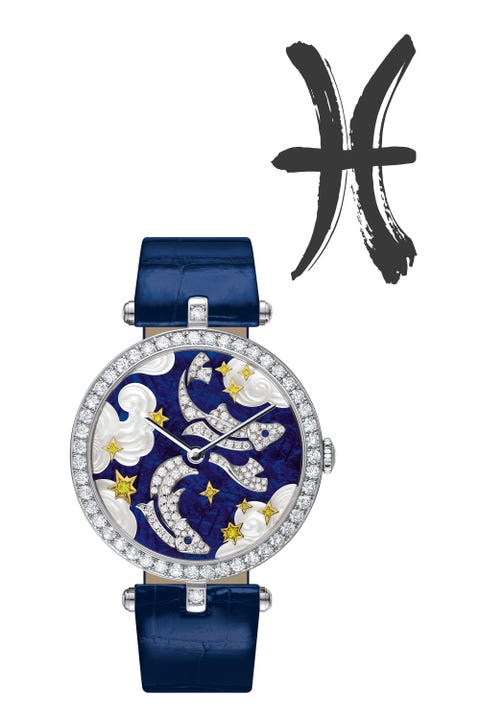 Pisces
February 18 - March 20
The Van Cleef & Arpels Poetic Astronomy collection has a watch for each sign. This 12-piece limited edition white gold "Pisces" nods to the artistic and intuitive water sign with mother-of-pearl waves; diamond-set fish with gold stars and yellow diamonds add an elegant touch.
Van Cleef & Arpels Lady Arpels Zodiac "Pisces" Watch, $98,000
BUY IT: vancleefarpels.com.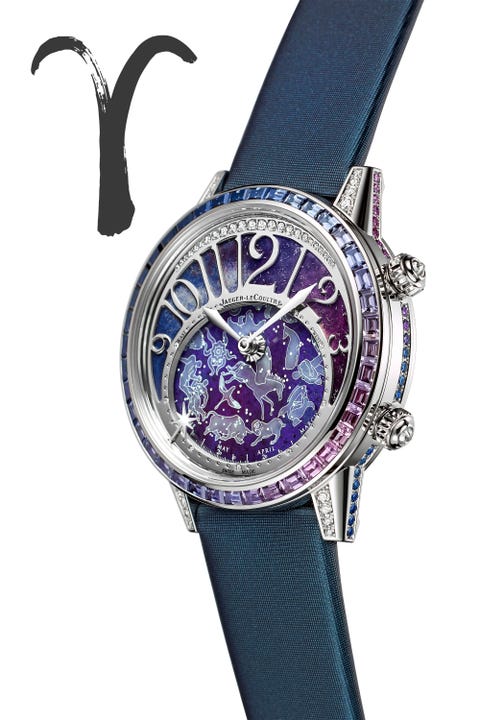 Aries
March 20 - April 19
Inspired by the aurora borealis, Jaeger-LeCoultre created a mechanical watch that's an interpretation of a celestial sky chart. With dazzling blue and purple sapphires and a charming Rendez-Vous star indicator that can be set to mark a particular time of day, this bold and beautiful piece is perfect for the passionate fire sign Aries.
Jaeger-LeCoultre Rendez-Vous Celestial in White Gold, price upon request
BUY IT: jaeger-lecoultre.com.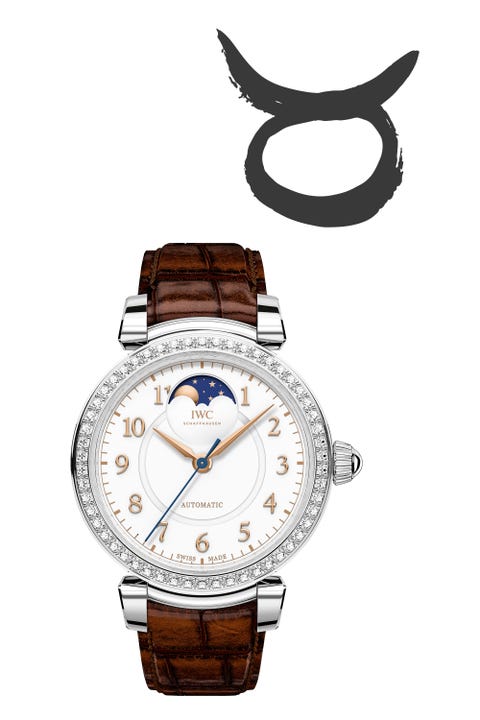 Taurus
April 19 - May 20
Down-to-earth Taurus knows the power of chic minimalism, and this 36 MM self-winding mechanical watch from IWC fits the bill. With a sturdy brown strap and an airy diamond bezel, the Da Vinci Diamond is both timeless (get it?) and fashion-forward.
IWC Da Vinci Diamond Automatic Moon Phase 36, $13,900

BUY IT: iwc.com.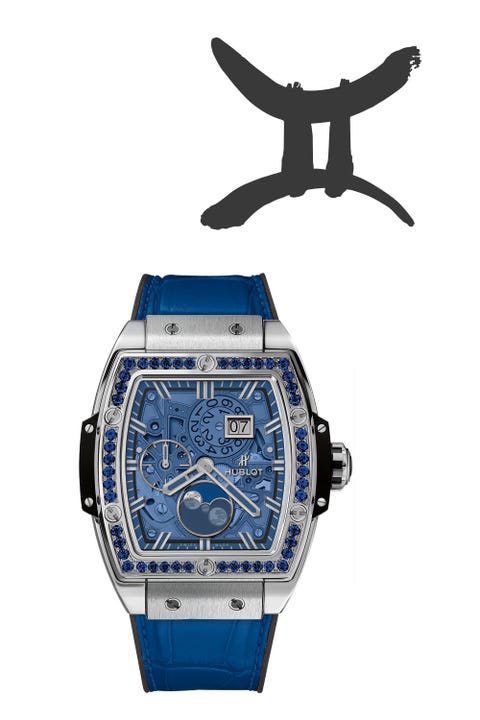 Gemini
May 20 - June 20
Through a transparent blue quartz dial, the visible inner workings of this Hublot are intricate enough to appeal to intellectual and analytical Gemini. The dial displays time, date, and phases of the moon inside a lightweight titanium case set with 48 blue sapphires.
Hublot Spirit of Big Bang Moon phase Titanium Dark Blue, $22,400
BUY IT: hublot.com.
Cancer
June 20 - July 22
Emotional and mysterious like the water sign Cancer, the sparkling surface of this sleek dial has a twinkling night sky effect. Paired with a midnight black Hermes alligator strap and a rose gold, diamond-set bezel, this Parmigiani Tonda has just the right amount of dark glamour.
Parmigiani Tonda 1950 Set, $23,900
BUY IT: parmigiani.com.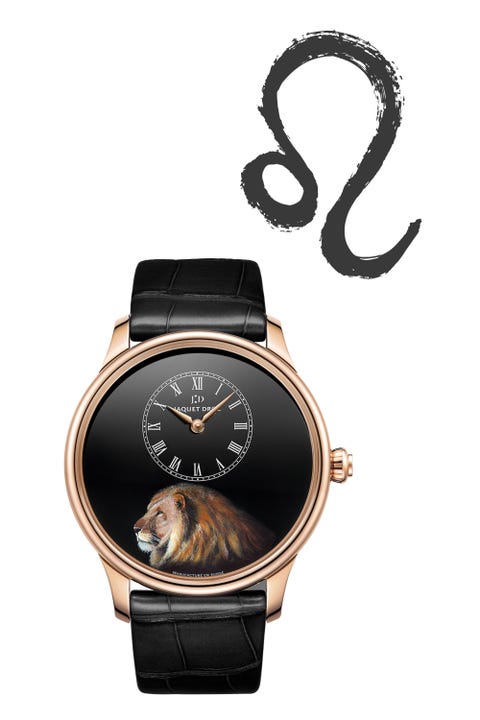 Leo
July 22 - August 22
The lion, the king of the wild, is both the symbol of the fierce Leo and the focal point of this limited edition Jaquet-Droz beauty. The animal's likeness is hand-painted on a black Grand Feu enamel dial, and it stands out against the simple gold-and-black color scheme.
Jaquet-Droz Petite Heure Minute Lion, $32,200
BUY IT: jaquet-droz.com.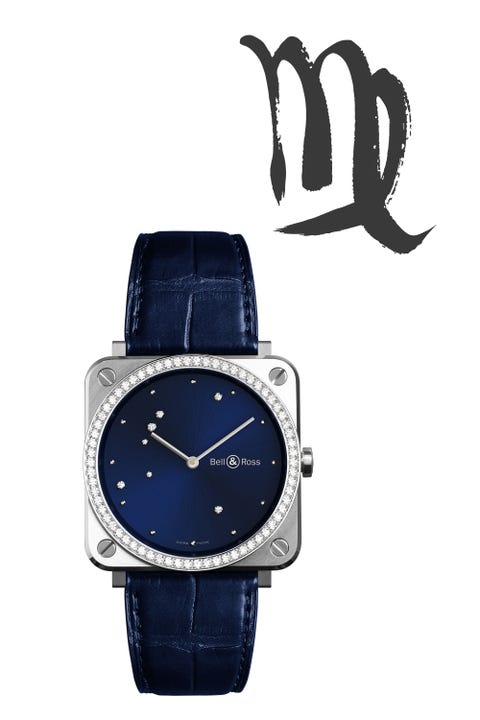 Virgo
August 22 - September 22
Bell & Ross has created a perfect watch for introspective Virgo. The steel with quartz movement timepiece features a dial with seven diamonds, each representing the stars of the famed Aquila constellation, illustrating a quiet self-awareness.
Bell & Ross BR S Diamond Eagle, $6,600
BUY IT: bellross.com.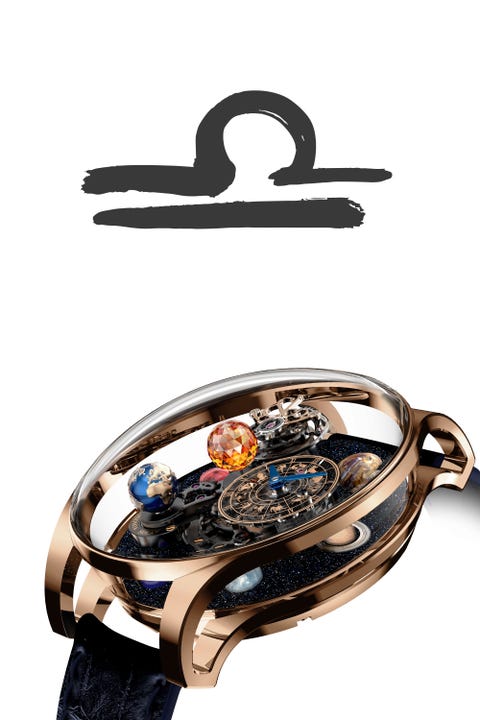 Libra
September 22 - October 22
The air sign appreciates beauty and harmony, and this striking Jacob & Co Astronomia piece is no exception. A rose gold and blue lacquered planet Earth is surrounded by seven three-dimensional planets made of precious stones. When the whole thing rotates, it's like wearing the universe on your wrist.
Jacob & Co Astronomia Solar Planets, $280,000
BUY IT: jacobandco.com.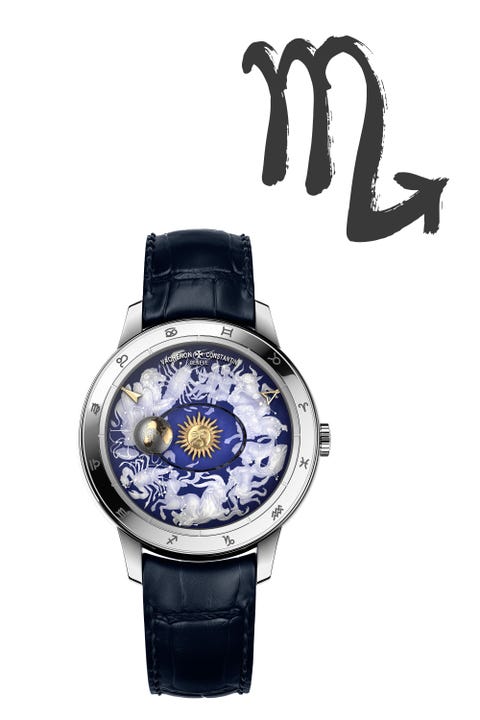 Scorpio
October 22 - November 21
Named after the astronomer who placed the sun at the center of the universe (paging limelight-loving Scorpio!), the Vacheron Constantin Celestial Spheres is truly unforgettable. In addition to the time, the 37 MM mechanical self-winding movement displays the Earth's orbit around the sun—a precise mechanism that requires correction only once every 8,000 years.
Vacheron Constantin Métiers D'Art Copernicus Celestial Spheres 2460 RT, $90,800
BUY IT: vacherin-constantin.com.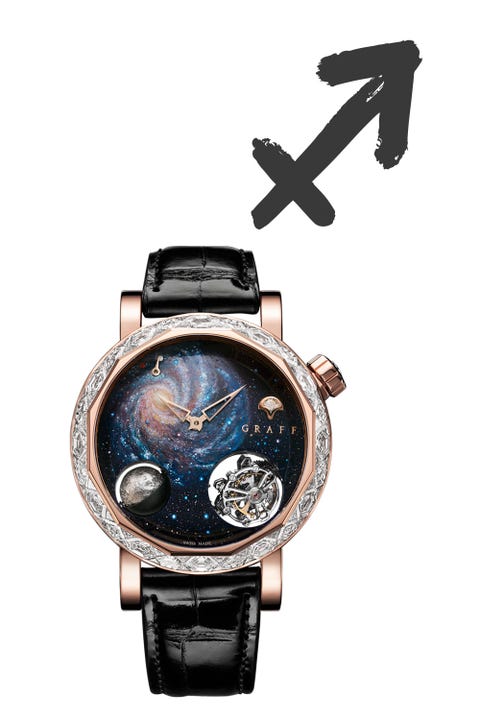 Sagittarius
November 21 - December 21
Optimistic and philosophical, fire sign Sagittarius loves to travel, and the MasterGraff GyroGraff will inspire wanderlust with its mesmerizing spinning 3D moon phases and half sphere, double-axis tourbillon (complex mechanics that helps improve accuracy), and galaxy depicted in high-fire enamel.
Graff MasterGraff GyroGraff Galaxy 48mm, price upon request
BUY IT: graffdiamonds.com.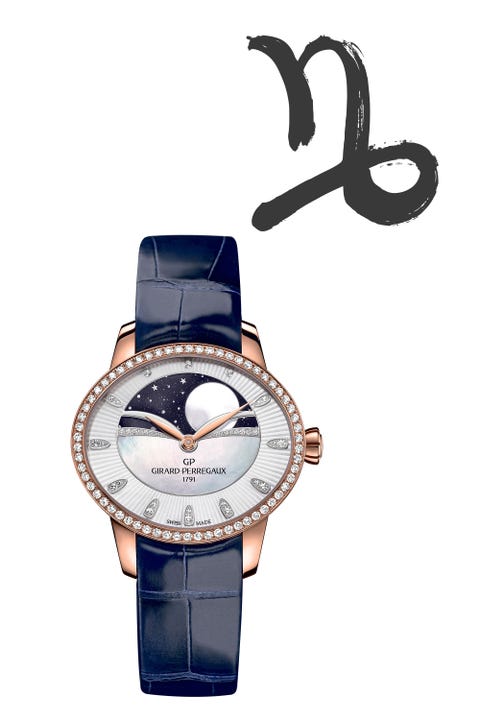 Capricorn
December 21 - January 19
The self-winding mechanical Celestial from Girard-Perregaux is the ideal watch for the earth sign that spawns planners and strategists. An oversized moon phase is represented with a glittering navy blue aventurine dial that makes a complete rotation once every 59 days (talk about precise).
Girard-Perregaux Cat's Eye Celestial, $30,400
BUY IT: girard-perregaux.com.
This content is created and maintained by a third party, and imported onto this page to help users provide their email addresses. You may be able to find more information about this and similar content at piano.io