What I Wear to Work: Nata Dvir
Macy's Chief Merchandising Officer breaks down how to inject personal style into your workwear.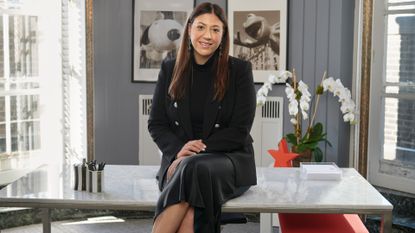 (Image credit: Todd Hailstone)
Marie Claire Newsletter
Celebrity news, beauty, fashion advice, and fascinating features, delivered straight to your inbox!
Thank you for signing up to Marie Claire. You will receive a verification email shortly.
There was a problem. Please refresh the page and try again.
In our bi-weekly series, we highlight dynamic women—from entrepreneurs and small business founders to CEOs and celebrities—discussing their style ethos, the pieces that empower them, and how they balance life alongside whirlwind careers.
---
Nata Dvir, the Chief Merchandising Officer at Macy's, is very familiar with the mood-lifting magic of clothing. A fitted blazer, a well-worn pair of jeans that become a second skin, or "emotional shoes—the ones that just give you the feels," Dvir describes over Zoom. "The perfect piece can go a long way in making you feel good and giving you that boost. Because that's what clothes do: They have this power to make you feel confident, comfortable, and different."
Dvir's journey in fashion started as many do: with a particularly formative internship. "I interned for two summers at Gucci with their digital business, back when you used to run a website and actually have to go down to the store to fulfill an order. That's how I got the retail bug," she explains. Energized by her months of working hands-on with luxury inventory, Dvir began an executive traineeship in Macy's development program, spending time across the menswear and fine jewelry departments. That was 17 years ago, and Dvir's stayed at the iconic department store ever since, still as enthusiastic about retail as her wide-eyed undergrad self was. Only now, there's significantly more responsibility resting on her shoulders; As CMO, Dvir oversees all of Macy's categories and private brands and, like a fashion oracle, anticipates what customers will be shopping in the future.
While riding the up-and-down rollercoaster that is the retail industry ("It allows you to really challenge yourself because the customer's constantly changing"), Dvir has absorbed some profound life lessons, particularly those of the sartorial variety. "You learn over time that you're dressing for yourself, of course, but sometimes you are dressing for those around you, so you want to ensure you're dressing for your day because it will make you feel more confident. Whether going to the boardroom or out to stores with my team, I want my outfit to put me in the right head space for whatever I take on that day," the merchandising expert details.
But even when Dvir's in-office at Macy's headquarters, you won't find her in the carbon copy corporate uniform (think Shiv Roy's quiet luxury look of homogenous gray suiting). "I like to have a little something in my outfit that will garner attention or that someone will recognize. After all, this is my job: I get to style America. So I want to make sure I'm representing well with a little something of interest in my outfit."
Ahead, we chat with Dvir about adding a splash of maximalism to your every day, crafting the best summer work outfit, and her personal love for biker jackets.
---
On Her Morning Routine:
My morning routine really depends on how I wake up. I am not a morning person, so I have three alarms. There's the first one, which is my ideal alarm that means I can work out—I love to move in the morning because it gives me a clear mind, especially Pilates—do everything and be the person I dream of being. And then the last alarm is like, "You better go because this is your last chance!" which means I'm literally eating breakfast as I walk out the door.
On Getting Dressed:
How I think about my outfit depends on what I'm doing, who I'm seeing, and who I'll be around. A big part of my job is working across different categories and with various partners, so I want to be casual with the denim guys and more dressed up with the luxury guys.
I'm also a planner and have a very analytical brain, so I spend a lot of time planning what to wear for the next day. I keep a photo album on my phone—and I try to be good at this—where whenever I buy something new, I'll try it on and take a picture of it because sometimes I forget what I even have. So I can peruse the album and say, "Oh, I can wear that to this thing on Tuesday!" that makes me feel like I don't have to worry about it in the morning.
On Her Fashion Philosophy:
When I find something that fits, whether a dress, a skirt, pants, or a shoe, I will buy it in multiple colors. Firstly, I'll buy one color, wear-test it, and then I'm immediately excited to go buy other colors. I've got five pairs of the same 70-mm Manolo Blahnik pumps, for instance.
Also what I learned, maybe from my mom, who was always about quality over quantity, is that you've got to live in your luxury. Earlier, I used to save certain pieces, but now I'm like, "I got to wear them—this is the time to wear them."
On Her Work Uniform
When I go into the office, I sometimes wear a suit and sneakers, and I love to wear slip dresses with a jacket or an oversized blazer. And working from home, I realize I can't just wear sweatpants every day. So I transitioned into wearing jeans and getting dressed up even at home because it just makes me feel much more confident in my day.
On The Piece That Empowers Her:
My go-to piece is a leather jacket. You can wear it on or over your shoulders, and it's something that I just always go to. My grandfather came to this country from Hungary and started a leather factory where they made a lot of motorcycle jackets. I used to hang out there as a kid, and they always had bikers coming in and getting their own leather jackets made. And so, to me, [a leather jacket] is just part of my everyday outfit formula and is such a completer piece for when I can't figure out what to wear. For instance, the other night, this [outfit] just didn't look complete. But then I put on [my leather jacket] and said, "This feels right."
Her Style in Three Words:
Intentional: I'm always thinking about what I want to wear and how I want to wear it.
Versatile: I'm calculating the cost per wear in my head and thinking about how many times I can wear an item all the time. I want things that are seamless and versatile.
And I love a little whimsy: I'm a kid at heart. I love things that are bright and fun. And I'm trying to get out of my comfort zone, too, by buying a lot more prints to make me feel like I'm showing up differently [to work.]
On Her Summer Work Style
Layers are important because it might be hot outside, but it isn't always hot inside. I always gravitate towards a lightweight summer dress with some kind of a third piece. So I'll wear a linen blazer or some type of lighter-weight blazer. I wear a lot of denim jackets, too, and I love them oversized because it just makes me feel comfortable. And a sandal does make a big difference in the heat as well.
On Her Favorite Brands
I am always so excited about what my design team is producing around our private brands. I.N.C. International Concepts is one of our great brands, and I just picked up a great floral suit that I'll be wearing soon that I'm excited about. And I'm not a print person, but Farm Rio's prints resonate with me. They make me have an inner smile when I put them on. And I'm also always looking for new jewelry brands: I love AGMES because they've got really nice metals and I love their shapes because they really round out my face.
---
Shop Nata's Favorite Pieces:
Celebrity news, beauty, fashion advice, and fascinating features, delivered straight to your inbox!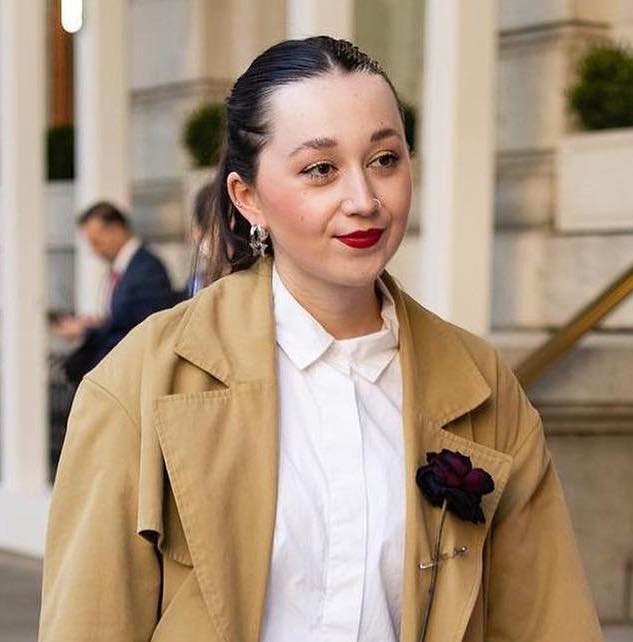 Emma Childs is the Style Editor at Marie Claire, where she researches up-and-coming trends, curates shopping guides, and gushes about the must-buy items she can't stop thinking about. She previously wrote for TZR, Editorialist, Elite Daily, and Mission Magazine and studied Fashion Studies and New Media at Fordham University. When she's not writing up fashion deep-dives or finding the season's best pieces, you'll find her fiddling around in Photoshop and perusing HBO Max for the next show to base her personality on (currently, it's "Succession").