Elizabeth Taylor: The Dame. The Movie Star. The Christie's Auction-Heir.
Check out how much Elizabeth Taylor's first wedding dress sold for at Christie's.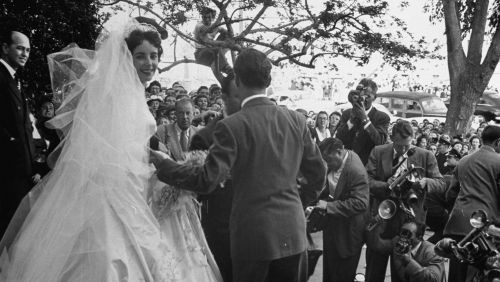 (Image credit: Archives)
No stranger to the stage (or the alter), the highly-anticipated auction of Elizabeth Taylor's first wedding gown — she was a bride eight times over — was the talk of the town this week in London. And in true Taylor style, the sale was seriously over-the-top. The dress smashed price estimations by selling for £121,875 ($187,931) to an unnamed party — more than double expert predictions of $46,000-$75,000.
As for the dress, think luxurious bolts of oyster silk satin, an off–the-shoulder illusion neckline trimmed in silk gauze and lavishly adorned by seed pearls and bugle beads — the gown could be a star all its own. Inspired by the gown Elizabeth wore in the 1950 film Father of the Bride, chief costume designer for MGM Studios, Helen Rose, also designed and gifted this dress that young Taylor wore down the aisle that same year to hotelier Conrad Jr. "Nicky" Hilton. The construction of such a piece (which included a built-in corset that was a mere 20 inches) was rumored to take 15 seamstresses three months to complete. A befittingly excessive project for one of Hollywood's most legendary royalty.
This week's sale stands to affirm that the late Elizabeth Taylor will continue to defy expectations, garner headlines, and steal the show – from any stage.