14 Dresses We're Pretty Sure We'll See on the Red Carpet This Awards Sesason
At least we *hope*.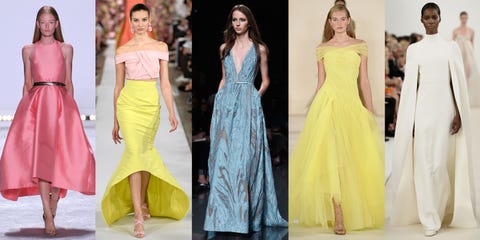 Before every awards season, we look into our crystal balls hoping to see color and interesting silhouettes and gem-encrusted Tom Ford pasties. What do we usually get? Mermaid dresses—in jewel tones, if we're lucky. We haven't lost hope, though, which is why we've rounded up 14 show-stopping frocks for 14 über-talented leading ladies. Maybe this will be the year!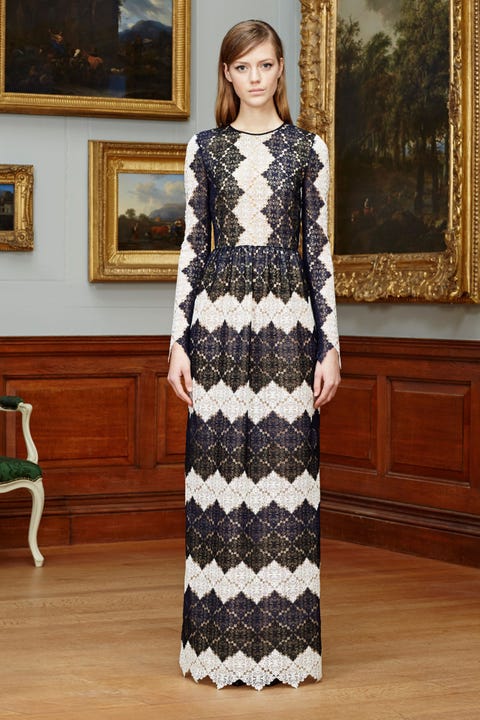 Dress: Erdem Pre-Fall 2015, Star: Rosamund Pike
Let's start off easy: We know the Gone Girl actress likes Erdem, high necks, and short hemlines. Two out of three ain't bad.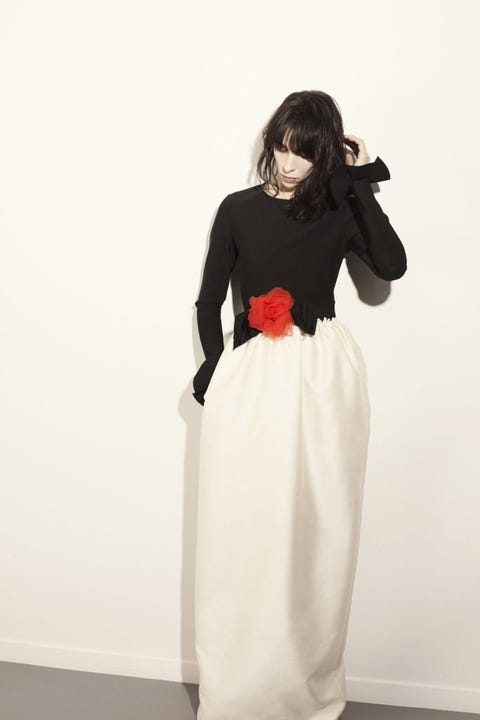 Dress: Lanvin Resort 2015, Star: Meryl Streep
Meryl usually goes for long-sleeved Lanvin, so the monochrome-with-a-splash-of-red color scheme is our way of shaking it up.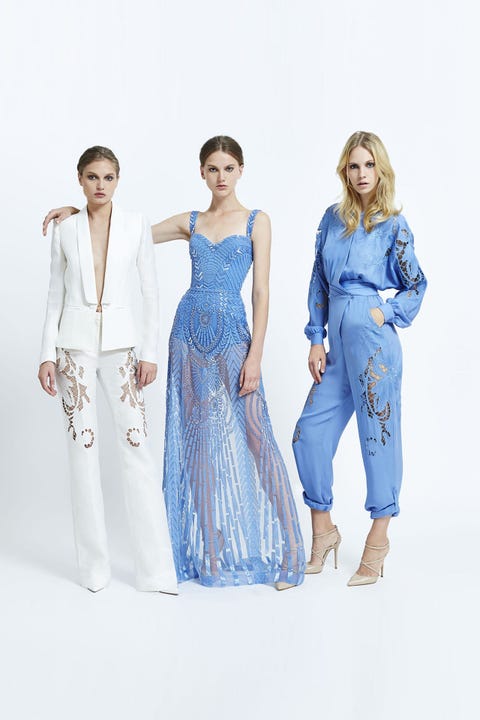 Dress: Zuhair Murad Spring 2015, Star: Emily Blunt
In case you couldn't tell, we're talking about the dress in the middle. Ms. Blunt might choose to add a lining, but that won't take away from its embellished periwinkle appeal.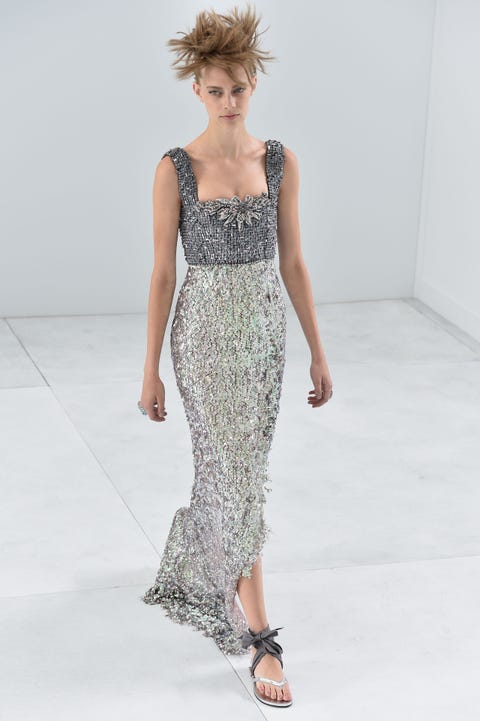 Dress: Chanel Haute Couture Fall 2014/15, Star: Julianne Moore
We're of the mind that any Chanel is good Chanel, especially when that Chanel is positively dripping with light-reflecting shards of plastic. Moore has worn Karl's stuff in the past—including one singularly shiny, feathery number—so this is right up her alley.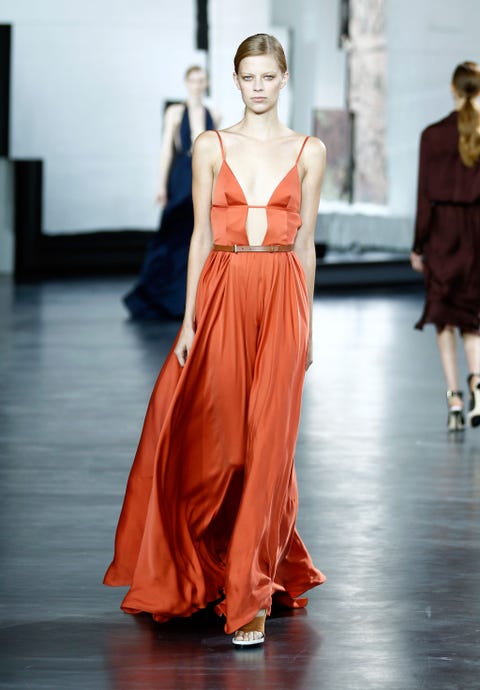 Dress: Jason Wu Spring 2015, Star: Emma Stone
Is anyone else getting 2011 BAFTAs vibes? That's one moment we'd love to reenact with this flowy keyhole gown.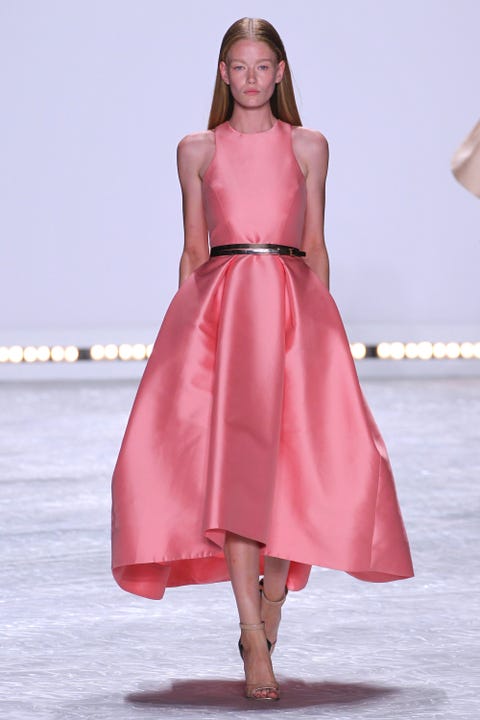 Dress: Monique Lhuillier Spring 2015, Star: Felicity Jones
Sorry, Felicity. There's simply not enough Dior to go around with you, Jennifer Lawrence, Marion Cotillard, and, like, 12 minor starlets sharing. That's why we chose this pink Monique Lhuillier number, which has all the full-skirted goodness the Theory of Everything actress prefers and none of the copy-cat factor. Enjoy!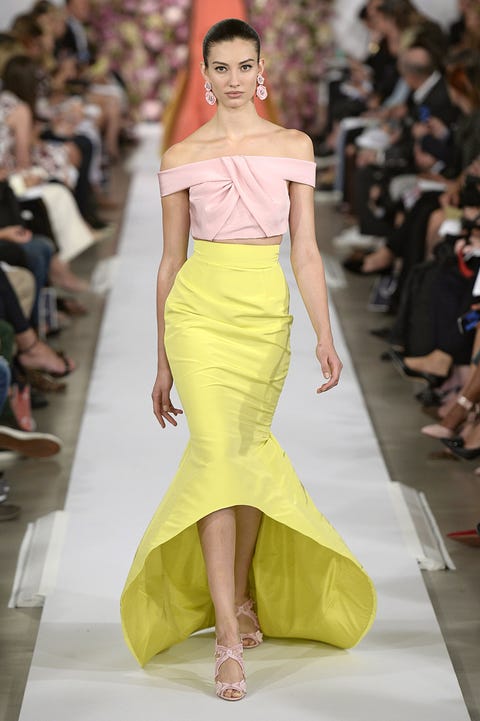 Dress: Oscar de la Renta Spring 2015, Star: Amy Adams
Totally, unequivocally true: Amy Adams has a killer bod, and this two-piece ensemble in an excellent color combo would show it off to great advantage. Plus wearing separates is puh-retty daring by red-carpet standards.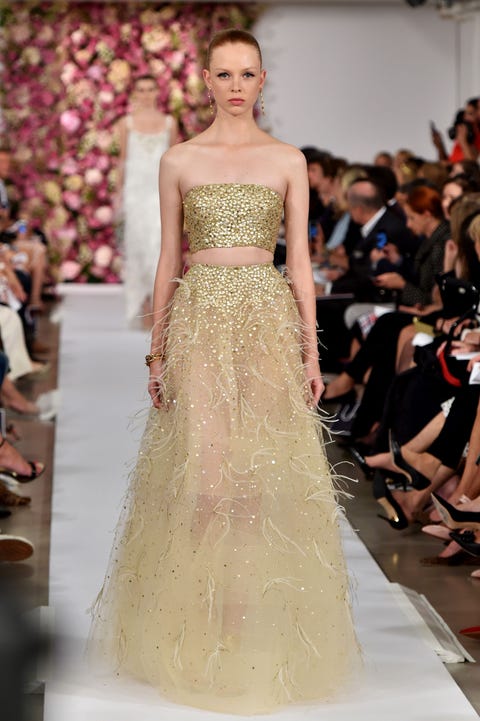 Dress: Oscar de la Renta Spring 2015, Star: Anna Kendrick
Even more daring? A partially bare midriff, which the petite Into the Woods star could 100 percent pull off.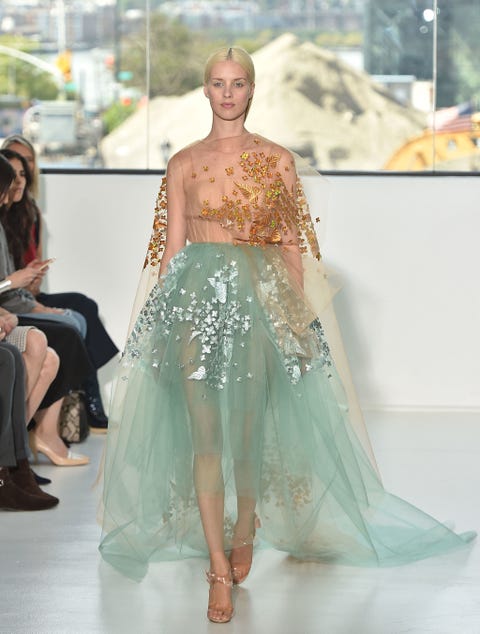 Dress: Delpozo Spring 2015, Star: Keira Knightley
No matter how
far along
she is, Knightley should do whatever it takes to squeeze into this ensemble. Reason #1: No one has worn it IRL yet. Reason #2: How could you deny something this dreamy its day in the sun, we ask you?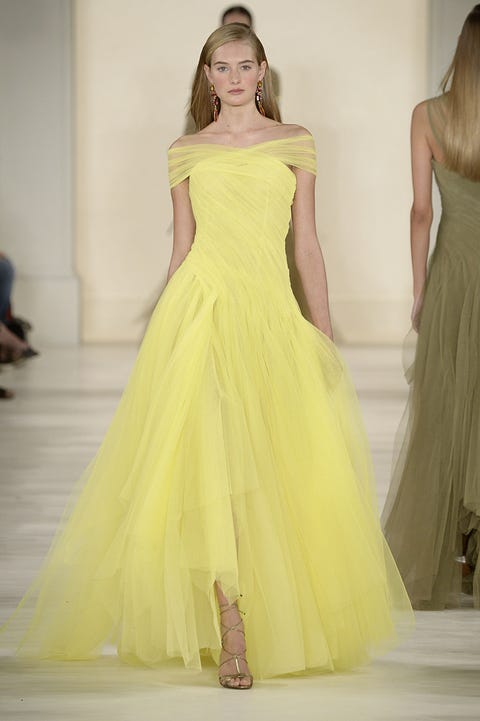 Dress: Ralph Lauren Collection Spring 2015, Star: Jessica Chastain
We know what you're thinking: Yellow? For a redhead? We'll have you know she's worn a similar shade numerous times before and has looked capital-S stunning on every occasion. The only difference with this one is the girl and the dress and the timing will all come together in a perfect storm of unstoppability.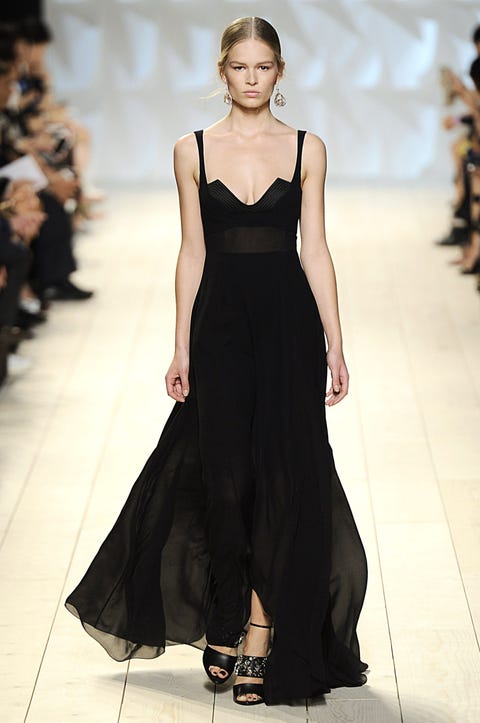 Dress: Nina Ricci Spring 2015, Star: Reese Witherspoon
Remember that yellow dress with the red shoes? This is that but less "suck it, Ryan" and more "I'm coming into my own, and everybody's happy about it."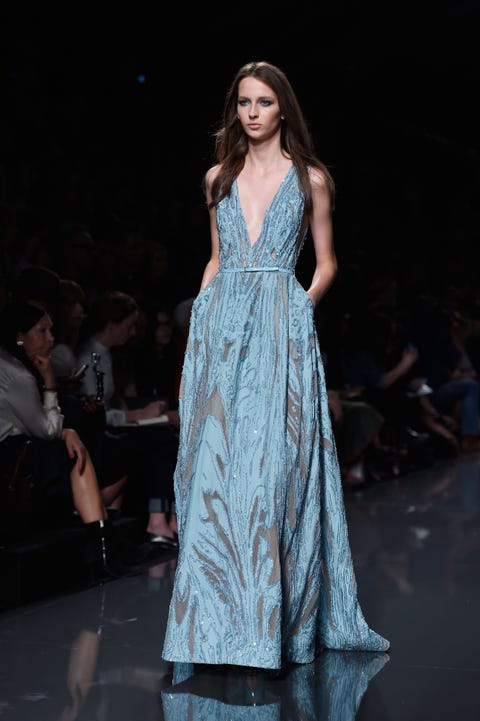 Dress: Elie Saab Spring 2015, Star: Shailene Woodley
It's not terribly fussy, has pockets, and comes in a shade that would look nice against Woodley's skin tone. What's not to like?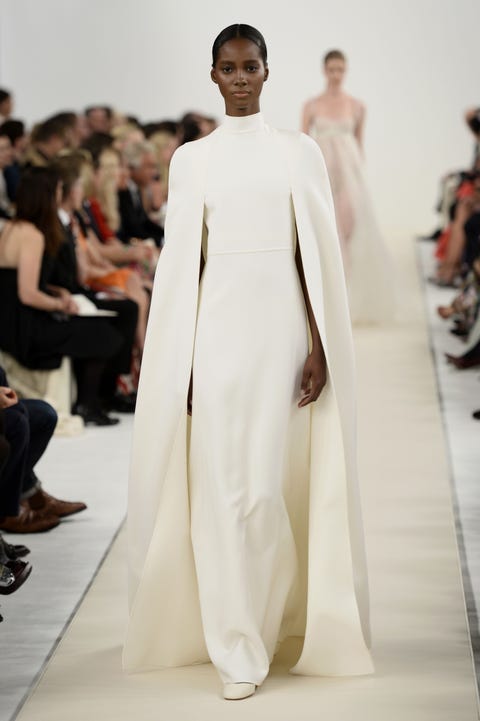 Dress: Valentino Sala Bianca Couture, Star: Tilda Swinton
Everyone else's bets are on another Haider Ackermann suit thingamajig, but wouldn't this stark white caped dress look killer on her?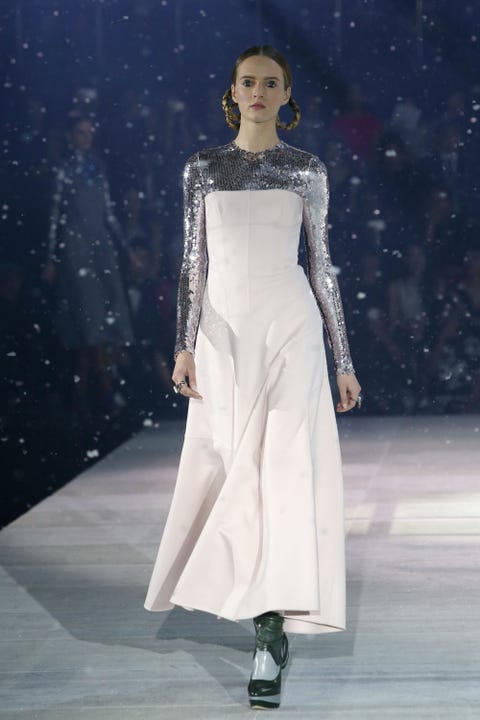 Dress: Dior Pre-Fall 2015, Star: Marion Cotillard
You know she has the balls to do it, down to the creepy-doll lashes.
This content is created and maintained by a third party, and imported onto this page to help users provide their email addresses. You may be able to find more information about this and similar content at piano.io