15 Times Lily James Was Cinderella in Real Life
As Lily James makes yet another appearance bearing an uncanny resemblance to her on-screen Cinderella character—the star, who also stuns in Lifetime's binge-worthy adaption of War & Peace, reaffirms in our minds that she's about as close to a modern day Disney princess as it gets. From her swoon-worthy gowns to today's iteration of the glass slipper, let's count the ways she's making all of our childhood fairytale fantasies come to life.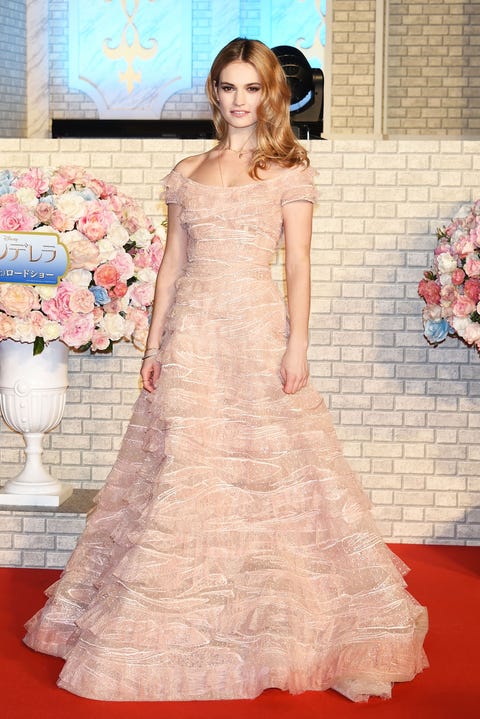 All eyes are on James in this frothy, off-the-shoulder Elie Saab Spring 2015 couture gown in an enchanting shade of blush pink.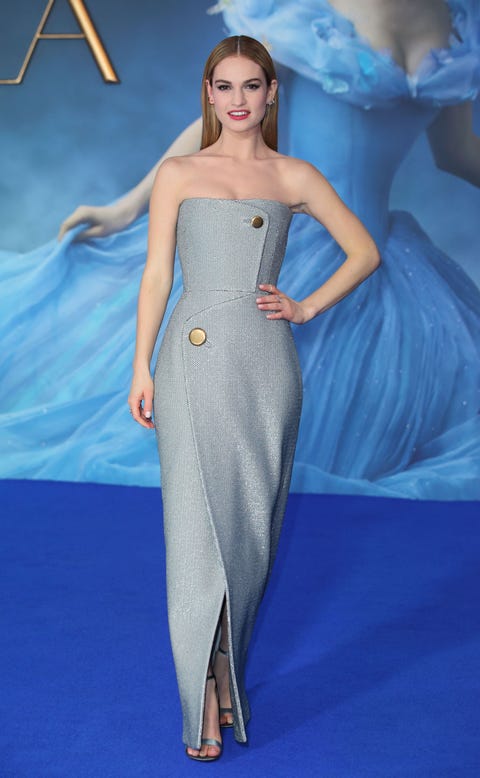 This Balenciaga bustier gown may be a departure for a Disney princess, but to quote one of our editors, "it's bespoke, which is a fairy tale within itself."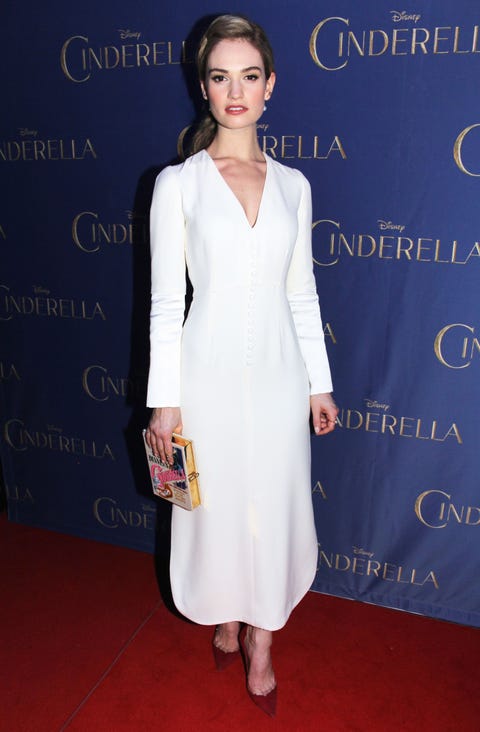 James is utter Princess-like perfection in this ivory, button-down silk Dior frock, but it's the Olympia Le-Tan 'Cinderella' book clutch that's the ultimate ode to the rags-to-riches heroine.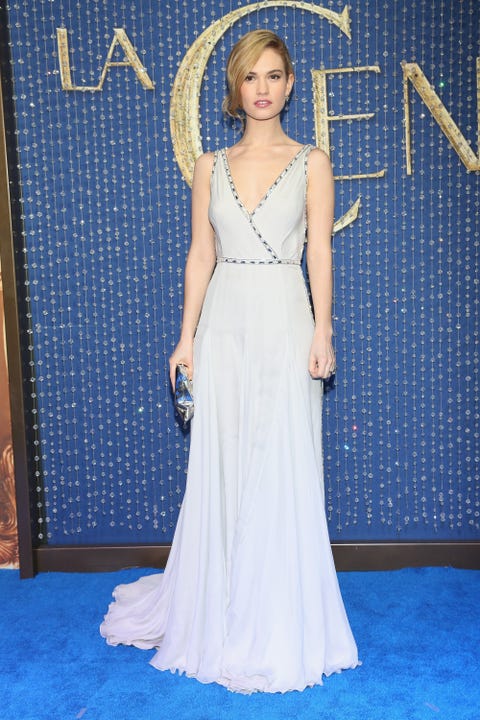 She dons a custom blueish-grey Prada gown with a bead-embellished bodice paired with a silver, tongue-and-cheek Anya Hindmarch Crisp Packet clutch.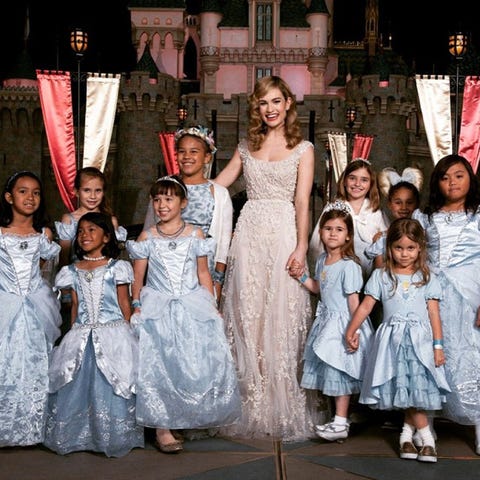 Surrounded by mini-Cinderellas, James wears an Elie Saab Couture gown with ornamental bead detail and a sweeping skirt at Disneyland Resort.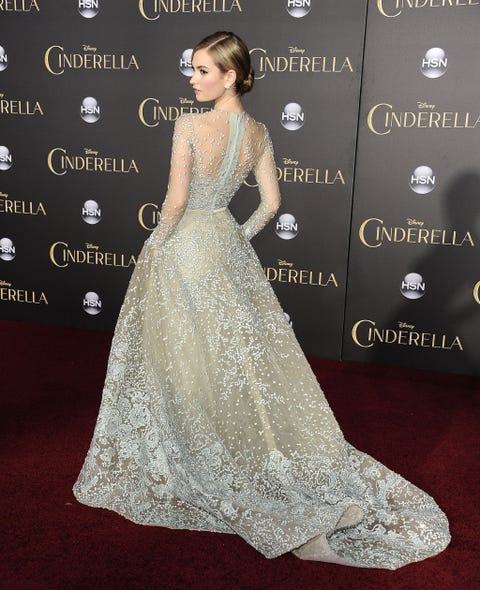 It doesn't get more magical than this Elie Saab Fall 2014 belted couture gown with enchanting embroidery and sheer detailing.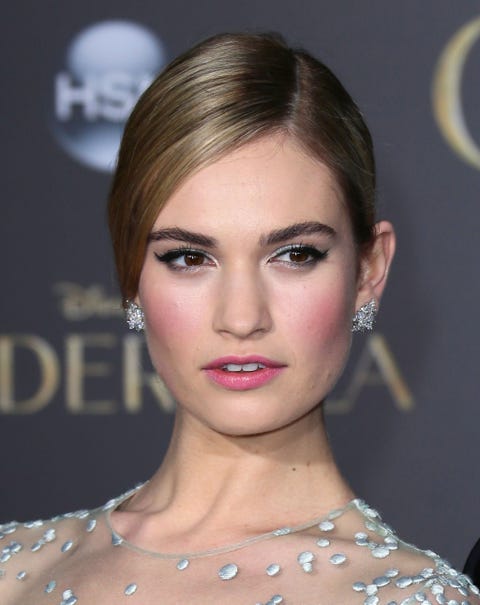 This is just how we imagine animated Cinderella's makeup translating on the red carpet: soft pink lips, blushing cheeks, and a subtle cat eye.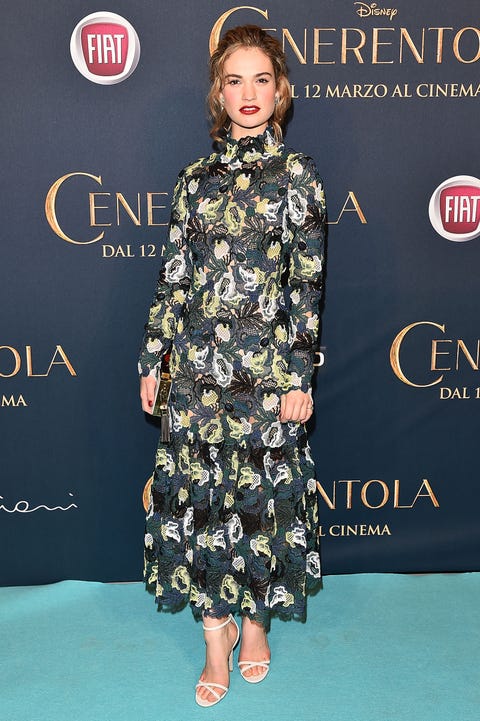 There's something utterly romantic about this floral-embroidered Erdem Spring 2015 dress with its Victorian-style neck detail. Extra points for those soft, curled tendrils framing her face.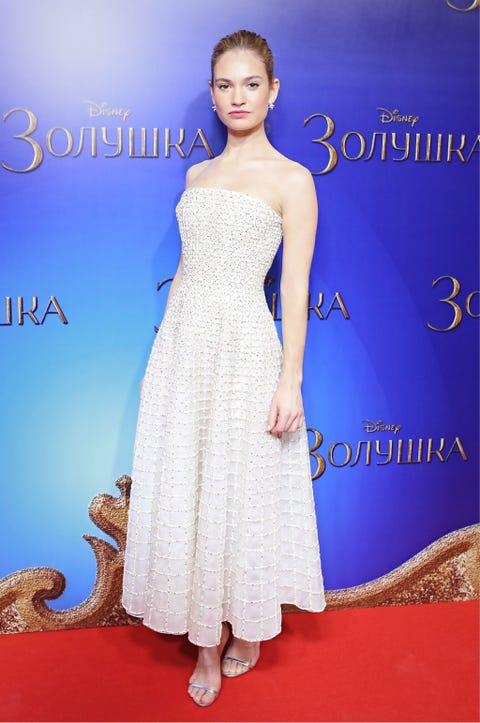 Simple, yet totally dreamy, this Nicholas Oakwell Spring 2014 Couture collection dress is ball-worthy with it's fitted bodice and full skirt.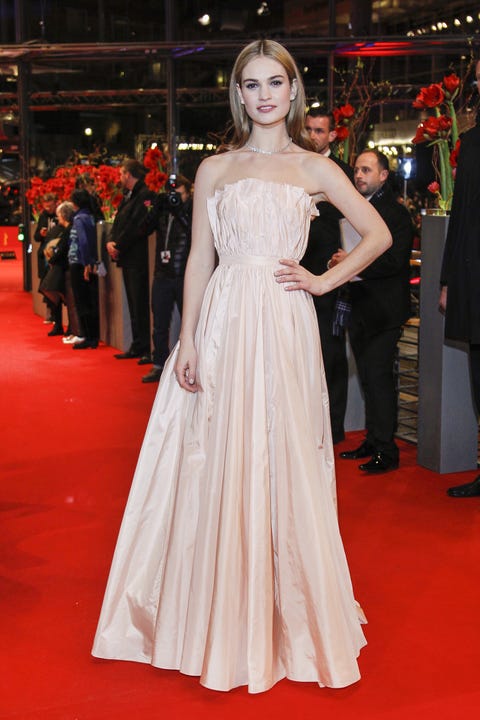 We deem this Christian Dior look "Cinderella takes the ballet," with its ultra-light pink hue and elegant waistband detail.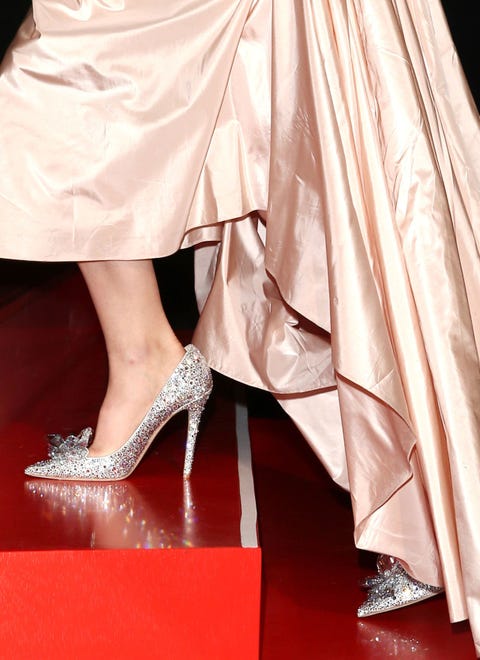 These Jimmy Choo "Cinderella" heels were commissioned especially for James. They're not made of glass (a safety precaution, we're sure), but rather encrusted with an eye-popping amount of crystals.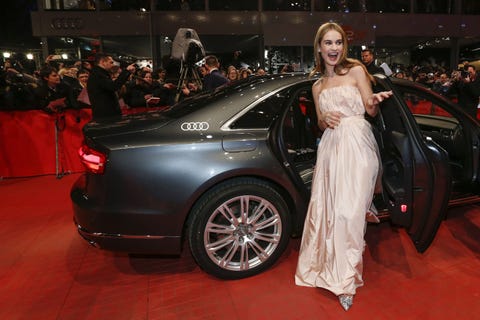 We'll consider this Audi a modern day carriage.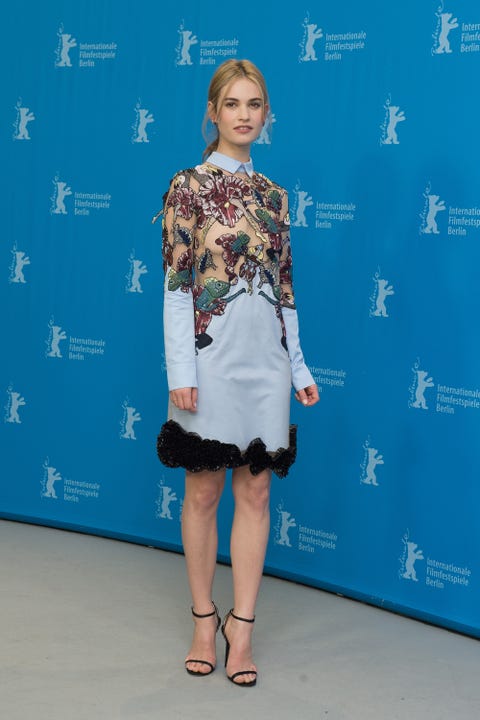 We can't help but think this baby blue Mary Kantrantzou frock with bold floral embroidery is exactly what Cinderella would wear to a garden party.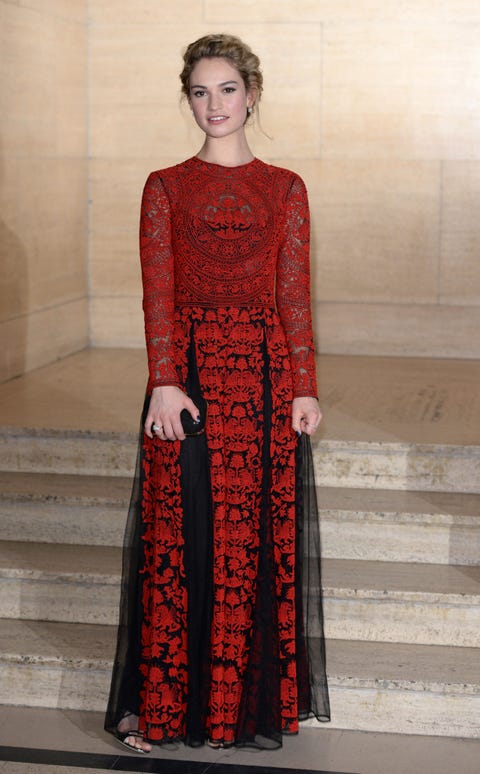 If the princess took a dark turn, there's no doubt in our mind she'd be wearing this Valentino Spring 2014 number with its ornate, scarlet-hued embroidered and black tulle skirt.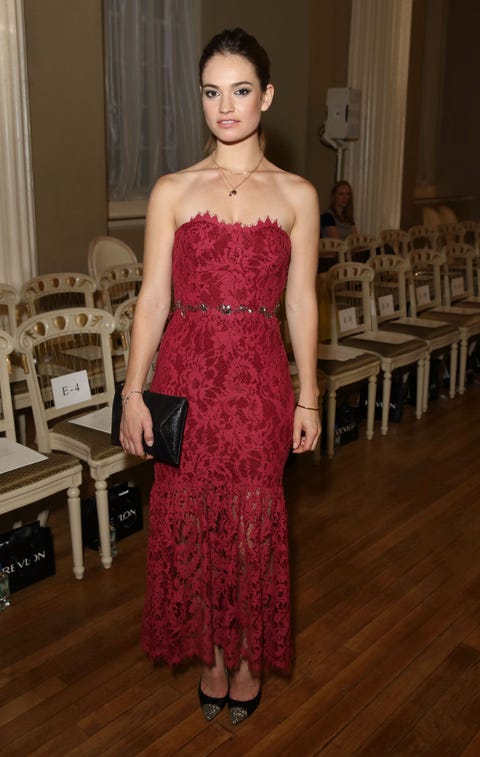 Marchesa always seems to have a princess-like feel, but there's something especially wondrous about this magenta sweetheart dress with lace skirt overlay.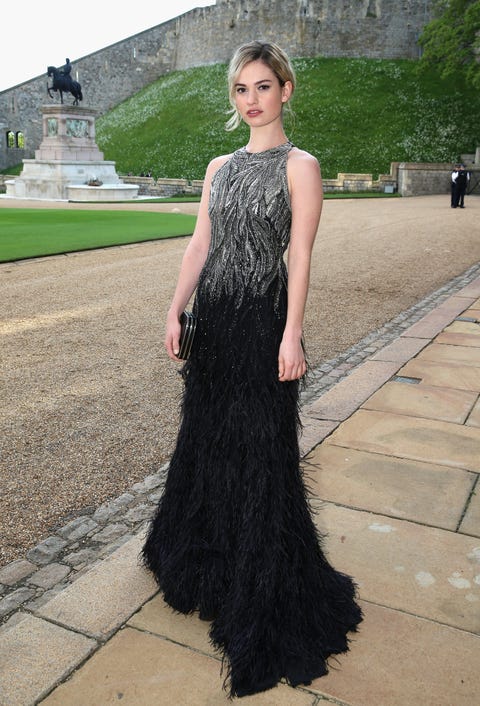 Aside from the fact that she looks right at home in front of an actual castle, James is the epitome of regal in this silver and black Ralph Lauren gown with rich plume detail on the skirt.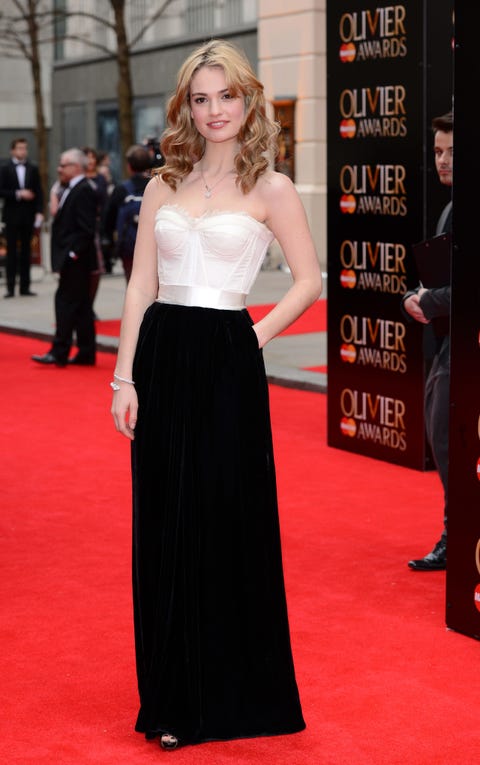 James channels a royal in this black and white gown with a waist-cinching bustier and velvet skirt.
Despite its gothic vibes, James makes this lace Dolce & Gabbana frock look simply idyllic.
This content is created and maintained by a third party, and imported onto this page to help users provide their email addresses. You may be able to find more information about this and similar content at piano.io