The Lost Art of Getting Ready: 18 Pretty Pictures of Women Primping
It's a sacred ritual.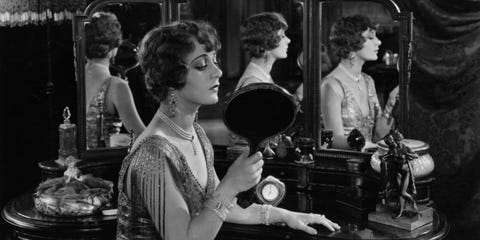 Getting ready is fun, but it's infinitely better when you've got the luxury of time. And that's where ladies of the past have us beat, thanks to our always-on-the-go lifestyles. While they may just be pipes dreams for our poor, not-a-second-to-spare souls, we can't help but swoon over the lost art of getting all dolled up. Take a peak at beauty rituals throughout the years.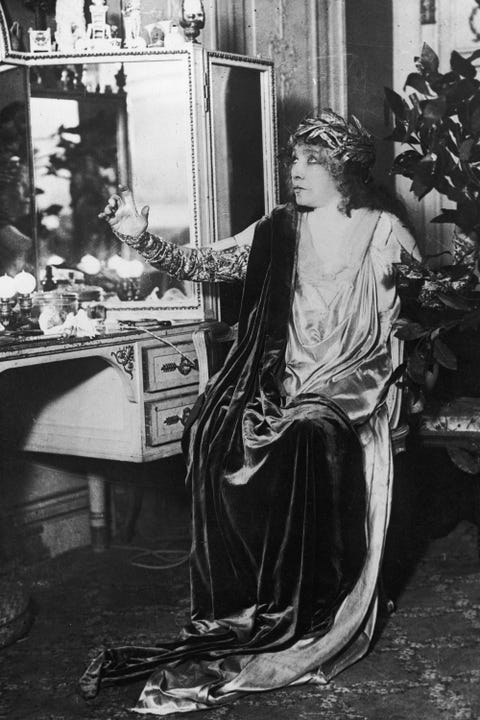 Sarah Bernhardt, 1923
While starring in the play A Gloire, the French actress had a dressing room as luxurious as this. We can only imagine how glam her home was.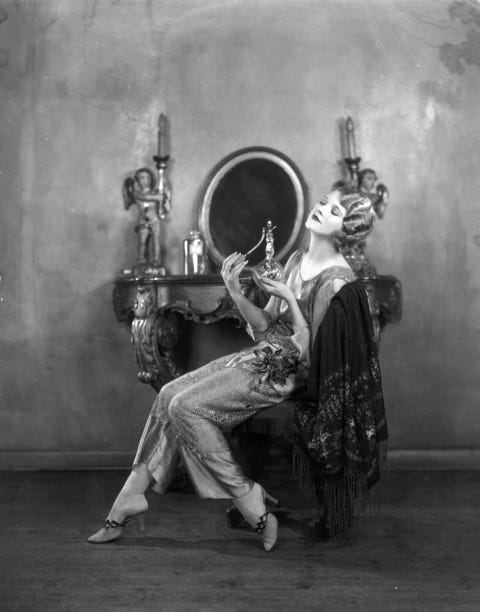 Thalia Barbarova, 1925
The actress applies her perfume in dramatic fashion, but can you blame a woman with a vanity table as stunning as that?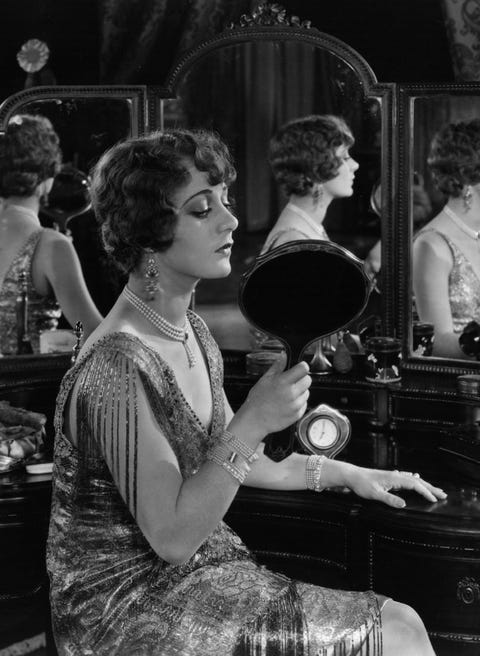 Helene Costello, 1925
The silent screen star proves you can't have too many mirrors when getting ready, since you've got to cover *every* angle.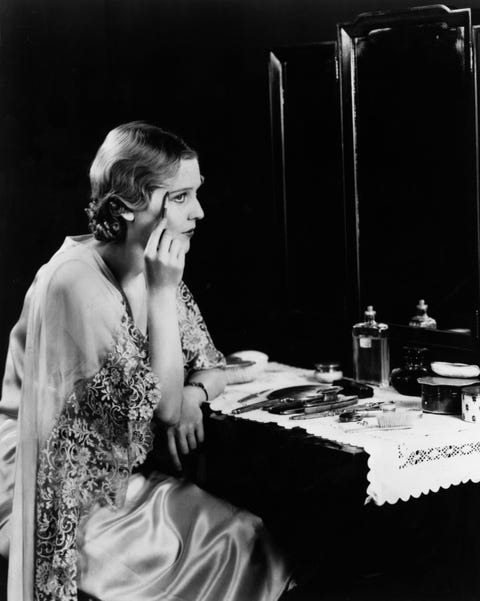 Miriam Seegar, 1930
Wearing a frilly, lace dressing gown, the actress pencils in her brows at her vanity with plenty of beautifying tools at arm's reach.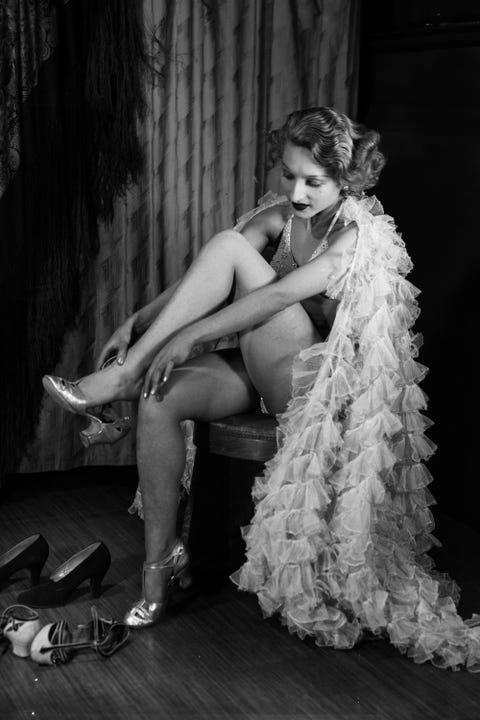 Unknown Woman, 1930
When you can't decide what shoes to wear, the least you can do is cloak yourself in ruffled silk while biding the time.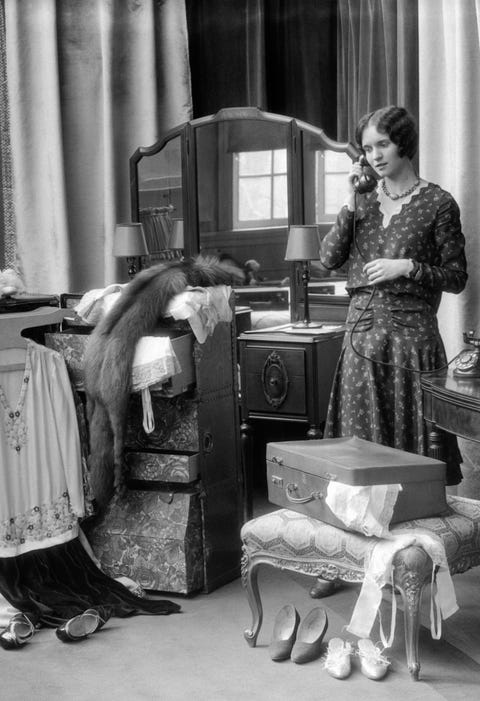 Unknown Woman, 1930s
This woman not only has a mirrored vanity, but she has a dressing trunk at the ready with plenty of outfit options. #Jealous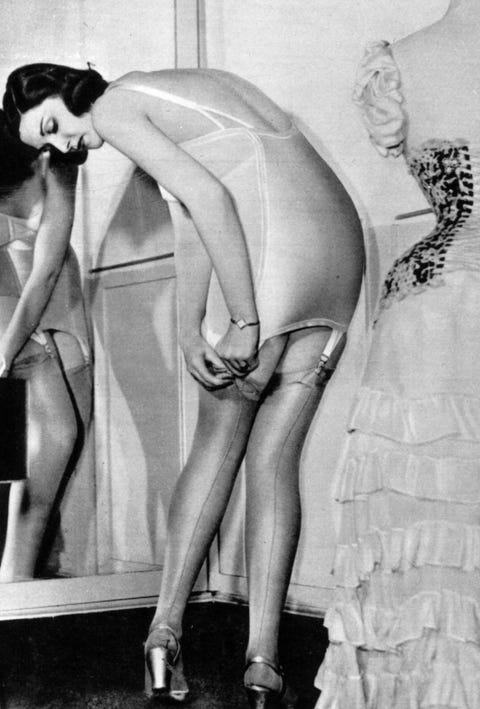 Unknown Woman, 1938
While fastening her stockings, her outfit waits patiently on its dress form.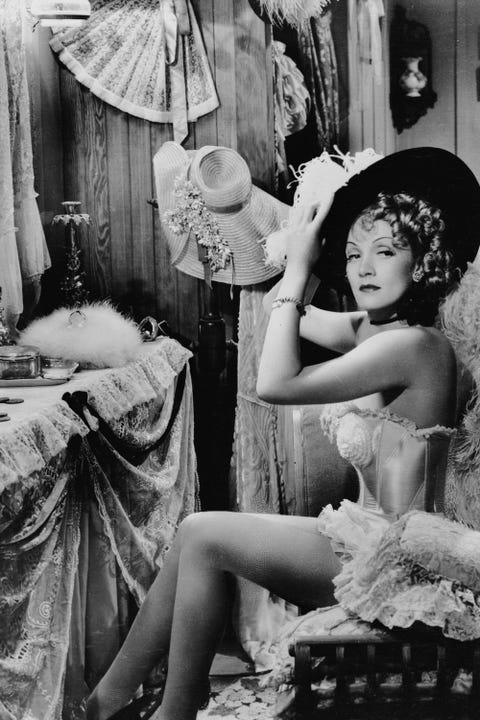 Marlene Dietrich, 1939
Marlene Dietrich gets ready in French fashion on the set of her film Destry Rides Again.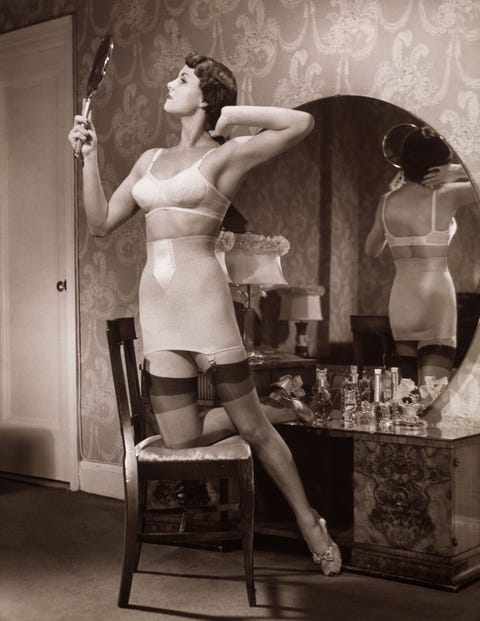 Unknown Woman, 1940s
Clad only in a bra and stockings, she checks out her hair (and possibly her derrière) in the mirror.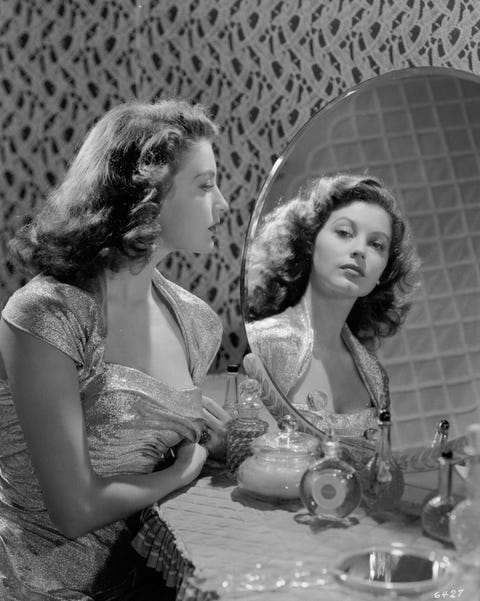 Ava Gardner, 1944
Gardner is very casual as she dons a sparkling stunning evening gown while sitting at her vanity.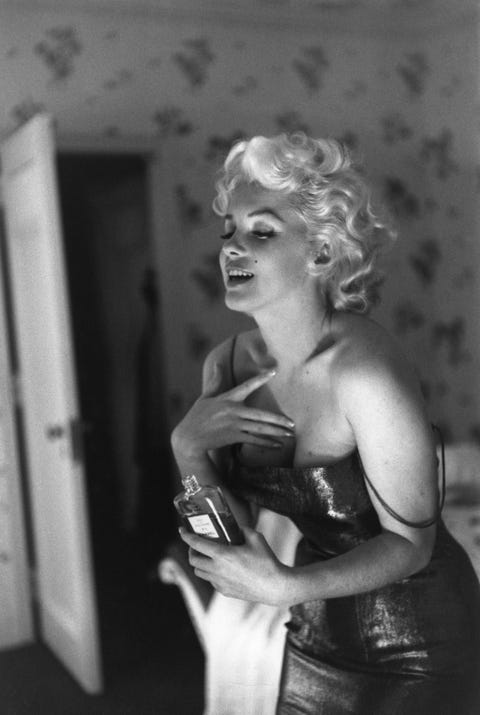 Marilyn Monroe, 1955
Before heading out to a show, Monroe applies her signature Chanel No. 5 to her décolletage.
Showgirl, 1941
A frilly showgirl adjusts her headdress before hitting the stage.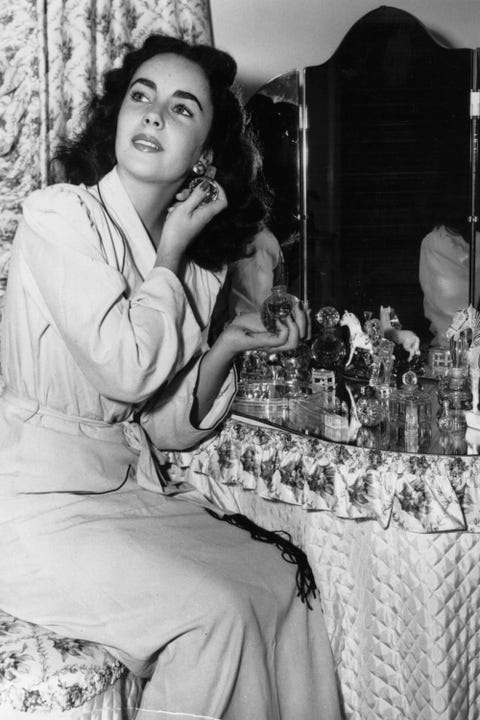 Elizabeth Taylor, 1948
Liz lounges in a cozy robe as she gets ready at her dressing table, which features an assortment of perfume bottles and glass knick-knacks.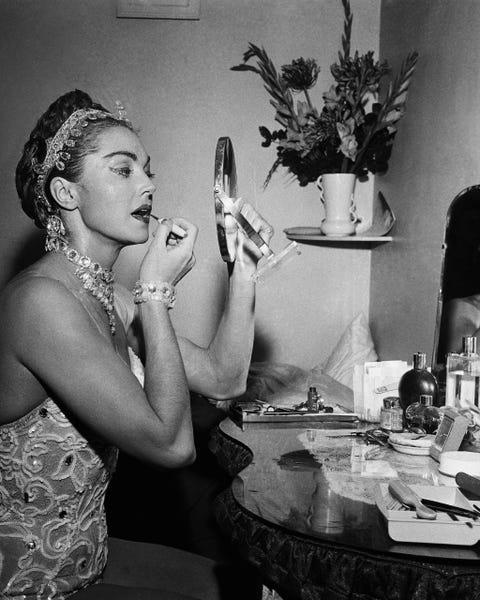 Esther Williams, 1956
The famous swimmer does some last minute touch-ups in her sparkly outfit.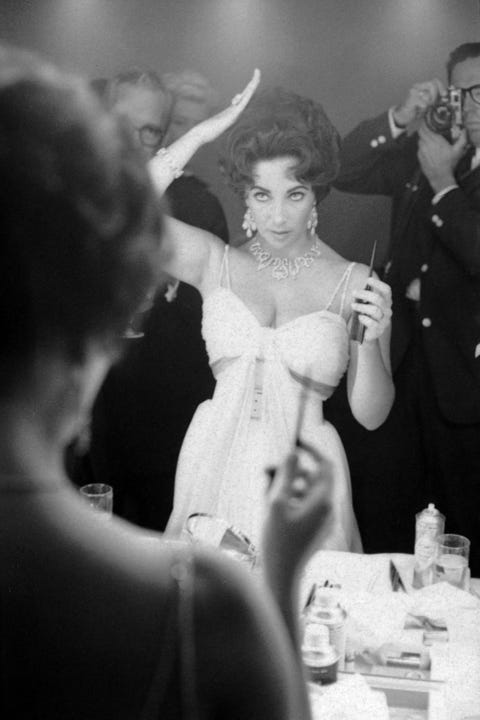 Elizabeth Taylor, 1959
Photographer John Bryson snaps a mirror image of Taylor as she gives her teased updo one last pat before heading out.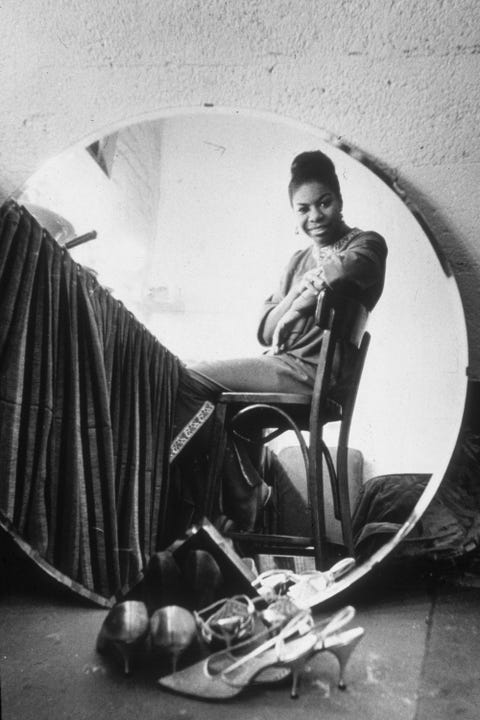 Nina Simone, 1965
The singer mulls over her shoe options while posing for a portrait inside her dressing room.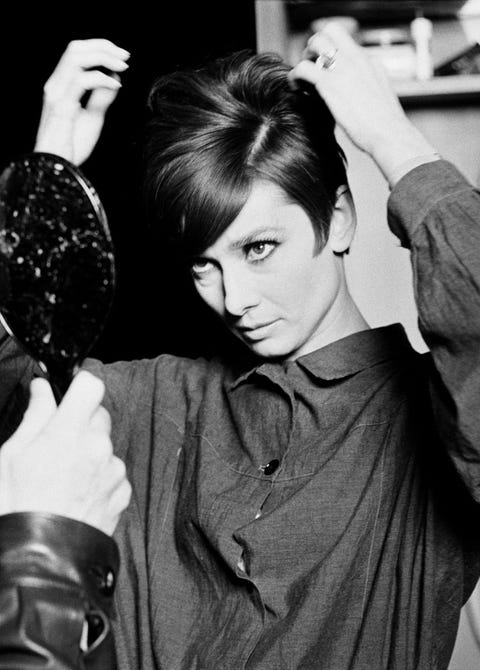 Audrey Hepburn, 1966
On the set of How To Steal A Million in Paris, Hepburn tends to her cropped tresses with the help of a handy hand mirror holder (where can we get one of those?).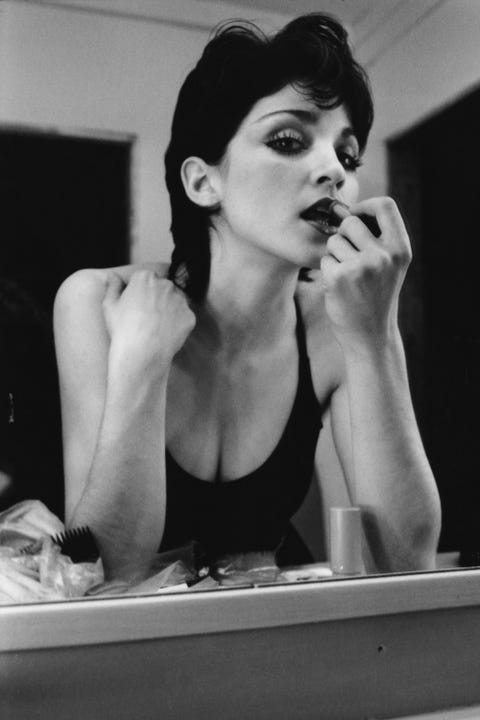 Madonna, 1979
A newly-minted New Yorker, the Material Girl touches up her signature red lipstick in her dressing room.
This content is created and maintained by a third party, and imported onto this page to help users provide their email addresses. You may be able to find more information about this and similar content at piano.io