What the Oscars Are Really Like: A Behind-the-Scenes Diary from the 2016 Academy Awards
Marie Claire senior fashion editor and E! correspondent Zanna Roberts Rassi shares her exclusive POV from Oscar day.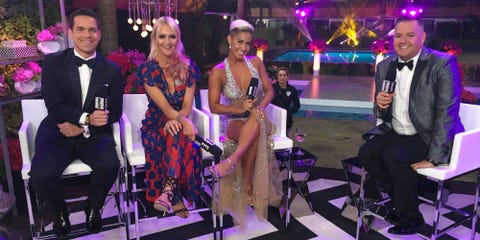 We can all imagine what it's like to walk a red carpet (who among us hasn't fantasized about hanging on Leo's arm in a big sparkly dress?), but what about what it's like to cover one? As an on-air correspondent for E!, Zanna Roberts Rassi has a totally unique take on the Oscars—from 6 a.m. to midnight, she's running around the red carpet and the after-parties, and then is back on air the next day to recap it all. Here, her diary from the whirlwind 24 hours.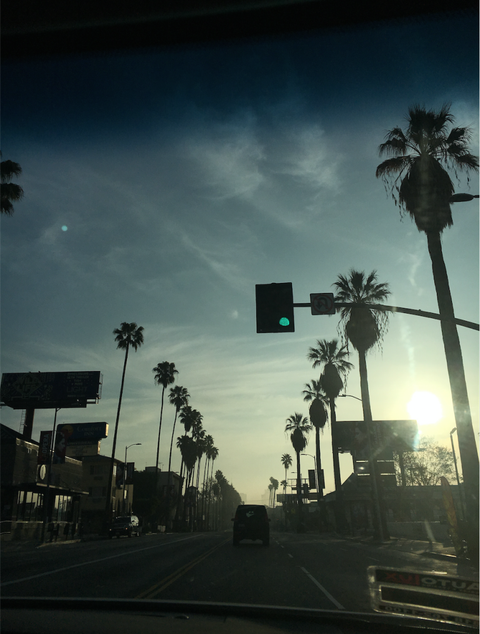 6 a.m.: Dawn on Sunset Blvd.
We are on our way to the famous Roosevelt hotel, our base camp for the next 16 hours. E! has the entire hotel covered with 20 on-screen talent and hundreds of behind the scenes crew.
7 a.m.: High maintenance? Moi!?
I arrive with Nat and Kate—my right and left arms. Yes, this is all luggage for one day! Roughly 15 pairs of shoes, $100,000 worth of diamonds, and 10 designer dresses. If I weren't so busy, I'd feel like a spoiled princess.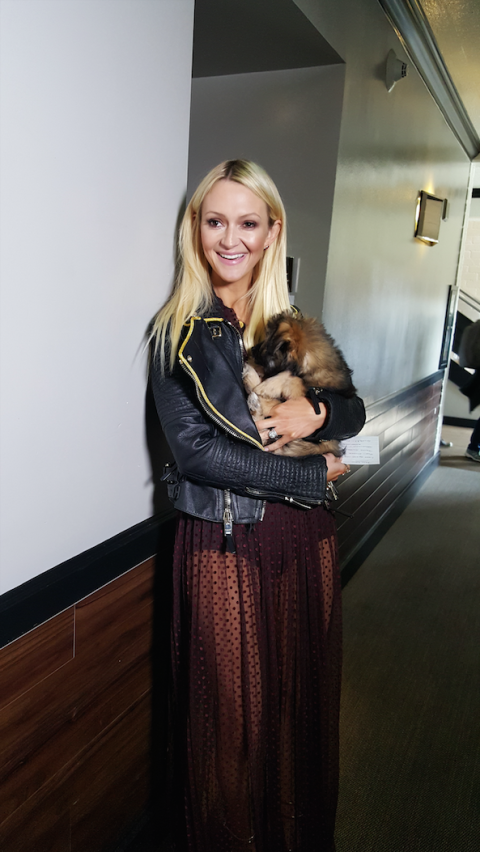 9 a.m.: Pups
You never know what to expect on set for E!'s Oscar warm-up shows. In the past we've had tigers and monkeys, but today we are sticking with puppies form the Wags and Walks shelter. Ahhhhhh.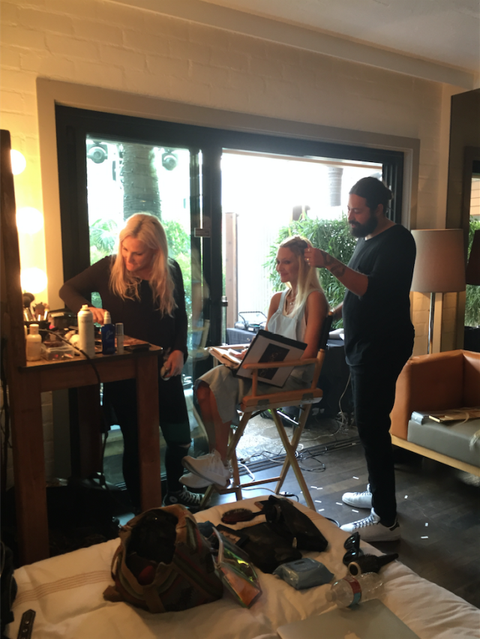 9:30 a.m.: Glam squad
Hair and makeup masters. I'd be a wreck without Jake Sherwood and Jennifer Budner.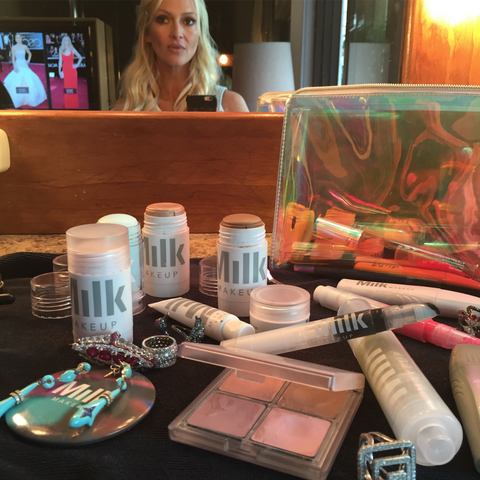 9:45 a.m.: The loot
For my day look I want molten bronze...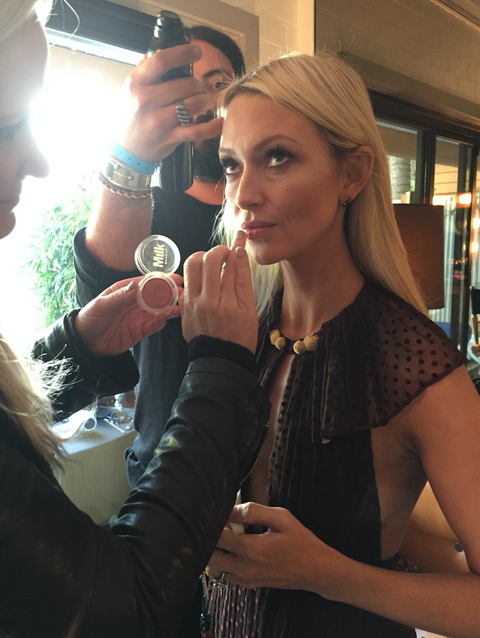 9:55 a.m.: Finishing touches
...and for nighttime I'm feeling badass Bardot.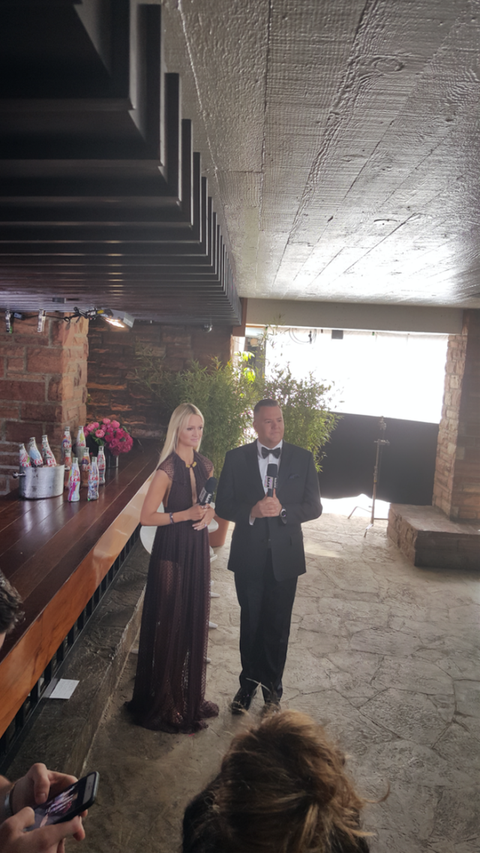 10 a.m.: Icons
My first segment of the day (the last one will be in about 12 hours) is with my friend Ross Matthews (AKA the energizer bunny). He and I break down three of our favorite unique and iconic red carpet stars. As always, I've done my journalistic due diligence and go on to wax poetic about Cate Blanchett and her fashion insomnia, Kerry Washington and her midnight Oscar fittings, and J.Law's promises to shake things up on the carpet.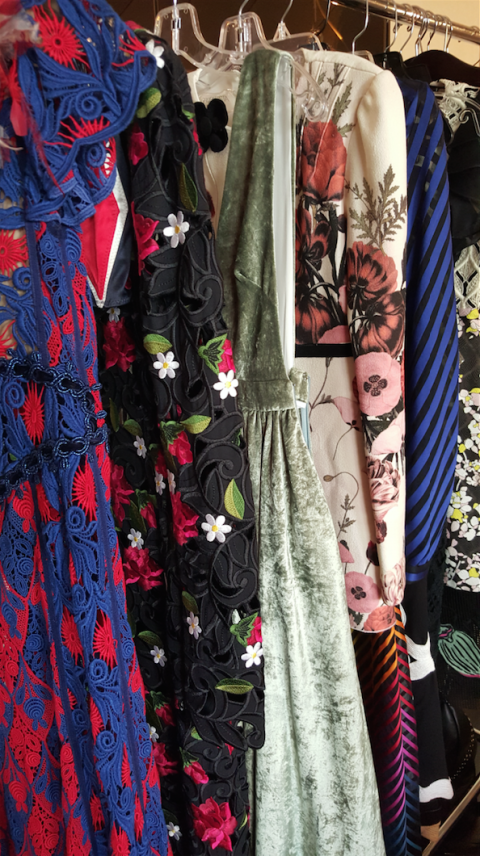 11 a.m. – 4 p.m.: 007
Sadly I can't use this five-hour gap to try on clothes and play dress up! We have to get our journalism on! Nat, Kate, and I sit in the hotel room calling, emailing, and direct messaging our Image Maker friends who are creating the looks that are about to hit the carpet. I speak to friends who are making up faces, crafting hair styles, and dressing Oscar nominees. Not that I would EVER spill before the stars walk the carpet, but once they do, I'm loaded with the inside info.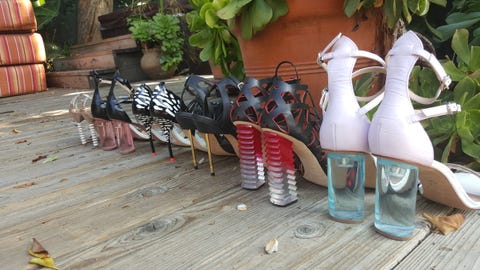 12 p.m.: Shooooes
Quick break to ogle the footwear options we've brought along.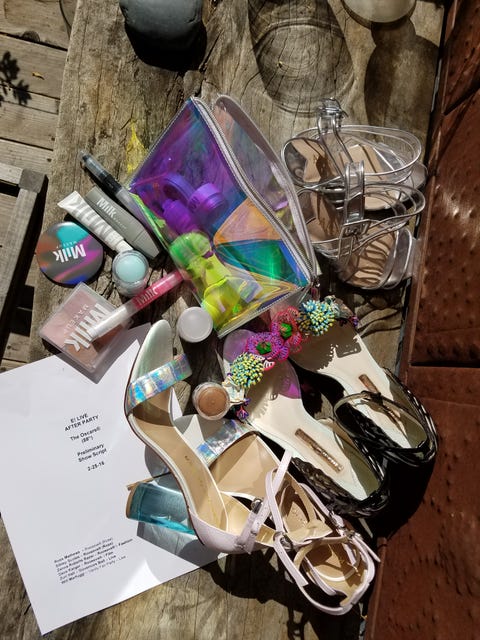 2 p.m.: Reality
This is what life *actually* looks like when you're getting ready.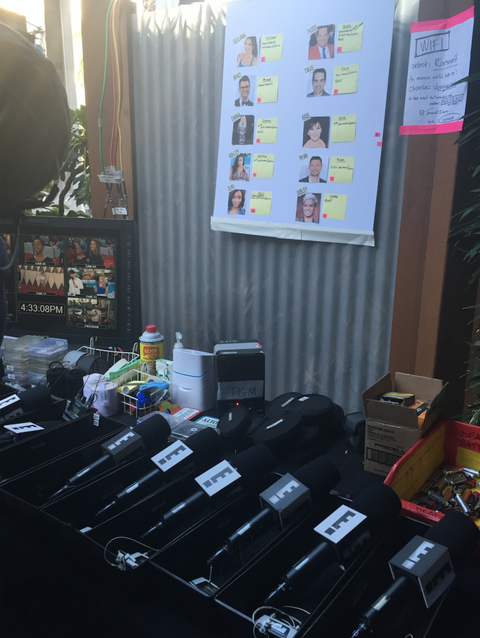 4.30 p.m.: Live from the Red Carpet!
Kris Jenner and I get mic'd up together. She is an eternal pro. She is early, lovely to everyone, and wearing a sick Balmain (that she found in her closet!). We chat about red carpet looks and what excites her most about today: getting home to all the other K's and putting the salmon in the oven! She's such a mamma bear.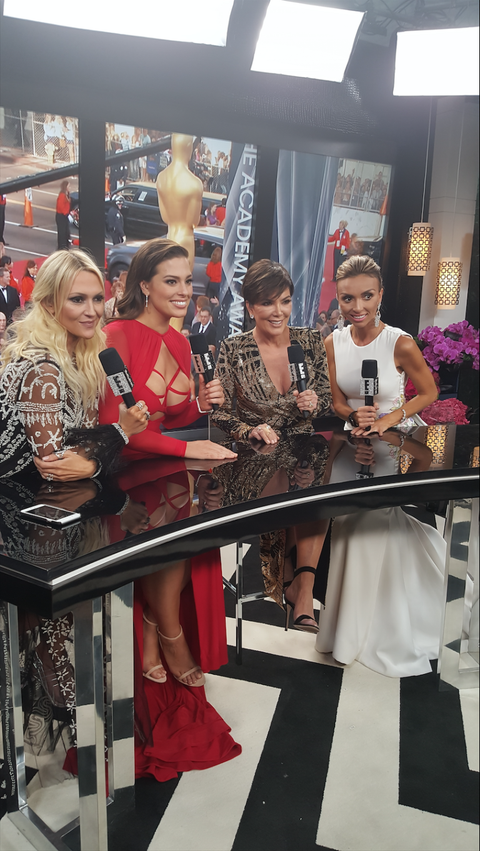 4.30 - 5.30 p.m.: THE great debate
My fashion highlight though is when Kris Jenner takes the black feather (detachable) collar of my Valentino dress and puts it around her neck as a joke. She later tells me Kim was watching from home and started texting her to take it off as she "looks ridiculous!" Always got each other's backs, that Kardashian fam!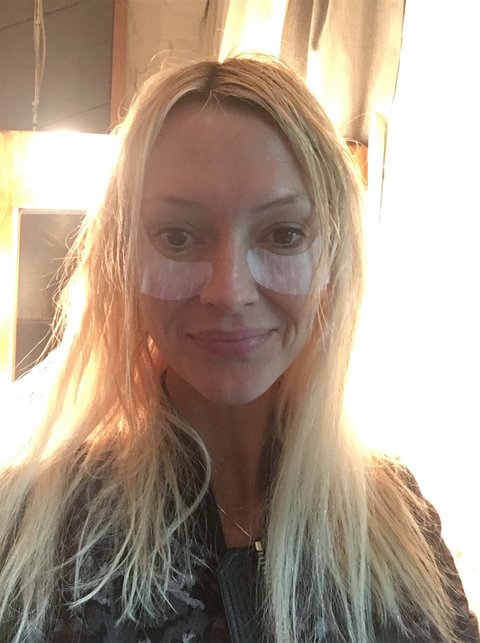 5:45 p.m.: Mid-day pick-me-up
Eye masks make everything possible.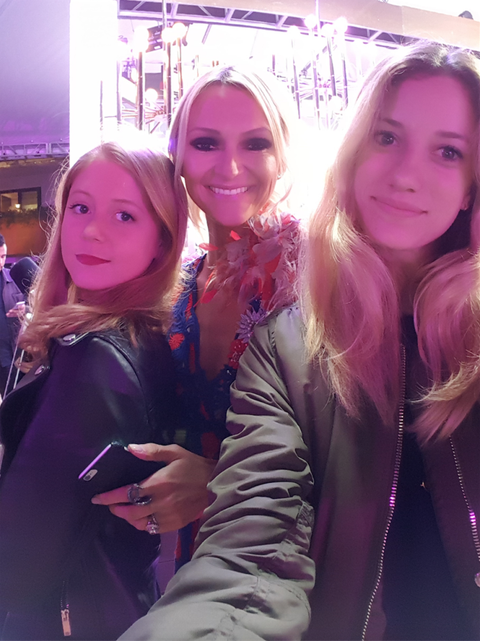 6 - 8 p.m.: Multi-tasking machines!
Whilst changing hair, makeup, and dress, I'm on the phone with the Today Show preparing for the next morning's show, speaking to stylists and hair and makeup friends whose clients have walked the carpet, learning scripts, and Face Timing my babies… (who absolutely think mummy is mad). And of course, everything we do is snapped, grammed, or tweeted—a job in itself!! Thank you Nat and Kate for making it all happen.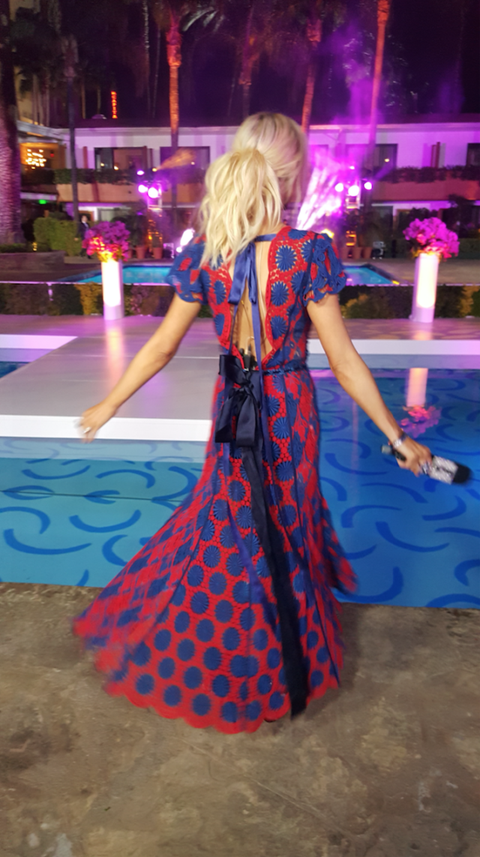 8:30 p.m. - 10:30 p.m.: After pardeeee
Nope, not Leo's (although we were totally invited to that)—it's the E! after party. I choose to wear a Marc Jacobs S16 dress. It's bright (my bosses love that as it's great for TV). Our show starts as the Oscars finishes. We chat, we giggle, we dissect some more fashion and we sip on bubbly. I feel like I'm in the pub rather than on live TV in front of millions.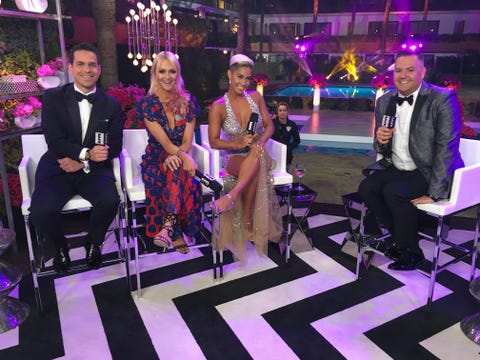 8:45 p.m.: Having too much fun on the air
Dave Karger, myself, Sibley Scoles, and Ross Matthews!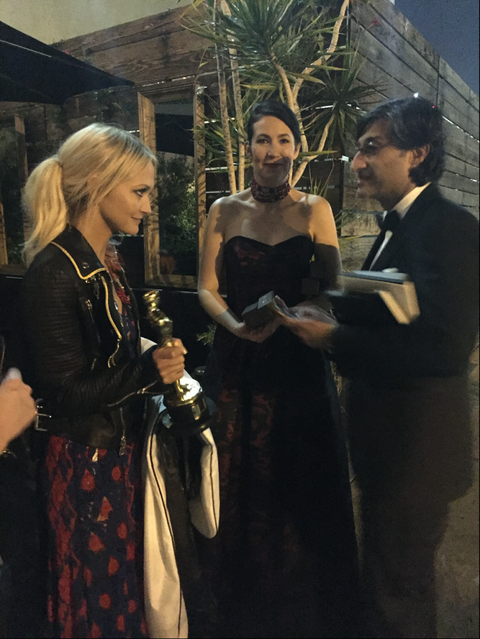 11 p.m.: Oscar heist
On my way to the car I bump into Asif Kapadia and his lovely wife. I shamelessly borrow his Oscar for a shot. It's weighty! 8lbs so I'm told. Asif, Thanks for letting the crazy English chick borrow your moment! Home bed. Can't sleep.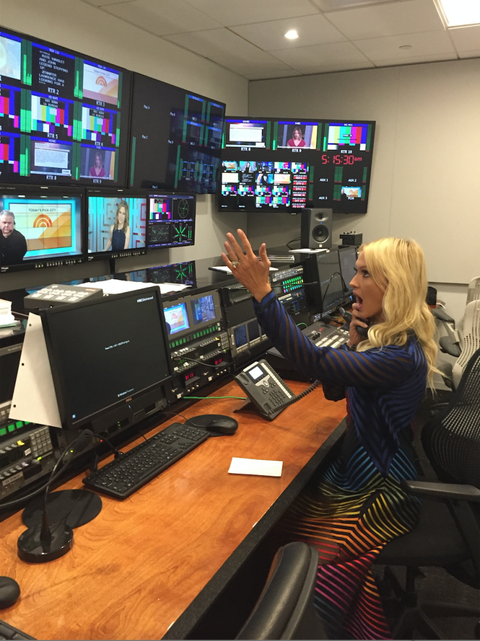 3 a.m.: Burritos with Al Roker
No sooner have I got to sleep than my alarm rings. Back in a car to Universal Studios to go live on the Today Show. But before that I eat burritos with Al and Natalie and hang out in the control room (delirious!).
I chat fashion hits and misses over satellite (which is harder than it looks!!) with the wonderful Savannah Guthrie and June Ambrose who are in the NYC studio.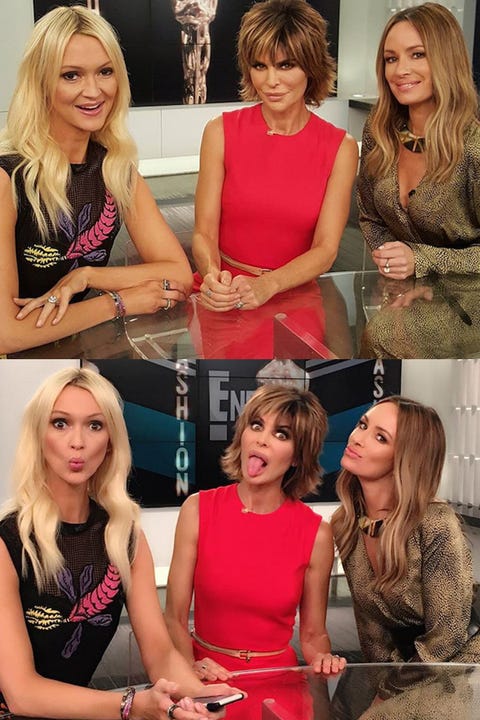 6 a.m.: Back on E!
On to E! News to film with my wonderful friend Catt Sadler and my new friend Lisa Rinna. The final verdict:
My best dressed:
Olivia Wilde, Rooney Mara, Cate Blanchett, and JLaw.
RC trend we should all embrace:
Fashion – Baring our shoulders
Makeup – A deep saturated lip color.
DROP MIC.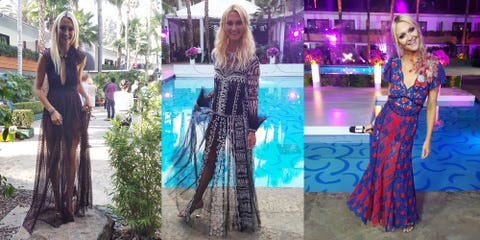 Big thanks to the designers!
From left to right: Burberry, Valentino, and Marc Jacobs.
This content is created and maintained by a third party, and imported onto this page to help users provide their email addresses. You may be able to find more information about this and similar content at piano.io