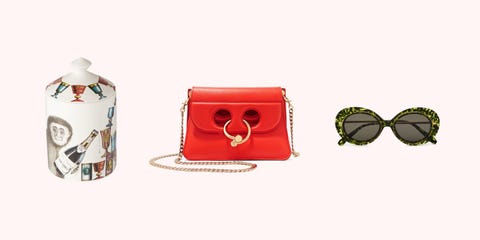 On this National Best Friend Day (real), why not show your appreciation for your day-ones by giving them stuff they secretly want but would never buy themselves? Or stuff they secretly want but you also secretly want—to borrow? Below, 12 very nice things for your very best girl (or Biden).
Does she need a lavender vinyl minidress? Yes. Do you know her size? Also yes, because you are a good friend.
BUY IT: Alexa Chung, $595; mytheresa.com.
Buy another half-moon clutch in pink so two halves can become a whole. Symbolic, no?
BUY IT: Bando, $55; bando.com.
Everybody and their pilates instructor's cousin has the one with the woman's face on it. A drunk monkey is way more fun.
BUY IT: Fornasetti, $175; mrporter.com.
Because she's been Googling "jade roller" and "puffy face" for too long not to own one.
BUY IT: $14, amazon.com.
If you can seriously consider buying this as a gift for an extremely lucky friend: Wanna hang sometime? If you can't: Wanna hang sometimes and go splitsies on this?
BUY IT: J.W. Anderson, $1,480; net-a-porter.com.
Half her saved Instagram posts are of these nifty mules anyway.
BUY IT: Mari Giudicelli, $605; thedreslyn.com.
Squint. (It says "bullshit," which succinctly describes what you two do whenever you're together.)
BUY IT: Monogram, $65; monogramstudio.com.
Then immediately book a vacation together.
BUY IT: Nannacay, $175; needsupply.com.
So she can keep catching flights, not feelings.
BUY IT: Parachute Home, $169; parachutehome.com.