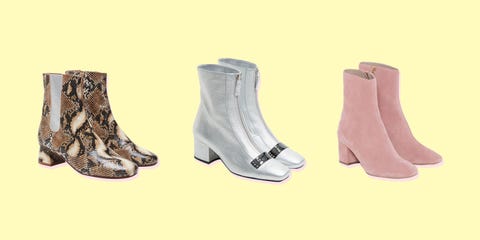 To know just how great socks are, just try wearing a pair of closed shoes for a whole day without them. Gross. But while most summer shoes come with a bit of ventilation, sometimes you still require the sturdiness and durability of a boot. (WITH SOCKS.) Here, 10 pairs with a bit of lightness—whether that's reflectiveness or pink or snakeskin—so they won't send you straight back to deepest winter. (Though you could definitely wear them then too.)
Shout it from the rooftops: Get you a white boot.
ASKA Collection, $450

BUY IT: askacollection.com.
And a white boot you can get really muddy at a festival this summer.
Jeffrey Campbell, $55

BUY IT: urbanoutfitters.com.
Like a long-ago designer's vision of what we'd be wearing in 2017. And he'd be right.
Dorateymur, $326

BUY IT: needsupply.com.
An Isabel Marant renaissance is coming.
Mango, $60

BUY IT: shop.mango.com.
With a Chelsea-boot elastic inner and a wider opening to flatter legs, preferably bronzed, but more likely bruised.
Finery, $215

BUY IT: finerylondon.com.
Almost as good as sitting under a trellis, but you can still get that lattice effect with the woven upper.
Zara, $45

BUY IT: zara.com.
Hurry! Only a few sizes left 😁.
Brother Vellies, $248

BUY IT: thedreslyn.com.
When you want that lipstick-slick pop without having to give up slurping your drinks.
Topshop, $140

BUY IT: topshop.com.