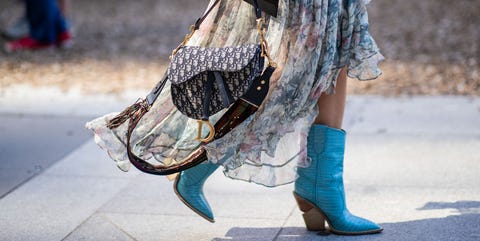 Christian Vierig
Getty Images
Summer boots might seem like an oxymoron. Sure, your instinct is to let those toes wiggle free in the sunshine. But, have you ever examined your feet at the end of a long day outside? Ten bucks says they're dirty and covered in dust and debris from walking around all day. (Yeah, gross.)
That's where boots come in. Many styles now come with ventilation designed right in, so you don't have to worry about overheating. Plus, booties pair especially well with dresses, skirts, and denim shorts (as proven on the runways and by street style stars). You can even find them in all colors, from stark white to gentle yellows and lilacs. Dare I say the "cooler" way to dress up your favorite maxi skirt is with a boot, not a pair of sandals.
Here, 13 boots with a bit of that summertime fun, so they won't send you straight back to deepest winter dread. (Though you could definitely wear them then, too.)

No colored boot is more versatile for summer than white. It's a blank canvas for you to wear with floral dresses, denim midi skirts, and lightly-washed distressed jeans. This kitten heel gives you a little elevation without the foot pain and the smooth design makes it look way more expensive than its $120 price tag.

2
Huxley High Ankle Boots
Topshop
topshop.com
$140.00
Go sockless! This pair, which looks like a cross between a sandal and a mule, features a backless cut and ankle straps. The design also has a western influence for those who want that vibe, but aren't in the market for an actual pair of cowboy boots.
3
Original Nebula Short Rain Boots
Hunter Boots
hunterboots.com
$150.00
On the off-chance it rains, you'll be equipped with these iridescent boots from Hunter. Depending on how the light hits them, you'll see reflections of pink, yellow, gold, and maybe even green. These mermaid-like hues are sure to brighten up your summer day even if the sun decides not to show.
4
1460 Pascal 8 Eye Boots
Black combat boots may be your go-to for winter, but for summer try something lighter like this blue moon hue. This, coupled with the coffee-brown sole gives the boot a freshness for the season. You can style it with white denim shorts or under a flowing maxi dress for an edgy-cool look.
5
The Brady Lowcut Bootie
Madewell
madewell.com
$168.00
Rejoice! You can finally expose your ankles and legs without facing frigid gusts of wind. Celebrate with this super low-cut bootie—it'll pair seamlessly with whatever you have in your warm-weather wardrobe. It's almost like wearing your favorite ballerina flat, except with more cushion, padding, and a heel. Plus, the slip-on style is the ease we all want for summer.
Kate Spade
katespade.com
$498.00
Your outfits will never lack color with this lavender knee-high boot from Kate Spade. Spotted on the runways under maxi dresses, this style of shoe is best worn with a floral print for that '70s vibe. Come fall, it'll pair just as easily with tights and a knitted cream dress.
7
Booties With Western-Style Cutouts
Don't ask us to give up our suede brown booties because we won't. Though, if your pair is completely destroyed from overuse, buy this one from Maje. It has subtle stitching on the sides and toe, combined with a Cuban heel and western-style cutouts. This boot is suitable for every day wear, so you don't have to think twice about how to style it.
Going to music festivals this season? You'll need a sturdy boot like this that can get you past the mosh pit to center stage. (Imagine being stepped on while in sandals vs. this boot. I'd pick the latter.) A bandana gives this shoe extra style points and the craftsmanship is done in Italy—bellissimo.
Kelsi Dagger Brooklyn
nordstrom.com
$140.00
These shoes look like cowboy boots taken down a few notches. The toned-down ankle style is more wearable for day-to-day activities, like taking a stroll through the park or meeting up with friends at an outdoor barbecue. Pair with denim shorts and a white bodysuit. Add a flannel shirt, if you really want to go there.
Vince
nordstrom.com
$325.00
For minimalists who just want a low, flat bootie, I present this option from Vince. The shiny leather and pointy toe give the shoe a fancy feel, yet it's still wearable for whatever you have planned. (I bet you can even bike in this.) The low heel makes it perfect for walking around outside without getting blisters or arch cramps.
If I had to imagine a piña colada drink in shoe form, this would be it. This tropical bootie looks tough but chill, thanks to the leafy prints and sunshine-yellow background. Frayed threads give the boot an unfinished feel that says, "I'm not trying too hard."

12
Leather Cowboy Ankle Boots
On the heels of cow print nail art, here's a cow print bootie from Mango. Unlike its counterparts (leopard print, zebra, or snakeskin), this design is relatively unexpected but cool in a farm-girl-meets-the-city kind of way. I can imagine myself wearing these underneath a white dress or with high-waisted mom jeans and a crop top. (Please don't say yee-haw to me.)
13
Finite Block Heel Bootie
Jeffrey Campbell
nordstrom.com
$164.95
"How the hell would I wear this!?" is what you're probably thinking. Don't fret, just pull a J.Lo. (Confused? Click here.) You can easily work these in with jeans and a plain top or under a thin jersey dress. They're a statement shoe for the ladies who have something to say.