10 Malachite Jewelry Pieces That'll Become Instant Classics
These green accessories will make anyone envious.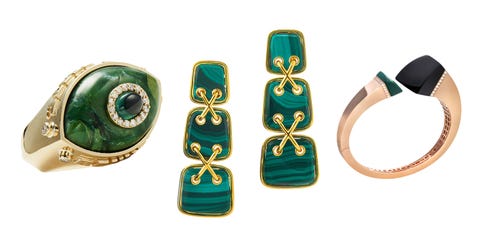 These green accessories will make anyone envious.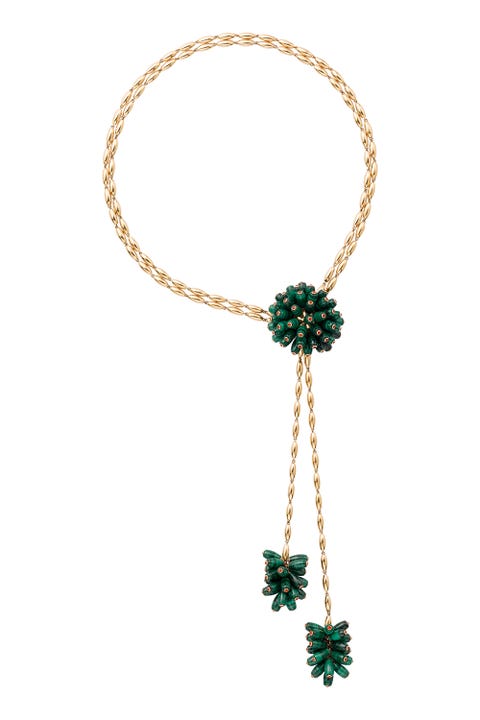 Coveting Cartier
This statement necklace from the Cactus de Cartier Collection feels sexy and beachy—making it perfect for any occasion.
Cartier Paris Nouvelle Vauge Necklace, $67,500
BUY IT: www.cartier.com or contact Cartier.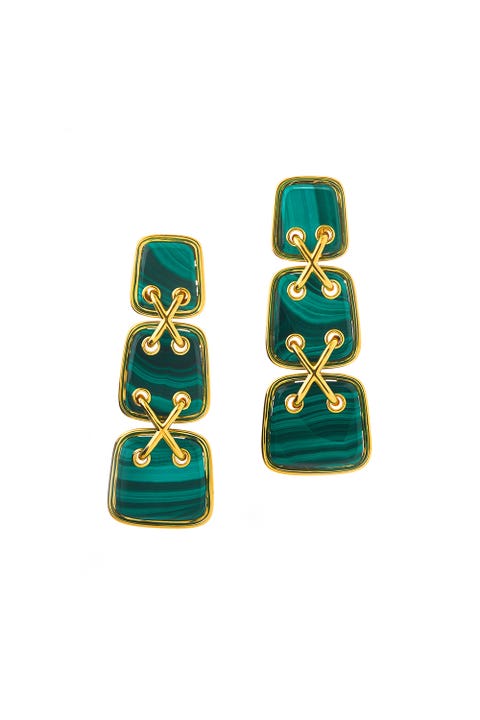 X Marks the Malachite
Part of the new Cross Stitch Collection, David Webb originated the Cross Stitch design in the 1970s, and these are destined to become the new classic.
David Webb Cross Stitch Earrings, $19,000
BUY IT: davidwebb.com.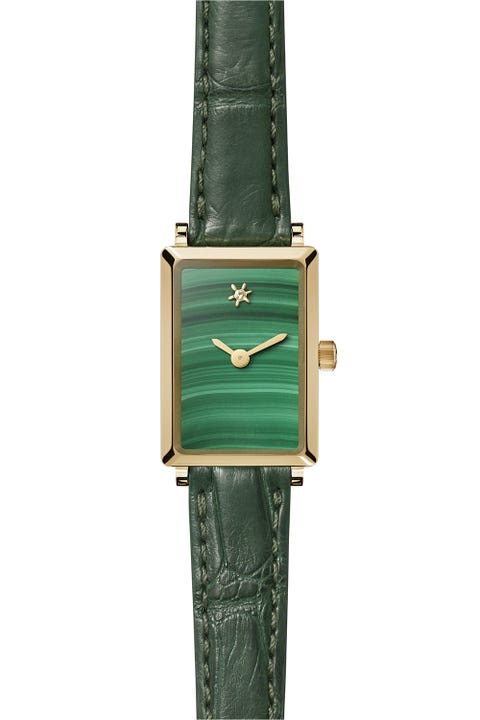 The Green-Faced Monster
A throwback to the '60s with its delicate rectangular shape, short hands, and an absence of markers.
Gomelsky by Shinola, The Shirley Fromer, $900
BUY IT: shinola.com.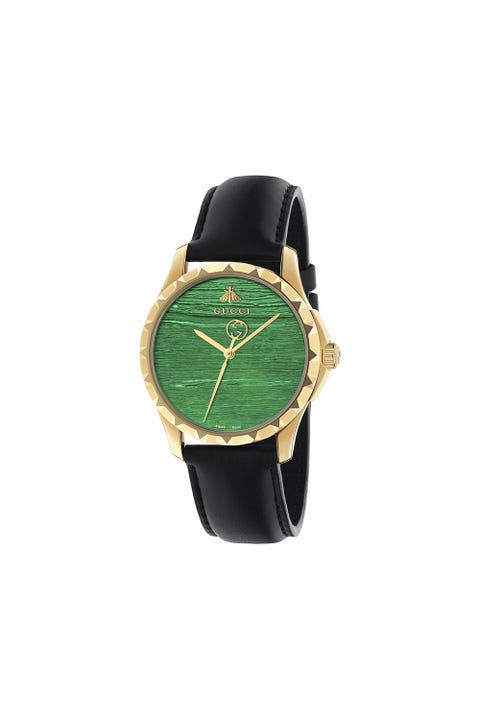 Gucci Green
Giving you the Gucci take on a classic watch, but with a bit of whimsy...note the butterfly.
Le Marché des Merveilles Watch, $980
BUY IT: gucci.com.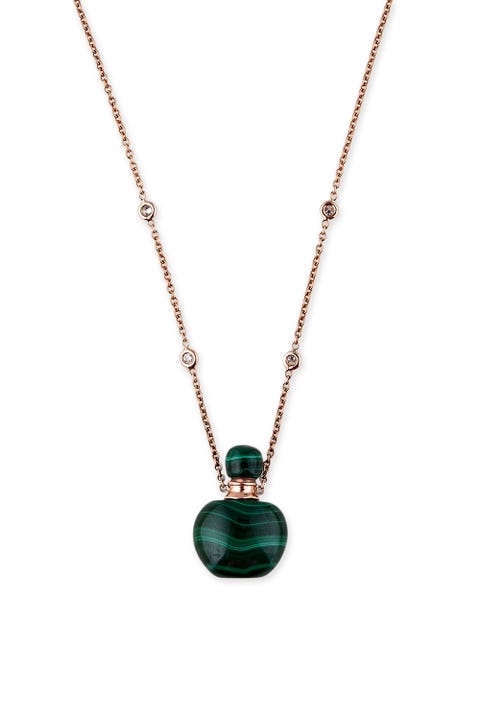 The Jealousy Potion
The essence of boho chic, this potion bottle will be able to actually hold perfume or oil, warming the scent with your body heat. Pretty cool.
Jacquie Aiche, Malachite Potion Bottle Necklace, $3,185
BUY IT: jacquieaiche.com.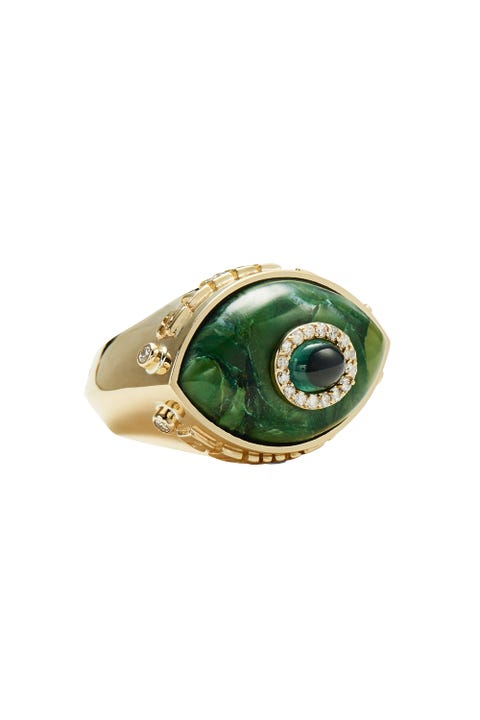 Envious Eye
This hand-carved chunky ring form the Je Porte Bonheur collection literally means, "I bring you luck"—you can find the words carved on the side of the ring.
Marlo Laz, 'Je Porte Bonheur' Iris Ring, $4,000
BUY IT: brokenenglishjewelry.com.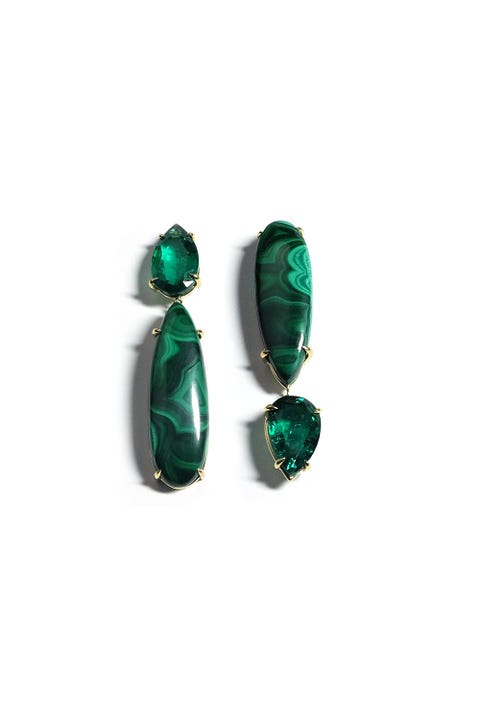 Love to Love Earrings
These earrings were one of the standout pieces at the Couture Jewelry show in Las Vegas last month where they just debuted.The opaque mix of Malachite with the translucence of the Emeralds is breathtaking.
Pamela Love, Aysmmetrical Rain Earrings, $195,000
BUY IT: pamelalove.com.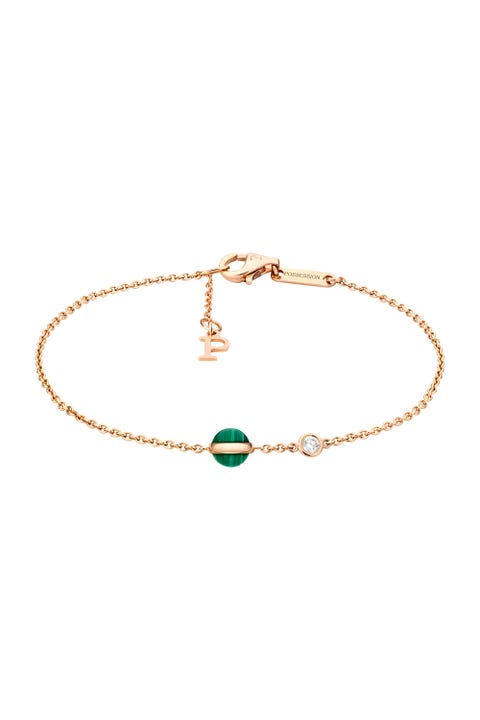 Malachite Possession
The delicate touch of green looks great in when mixed into a stack on the wrist.
Piaget, Malachite Possession Bracelet, $1,030
BUY IT: piaget.com.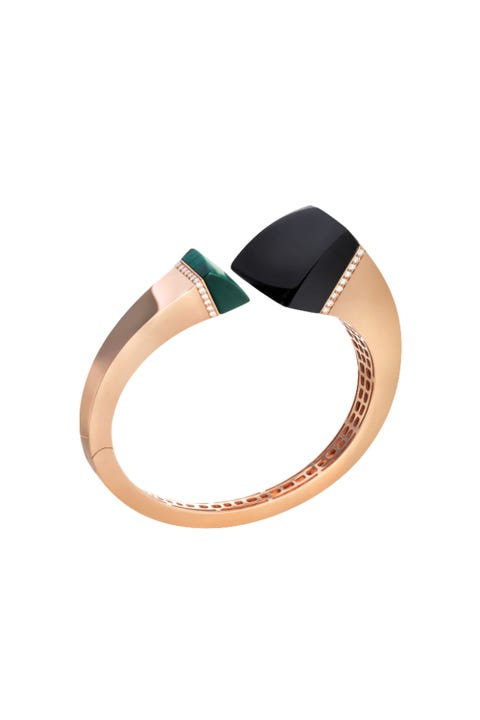 Cuff Crave
The Sauvage Collection is bold and architectural, and this bracelet is a piece that looks great day or night, stacked or as a stand-alone statement. Basically, it's perfect.
Roberto Coin, Rose Gold Bangle with Black Jade, Green Malachite, and diamonds from the SAUVAGE Collection, $11,000
BUY IT: robertocoin.com.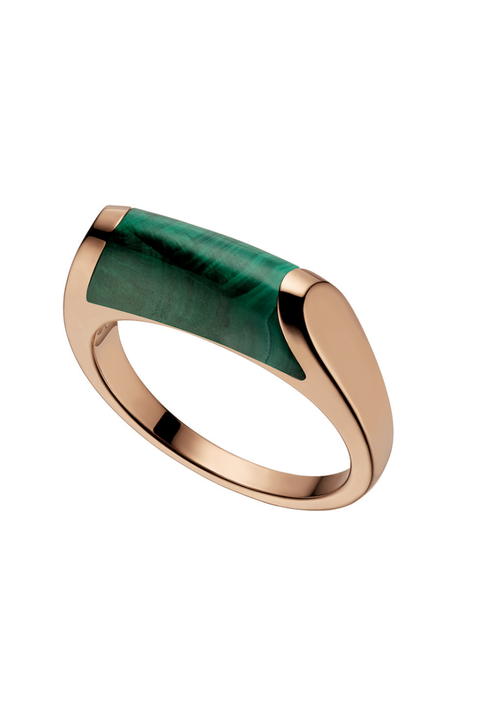 Green Go-To
A classic with a colorful twist, it will be a your go-to ring in your jewelry box.
BULGARI MVSA Ring, $1,650

BUY IT: Bulgari.com.
This content is created and maintained by a third party, and imported onto this page to help users provide their email addresses. You may be able to find more information about this and similar content at piano.io