The Best Matching Sweatsuits for Women In 2021
Wear with cashmere socks for the ultimate cozy vibes.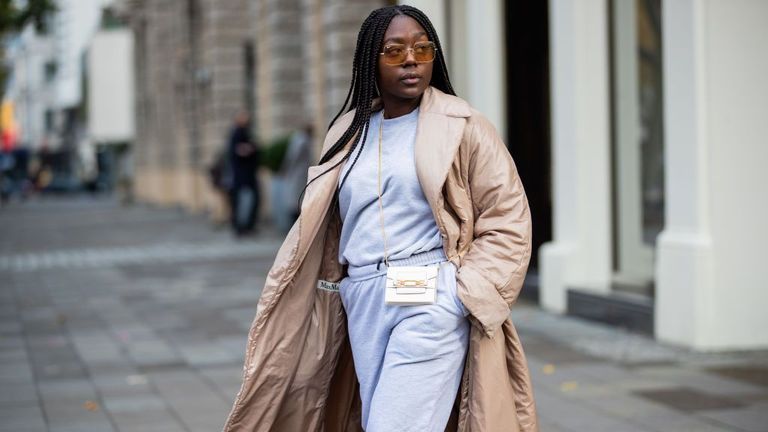 (Image credit: Getty Images ¦ Christian Vierig)
If there was one outfit that enjoyed a surge in popularity this year, it was the sweatsuit. The need for cozy, comfy hoodies, pullovers, and, of course, sweatpants to ride out a turbulent year in was crucial for most people, save for the few who found sanity in their jeans (I'm not sure how they did it). As we head into the colder months, sweatsuits will naturally creep back into our wardrobes if we let them. For those who are pro-sweats, I've rounded up the best matching sweatsuit sets to shop this season; I love a good coordinating look, especially one that takes zero effort to put together. Should you feel like your set needs a little flair, style with the season's top accessory trends. And for those who can't stand the thought of spending yet another winter in sweats, here are all the non-sweatsuit pieces you'll want to add to your closet instead.
1/16
ASOS Design Organic Cotton Tracksuit Set
A Gray Sweatsuit Set
The white stripe down the sides of the sleeves and pant legs add an interesting detail to an otherwise low-key tracksuit set. Amp up the set with a colorful sneaker.
2/16
Sporty and Rich Rizzoli Hoodie - Forest Green
A Forest Green Sweatsuit Set
We'll take this whole outfit, please. The forest green colored hoodie is crafted from 100 percent cotton (grown in the United States) and made in Los Angeles. It pairs perfectly with the matching bottoms for an off-duty ensemble.
3/16
Alo Yoga Accolade Hoodie & Accolade Sweatpant Set
A Light Blue Sweatsuit Set
You can always trust Alo Yoga to deliver on comfy workout and loungewear separates. Shine bright in the brand's latest arrival: a hoodie and matching sweats in blue quartz.
4/16
Pangaia Heavyweight Recycled Cotton Hoodie
An Eco-Friendly Sweatsuit Set
Pangaia's top and bottom sets come in so many colors, you'll have a hard time choosing your favorite. For tops, you can choose between tees, hoodies, pullovers, and more to style with your matching sweatpants. (Here's the coordinating heavyweight cotton bottoms to this navy hoodie.)
5/16
Frankie Shop Jamie Cotton Jersey Sweatshirt and Shorts Set
A Shorts Sweatsuit Set
Frankie Shop is flipping the idea of sweatsuits on its head with shorts instead of your usual long bottoms. It's great for those who are always hot indoors.
6/16
Phlemuns Logo Avocado Clouds Sweater
A Cloud Print Sweatsuit Set
Made in Los Angeles, this cloud print top and bottom set (you can get the coordinating sweats here) will make you stand out, thanks to the unique print and coloring of the garments. This is one sweatsuit you'll be proud to show off on your Zoom calls.
7/16
THE GREAT. The College Sweatshirt
A Plaid Sweatsuit Set
This fleece plaid sweatshirt and sweatpants combo is ideal for those who want to appear dressy while staying comfortable. Throw on a blazer and some loafers, and this outfit becomes more than just your go-to for the couch.
8/16
Entireworld Loop Back Sweatshirt Hunter Green
A Green Sweatsuit Set
Entireworld's sweatsuit sets always sell out quickly, so if you spot your size in the color you like, check out immediately. I love this hunter green hue as I count it almost as a neutral—you can wear it any accessory.
9/16
Pyer Moss Classic Logo Cropped Hooded Sweatshirt
A Yellow Sweatsuit Set
Yellow is definitely an all-eyes-on-me kind of color, so if you prefer to be different in how you dress, this Pyer Moss set is for you. (Here are the matching bottoms.) You're not shy about what you love and your confidence radiates in this set.
10/16
WSLY Tie-Dye Sweats Kit
A Tie-Dye Sweatsuit Set
I'll leave tie-dying to the professionals, at least when it comes to sweatsuits. This athleisure set reminds us why tie-dye will never disappear from our wardrobes—it's too much fun.
11/16
DONNI Turtleneck Sweatshirt
A Fleece Sweatsuit Set
Turtleneck-averse dressers will love the slouchier neckline on this soft sweatshirt. Tuck it into the matching bottoms, which feature two-tone drawstrings.
12/16
Come Back as a Flower Oatmeal Set
A Recycled Sweatsuit Set
What's special about this set is that it's made from recycled cotton fleece and is already pre-shrunk, so you don't have to worry about it shrinking even further in the wash. Since each set is hand-dyed, the one you receive will be completely unique to you.
13/16
Frankie Shop Vanessa Cotton-Jersey Sweatshirt
A Green Sweatsuit Set
A quick way to step up your sweatsuit game is with accessories like layering your favorite necklaces or wearing the set with an unexpected shoe. Choosing a set that doesn't come in gray/black/white keeps the outfit fun.
14/16
SUNDRY Heart Dark Camo Hoodie
A Camo Print Sweatsuit Set
For my camo lovers out there, here's your perfect sweatsuit set. You can get the matching bottoms here, which feature a few bright stripes on the pant's legs.
15/16
TIER x The Creative Collective NYC Black Excellence Hoodie
A Statement Sweatsuit Set
Support Black-owned businesses by getting your next sweatsuit set from TIER. This hoodie plus coordinating bottoms make a statement—literally.
16/16
Pink Queen Tie-Dye Sweatsuit Set
An Amazon Sweatsuit Set
This set has over 1k ratings on Amazon and comes in 17 different colors, so the options are endless. The set is one of the more affordable ones on the market, if you have a small budget for shopping.